15 Delicious Italian Carnevale Desserts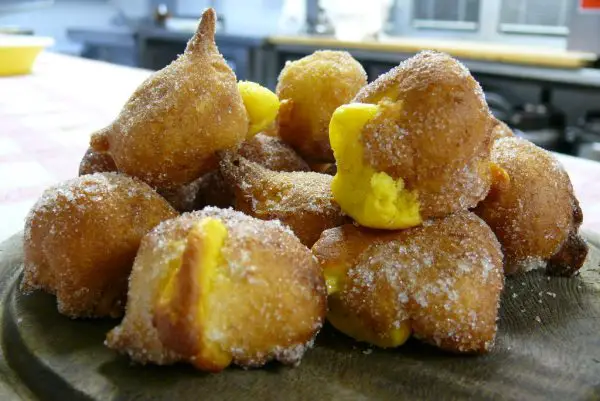 The Italian Carnevale is a Catholic festival made of masks, jokes and joy, and it's often characterized by colorful floats parades, like in the Carnival of Viareggio, one of the most famous all over the peninsula together with the Carnival of Venice.
What is Carnevale all about in Italy?
Carnival in Italy is all about celebrations, feasting, laughter, and..food!
The wildest period of the year starts after Epiphany and ends on Mardi Gras, just right before fasting for the season of Lent – always according to the Catholic tradition. In fact, the term "carnevale" is supposed to derive from the Latin expression "carnem levare", which means "to remove meat" as people used to give up meat for Lent.
In some Italian cities, the Carnival season begins on January 17th with the Feast of Sant'Antonio Abate, but in most parts of Italy it's usually celebrated between February and March, depending on the year.
What food do Italians eat at Carnevale?
Carnival in Italy has been celebrated since Roman times. The protagonists? Food and wine, of course! At that time, women used to make sweets with eggs and flour, then fried in lard: they called them "frictilia" and were handed out in the streets on the occasions of the Roman Saturnalia, which corresponds to today's Carnival.
Nowadays in Italy we celebrate Carnival dressing up, partying and eating deep-fried sweets that vary according to region and traditions. Find out the 15 most delicious Italian Carnival sweets you cannot miss to try!
Chiacchiere, Frappe, Cenci, Bugie
Graffe Napoletane
Sfinci Siciliani
Cicerchiata
Pignolata
Baked Sweet Ravioli
Cannoli
Fritole Veneziane
Migliaccio
Castagnole
Berlingozzo
Crescionda
Schiacciata alla Fiorentina
Frittelle di Mele (apple fritters)
Mantovane
15 Delicious Italian Carnevale Desserts
1. Chiacchiere di Carnevale
Chiacchiere is the most traditional carnival dessert in Italy prepared on Fat Tuesday.
These thin and crunchy strips of fried dough can be found in any region in the peninsula, even if called by different names: not only chiacchiere but also frappe in Rome, Viterbo and Ancona; cenci in Tuscany; crostoli in Friuli and Trentino; galani in Veneto, and bugie in Piedmont and Liguria.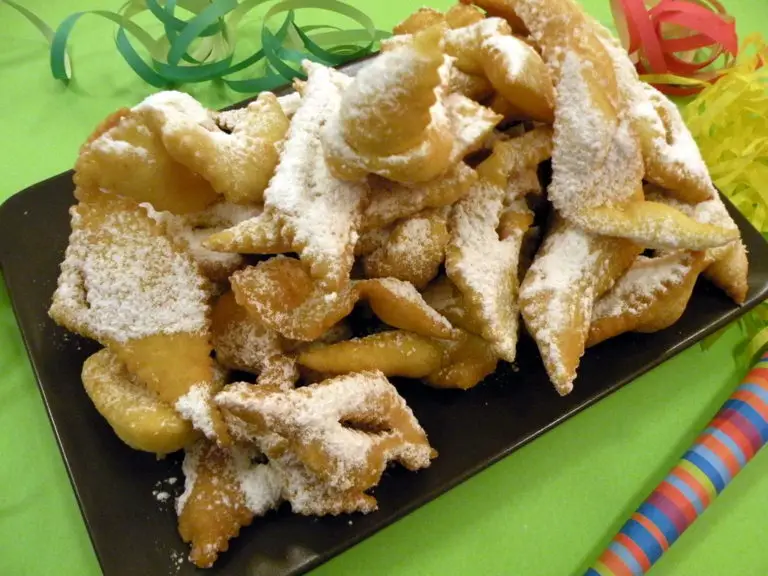 Graffe are delicious fried donuts covered with icing sugar. It is a dessert with ancient origins: it derives from the Krapfen that spread in Naples during the Austrian domination of the 1700s.
The secret of their softness? Boiled potatoes are used to make the dough! Once born as a typical Carnival food, graffe are now sold all year round: you can see them in any pastry shop's windows together with other traditional Neapolitan dessert like babà and sfogliatelle.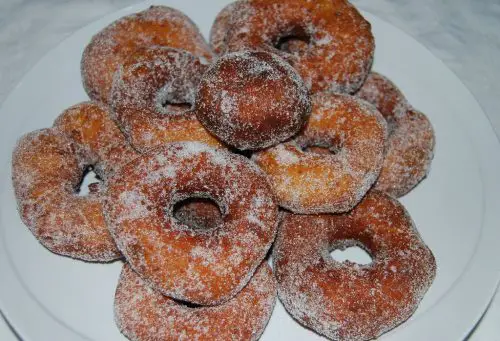 Sfinci are a Sicilian traditional Carnival dessert: small bites of leavened dough enriched with raisins then fried in boiling oil and sprinkled with granulated sugar! Its name comes from the Latin "spongia", which means sponge, as these small balls are extraordinarily soft. 
Like all popular recipes there are different variations, and this goes also for sfinci: for example, some family's recipes include the addition of boiled potatoes in the dough.
Born in Umbria but also widespread in the regions of Le Marche and Abruzzo, cicerchiata is one of the most appreciated Italian Carnevale desserts. It's made up of tiny pieces of dough – the size of a chickpea. These small balls are made out of flour, grated lemon peel, butter, sugar and mistrà, a sweet liqueur from central Italy. They're then fried in seed oil and topped with honey and colored sugar sprinkles.
Pignolata is a typical Carnival food of Sicily and Calabria, specifically made in the provinces of Messina and Reggio Calabria. It's similar to Struffoli from Naples as it's made of dough balls fried in lard and then covered with honey.  A real delicacy!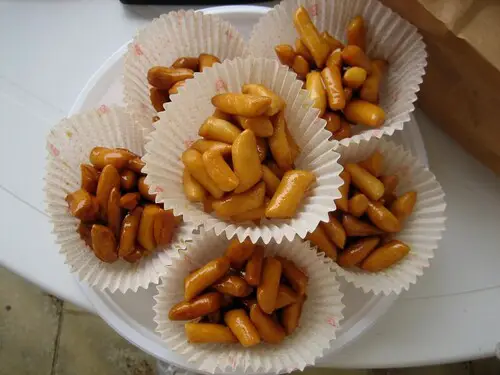 Ravioli are Italian stuffed pasta served as a main course. However, what you might not know is that there are also sweet versions! 
I'm talking about chestnut ravioli typical of the Piceno area, the same Ascolana Olives place of origin in Le Marche. Chestnut ravioli are stuffed with boiled and crushed chestnuts, dark chocolate and liqueur, then fried in abundant seed oil. They are usually enjoyed from January 17, the day that marks the beginning of the Italian Carnevale, until Fat Tuesday, usually around mid February.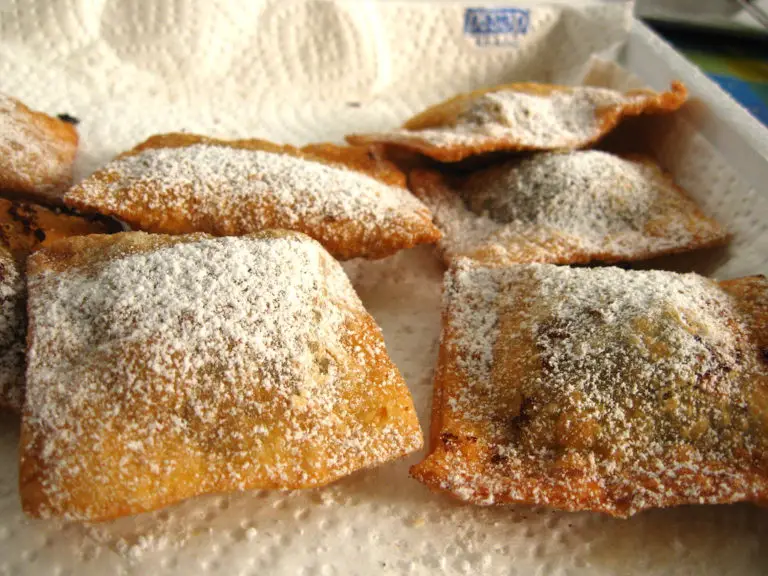 Not everyone knows that Sicily's delicious, ricotta-filled fried wafers were originally a Carnival dessert. Nowadays cannoli are popular year-round and can be found anywhere in Italy. Nonetheless, my advice is to taste it in Sicily, its original birthplace.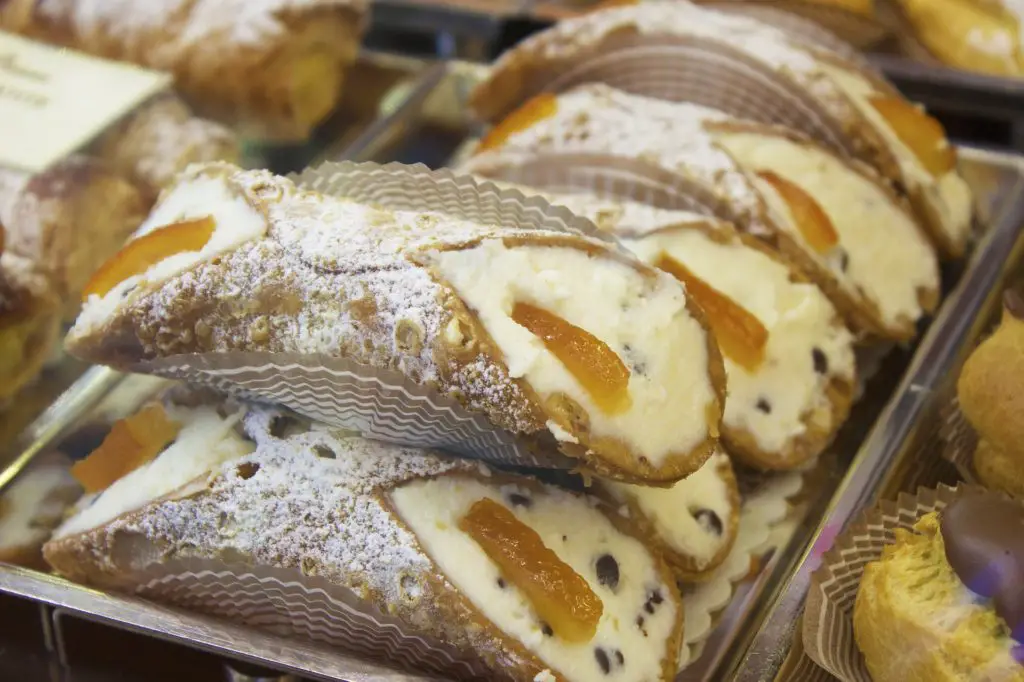 8. Fritole Veneziane (Venetian Carnival fritters)
If you decide to attend the Carnival of Venice, you cannot miss to try fritole.
These delicious  sugar-dusted doughnuts flavored with rum and lemon zest are made of flour, eggs, sugar, raisins, pine nuts and milk. Fritole were born at the time of the Serenissima and, until the 19th century, were prepared in huge pans in the streets by the "fritoleri" (fritter makers).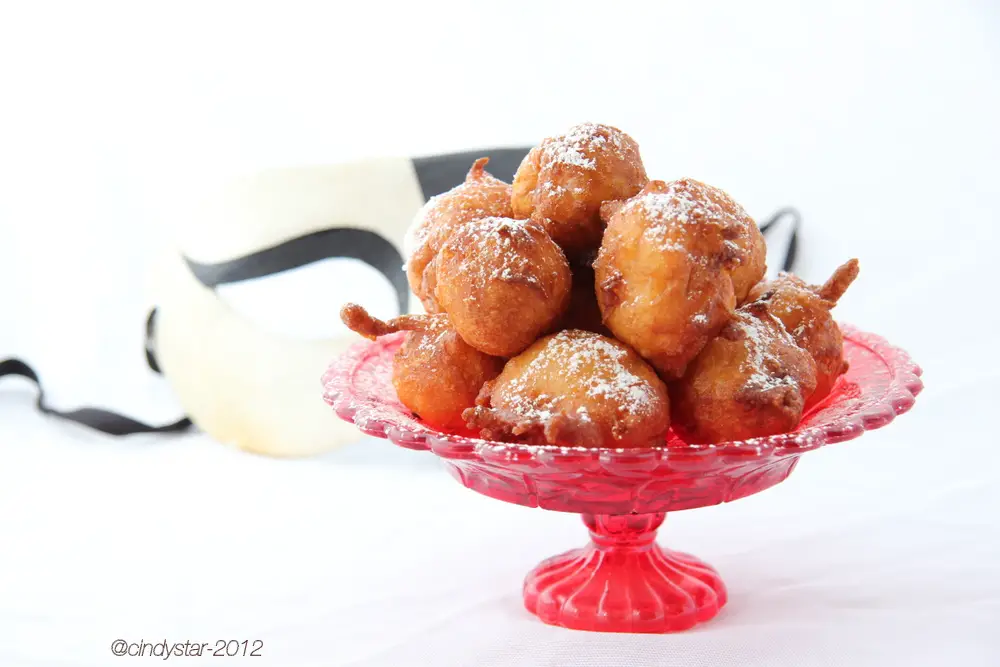 In the past, this traditional Neapolitan dessert was prepared with polished millet flour (in Italian "miglio") that was then replaced by semolina.
The recipe of Migliaccio is simple but requires patience: the ingredients – semolina, ricotta, eggs, milk, sugar, vanilla, a pinch of cinnamon, cedar and wildflower aroma – must be stirred slowly over the fire. The mixture must then be baked for about one hour, until it gets a beautiful golden color.
Some Migliaccio recipes include the addition of capellini, very thin spaghetti that give this Neapolitan dessert a very peculiar texture.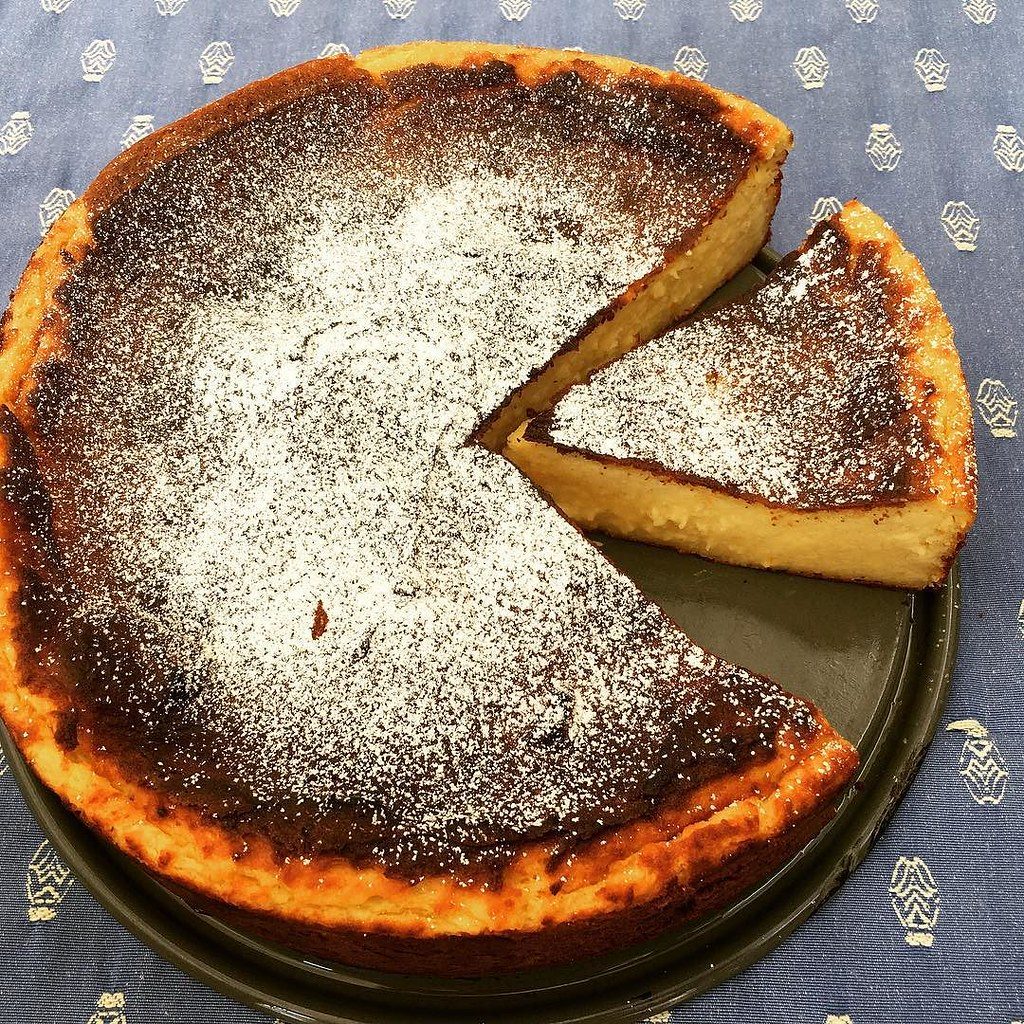 Castagnole are small and inviting balls prepared with butter, sugar, eggs, grated lemon peel and yeast, fried in seed oil and covered with icing sugar.
These Italian Carnival sweets are called castagnole in Emilia Romagna, Friuli Venezia Giulia and Lazio. In Milan, castagnole are called tortelli, and they're usually filled with various creams such as custard, Chantilly, chocolate or lemon creams. If you add ricotta cheese to the dough, you'll get an even softer and flavorful result!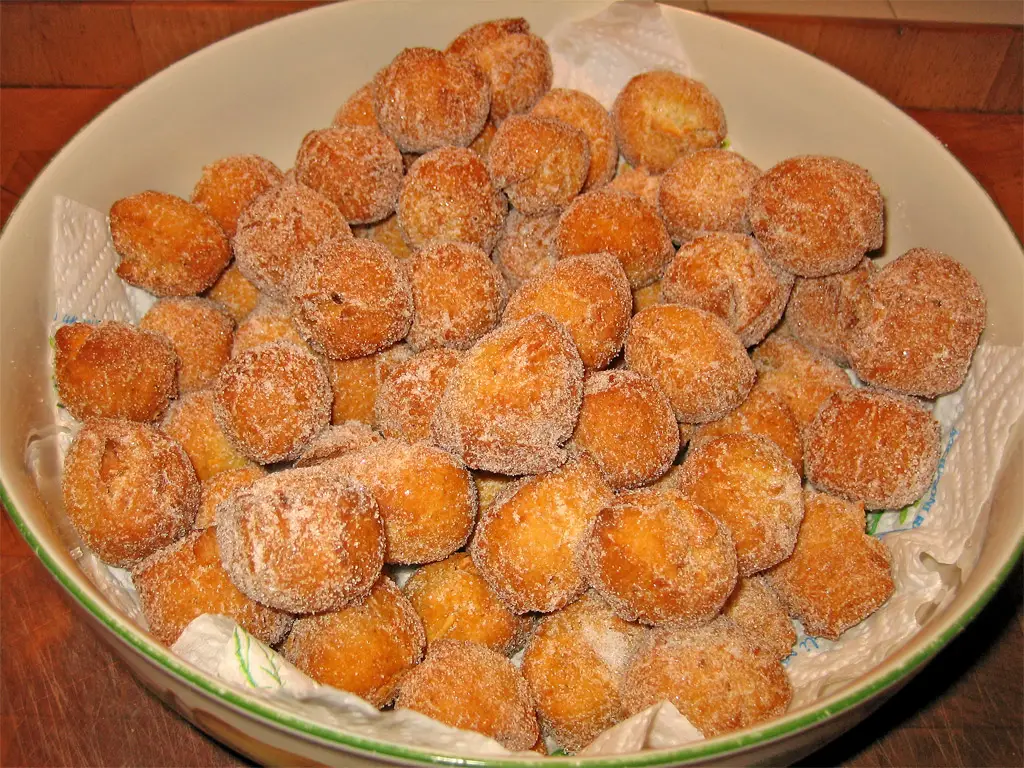 11. Berlingozzo from Tuscany
Berlingozzo di Carnevale is an ancient donut-shaped sweet from Tuscany. Apparently prepared as early as 1400 on the occasion of Fat Thursday, this cake was named after the dialect term "berlinganaccio", which meant having a good time around the table.
Berlingozzo is soft and fluffy, and it's prepared with simple ingredients: it doesn't even contain milk or butter so it is ideal for those who are intolerant to dairy products.
12. Crescionda from Spoleto, Umbria
Crescionda is a traditional Carnival dessert of Spoleto, Umbria, made of pudding and Amaretti cookies and liqueur. Its  name derives from "crescia unta", a sweet variant of the typical focaccia that has been prepared since the Middle Ages in Umbria and the Marche.
The most famous and widespread type of crescionda is the "three-layer". In the original version, the three layers are composed of Amaretti, pudding and chocolate. As the layers are obtained only after cooking and from the same dough, this cake is also called magic cake (in Italian Torta Magica).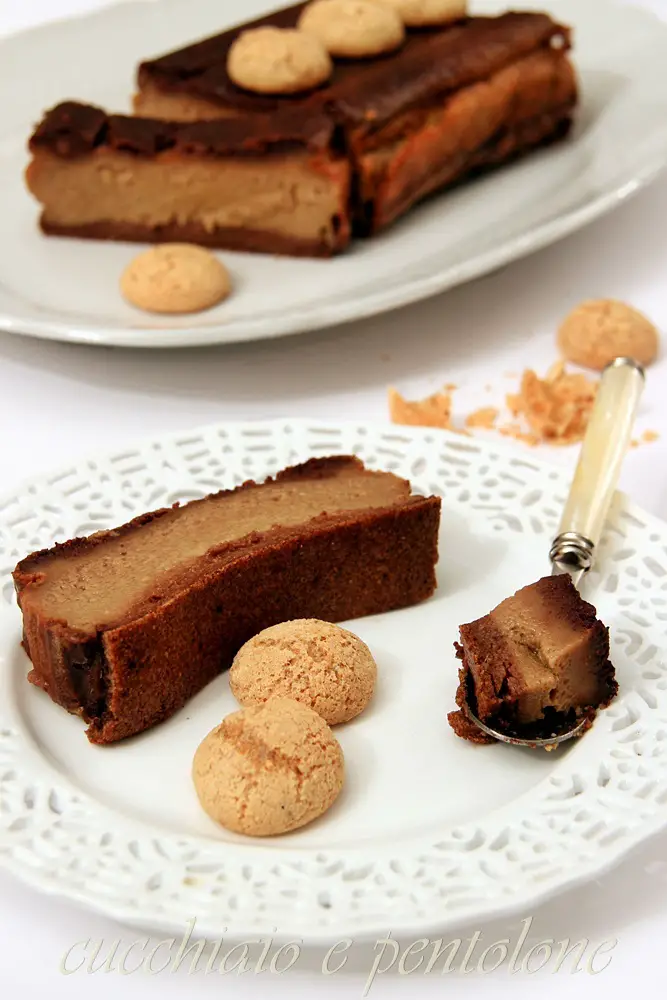 13. Schiacciata alla Fiorentina
During Carnival, Schiacciata alla Fiorentina can be found in all pastry shops of Florence, Tuscany. You will spot it right away as it is recognizable thanks to the Lily of Florence decorating the surface.
Originally from the Chianti area, the schiacciata (also called  "stiacciata") is a very soft baked cake made from flour, sugar, eggs, brewer's yeast, milk (or water) and lard. Orange juice is added to enhance its fantastic aroma. Try it for yourself!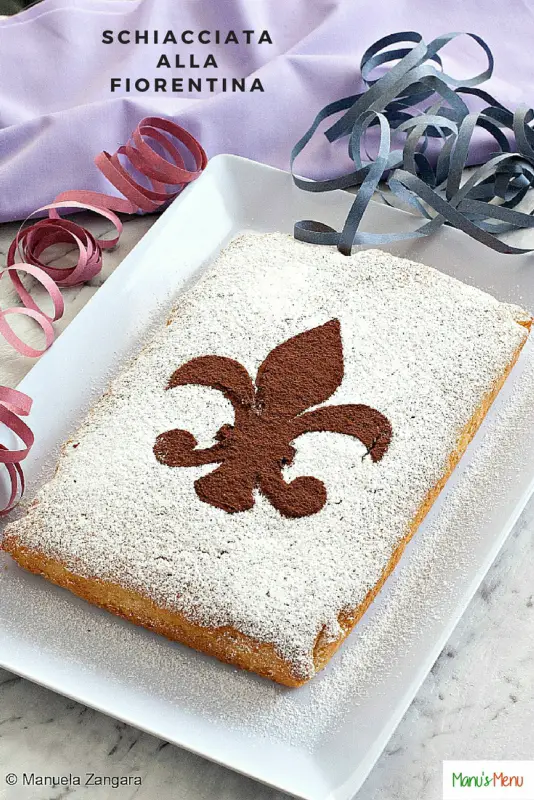 14. Frittelle di Mele della Nonna (Grandma's Apple Fritters)
I love Carnival as my grandma always makes her delicious apple fritters at this time of the year. They're pretty easy to make and the ingredients are just a few: apples (preferably Golden type), all purpose flour, milk, egg, sugar, peanut oil.
Apple fritters are typical Carnival food that can be found pretty much in any region of Italy, but in South Tyrol they have a donut shape. Anyway, whatever the shape, the taste is always incredible!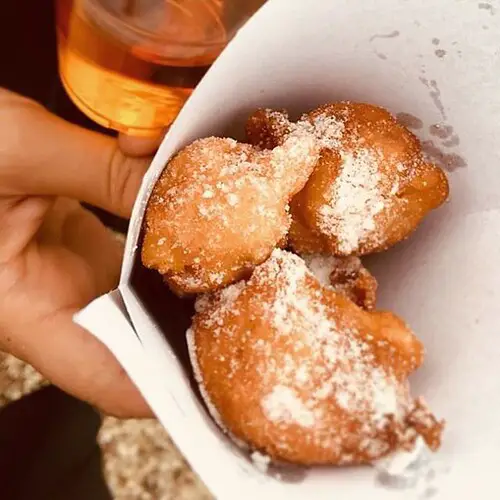 15. Mantovane from Piedmont
Despite the name, Mantovane are Italian Carnival sweets from the Piedmont region – and not from Mantua, as you might think. These semi-spherical artisanal puff pastry sweets are made of: wheat flour, butter, eggs, sugar, sweet and bitter almonds (for the filling), citrus jam, sultanas and salt.
They're called Mantovane di Cossato as they're mainly produced in the town of Cossato, Biella, 1 hour from Turin.
Did you Like the Post? Follow Me on Social Media and Stay Tuned for More Content!
Images credits: Dolci di Carnevale a Pianaccio! by Antica Locanda// CC BY 2.0; Pasticceria Bucintoro Venezia by DiarioInViaggio // CC BY-NC-SA 2.0; Chiacchiere all'arancia by chefpercaso // CC-BY-NC-2.0; Graffe napoletane o zippulas sarde by Alberto Piso // CC BY-NC-SA 2.0; La pignolata-dei-vicini by Vincenzo Caico // CC-BY-NC-ND-2.0; Spuntini natalizi – frittelle di mele, sidro di mele caldo by matita2073 // CC BY 2.0; castagnol by fugzu // CC BY 2.0; ravioli dolci by davidaola // CC BY-NC-ND 2.0; Migliaccio – #orange, #semolina and #ricotta #cake from #Naples #buonapasqua happy #easter by Mei Man Ren Sheng // CC BY-NC-ND 2.0;