Italian Torrone History and Types
1. Torrone History and Origins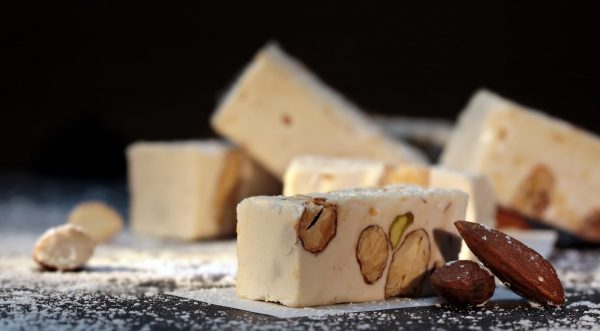 However, other people claim that torrone may have been first created by the Arabs.
In fact, Sicily was conquered by the Arabic people called Saraceni, who named this almondy dessert Qubbiat. Does it ring a bell? Yes, this Arabic name reminds of cubbaita, a Sicilian dessert similar to torrone.
2. What does Torrone Mean?
The Italian word torrone comes from the Latin term "torrere" which means "to toast", because of the toast of almonds and nuts carried out to prepare this recipe.
It's interesting to know that we can find something similar to torrone candy bars in other countries too. For example, in Spain, where the Arabs' domain was once quite strong, they call it turròn, which derives from the verb "turrar", to roast.
3. Types of Torrone in Italy
As with many other Italian sweets, there are countless types of torrone that vary according to texture and ingredients.
First of all, there are many torrone varieties in terms of texture: it can be hard, soft, chewy or brittle.
The texture of theItalian nougat depends on two key factors: cooking time and the rapport between honey and sugars. To obtain a hard texture, for instance, the cooking time must be long – up to 12 hours.
The classic torrone is made out of the following ingredients: sugar, glucose, egg white, honey, almonds. However, they may vary according to your taste.
Instead of almonds, for example, you can find ingredients like chocolate, pistachio, hazelnut, gianduia, dried fruits or citrus peel.
Nougat flavors vary as well: from vanilla to lemon, orange and any other flavor you love.
If you're allergic to nuts you can choose a nut-free torrone, where nuts are substituted by figues, herbs or spices.
Vegan torrone is also possible to find. The secret? Aquafaba instead of egg white and sugar syrup instead of honey.
4. Italian Nougat Regional Varieties
All over Italy there are so many types of Torrone that it's quite hard to find them all. However, here you can find the most common regional varieties (Cremona's and Benevento's torrone are the most well-known).
The nougat made in Cremona strictly follows the tradition: almonds must compose at least 50% of the mixture made of honey, white egg and sugar.
Torrone sellers in Cremona still claim that it was during Bianca Maria Visconti and Francesco Sforza's wedding banquet, on October 25th 1441, that torrone was born. It was shaped as a small reproduction of Torrazzo, the 112-meter bell tower of Cremona's cathedral.
From the small apothecaries in the 6th century, the production of torrone passed on to pastry chefs' workshops in the 19th, and industries in the 20th century for a large scale production.
Nowadays in Cremona you can find worldwide famous Sperlari and Vergari shops, considered the best torrone brands in Italy!
If you happen to be in Cremona in November, you must go to the Festa del Torrone (Nougat Festival) where you can get to taste the real thing!
>> Read my 1-day gourmand itinerary in Cremona to find out more about Cremona's pastries and typical food.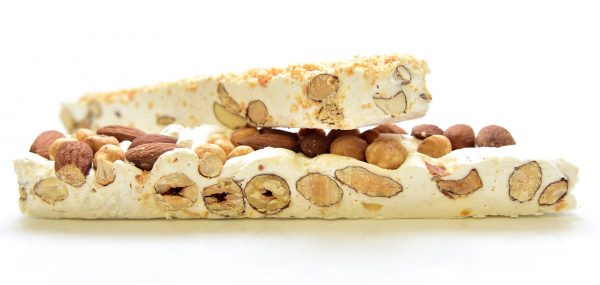 The city of Benevento, in the Campania region, has been well-known for torrone for ages.
In the XVII century it was the Christmas gift for the clergy and noblemen in Rome: just think that in the following century it was even called "torrone del Papa" (literally the Pope's torrone), a variety of torrone made of liquid sugar, pine nuts and compote.
It was especially thanks to the noble Borboni family that, in the XIX century, torrone in Benevento became an affordable good.
People in Benevento are really proud and grateful to this precious resource as nowadays it is a great income in the economy of the province.
In Calabria torrone's recipe is quite different from the classic version. In fact, it is made of citrus honey, sugar, almonds, cinnamon and cloves. It has also been a PGI (Protected Geographical Indication) product since 2014.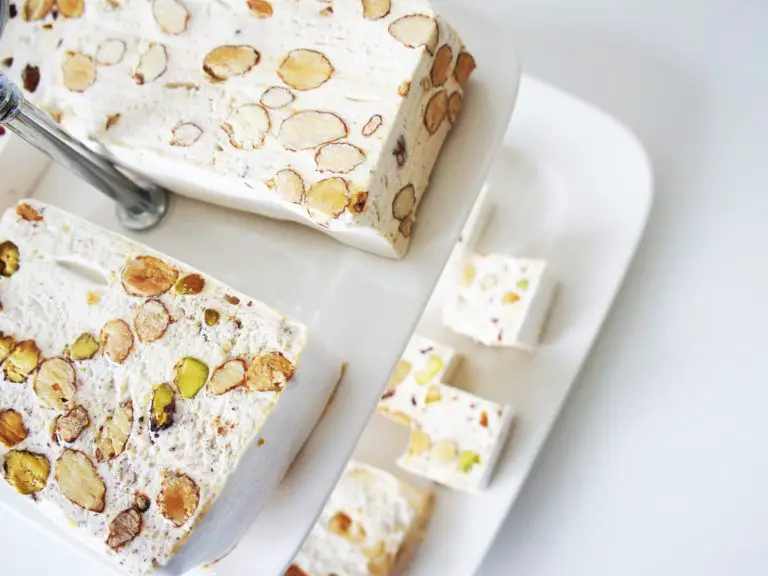 4.4 Torrone in Sicily and Sardinia
Thanks to the influence of Arabs and Spanish respectively, torrone candy is still produced in Sicily and Sardinia.
You must know that Sicily is not only famous for torrone, but also for another sweet candy bar derived from the Arab culinary tradition and similar to nougat is produced: it's called cubbaita (or giuggiulena) and it's made of sesame seeds and honey.
In Lazio, torrone is famous for its thin cover of dark chocolate and pine nuts wrapping the whole candy bar.
In some provinces of Abruzzo cocoa powder and a fine variety of fig are added to the classic nougat mixture. Instead, in other Abruzzo provinces, they use vanilla, cinnamon and candied orange.
4.7 Torrone in Piedmont and Veneto
In the north of Italy, you can get to taste "torrone mandorlato" (almondy nougat) in two regions specifically: Veneto, where a rare type of honey with salty aftertaste is used, and Piedmont, where its PGI hazelnuts sweet taste clearly stands out.
5. Torrone Expiration Date
No matter which type you decide to buy, be careful about the expiry date.
Every torrone candy has its own date, which may be sooner in case of homemade torrone or the ones with no preservatives. However, some may trick you and do not disclose the actual expiry date.
Generally speaking, you can apply this rule: torrone made with nuts has the shortest expiry date so it should be consumed up to 12 months from production, hazelnut torrone usually expires after 12 months, while the almond one can last up to 24 months.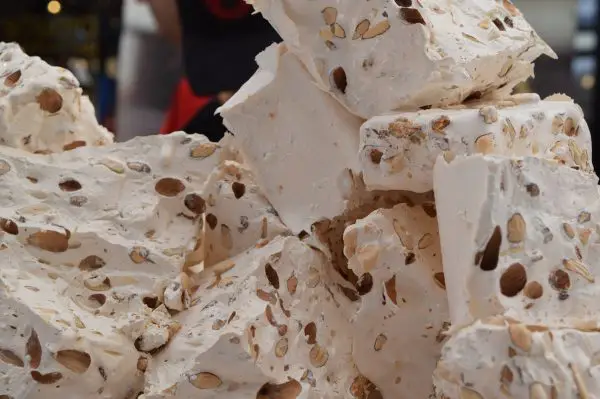 Did you know that the first nougat producers were pharmacists and apothecaries and, only after some time, bakers and pastry chefs?
It was considered a cure-all by Arabs according to their ancient texts. So whenever you feel a bit under the weather, take a bite of torrone!
Did you know that some torrone chefs decide when to produce it depending on the moon phase? 
Crescent moon is the perfect time to make torrone: it is said it helps whipping white egg, thus creating a nice fluffy cream.
Did you Like the Post? Follow Me on Social Media and Stay Tuned for More Content!