Italian Fried Stuffed Ascolana Olives Recipe
Ascolana olives are delicious deep-fried stuffed green olives originally from the city of Ascoli, in the region of Le Marche, in the center of Italy. 
Ascolana Olives are a staple in the Italian aperitivo: we like to have aperitivo with a Spritz or Negroni accompanied by some snacks like focaccia or piadina.
Cooks of wealthy families are thought to have invented them as a way to reuse uneaten meat leftovers. In fact, the olives are stuffed with different types of meat, from beef, to pork, and chicken, which is then cooked in soffritto and white wine. The hardest part is to stuff each olive since you have to be very careful not to break it while pitting it. How to do that? Keep reading and find out all the hacks on how to make Ascolana olives following a recipe dating back to 1800!
1. What Kind of Olives Do We Need?
According to the Italian fried stuffed Ascolana Olives recipe we need a specific variety of olives cultivated in Le Marche called Ascolana tenera (literally "soft Ascolana"), which is pickled with wild fennel seeds and local herbs.
2. Ascolana Olives Origins and History
Olive all'Ascolana come from Ascoli Piceno, a city in the region of Le Marche, in central Italy, where this Italian appetizer was invented back.
Even though the recipe dates back to the 19th century, the cultivation of olives in Italy started centuries ago thanks to the Greek who colonized the south of Italy.
The origin of Ascolana tenera is not clear, but surely we know that it was not food for the poor. In fact, it is said that cooks for wealthy families in Ascoli Piceno had too much meat at their disposal as a result of gifts (or rather, forced donations) from farmers to their lords.
Thus, they wanted to find a way to use all the various types of meats they received. This combination gave rise to the delicious deep-fried stuffed olives we all love.
As the process was quite long, Ascolana olives were only made for special occasions. Even Pope Sisto V praised them in one of his letters in the 15th century.
Within the past 20 years, the demand of Ascolana olives has increased and in 2005 it was awarded PDO status to preserve it and guarantee its quality. Therefore, only olives cultivated in the provinces of Ascoli Piceno, Fermo and Teramo in the region of Le Marche can be defined as Ascolana olives.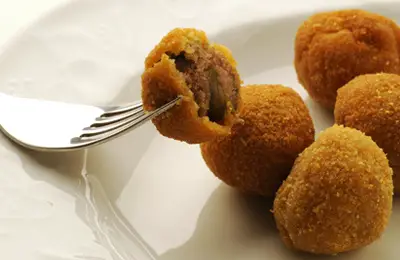 3. How Do You Pit Olives For Stuffing? Best Solution Ever
Of course, it's easier if you directly buy olives without pits. However, if you want to faithfully  follow the recipe and want to take out the pit from olives without smashing them and destroying their consistency, here's the hack for you. 
With a smooth kitchen knife cut the olive, being very careful not to break it: start from the stalk in order to obtain a spiral of olive flesh: it's like peeling an orange without ever detaching the knife blade from it. Be patient as it takes a while and a little dexterity too.
Italian nonnas from Ascoli are experts and can handle this challenge with their eyes closed. Now it's your turn: try yourself in the kitchen!
4. What are Ascolana olives stuffed with?
Ascolana olives are fleshy green olives stuffed with meat. The meat is first sautéed in a soffritto made of onions, carrots and celery all chopped in tiny cubes. Then wine, Parmesan and aromas such as lemon zest, cloves and nutmeg are added.
5. What Type of Meat Do We Need for Ascolana Olives?
In order for the stuffing to gain that characteristic flavor, we need three types of meat: a mix of beef, pork and chicken – or turkey.
6. Can you freeze Olive Ascolane?
Yes, you can freeze Olive Ascolane. The best thing to do is to prepare a large quantity and save a part of it for other occasions.
Before freezing, put them on a large tray – make sure they're well separated – and, once frozen, you can place them in a bag: this way they won't stick to one another.
When you want to eat them, take them out a few hours before and allow them to defrost. Once at room temperature they'll be ready for deep-frying.
Italian Fried Stuffed Ascolana Olives Recipe
If you're traveling across Italy and you happen to find yourself in Ascoli, check out Ascoliva Festival.
Without further ado, let's see the 10 steps to make the Italian stuffed Ascolana olives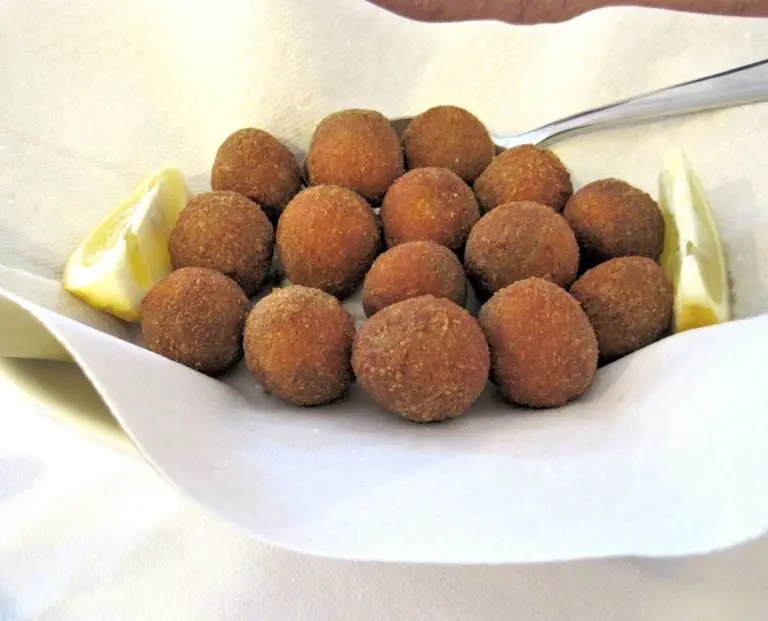 INGREDIENTS for 50 Olives:
Olives (Ascolana tenere type) 50

Beef 300 g
Chicken 100 g
Pork 100 g
Breadcrumbs 15 g
Grated Parmesan 40 g
1 small carrot
1 small celery
¼  onion
½  glass of white wine
1 egg
Nutmeg
¼  lemon zest
A pinch of ground cloves
Salt
For the breading:
For frying:
Extra-virgin olive oil 250 ml
How to Make Ascolana olives:
Chop the vegetables (onion, celery, carrot) and brown them with 3 tablespoons of extra virgin olive oil.

Cut the three types of meat into small cubes and add them to the sauté.

When the meats are browned, salt them and add white wine. Let it evaporate on low heat.

Remove the mixture from the heat and let it cool down. 

Grind it – you can also use the blades of a mixer – and pour it into a bowl.

Add clove powder, nutmeg, the grated lemon zest, an egg, Parmesan, breadcrumbs and knead well until a soft but compact mixture is obtained. Let it rest for half an hour.

Now pit the olives without breaking the pulp.

At this point stuff the olives with the filling obtained, trying to restore them to their original shape, which, of course, will be a little more swollen!

Prepare three bowls, each one containing flour, beaten eggs and breadcrumbs. Pass each olive first in the flour, then in the beaten eggs and finally in the breadcrumbs. When they are all ready, leave them to rest in the cool for half an hour. Then repeat the operation to give a second breading in order to make them very crispy for frying.

At this point, you can fry Ascolana olives in boiling extra virgin olive oil. Turn them occasionally until they reach a golden and uniform color. 

Drain them and place them on a plate with paper towels. Serve the olives very hot. And now..enjoy!
Did you Like the Post? Follow Me on Social Media and Stay Tuned for More Content!