Veneto Typical Food and Wine Itinerary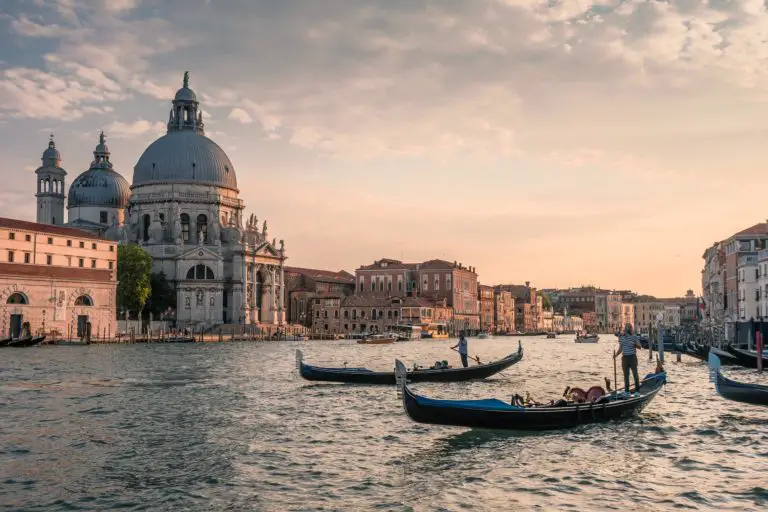 Veneto, northern Italy, is certainly known for its capital, Venice, one of the most magical cities in the world. However, this region has a lot more to offer: just think of the Dolomites and their alpine lakes and the historical centers scattered around Veneto like Vicenza, Padua and Verona. 
Veneto is also renown for its wine production: here great wines such as Amarone della Valpolicella, Prosecco, Bardolino are made.
Last but not least, thanks to the mild climate, the olive groves around lake Garda are used to produce one of the richest extra-virgin olive oils of Italy!
The following Veneto itinerary includes typical food and wine and is based on my experience in 2020, starting from Bergamo (the town where I live ), Lombardy, to Trentino and Veneto.
>> Check out my article about the first part of my trip The Perfect Itinerary in Trentino: Discover Awesome Places.
Combining the two travel itineraries in Trentino and Veneto allows you to explore not only two different regions, but also a variety of landscapes, from gorgeous alpine lakes, to the UNESCO heritage Dolomites, lovely towns, vineyards on the hills and the production of local foods.
Before planning your visit to Veneto
The best seasons to visit Venice and the other cities in Veneto are undoubtedly spring (March, April and May are the months when the climate of Venice is mild and ideal for walking), and fall (September and October).
During the summer months, the scorching heat sometimes makes the climate in Venice unpleasant, while in winter the temperature can drop even below 0.
However, if you're planning to take your vacation in the mountains, you should know that the ski season generally lasts from December to the end of March, whereas stays in seaside resorts are recommended from June to September.
Don't miss great events in Veneto: check out the dates beforehand!
Here you will find some of the most exciting events in Venice:
The Carnival of Venice

: February – March

Venice Art and Architecture Biennale

: June – November

The Redentore Festival

: 3rd weekend of July

The Regata Storica

: 1st Sunday of September

Venice Film Festival

: end of August-beginning of September
What Does This Veneto Itinerary Include?
7 must-see cities in Veneto: Venice, Padua, Vicenza, Cortina d'Ampezzo, Verona, Belluno and Sirmione, on lake Garda;
Main landmarks of each city, their typical food and local wines;
My personal tips based on my travel experience in 2020.
1. Cortina d'Ampezzo, A Gem in the Dolomites
This lovely town in the Ampezzo Valley is visited by thousands of tourists from anywhere in the world every year.
Why? Several reasons.
Cortina is surrounded by the Dolomites, a Unesco heritage mountain range that will take your breath away – guaranteed that you've never seen such mountains.
Also, Cortina offers a wide range of activities in any season of the year: from biking to hiking in spring, from cross-country skiing, skiing and snowboarding in winter, climbing and trail running in summer.
In fact, at the end of June Cortina usually hosts the trail running race called "La Sportiva Lavaredo Ultra Trail" where runners from all over the world will compete and try to be the first one to cross the finish line after 120 km in the mountains.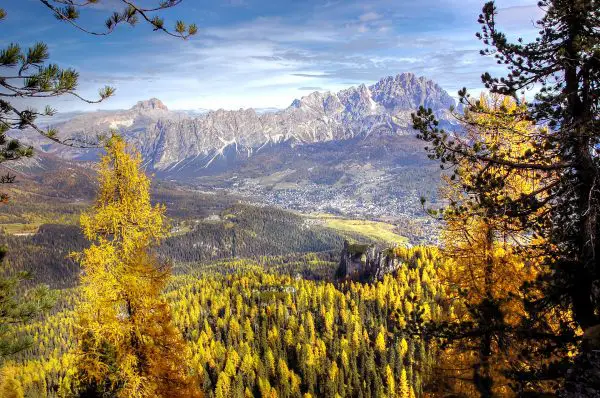 What to eat in Cortina: typical food and wine
Mixing ingredients and traditions from South Tyrol, Austria and Veneto, Cortina cuisine varies a lot. For sure you must try the following:
Chenedi

(sort of Tyrolean knödels),

half moon shaped

Casunziei (similar to casoncelli from Lombardy),
Rise e bise

(rice and peas),

Pastin

(type of salami),

Goulash süppe

(originally from Hungary),

mountain cheeses

(

renaz, contrin, zumelle

and many others) accompanied by local wines.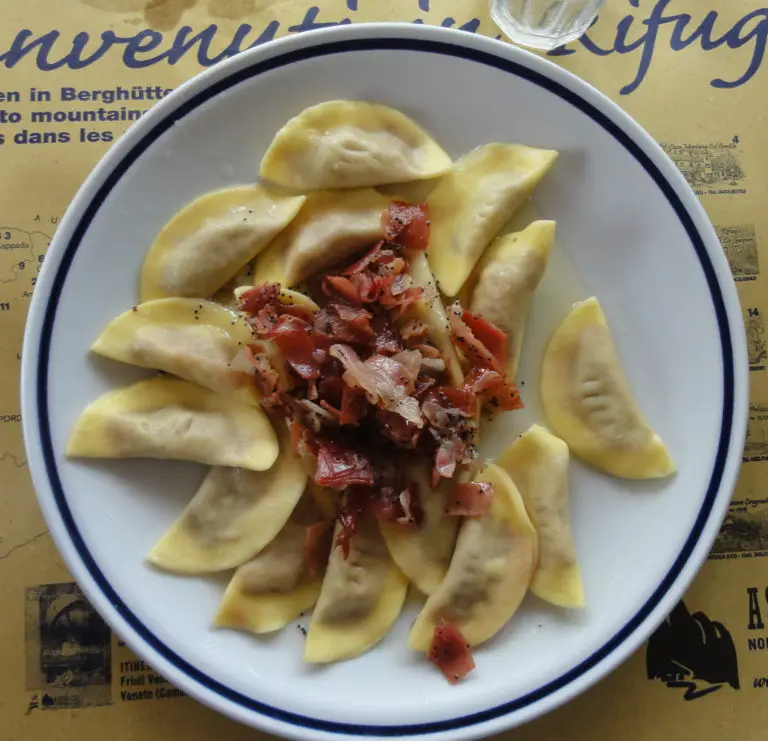 2. Belluno, On Top of a Hill
The first time I saw Belluno I was surprised as I didn't expect it to be so lovely and welcoming.
The city center, placed on top of a hill and surrounded by the river Piave, is small.
In a few hours you can visit the Cathedral and admire the Venetian gothic style of Palazzo dei Rettori, the civic tower, piazza dei Martiri and its porches full of cafés, Porta Dojona and Porta Rugo, and piazza del Mercato.

What to eat in Belluno: typical food and..beer!
At Cantiere del Gusto I had Pastin, a typical food of Belluno and surroundings, made of roughly ground beef and pork meat.
Pastin is a sort of sausage, but it differs from salami as it's not seasoned so it's much fresher than the usual cold cuts.
And to drink? You must know that in the province of Belluno, in Pedavena exactly, there is a famous brewery founded by the Luciani brothers in 1897.
Named after the town, Pedavena beer is a classic that you can find anywhere in Italy, but it's origins are in Veneto.
Another typical dish you want to try is Schiz with polenta. Schiz is a type of cheese that's produced in the mountain farms (we call them "malghe") from the curd of fresh milk.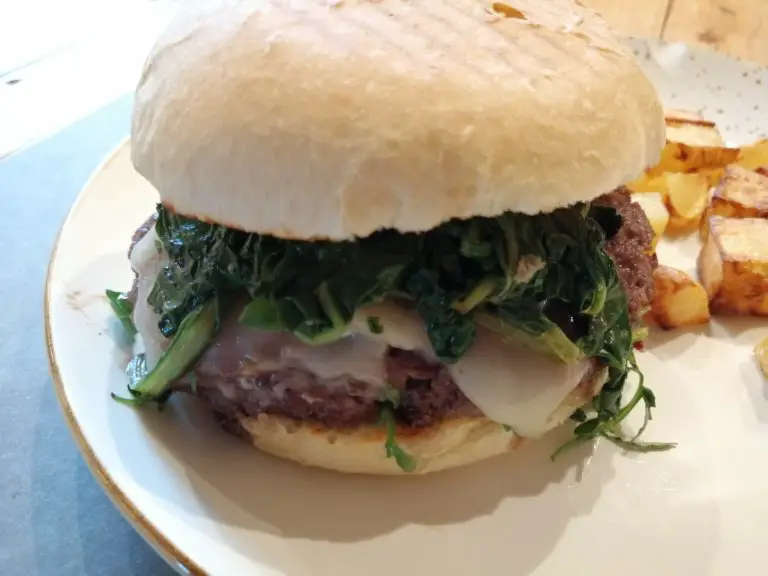 Take a couple of days to visit Venice and the islands.
You can stay in Mestre and then take the bus to reach the city: it takes 10 mins and buses run often, even late in the evening.
Enjoy a stroll in the "calle" (pronounced /kal-lei/) through the various "sestieri" (districts), historical buildings and gardens, and reach St Mark's Square walking on Rialto bridge.
Don't miss Basilica dei Frari, Santa Maria della Salute (Saint Mary of Health or just "the Salute") and Chiesa di San Giovanni e Paolo, some of the beautiful churches of Venice.
Some other places that usually people don't know are Scala del Bovolo and Palazzo Contarini and the suggestive Acqua Alta book store.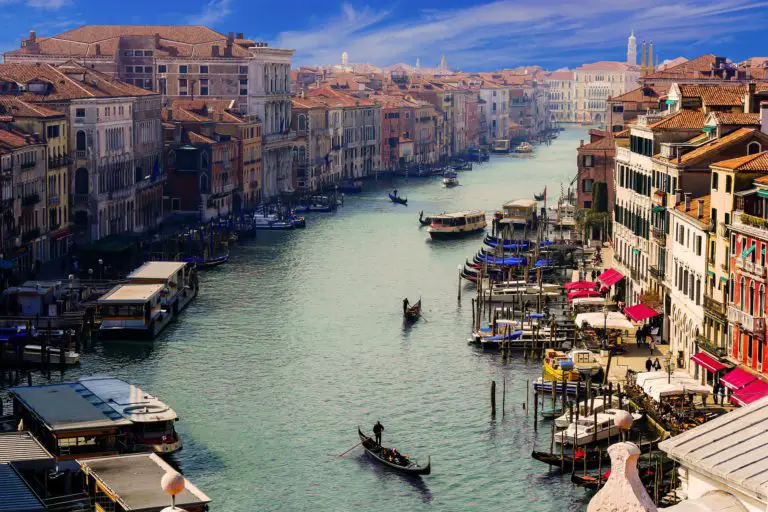 What to eat in Venice: traditional food and wine
Venice is the Queen of aperitivo. Here you must have cichetti (sort of tarts served as appetizers) or sarde in saor with a nice glass of spritz.
If you want to sit for a while and rest, having dinner in a local restaurant, you should try the following traditional food in Venice: risi e bisi (rice and peas), lasagnette with squid ink, spaghetti with busera-style shrimps (scampi in busera), fried moeche (lagoon crabs), venetian-style liver, polenta and schie (small lagoon shrimps).
To finish off, a dessert: try bussolai and zaeti. Bussolai are typical S-shaped cookies, while you can read about zaeti in my article about the best Italian cookies.
If you decide to attend the Carnival of Venice, you cannot miss to try fritole, delicious sugar-dusted donuts flavored with rum and lemon zest prepared for this festive occasion!
4. Padua, the City of Art
Discover Padua in a journey through art, history and millennial traditions.
Start from Palazzo della Ragione and Loggia dei Carraresi, admire Donatello's sculptures in the Basilica of Saint Anthony of Padua.
Head to the jewel of the city: the Scrovegni chapel, with the beautiful Giotto's frescoes, a true gem that you cannot miss!
Close to Saint Anthony Basilica you will find the UNESCO heritage Botanical Garden hosting over 6'000 plants and about 3'500 species.
Did you know that.. 
Padova Urbs picta is the Italian Nomination to the World Heritage List: Italy presents the Scrovegni chapel and a series of frescoes in Padua dating back to the 14th century.
The World Heritage Committee will be held online from July 16 to 31 2021. Fingers crossed for Padua!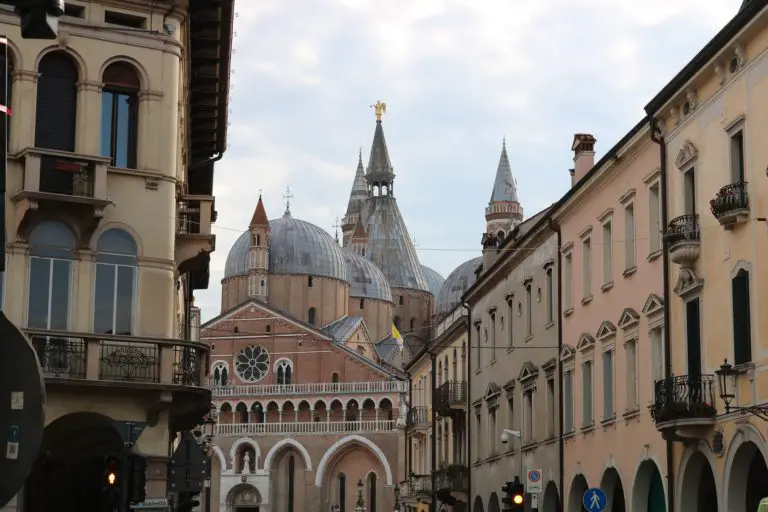 What to eat in Padua: typical food and wine
In Padua you can eat a very humble but delicious dish called "pasta e fasoi", the Venetian dialect name for "pasta e fagioli" (pasta and beans).
Something you must try is the fugassa, or focaccia veneta. Despite it may sound like the Ligurian focaccia, fugassa is a sweet bread made for Easter resembling the "Colomba", even if the dough is prepared differently. You can find fugassa in any bakery around the region.
For those who prefer salty foods, try risotto with rovanassi (chicken liver) and "oca in onto", a particular way of preserving goose for months that has been handed down generation after generation.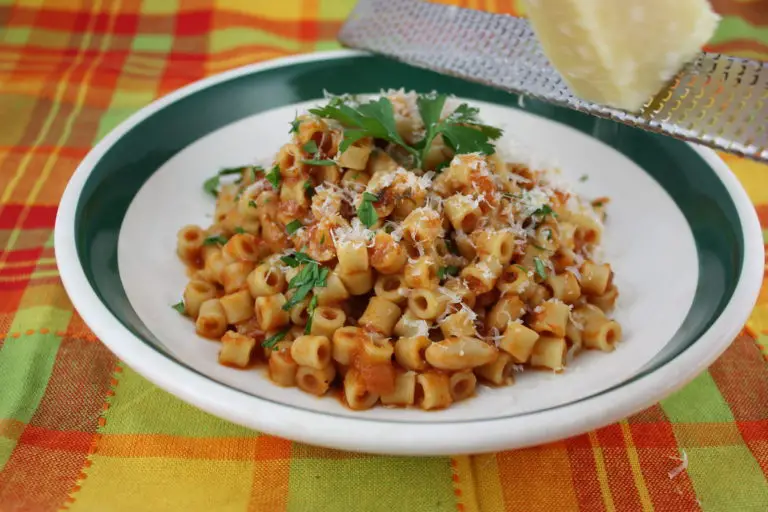 5. Romantic Escape in Verona
Verona is indeed a romantic city, however, you don't need to be with your partner to enjoy it!
Luckily for us, all main attractions are within walking distance: it takes up to 2 hrs to see everything without a rush, so take a half-day to explore it.
Start from the Arena in piazza Bra (why not attend an opera house event or a concert? Check out the programme here), reach the Roman Porta Leoni and head to the famous Juliet's house.
After making your wish, climb up to Torre dei Lamberti to get a panoramic view of Verona at the height of 84 meters (276 ft)!
Enjoy a Spritz in either Piazza delle Erbe or Piazza dei Signori, where you'll find the statue of Dante.
Check out the fascinating Arche Scaligere (Tombs of Scaligeri family), take a picture at Ponte Pietra, a Roman bridge dating back to 100 BC.
Of course, you don't want to miss the Cathedral (Cattedrale Santa Maria Matricolare) before going back to the Arena, your starting point.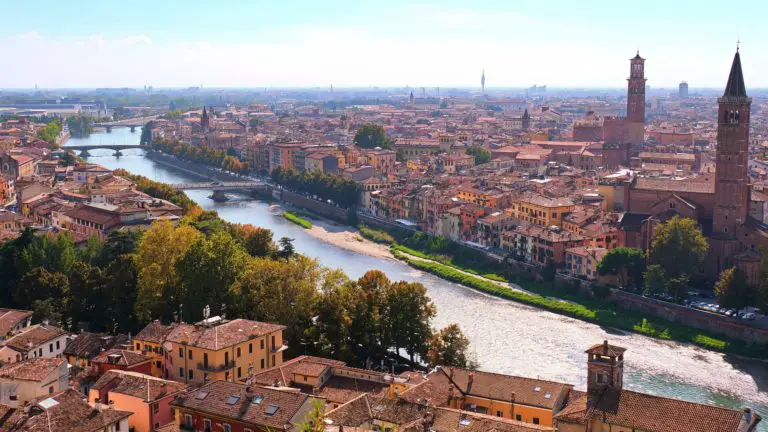 What to eat in Verona: aperitivo par excellence
Once you are here you must experience the typical aperitivo. Veneto is the pioneer in this: good wine (Prosecco), Spritz and..cicchetti.
Cicchetti are small canapés composed of a thick slice of bread on top of which you may have prosciutto, salmon, veggies and much more.
I had a bunch of cicchetti (they're quite cheap) at Osteria Caffè Monte Baldo, downtown Verona. Great experience!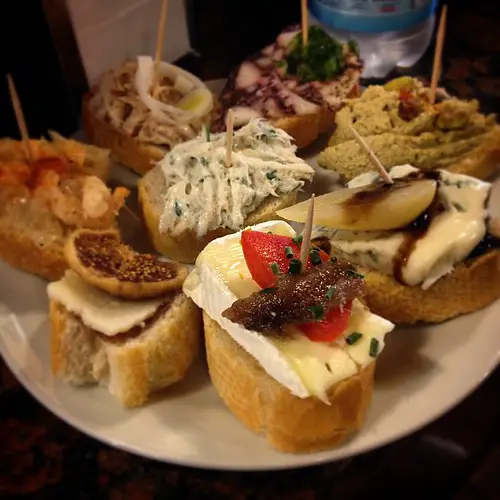 6. Sirmione: Castles and Roman Ruins
This lovely town is really worth a visit: after parking (outside of the city center), head to Castello Scaligero, take a stroll in the historical center.
If you have the chance visit the archeological park of Catullo Caves: tourists from all over the world like to rent a guide and be shown around these magnificent ruins in the olive groves.
Looking for some relaxation? Take a day for yourself at Sirmione thermal baths or just sunbathe on one of the beaches.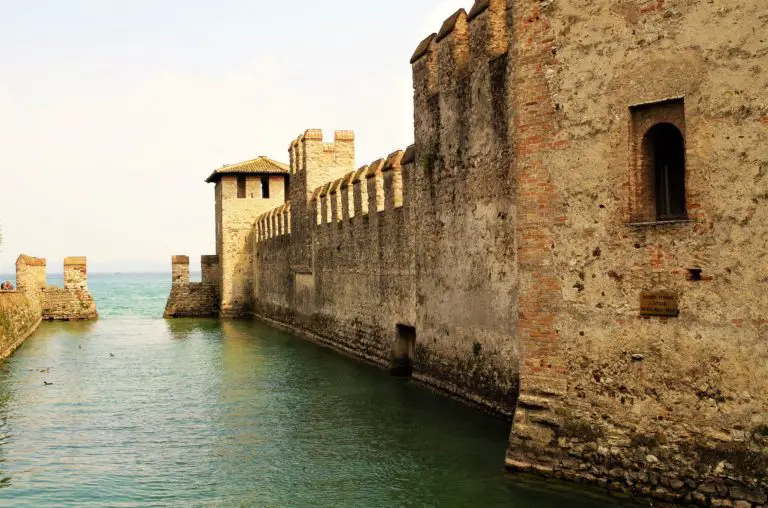 Of course, in this area all the local dishes are based on lake Garda fish.
As a matter of fact, there are about 40 different species, some of the most typical are carpione, common bleak (alborella), lake trout, whitefish (coregone) and pike (luccio).
Some Sirmione typical dishes with lake fish are tagliatelle with trout and asparagus, brined common bleak (àole salè), risotto with tench, bigoli with sardines, pasta with perch, trout carpaccio, cassata gardesana with lake Garda evo oil.
7. Vicenza, Villas and "baccalà"
Vicenza is the city where the famous Italian architect Andrea Palladio left a great impact.
You'll see a lot made by Palladio, from Corso Palladio, the main street in the historical city center, to the amazing villas in the outskirts such as Villa La Rotonda and Villa Valmarana.
A lot of the buildings that you find in Vicenza are part of the UNESCO heritage.
Just think of Teatro Olimpico, with its 95 statues, Loggia Valmarana in Giardini Salvi, Valmarana Chapel, in the crypt of the Santa Corona church and designed once again by Palladio, and Loggia del Capitaniato in Piazza dei Signori.
If you're anything like me, you'll love Vicenza also for its works of art: the Civic Art Gallery hosts paintings by Mantegna, Tiepolo, Veronese, just to name a few, and Santa Corona church hosts several treasures such as "Il Battesimo di Cristo" by Giovanni Bellini.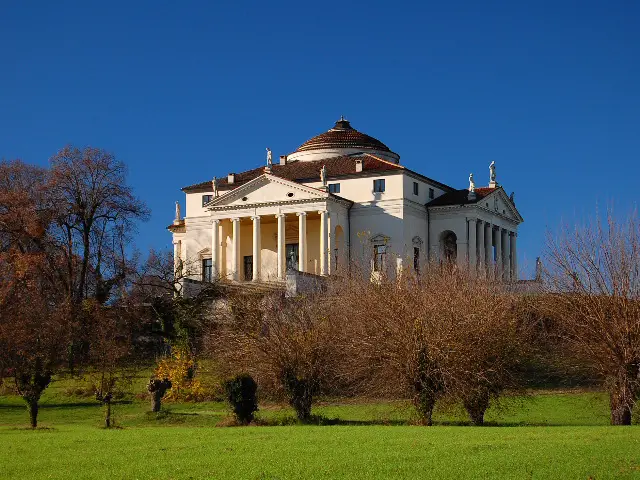 What to eat in Vicenza: typical food and wine
Originally from northern Europe, Venetian merchants brought Baccalà alla Vicentina to Italy centuries ago.
Vicenza-style cod is certainly one of the most famous dishes of Vicenza. The "Confraternita del Bacalà alla Vicentina" (brotherhood of cod) has the duty of preserving and protecting the ancient recipe, thus keeping the tradition alive over time.
Among cold cuts, you must try sopressa vicentina PDO that you can eat in one of the "sagre" (summer festivals) such as Sagra della sopressa di Valli del Pasubio, and prosciutto della Val Liona (ham).
The most renown cheeses produced in this province are Asiago PDO and Grana Padano PDO, which can be served with some of the local veggies: Broccolo Fiolaro of Creazzo, Radicchio Rosso of Asigliano, white asparagus of Bassano.
Speaking of Bassano, here you cannot miss a sip of their grappa, an Italian grape pomace brandy.
To accompany main courses such as Bigoi, fresh pasta usually served with fatty sauces, or Grumolo delle Abbadesse rice, you can have a nice glass of Prosecco!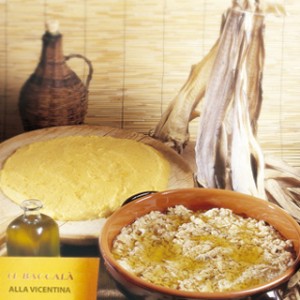 Did you Like the Post? Follow Me on Social Media and Stay Tuned for More Content!
Images credits: Casunziei alle rape rosse al rifugio Venezia cropped by ildirettore (original version); cropped by Off-shell // CC BY 3.0; Pasta e Fagioli by mealmakeovermoms  // CC BY-ND 2.0; Cichetti for breakfast by Samboomba // CC BY-NC-ND 2.0; Larotonda2009 by Marco Bagarella // CC BY-SA 3.0; Baccalà alla Vicentina from baccalaallavicentina.it