Best Traditional Italian Cookies to Dip in Coffee or Wine
In the Bel Paese we have tons of traditional Italian cookies: cantuccini, baci di dama, bones of the dead, savoiardi (ladyfingers) and many others! Discover the 10 best traditional Italian cookies to dip in coffee or wine.
the 10 Best Traditional Italian Cookies
Famous all over the world and easily recognizable in their red tin, Amaretti are the almond flavored cookies from the beautiful town of Saronno in the province of Varese, Lombardy.
The simplicity of this recipe and the unmistakable bitter aftertaste make it a unique and irresistible specialty to be discovered, bite after bite.
Excellent consumed at the end of the meal, accompanied by a glass of sweet wine (any passito will do), or for a delicious afternoon tea, Amaretti are suitable for any moment of the day.
Tasty and crunchy, they are also used as one of the main ingredients for traditional recipes such as Pumpkin Tortelli from Mantua and the three-layer Crescionda from Spoleto, Umbria.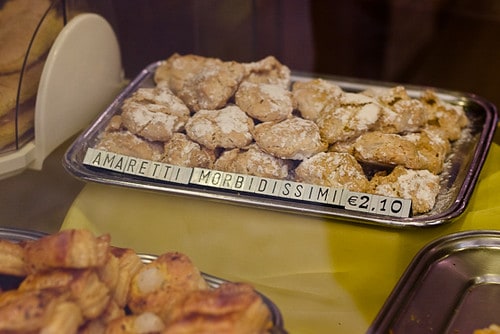 Amaretti di Saronno Fun Facts
According to legend, they were created in 1718 as a gift to the Cardinal of Milan. The recipe was simple: egg whites, apricot kernels and sugar. From that moment on, it is said that this recipe was taken by the Lazzaroni family who started producing cookies, first in their family lab, then upscaled the production. This was possible thanks to the foundation of the company D. Lazzaroni & C. in 1888, which is still producing the traditional Amaretti di Saronno.
The characteristic paper wrappers of Amaretti di Saronno are the protagonists of a nice urban legend. It is said, in fact, that if you roll up the wrapping, place it on a saucer and light it, it begins to flutter upwards. Then you will be able to see your own wish fulfilled.
2. Canestrelli from Liguria
Canestrelli are typical cookies from Liguria: sweet and crumbly, they are characterized by a flower shape and a hole in the center. They come in different versions. Depending on the area they are produced, they may vary in thickness, texture and decorations.
The etymology of Canestrello is uncertain. Some people think it comes from the word basket in Italian ("canestro"), that is the straw or wicker basket, in which the cookies were placed to cool. Others believe that the term is related to the shape of the mold in which the cakes were cooked.
In the past, Canestrelli were used to delight guests during important events such as weddings, patronal feasts and Carnival. They were prepared by the medieval guild of host producers who sold them in markets or in churchyards.
At that time Canestrelli were also considered as a symbol of abundance, as we can assume by looking at the seven six-pointed Canestrelli depicted on the golden Genoese coin of the 13th century.
3. Romantic Cookies Filled with Chocolate: Baci di Dama
In the long list of delicious traditional Italian cookies, the famous "Baci di Dama" (literally "lady's kisses") certainly deserve a place of honor.
Baci di dama, originally from Tortona, Piedmont, are made up of two parts of pasta held together by chocolate: the two round biscuits joined together seem to romantically kiss, united by a drop of dark chocolate.
There are several recipes and interpretations of the sweet Baci di Dama. Among the most famous there is certainly that of Baci di Alassio from Liguria which involve the addition of cocoa and honey in the dough. The success of this variant was such that its creator, Pasquale Balzola, decided to patent the recipe in 1919.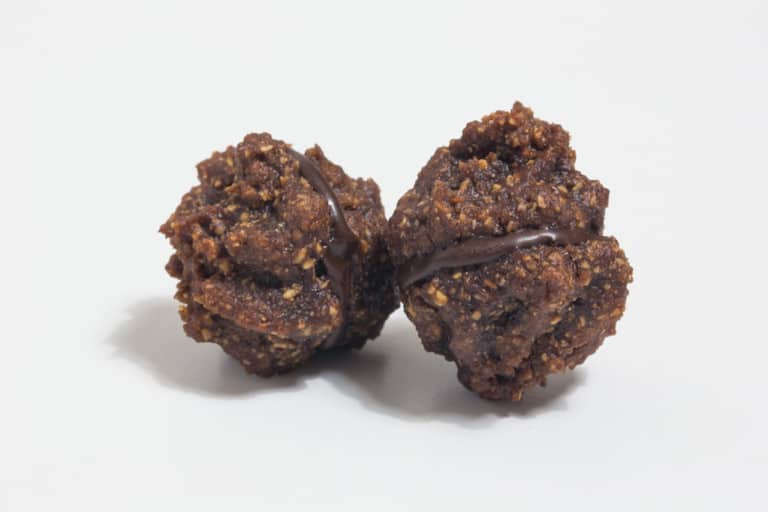 Baci di Dama History and Legend
As often happens when it comes to pastry, history mixes with legend and their creation is wrapped in a romantic and fairytale-like halo. As it's often the case with regards to the Turin and Piedmontese traditions, stories and legends are linked to the Savoy royal family.
Legend has it that on a beautiful day in 1852, King Vittorio Emanuele II asked the court cooks to create a new dessert with a different flavor and shape than usual. The result was greatly appreciated and the delicacy got the approval of the sovereign. It was then served on the royal tables of Italy and Europe.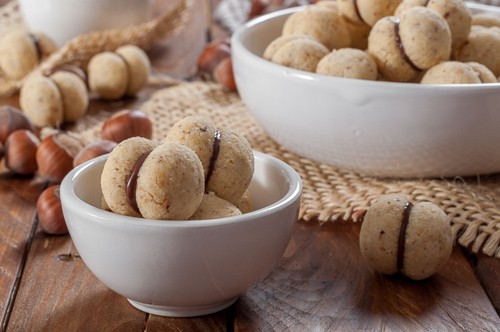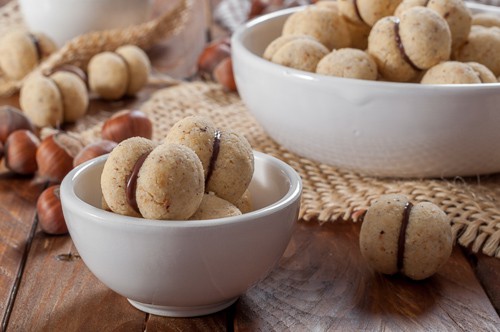 4. Tuscany Cantuccini in Vin Santo
Among the traditional Christmas desserts you can find on Italian's tables, there are the worldwide renowned cantuccini, originally from Tuscany.
The original recipe involves almonds in the dough but, if you make them at home, you can also use some even more gourmand ingredients such as chocolate chips and hazelnuts.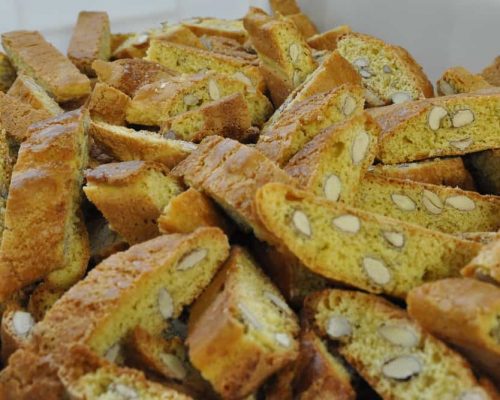 The peculiarity of these cookies is that they are cooked twice: first you cook the loaf, then you cut it into small pieces and put back in the oven until golden brown. The almond cantucci recipe is without oil and without butter, which is why they remain crunchy even the following days.
These cookies accompanied by a glass of Vin Santo (Tuscan sweet wine) are the perfect epilogue of a Tuscan meal. In fact, not only do they mitigate that feeling of fullness given by the previous courses, but also awaken our senses and mind and prepare them for the nonnos and nonnas' stories.
Vin santo, the "Holy Wine" Fun Fact
1348, Siena. Yersinia pestis, more commonly known as plague, had spread out in the Italian peninsula for almost a year. Siena was among the cities involved in the unstoppable epidemic, giving workers, gravediggers and priests a lot of work.
The legend tells that a Franciscan friar, in a desperate attempt to save the lives of the Sienese affected by the plague, gave them the wine used in the celebration of the mass.
Obviously the sick didn't heal as if by magic, however even a single sip could bring a pleasant sensation of relief, so much so as to make the practice spread. As the reactions of the poor dying people were positive, the wine was believed to contain miraculous properties and was therefore called Vin Santo (literally, holy wine).
5. Ladyfingers or Savoiardi Cookies
The Savoiardi are very light and crumbly cookies: for their thin and oblong shape they're called ladyfingers. To give the cookies their typical remarkable lightness, they are prepared by whisking the egg whites, which must then be added gently to the other ingredients. Also, during cooking, the air bubbles make the dough swell and so they become even lighter and softer.
Savoiardi are perfectly used for making classic Italian desserts, such as Zuppa Inglese and Tiramisù. Alternatively, they can be served with eggnog, ice cream or fruit salads.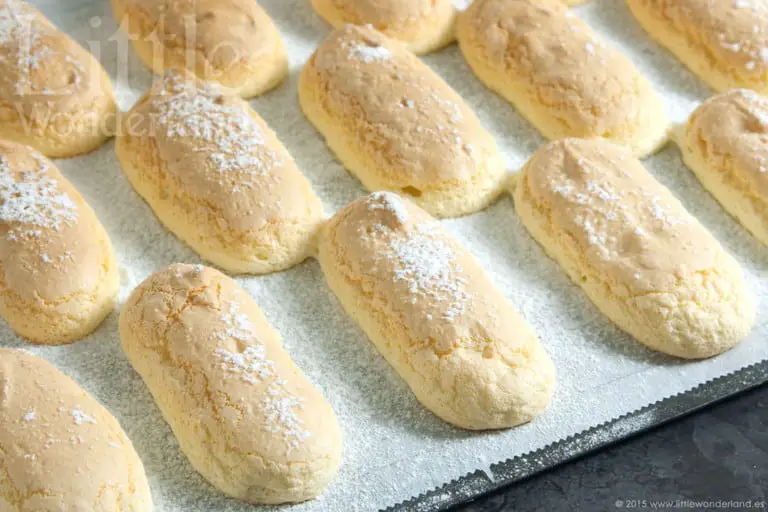 Savoiardi saw the light in the late Middle Ages and were supposedly created by the cook of the court of Amedeo VI, for a sumptuous lunch organized during a visit by the royals of France.
Thanks to the success achieved in that memorable banquet, these cookies were later named "Savoiardi" as they were particularly appreciated by the Royal House of Savoy who officially adopted them.
6. Sicilian Bones of the Dead Cookies
The Sicilian bones of the dead cookies are typical sweets prepared for the festivity of All Saints and the Day of the Dead in November.
Each Sicilian province calls them differently, from "Muscardini" to "Paste di Garofano" (garofano means clove), and have even different recipes.
The staples, though, are the same for everyone: water, sugar, flour and cloves. As you can see, it's a completely vegan recipe: no eggs or butter are needed. Some people add cinnamon to cloves for a more flavorful taste, but it's totally up to you if you make them at home.
Bones of the Dead Fun Fact
It's interesting to know that with one single dough you can get two different textures: thanks to the resting time (2 days) the base caramelizes as all sugars  separate from the flour and end up on the bottom. On top there is a white empty shell, which is the part reminding of bones.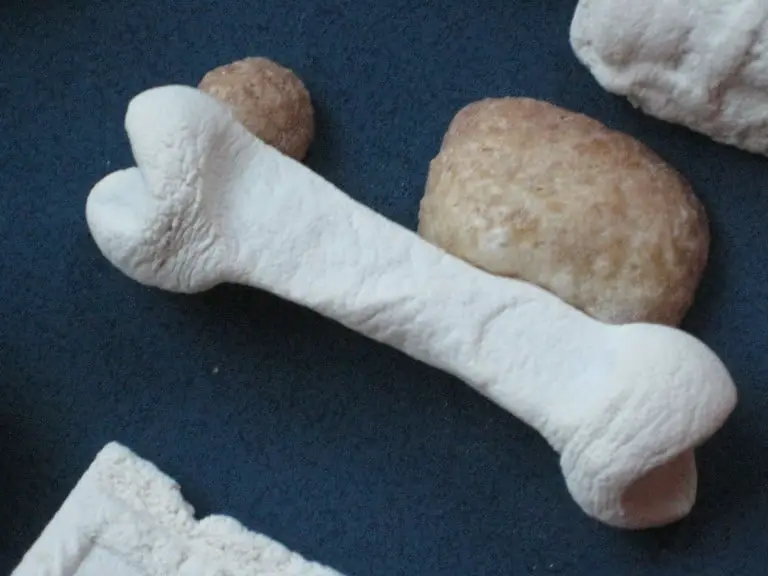 7. Wedding Cookies with Anise Icing: Zuccherini Montanari
Zuccherini montanari are ring-shaped Italian coffee cookies decorated with anise icing. They're typical of the Apennine tradition between Emilia and Tuscany, particularly in the provinces of Bologna, Florence, Modena and Prato.
Zuccherini icing was created long ago by mountain dwellers, who used to boil sugar and anise, obtaining this special glaze. Thankfully, their ancient recipe has been handed down from generation to generation, until the present day.
Careful not to confuse Zuccherini montanari (meaning "from the mountains") with Zuccherini Bolognesi: even though their names may sound similar, they're two different cookies!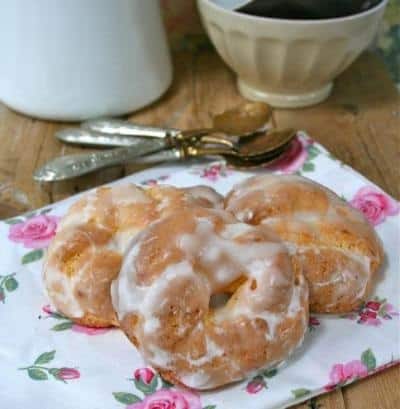 Zuccherini Montanari Fun Facts
In the past, they were offered to guests on special occasions like holidays and weddings. Some would thread the largest zuccherini with a twine to make a necklace for the newlyweds. Nowadays, in some areas of Emilia, it's still a tradition to prepare and give Zuccherini to the bride and groom, together with the more usual sugared almonds (in Italian "confetti").
Want to take a bite?
Every year since 1951 on August 15th the "Sagra dello Zuccherino" (Zuccherino Feast) has been held in Grizzana Morandi, a town in the Bolognese Apennines, 1 hour driving from Bologna.
8. Brutti ma Buoni, Tuscan Flourless Cookies
Never judge a book by its cover! This is the case of Brutti ma Buoni (also called Mandorlati di San Clemente and Bruttiboni), typical cookies originally from Prato, Tuscany, but widespread all over Italy.
By incorporating the meringue with nuts you create their peculiar weird shape that gives them the name of Brutti ma Buoni (literally "ugly but good"): crunchy on the outside but deliciously chewy inside.
Some make them with almonds, others prefer hazelnuts: different recipes have been created over time, but what they all have in common is the lack of flour in the dough. This makes Brutti ma Buoni gluten-free cookies, therefore suitable for anyone having intolerances or allergies to wheat flour.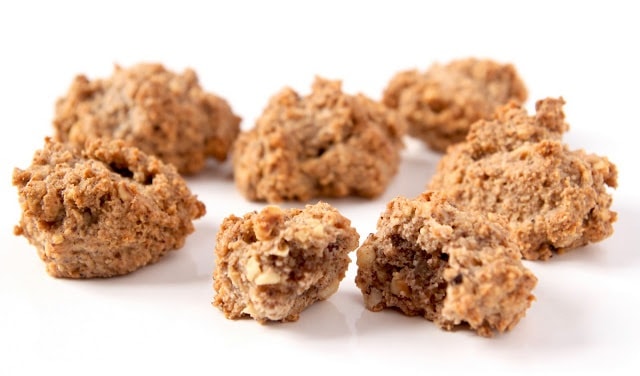 9. Zaletti: Venetian Cornmeal Cookies
Crunchy on the outside and soft on the inside, Zaletti (or Zaeti) are typical cookies from Veneto. It is said that Zaletti were born around 1600 between the provinces of Belluno, Udine and Pordenone, where the thinnest corn flour was produced thanks to the water mills of this area. It is this specific corn flour that, together with yolk, gives Zaletti cookies their peculiar yellow color. In fact, their name comes from "gialletti", which means "yellowish" in Venetian dialect.
Zaletti, as other types of cookies, are often dipped into sweet wines like Malvasia and Zibibbo.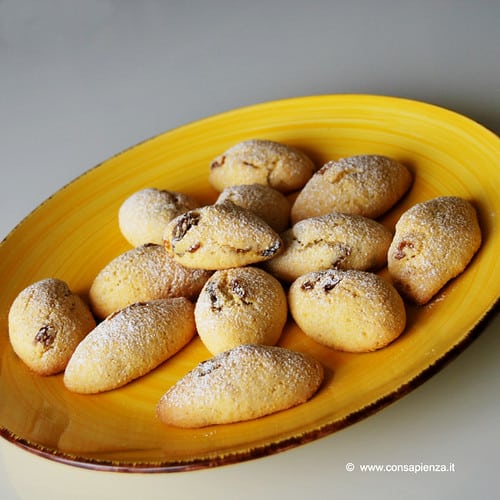 10. Pupazza Frascatana: the Three-Breast Woman
Included in the list of Traditional Agri-Food Products of Lazio (PAT), the Pupazza is a traditional cookie from Frascati castles, near Rome.
With a quite easy recipe similar to the classic shortbread, the basic ingredients are just a few: all purpose flour, extra virgin olive oil, wildflower honey and orange flavor. These latter ingredients give this cookie a richness in taste that is perfectly matched with the sweetness of milk and aroma of wine where Romans dip their Pupazza.
According to tradition, Pupazza Frascatana was born as an exquisitely Christmas dessert. Today, however, it is produced all year round to meet the great demand, even international. It's usually 25 cm high, even though during festivities and holidays larger versions are created.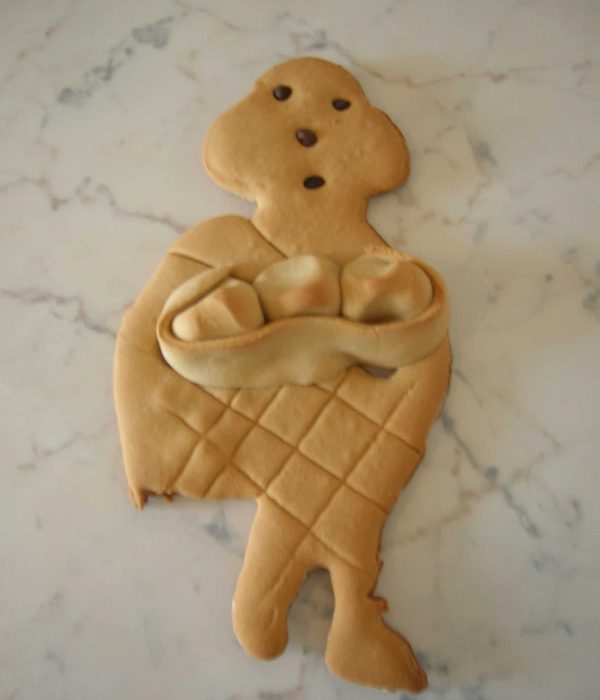 Pupazza Frascatana Fun Facts
With her arms pitched on her hips and her legs crossed like a tutu dancer, its peculiarity is blatant: the depicted woman is flaunting three bare breasts. Why? 
Legend has it that the Pupazza represents the "mammana", a nursemaid who looked after the children of women engaged in the harvest. This mammana was able to appease even the most agitated and capricious children by breastfeeding them with a fake breast with good Frascati wine. That's why the Pupazza has three breasts: two for milk and one for wine.
This legend was born in the 60s and soon became a local iconographic heritage linked to viticulture in Frascati, with the three breasts celebrating the centuries-old wine tradition of the Castelli Romani, in Lazio. Just think that a few kilometers from Frascati are the vineyards that produce a finest wine: Frascati Superiore DOCG.
Did you Like the Post? Follow Me on Social Media and Stay Tuned for More Content!
Images credits (from up to bottom): Amaretti Morbidissimi by chez pim // CC BY-NC-ND 2.0; canestrelli by fugzu // CC BY 2.0; Baci di Dama by Кулинарно // CC BY-NC-SA 2.0; Baci di Alassio by brettocop // CC BY-NC-ND 2.0; Cantuccini by MatteoBertini // CC BY-SA 2.0; Bizcochos de soletilla – Lady fingers by www.littlewonderland.es // CC BY-NC-ND 2.0; Bone Cookie by cherdt // CC BY 2.0; Zuccherino Montanaro by eventiesagre.it; Brutti ma buoni.JPG by Nyaleere // CC BY-SA 3.0; zaletti by Automotive_Space //  CC BY-NC-SA 2.0; Pupazza frascatana 2.JPG by Patafisik// CC BY-SA 3.0.