Rum Babà, History of a Pastry from Naples
Babà..The sound of this word is so magical and easy to remember. It recalls something fluffy, scrumptious and delicate..like babà is! Rum Babà is the perfect finger pastry to take when walking around the beautiful city of Naples.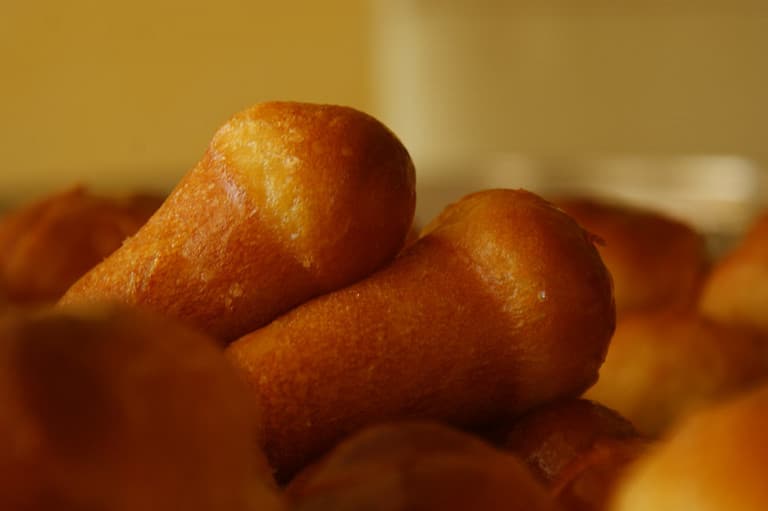 Naples is well-known for a lot of things and food is certainly one of the first things coming to your mind. Food in Naples is amazing, from pizza (fried or not) to desserts.
Neapolitan desserts are so many and so delicious, and probabily rum babà is the one that we all know. It's an ideal street food as you can take a stroll in Spaccanapoli with a rum babà in your hands!
You can taste it just for a few euros, but be careful: if you had a Neapolitan pizza for dinner you might wanna wait for a couple of hours before deciding to take a dessert! 
Babà is a famous pastry from Naples, known and appreciated all over the world.
The main feature of this dessert is its extreme softness, which allows it to absorb the alcoholic syrup flavored with Rum.
It may be served with whipped cream, fresh fruit, custard or just as it is. In pastry shops and bakeries you'll find it either as a large cake or as a small pastry with a bouchon shape. 
You can buy rum Babà or you can make it at home of course. Mind you, it's not an easy recipe to make. There are several variations: find the right one for you and be careful about the time for the leavening. If you don't have a kitchen aid you might probably spend an hour or so kneading the dough!
2. What Does Babà Mean in Italian?
In the dialect of Naples, if you're said "si nu' babbà" it means you're a nice and sweet person.
Even though it has nothing to do with the famous pastry from Naples, the term Baba used in its feminine form is also a regional term which means "old lady".
3. Why Is It Called "Babà"?
There are several opinions about the origins of the word babà.
There are 2 most popular legends about it.
King Stanislao (see the next paragraph "Rum Babà History")) loved to read "A thousand and one nights"

in Luneville so he decided to dedicate this dessert to his favorite character

Ali Babà

.

According to the other version, however, the shape of babà apparently reminded Stanislao of the bell-looking skirts called "babka"

that old ladies would wear in

Poland

.
Anyways, you can believe in the version you like most 😉
The origins of this delicious pastry from Naples go back to the 18th century and..not in Italy! In fact, our story starts out in Lorraine, in the North of France, specifically in Luneville, not far from Germany and Belgium.
A Polish king was exiled in Luneville right after his defeat against Peter the Great: his name was Stanislao Leszcinski. 
There are legends and myths around him and the truthful origins of rum babà.
Some say that Stanislao, who loved to dabble in culinary inventions, once dunked a slice of kugelhopf (a quite well-known Austrian pastry at that time) in madeira, a dessert wine, to keep it soft for the next few days.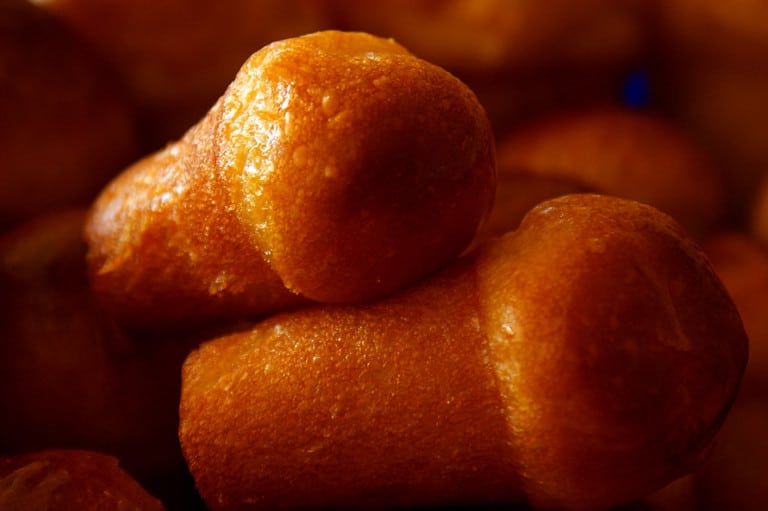 Others believe that Stanislao once flung the kugelhopf and accidentally hit the bottle of rum. Intrigued by the scent in the air, he tried this unexpected combination and quite liked it! 
The babà recipe was then improved, adding raisin, candied fruits and saffron, that he got to know during his imprisonment in Istanbul (Turkish really loved this spice).
Now, you must be wondering..Babà isn't made with any of these ingredients! And how on earth did it end up in Naples??
Don't be hasty, we'll come to it in a sec!
Rum Babà From Poland to France
Rum babà recipe as we know it nowadays dates back exactly to 1835.
Stanislao's daughter, Maria Leszczyńska, who got married with Louis XV of France, brought Nicolas Stohrer, a great Polish pastry chef, to Paris.
At that time the Jamaican rum was in fashion and soon replaced madeira in Babà recipe.
Pointless to say, it was a success.
In time, it lost raisins and saffron, but acquired its "mushroom" modern shape thanks to Sthorer himself who had also opened a pastry shop in Paris in 52, rue Montorgueil – you can still visit it now!
Rum Babà From France to Naples
In 1836, Babà appeared in the first culinary handbook (with raisins and saffron) written by Vincenzo Agnoletti for Napoleon's second wife, Marie Louise who had been Duchess of Parma since 1814.
How did babà reach Vincenzo in the first place?
After Louis XV, his most unfortunate successor Louis XVI took over. You should know that his wife Maria Antonietta had a sister, Maria Carolina, who was married to Ferdinando IV di Borbone, king of Naples.
It is said that between the two ladies there had always been some rivalry. As a matter of fact, Maria Carolina was so madly jealous of her sister that she would reproduce the Parisian fashion in Naples, being it about clothing or food.
That's how rum Babà ended up in Naples!
Hope you found the history of Babà interesting! Now it's time to get a taste of it, don't you think so? 😉
Did you like the post? Follow me on Social Media and Stay Tuned for More Content!
Images credits (from top to bottom): I miei babà by mariateresa toledo// CC BY-NC-ND 2.0; Babà fresh summer by Caleb Lost // CC BY-NC-ND 2.0; Babà by mariateresa toledo // CC BY-NC-ND 2.0.