All Types of Focaccia Bread in Liguria
Genoa is famous for its culinary tradition: Focaccia, Pesto Genovese and Farinata are just a few of the most well-known Ligurian foods. If you're planning to visit Cinque Terre or other areas of Liguria you must try all types of delicious focaccia bread specialties!
Focaccia is a typical flatbread from Liguria, in the North of Italy. What makes it different from common bread like ciabatta is the use of abundant extra virgin olive oil to get the perfect fluffy focaccia.
You can have this delicious treat at any time of the day, like Italians do: plain focaccia as a snack in between meals or for a salty breakfast, whereas stuffed focaccia (for example with cheese and prosciutto between the two layers) is ideal for a quick lunch on the go.
Alternatively, you can serve it sliced to kickstart your dinner with a gourmand aperitivo: focaccia genovese is often served with Ascolana Olives and cocktails such as Spritz or Negroni!
2 cm thick, bright golden surface brushed with extra-virgin olive oil and scattered with salt. Focaccia Genovese must be crunchy on the outside but soft on the inside. 
Crunchiness and softness are the features of the perfect Focaccia Genovese, a most renown specialty in the Ligurian cuisine. Depending on the province, you can find different versions: plain, topped with of onions, olives or rosemary.
Local people usually have it for breakfast, as a snack or for aperitivo – together with a nice Ligurian white wine.
5 features of Focaccia Genovese
Dimples

: they make focaccia the real Genovese thing.

Thickness

: no more than 2 cm!

Texture

: soft on the inside, but crunchy on the outside.

Taste

: you must taste only the flavor of focaccia, nothing else.

Oil

: a lot of extra-virgin olive oil must be used: in the dough, on the baking tray, on top and after baking..don't skimp on it!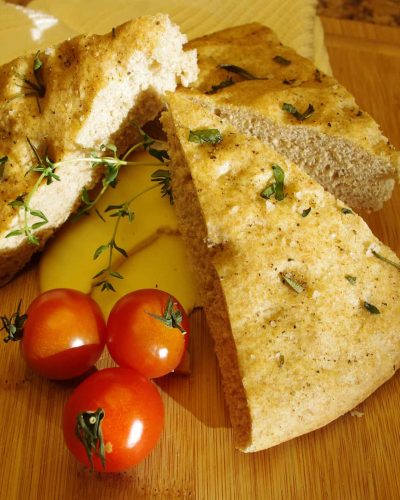 Focaccia di Recco is a typical product of the towns of Recco, Sori, Camogli and Avegno, Liguria. It's easy to spot in shop windows as it's quite flat with creamy cheese on top. In the past prescinsêua, a local creamy cheese from Genoa, was used, but it was later replaced with stracchino cheese, which is now substituted by Crescenza ligure.
The difference between the classic focaccia Genovese and focaccia di Recco? The latter has no yeast, that's why it's more flat!
Focaccia di Recco Origins
Focaccia di Recco is thought to trace back to the Arabic people called Saracens.  At that time, people in Recco, a town near Genoa, were forced to hide inland because of Saracens invasions.  Unluckily, they only had a few ingredients at their disposal: water, flour, olive oil and curd cheese (today's Crescenza). Despite this bunch of ingredients, people from Recco were able to create a new (delicious) recipe, the Focaccia di Recco.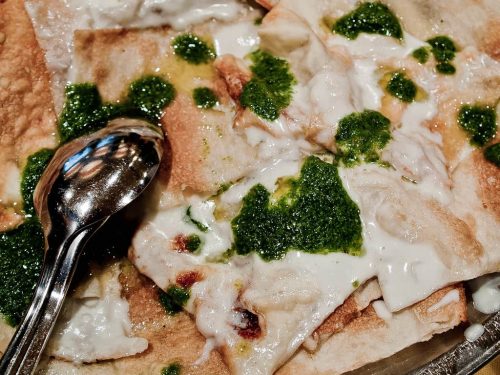 Farinata is a vegan flatbread made of chickpeas flour mixed with water, salt and abundant oil, all baked for 20 mins at 250°C. It's so oily and flavorful that it's really one of the best Italian street foods!
Although you can find Farinata in other regions of Italy (in Tuscany for example, but they call it by different names), you cannot miss to try it in Liguria.
How was Farinata di Ceci born?
According to legend, in 1248 a Genoese vessel got stuck in a tempest for days. In such rough water, barrels broke and chickpeas, oil and salty water got mixed in the galley. After days under the sun, this mixture had grown a thin crust because of the heat and sailors decided to give it a go.
This discovery was sensational: it tasted so good that they decided to replicate the "recipe", clearly refining it. And here we go, Farinata was born!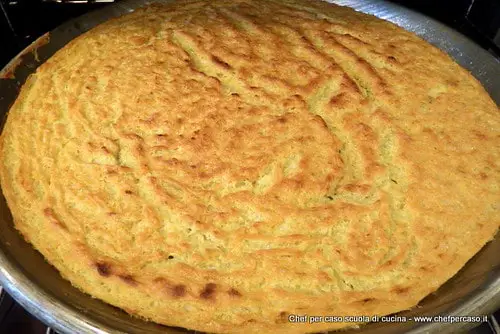 4. Focaccia Dolce Sarzanese (Sweet Focaccia)
Typical of the Sarzana area, close to La Spezia, this round-shaped sweet focaccia doesn't have the same ingredients as the classic version.
In fact, Focaccia Dolce Sarzanese is composed of a mix of flour, eggs, sugar, raisins, orange zest, candied fruits, nuts, white wine, oil and yeast. 
If you ever have the chance to be nearby Imperia, you definitely should try their thick and soft Piscialandrea. The recipe dates back to the year 1400 and many are the legends surrounding the origin of this name.
Most people say it was named after the Genoese admiral Andrea Doria. The dough is made the same way as the classic focaccia, even though in Piscialandrea anchovies are added on top.
In some areas of Liguria you can find Piscialandrea topped with soft cheese, chopped onions and olives.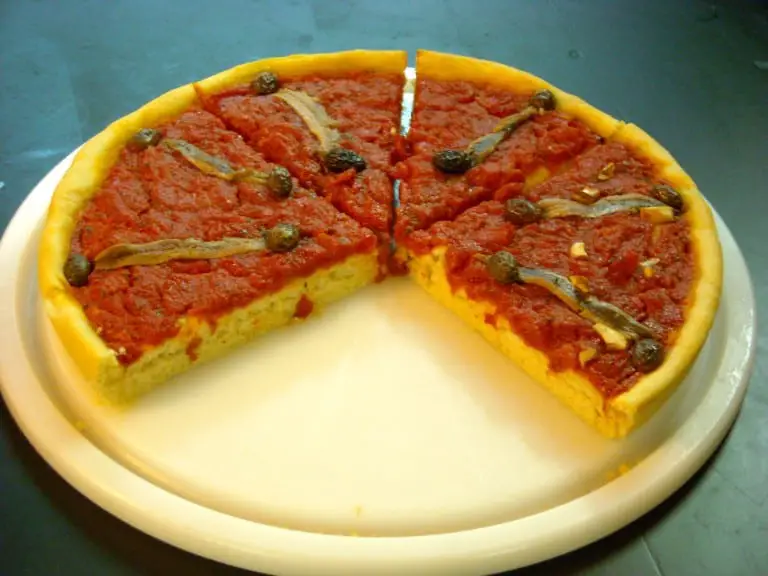 6. Focaccia Verde di Dolceacqua (or Green Focaccia)
Focaccia Verde di Dolceacqua can be found in the Province of Imperia, in the tiny village of Dolceacqua. Here they make a quiche similar to focaccia: the Green Focaccia.
Why is it called Green Focaccia?
The base is like a classic Ligurian focaccia, but then marjoram, zucchini, chard are added to the dough, giving it this characteristic color.
A curious ingredient is also used in Green Focaccia: rice. A few handfuls of rice is added on the focaccia which is then baked in the oven. To achieve even greater results, the focaccia is then brushed with extra-virgin olive oil in order to prevent the dough from getting dry. 
Did you know anything about all of these fluffy, oily, soft types of focaccia bread?
Hope you've learnt something new, and remember that focaccia is widespread all over Italy, but Liguria is its place of origin. If you ever come by, take the chance and ..have a bite! 😉
Did you Like the Post? Follow Me on Social Media and Stay Tuned for More Content!
Images credits: Focaccia di Recco by micurs // CC BY-SA 2.0,  Farinata di ceci by chefpercaso// CC BY-NC 2.0