Authentic Pesto Genovese Recipe
Making Pesto Genovese may seem simple, but to get a great result it's very important to stick to the authentic recipe: from the choice of the ingredients to the tools.
As it's hard to make the perfect basil pesto, I gathered all the information and hacks you need to know: main ingredients, how to make pesto with mortar and pestle, best pasta with pesto and Italian style hacks to amaze your guests!
Pesto is a typical Italian cold sauce used as condiment for pasta. There are different types of pesto in Italy, but in this article you'll find the authentic Pesto Genovese recipe which is originally from Genoa, Liguria.
As I said, pesto is a cold sauce, therefore it shouldn't be heaten up! To slightly warm it up, just add a ladleful of cooking water: it's a trick to make it creamier and mix well with pasta!
The word "pesto" comes from the verb "pestare", which means "to pound" as in the past the ingredients used to be pounded ("pestati") to create this sauce.
2. What is the Difference Between Pesto and Pesto Genovese?
As mentioned above, there are different varieties of pesto in Italy: zucchini pesto, arugula pesto, dried tomato pesto and many others.
Pesto Genovese is the original pesto created in Liguria. In order to make it, you must follow the official recipe: there are certain rules to abide by, from the choice of the ingredients (only Italian PDO products) to the procedure (see instructions below). If you don't stick to these rules, the pesto you make will just be a basil pesto.
3. Best Pasta with Pesto Genovese
If you're wondering what pasta goes with pesto genovese, here is the answer: people from Liguria would use trofie – short and twisted Ligurian pasta – or trenette – long, thin and flat pasta. However, you can match it with other pasta types: for example, I personally love it with the classic spaghetti.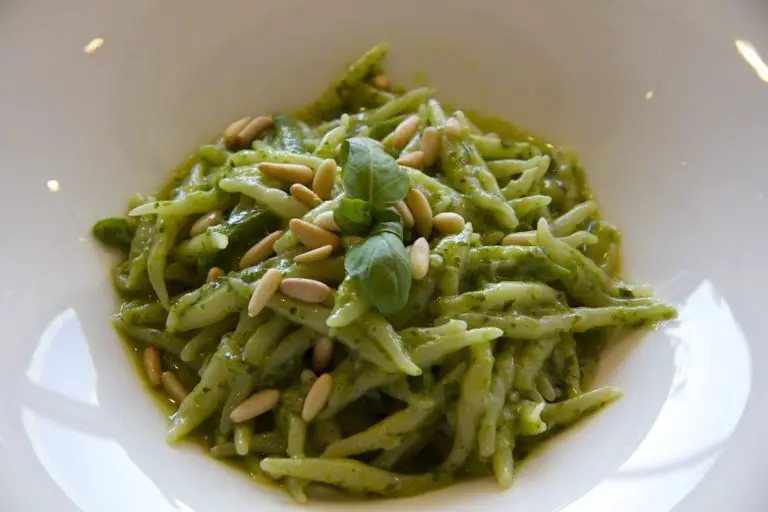 4. Pesto Genovese Main Ingredients
To make the authentic  Pesto Genovese recipe you need 7 ingredients:
Basil leaves PDO

Parmigiano Reggiano PDO (alternatively Grana Padano)

Pecorino PDO (Fiore Sardo)

Extra virgin olive oil

Garlic

Pine nuts

Salt
Let's see why the choice of each ingredient is extremely important to obtain the perfect pesto genovese.
According to the official recipe, it would be best to use the Genovese basil PDO from the Riviera Ligure. However, as it is not possible to find it in all markets of the world, you can always grow a plant on your balcony: when it has reached the length of about 10 cm and the first 5-7 leaves have appeared, you can then take off the leaves and use them for pesto. 
Don't let it grow too much otherwise the leaves will lose their aroma and will no longer be suitable for the sauce. Also, pick up the leaves right before making pesto: they're very delicate, so if you wait several hours before using them they might turn into a darker green – and your pesto will become brown!
4.2 Extra Virgin Olive Oil
Use a PDO extra virgin olive oil possibly from Riviera Ligure as it has a milder flavor than others: this way it won't cover the taste of basil, the protagonist of pesto.
4.3 Parmigiano and Pecorino Cheese
The two types of cheese used to make Pesto Genovese are Parmigiano Reggiano PDO and Pecorino (Fiore Sardo) PDO.
Instead of Parmigiano, you can alternatively use Grana Padano PDO. Pecorino (Fiore Sardo) PDO, a sheep's milk produced in Sardinia, is less salty but has a richer flavor than Pecorino Romano and, therefore, it's more suitable for this recipe.
In order to balance the saltiness of the Sardinian cheese, remember that the quantity of Pecorino must be ⅓ of Parmigiano.
My tip: grate cheese yourself!
Don't use already grated cheese! Grate it right when you start the recipe and use cold cheese directly from the refrigerator so that it won't heat up the other ingredients.
The freshest and highest quality pine nuts are ideal, but they can be substituted with walnuts.
The garlic must be sweet and should not cover the other ingredients. It's fundamental to reach the exact creaminess of the Pesto Genovese.
If you make pesto using a mortar and pestle, use coarse salt: while grounding the ingredients, the coarse salt absorbs the water from the basil leaves, thus preventing them from getting darker and preserving their greenness.
In case you prefer to use a blender, table salt will do just fine.
5. Pesto Recipe: Marble Mortar or Food Processor?
According to the authentic pesto genovese recipe, you should use a marble mortar and pestle to let the aromas out and mix together. 
However, if you do not have it on hand you can use a food processor. In this case, remember that you shouldn't mix the ingredients at the max speed: if you do so you will warm them up and the basil leaves will go through oxidation. Instead, blend at regular intervals. Moreover, add the cheese only after blending the other ingredients.
My tip: use ice cubes
Why do we need ice cubes to make pesto? If you use a food processor this is particularly important. After picking up the basil leaves, place them in a bowl with cold water and ice cubes. This way the leaves will keep their bright green color! Just remember to dry them out very well before using them.
6. Authentic Pesto Genovese Recipe
Ingredients for 6 servings (600 g of pasta):
Basil leaves PDO 50 g 

Parmigiano Reggiano PDO (alternatively Grana Padano) 6 spoons

Pecorino PDO (Fiore Sardo) 2 spoons

Half a glass of extra virgin olive oil

2 peeled garlic cloves

Pine nuts 1 spoon

3-4 grains of coarse salt

a mortar and pestle
Prep time: 15 mins
Pesto Genovese Nutrition Facts per serving - 50 g
Calories: 250 Kcal

Carbo: 2.50 g

Proteins: 6.35 g

Fats: 23.5 g

Cholesterol: 12.15 mg

Fibres: 1.15 g
How to Make Pesto with Mortar and Pestle
Wash the basil leaves and dry them very carefully.
Pound the peeled garlic cloves in the mortar: one clove every 30 basil leaves.
Add coarse salt together with a few basil leaves (not all at once!).  Pound the leaves and garlic with a slow but long rotational movement of the pestle. Remember that you shouldn't crush the leaves but press them on the mortar sides so as to release their aromatic juice.
Once the sauce becomes bright green, add the pine nuts and keep pounding the ingredients.
Add the grated cheeses, both Parmigiano PDO and Pecorino PDO.
At the end gently add the extra virgin olive oil PDO.
Hack for a perfect pesto genovese
Remember to be quick when pounding the ingredients. If it takes too long the basil leaves might turn into a darker green because of the oxidation.
7. How to Use Pesto Genovese
7.1 Pesto Traditional Uses
Pesto genovese is traditionally served as a condiment for pasta. In Liguria you'll find plenty of the following typical dishes:
trofie(or trofiette) al pesto

,

trenette avvantaggiate

, a long pasta similar to tagliatelle with pesto genovese, potato cubes and green beans,

mandilli de saea

, sort of green lasagna typical of Genoa but spread all over the region – less known outside Liguria.
However, pesto genovese can be used to add more flavor to a minestrone (veggies soup) in winter, on a cold pasta salad on a hot summer day, on a bruschetta or even on pizza – just a few drops, not the entire jar!
7.2 How to use pesto from a jar
If you don't have time to make pesto genovese at home, you can use a pesto from a jar. However, I recommend you to always check the ingredients as they may contain many additives and preservatives.
Of course the flavor is different (no wonder) but some pesto from a jar are really good, I must admit.
7.3 How much pesto for 100 g pasta?
It depends on the person, but usually 100 g of pasta makes up a serving. I personally eat no more than 80 g as I don't like to be stuffed with pasta but this is my personal opinion.
If you consider 100 g per person then you have to use about 40-50 g of pesto per serving.
7.4 how to Get a Creamy Pesto
Once your pasta is cooked al dente, keep a glass of cooking water and drain the rest. Add that water to the right quantity of raw pesto (see below) and mix them together: your sauce will become much creamier and a bit warmer. Now you can pour it on your pasta but be careful: pesto must be neither too liquid nor too solid but has to reach that perfect creamy texture.
The best way to enjoy pesto genovese is using it right after you make it. However, you can make an abundant quantity in summer and enjoy it later or even over the winter months. Let's see how to store pesto made at home:
Storage in the refrigerator

: this way you will have

pesto ready to use

every time you need it, but it does not keep for a long time – only

up to a week

! Use

large glass jars

to facilitate the cleaning of the edges. Cover the surface of the pesto with olive oil every time you use it to limit the treacherous oxidation, and also to avoid the formation of mold.

Storage in the freezer

: store your pesto storage in

jars

suitable for the freezer or in the

ice cube tray

. In this case, it will be

already divided

into single portions. Remember not to pour olive oil on the surface of the pesto so as to keep it for

up to 2 months

.
Did you Like the Post? Follow Me on Social Media and Stay Tuned for More Content!