Aperol Spritz Recipe and Ingredients + TIPS!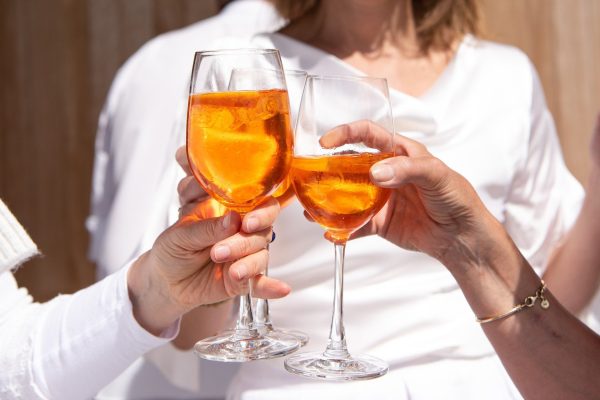 In Italy the aperitivo, between 6 to 8 pm, is a sacred moment that we share with friends after a work day.
We are used to enjoying this moment sitting in a bar with a refreshing drink and somehing to eat. You can choose from a wide range of cocktails, but the most popular are Spritz (any type, from Aperol to Campari and Hugo) and all variations of Negroni. 
Since some of these drinks are quite strong, Italians like to have some appetizers as well. The most common are ascolana olives, sandwiches, piadina, grilled veggies, but each region has their own typical appetizers. For example, if you find yourself in Veneto, you'll be served sarde in saor and other "cicchetti" in a cozy bàcaro. Or else, if you're having an aperitivo in the medieval Bergamo Alta, you'll likely get polenta grits and salami.
In this article you'll learn all about Aperol Spritz history, recipe and best ingredients, not to mention the different types of Spritz you can find in Italy.
Where was Spritz created? Some say it has German origins, some others Austrian, French..and Italian, of course. Let's shed some light on Aperol Spritz origin.
1.1 A drink of Wine and Water 
The idea of adding water to alcohol has been put into practice since the dawn of time.
Going back to Roman times, for example, we know that soldiers would add water to wine not only to make it less alcoholic, but also to cleanse water and make it drinkable.
Later on, shipbuilders working for the Arsenal of Venice were offered a special treatment for their work that consisted in a mid-afternoon snack and wine. Something that really paid off all their efforts! In summer this wine was served diluted with some water from the well to make the drink more refreshing.
This habit had been kept alive until the Habsburg domination, when soldiers coming to Venice from beyond Brennero were not used to such high alcohol content in Venetian wines and asked waiters to "spritzen" ("spray" in German) some water in their glasses. It was then that a new drink was born – and it was quite a success!
1.2 The invention of Seltz 
At the beginning of the 20th century, a special siphon to make seltz was invented and that drink similar to Spritz was revolutionized.
Seltz is sparkling water used for preparing cocktails. It's different from soda as CO2 is added through the siphon attached to the bottle instead of being added before the bottling, as it happens in soda.
The name Seltz comes from the sparkling water springing in Selters, a city in Germany. Thanks to seltz, this drink became popular among noblewomen as the alcohol content was lower than other alcoholic drinks.
1.3 Bitter, the final ingredient
Speaking of noblewomen, Mariù Salvatori de Zuliani, a Venetian noblewoman with passion for cuisine, first wrote about "Aperitivo Spritz" as a Padua custom.
However, since Treviso and Venice have always been competing to be Spritz's hometown, they've been called the Triangle of Spritz, just to settle things once and for all. Mrs De Zuliani published the first Spritz recipe in her book in 1979 in Venetian dialect:
"Un goto de vin bianco, ¼ de bicèr de un amaro qualsiasi (desso se pol metar per esempio: Cinar, china, bitter) e scorzeta de limon." 
It means "a glass of white wine, ¼ glass of bitter (for example Cynar, China or Bitter) and a zest of lemon."
Cynar (an alcoholic beverage made from artichokes) and other bitters were then replaced by Aperol, first presented to the public in 1919 by Barbieri brothers at Padua fair. This new alcoholic drink even had a Savoy stamp on its patent.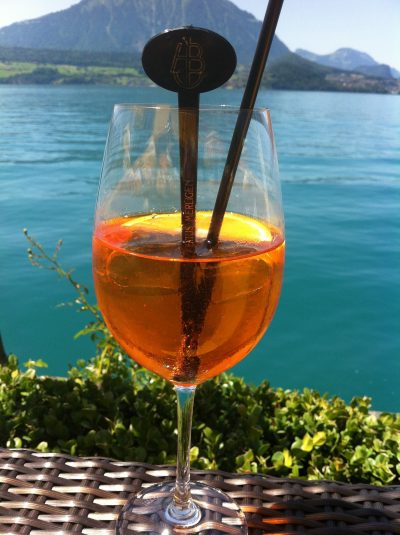 2. Aperol Spritz IBA Recipe (2020 update)
To make Aperol Spritz you need three ingredients: Prosecco, Aperol and a splash of soda, all combined in a wine glass with ice and an orange slice as a garnish.
However, these ingredients must be very well balanced, otherwise you might spoil the cocktail taste.
If you don't want to make mistakes follow the official Aperol Spritz IBA recipe 3-2-1. This is their 2020 recipe update:
3 parts of Prosecco (3 oz)

2 parts of Aperol (2 oz)

1 part of soda
How to combine these ingredients?
First off, choose a wine glass and partially fill it with four or five ice cubes. Then build your cocktail by pouring in Aperol, Prosecco and top with soda.
The final touch is the garnish: add a half-wheel orange slice inside the drink.
3. Aperol Spritz Ingredients
As mentioned above, we need only three ingredients to make Spritz. 
However, it's important to choose the top quality ones to get the best result possible.
Let's take a closer look at:
3.1 Best Type of Prosecco for Aperol Spritz
The best Spritz ever is made with Prosecco DOC, produced in Veneto and Friuli plains.  However, for an even better quality, you can use the more prestigious Prosecco Superiore DOCG, from Valdobbiadene, Conegliano and Asolo vineyards.
By choosing a Prosecco DOC or Prosecco Superiore DOCG you make sure that you're not only using high quality alcohol but you're also picking the right extra-fizzy spumante.
In terms of sweetness, since there are different types of Prosecco (Brut, Extra Dry, Dry and Demi-Sec), the best are "Brut" and "Extra Dry" since Aperol already contains a lot of sugar and you don't want to make Spritz too sweet.
3.2 Bitter: Aperol or Campari?
Whenever you order a Spritz you have to make a choice in terms of bitter: Aperol or Campari? Aperol Spritz is definitely made using Aperol bitter, but I personally recommend you to try Campari as well.
Let's see the differences between Aperol and Campari Spritz.
Aperol is quite sweet, it has an orange color and low alcoholic content (around 8°), whereas Campari is bitter, red and much more alcoholic than Aperol as it has 23°.
Which one to choose? It depends on your taste!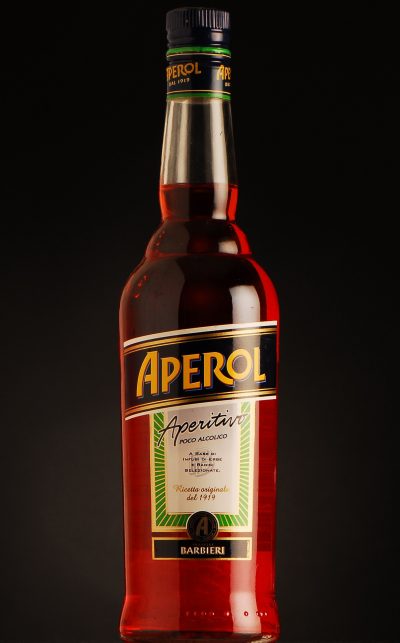 To prepare the perfect Aperol Spritz you need a splash of soda water that must be added after the alcoholic parts. 
Club soda (or soda water) is ideal to make the original Aperol Spritz IBA recipe. This carbonated water with added minerals slightly tweaking the flavor, has the right fizziness and doesn't contain any elements that throw off the balance of the cocktail.
Without changing the taste of the original Aperol Spritz too much, some good soda water substitutes might be the following:
seltzer: made with a soda siphon, this carbonated water has the most neutral flavor and can easily substitute soda water.
tonic: same as club soda but with added quinine that makes the water bitter. It's not ideal to make Spritz as the drink is already bitter.
mineral sparkling water: even though it naturally contains gas, it's not as fizzy as the other waters. If you opt for this one, make sure it's extra-fizzy.
lemonade: this soda with a lemon scent is not normally used to make Aperol Spritz as its aroma would change the cocktail a lot.
4. What Glass to Use for Aperol Spritz
Once served in an old-fashioned glass, in 2020 IBA officialized the new type of glass that should be used for Spritz: a wine glass.
How to garnish Spritz? A slice of fresh orange inside the cocktail will do!
6. Aperol Spritz Recipe: Variations across Italy
Aperol Spritz is most popular in Veneto, but you can get to drink it anywhere in Italy, although it is called by different names. Let's see a few of them!
In Brescia they call Spritz "pirlo" and it's made with white wine, Campari and some sparkling water. 
In Milan bar-goers once used to order a "bianchin sprüzzà" (sparkling white wine and Bitter Campari), while in Piedmont the Sabaud version is still alive: it's called "spruzzato" and hey make it with Vermouth, originally from this region, seltz and ice cubes. 
Back in the day, in Liguria Spritz was called "bianco amaro", meaning "white bitter", because they would pour a splash of Vermouth in white wine. Nowadays it's very common to enjoy an aperitivo with Aperol Spritz and slices of focaccia, typical Ligurian bread.
6.1 Spritz with Elderflower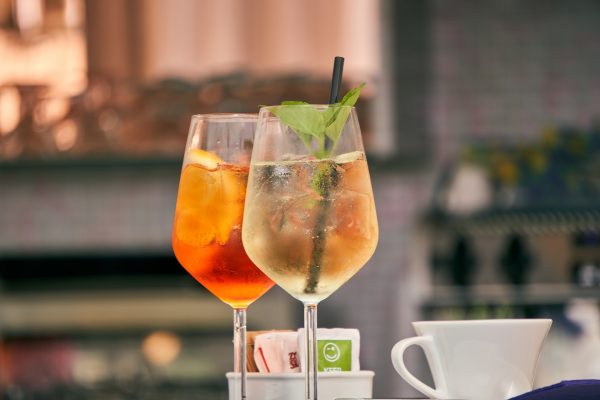 A drink similar to Aperol Spritz is also becoming more and more popular.  This cocktail is called Hugo, and together with Spritz and Negroni, it's one of Italians' favorite Aperitivo drinks.
The Hugo cocktail is made with Prosecco, elderflower syrup and seltz. It's poured over ice cubes and then served with 3-4 fresh mint leaves. Even though Hugo cocktail was born in South Tyrol, in the north of Italy, it is widespread even in other European countries. 
Now that you know everything about how to make the best Aperol Spritz at home, what are you waiting for? Treat yourself with a refreshing glass of Spritz!
Did you Like the Post? Follow Me on Social Media and Stay Tuned for More Content!