12 Gorgeous Day Trips from Milan by Train
Milan is the perfect place to stay during your vacation in Italy. Why? Because it's so well connected not only to Lake Como and Lake Garda but also to great Italian cities such as Venice, Bologna, Florence and many others. In this article you'll find the most useful practical information on amazing day trips from Milan by train – doable also by car!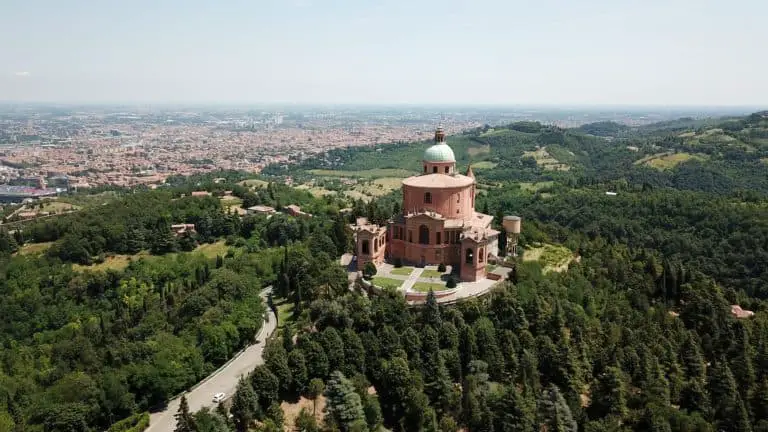 Hometown to Panettone, risotto alla Milanese and Cotoletta, Milan not only offers delicious traditional dishes but it is also a beautiful city definitely worth a visit.
The capital of Lombardy is the core of railways in northern Italy, therefore it's very easy to reach pretty much any destination in Italy: thanks to the combination of Frecciarossa bullet trains, Italo and regional trains it is possible for visitors to travel from Milan to Venice or even Florence in just one day.
Hope this article will help you decide which places to visit on day trips from Milan by train! 🙂
Day trips from Milan by train
PLEASE NOTE that the following places are easily reachable by train. However, you may also consider renting a car  to reach these destinations! This way you won't be tied to train timetables and you'll see that driving on Italian highways is not as difficult as it may look.
Lake Como
Lake Garda and Verona
Venice
Padua
Vicenza
Bologna
Florence
Turin
Pavia
Bergamo
Mantua
Brescia
Trains in Italy: Frecciarossa VS. Regional Trains
Before reading, you must know a few things on the difference between regional trains and Frecciarossa.
All the locations listed below are worthwhile day trips and perfectly feasible in one day. In regards to Frecciarossa ticket prices, this is the fastest and more comfortable option as they're bullet trains that reach your destination passing by only a few stops. What you'll see in the tables below is the cheapest fare that you can get when booking in advance – say at least a month before. 
However, smaller towns such as Bergamo, Mantua and Brescia are not connected by Frecciarossa trains. In this case, you must take regional trains: fares are fixed but seats cannot be reserved, therefore, even though you can easily purchase your ticket the day before traveling, you're not guaranteed a seat.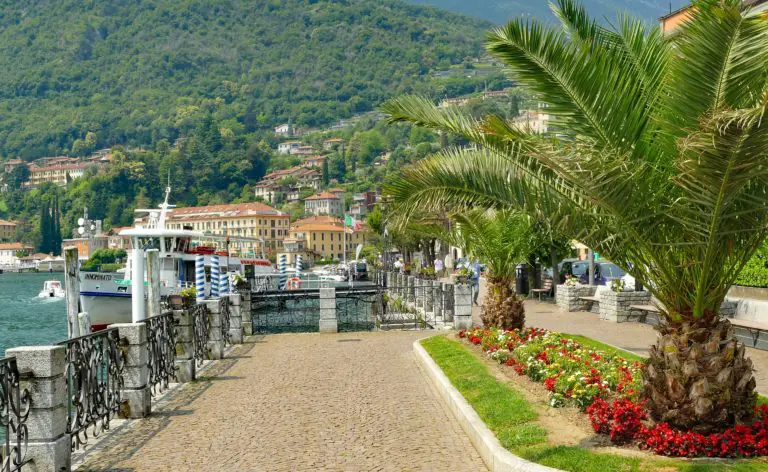 "This lake exceeds anything I ever beheld in beauty [..] it has the appearance of a mighty river winding among the mountains and the forests"
These are Percy Bysshe Shelley's words describing beautiful Lake Como in 1818. 
Even nowadays the lakeside towns are certainly the most famous attractions: Bellagio, Varenna, Menaggio are only a few of the cozy small towns rich in historical villas and their well-kept gardens, churches and little shops selling local foods and handicraft, jewellery and clothing. Bellagio, Varenna and Menaggio are very well-connected one another: check the ferry timetable to organize your trip in advance!
The villas around Lake Como play an important role in attracting tourists from any part of the globe. If you're wondering why, the reason is that their beauty is astonishing: built between the 16th and 19th century, the villas are considered architectural masterpieces with gorgeous gardens displaying an unrivalled palette of colors in Springtime. 
Some examples are Villa Balbianello, Villa Melzi d'Eril, Villa Fogazzaro, Villa Monastero, Villa D'Este, Villa Pliniana. Particularly appreciated is Villa Carlotta, in Tremezzo, Como. Here you can get to see works of art by Canova and Hayez, together with the beautiful garden and magnificent architectural structure.
How to Get to Lake Como from Milan by Train
Leave from

Arrive at

Duration

Cost (one way)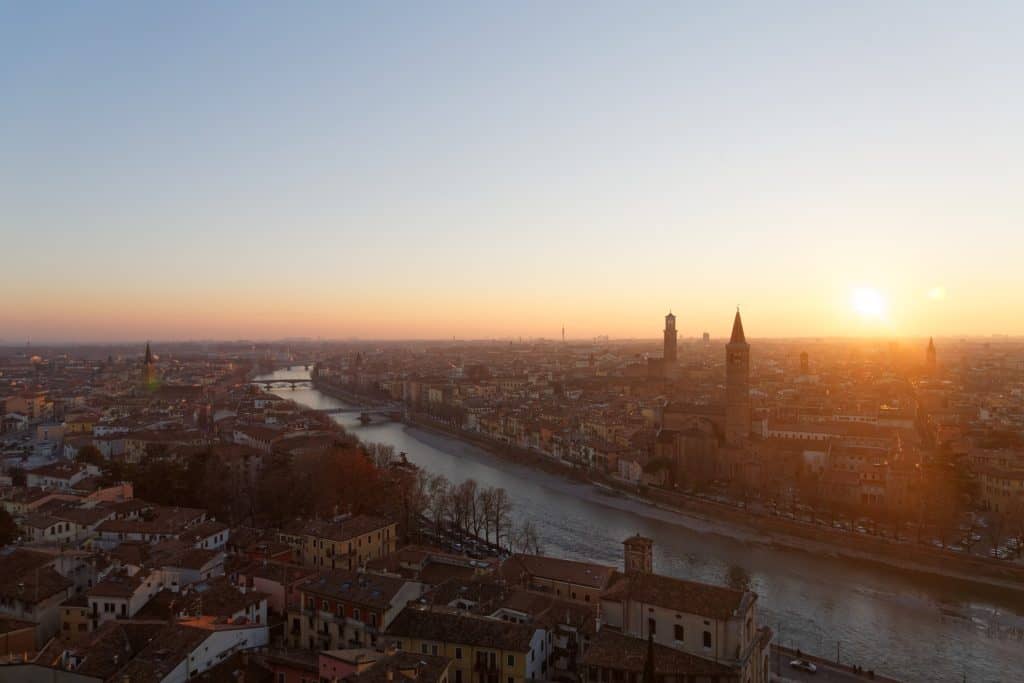 Lake Garda is one of the most beautiful lakes in Italy and, therefore, is certainly a top-rated day trip from Milan. 
Bordering with Lombardy, Veneto and Trentino, Lake Garda offers beautiful panoramas and a wide range of typical products: from Lake Garda DOC wines such as Lugana DOC to DOP products like Grana Padano, Provolone Valpadana, extra virgin olive oil and, last but not least, juicy lemons used for jams and lemon-scented liqueurs and olive oil.
Take the train from Milano Centrale in the morning and head for Verona, the romantic city chosen by Shakespeare to set one of his most famous works, Romeo and Juliet. Nowadays, it's considered a good luck sign to touch the statue of Juliet's breasts situated below Juliet's balcony.
In the historical center of Verona you'll see one of Italy's best-preserved arenas dating back to Roman times, where major concerts and opera festivals take place. Also the gates around the city are Roman works as well as underground excavations.
When on your way back, stop in Desenzano del Garda, a nice town on the lake ideal for an Italian style aperitivo with Spritz.
How to Get to Verona from Milan by Train
Leave from

Arrive at

Duration

Cost (one way)
Venice, the capital of the Veneto region, is a must-see for first time visitors to Italy and, therefore, one of the best day trips from Milan. Canals, gondolas, beautiful buildings and magical atmosphere are all elements contributing to the beauty of this city.
Among the most famous attractions in Venice are Rialto bridge, St. Mark's basilica and square, the Doge's Palace, Scuola Grande di San Rocco, Ca' d'Oro and the islands of Murano and Burano, which became famous thanks to the great glass workers. 
However, there are also hidden gems in Venice that not everyone knows! Have you ever heard of Scala del Bovolo in Palazzo Contarini, or Acqua Alta Bookstore, a peculiar Venetian-style bookshop? Also, typical Venetian food is something you want to try. To enjoy a traditional Venetian aperitivo, have a Spritz or a glass of Prosecco with cicchetti or sarde in saor, the typical Venetian-style sardines.
How to Get to Venice from Milan by Train
Leave from

Arrive at

Duration

Cost (one way)

2h 30 by Frecciarossa train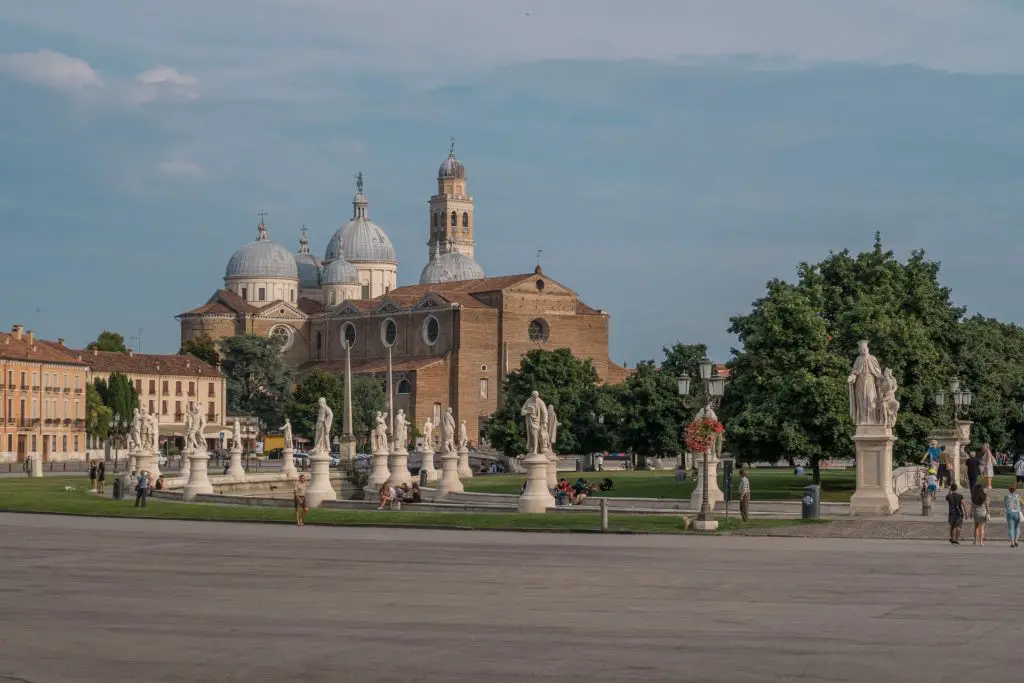 Padua is a very fascinating city: what makes it so appealing is the presence of cozy bars and restaurants (called "bacari") where you can eat great typical food and wines– think of Prosecco and Amarone della Valpolicella!
All over the city you can see the evidence of how great Renaissance artists such as Giotto, Donatello, Piero della Francesca and many others changed the Italian history of art. An example is certainly the Scrovegni Chapel frescoes, now part of Padova Urbs Picta, the14th-century fresco cycles that have been included in the Unesco World Heritage List.
Padua is famous all over the world for the University of Padua – one of the oldest in Italy – and the Basilica of Saint Anthony, where the relics of Saint Anthony are still visible. Nonetheless there are other top rated attractions to visit in Padua awaiting for you!
How to Get to Padua from Milan by Train
Leave from

Arrive at

Duration

Cost (one way)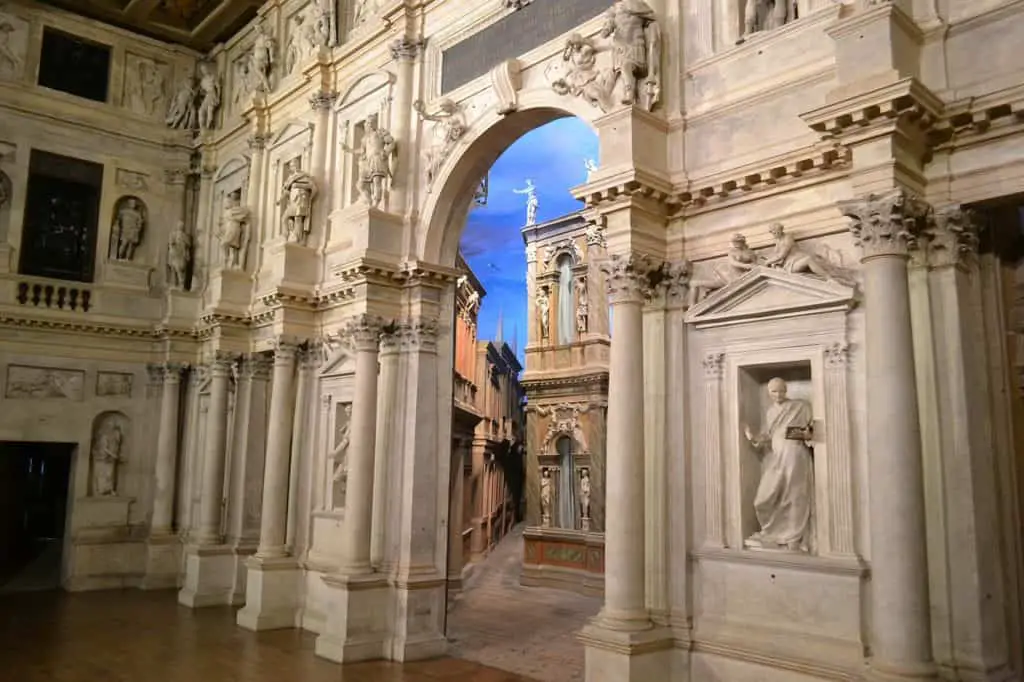 Without stepping out of the Veneto region, it is worth visiting the city of Vicenza, an easy day trip from Milan by train.
In Vicenza you'll be amazed by the Palladian Villas: Villa Valmarana and Villa La Rotonda are the most well-known and easily reachable on foot. It takes about 30 mins from the city center but the walk is nice as you are along a bike path surrounded by the green.
Andrea Palladio, the famous Italian Renaissance architect, also designed the gorgeous UNESCO heritage Teatro Olimpico ("Olympic Theatre") in the 16th century. You'll particularly like the trompe-l'œil onstage scenery designed by Vincenzo Scamozzi as it gives the appearance of long streets receding to a distant horizon. This theatre is one of the three Renaissance theatres remaining in existence in Italy!
As you're in the land of cod, you cannot leave without trying the Baccalà alla Vicentina, Vicenza-style stockfish: a signature dish of Vicenza.
>> More info on Vicenza and its typical food in my article Veneto, Typical Food and Wine Itinerary.
How to Get to Vicenza from Milan by Train
Leave from

Arrive at

Duration

Cost (one way)

1h 45 by Frecciarossa train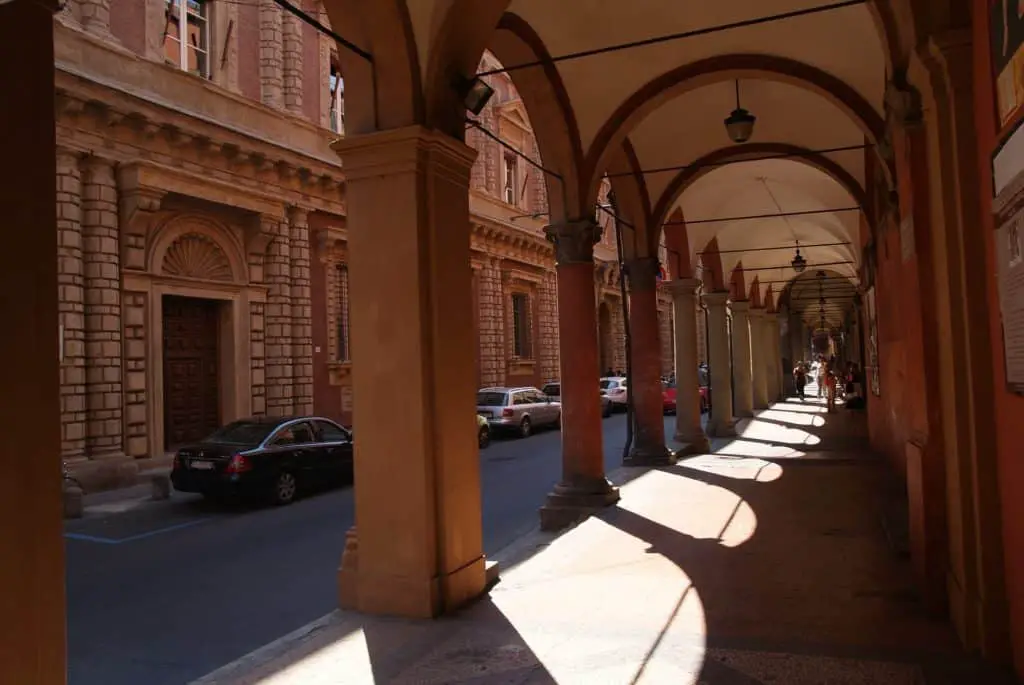 Bologna is the capital of Emilia-Romagna and is famous mainly for two things: the University and the food. 
First off, you must know that the University of Bologna is the oldest university in Europe: a committee of experts chaired by the famous Italian poet Giosuè Carducci, established its foundation in 1088. 
In Piazza Maggiore you'll see the famous Neptune's fountain and a few historical buildings dating back to the 13th and 16th century. The Torre degli Asinelli is a landmark of Bologna you cannot miss: go up the 498 steps and enjoy a wonderful view of the city from above!
Speaking of food, what are Bologna's signature dishes? There are many traditional foods in Bologna, but the most well-known are certainly tagliatelle with Ragù alla bolognese and tortellini. 
Have an aperitivo in the area called "Il Quadrilatero", the ancient market of Bologna. Here you can get to taste delicious prosciutto with tigelle, a typical flatbread similar to piadina but smaller, and a glass of Pignoletto Classico DOC.
How to Get to Bologna from Milan by Train
Leave from

Arrive at

Duration

Cost (one way)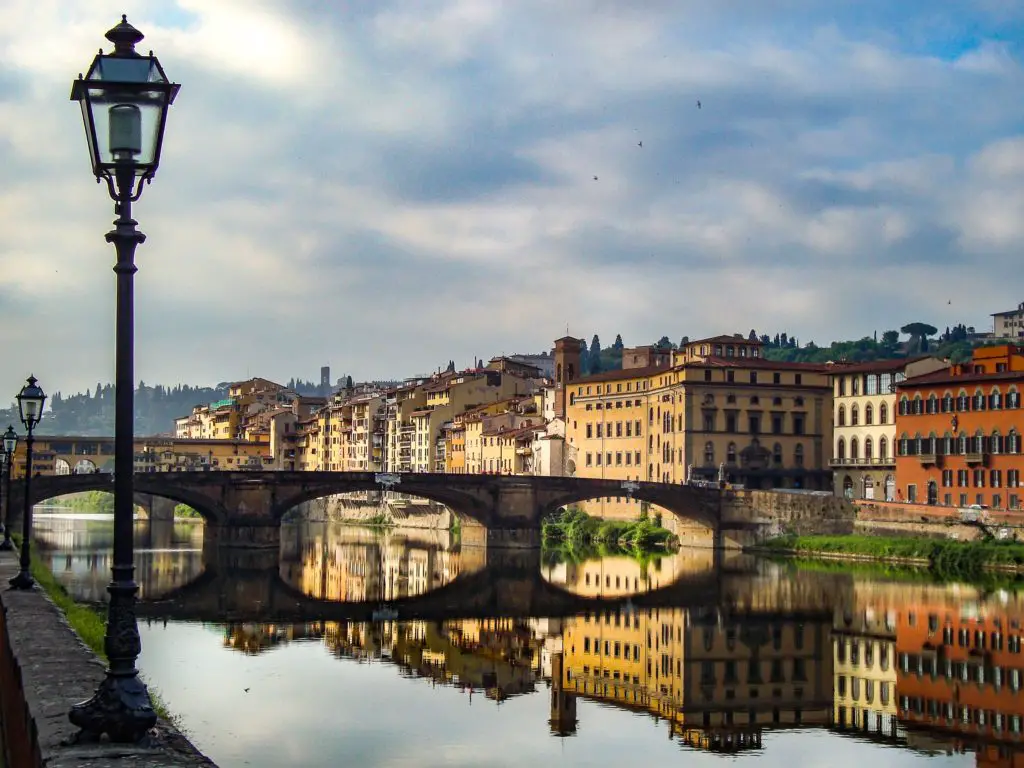 Florence is situated in northern Tuscany and it's hands down one of the most worthwhile day trips from Milan. Even though it's hard to see everything one day, if you're short on time you can select the best things to see in Florence and enjoy them all the same.
The main landmarks are certainly the magnificent Renaissance style Santa Maria Novella Church, Santa Maria del Fiore with its gorgeous bell tower by Giotto and dome by Brunelleschi, Florence Cathedral, Ponte Vecchio, whose original structure dates back to the Romans, Piazza della Signoria, where you can see the Fountain of Neptune.
Explore the Uffizi gallery, hosting important works of art by Botticelli, Leonardo da Vinci, Caravaggio, Giotto, Piero della Francesca and many others.
When visiting Palazzo Pitti, which served as the main residence of the Medici family, take a peek into Boboli gardens, a great example of Italian gardens.
Of course, don't forget to try the Florentine steak (Bistecca alla Fiorentina) and the wonderful Zuppa Toscana.
How to Get to Florence from Milan by Train
Leave from

Arrive at

Duration

Cost (one way)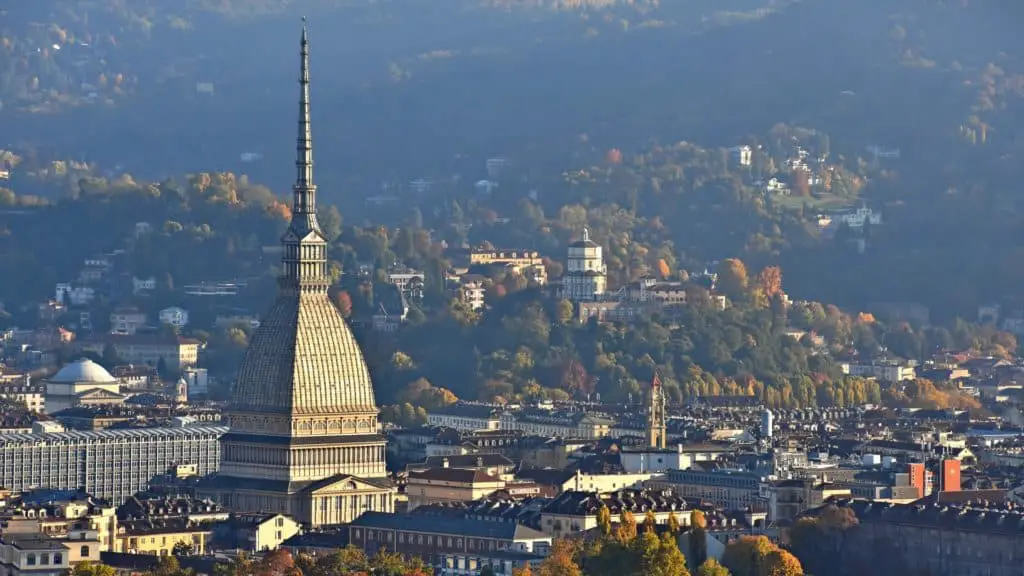 Only 1 hour away from Milan is Turin, the capital of Piedmont.
Broad avenues, huge piazzas and arcades characterize this city, together with the main landmarks: the Royal Palace, The Mole, where you can visit the Museo del Cinema, and one of the most important museums in Italy, the Egyptian Museum.
Turin is famous for its cafés: the magical atmosphere will bring you back to the city's Golden Age while sipping a bicerin, a typical type of coffee invented in Turin.
Also, you cannot miss to try bagna cauda, a convivial dish meant to be shared with family and friends, accompanied by a glass of Freisa d'Asti DOC, and other signature dishes of Piedmont, such as Agnolotti del Plin, fritto misto and vitello tonnato. If you try these foods in a restaurant, ask the staff the best Piedmontese wines to pair them with!
How to Get to Turin from Milan by Train
Leave from

Arrive at

Duration

Cost (one way)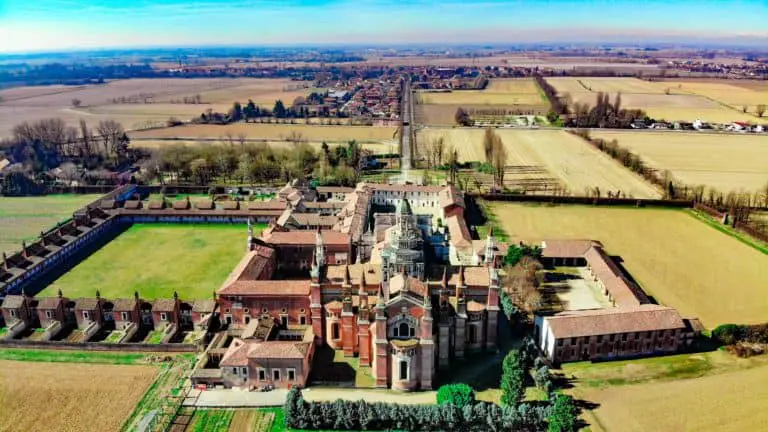 Pavia, situated about 40 km away from Milan along the Via Francigena, is one of the most attractive art cities in the Pianura Padana. 
In one day you can visit the main landmarks: the medieval Visconti Castle, the Basilica of San Pietro in Ciel d'Oro, the Pinacoteca Malaspina, Pavia Cathedral, to which Leonardo da Vinci contributed, the Ponte Coperto, an arch bridge over the Ticino river connecting the historical center to the rest of the city.
Pavia's most famous attraction is the Certosa di Pavia, a monastery built by the first Duke of Milan, Gian Galeazzo Visconti, at the end of the 14th century. What's most interesting about the complex, composed of the church, the cloisters and the museum, is that it displays different artistic styles, from the late Gothic to the Renaissance.
You must try Pavia's rice, as it is the typical product of the province, traditional dishes with eel, snail, goose and frog, together with a glass of the local Oltrepò Pavese DOC. Pavia is also the hometown of Torta Paradiso, a dessert famous all over Italy.
How to Get to Pavia from Milan by Train
One thing you need to know about the Certosa di Pavia is that it's not in the city center.
In fact, to get to the monastery, you must take the train from Milano Rogoredo (see table below) as trains from Milano Centrale  don't stop at the Certosa but go directly to Pavia city center.
My advice is to visit the Certosa in the morning and reach the city center in the afternoon. On your way back to Milan, you can take the regional train from Pavia to Milano Centrale.
Leave from

Arrive at

Duration

Cost (one way)

20 mins by regional train
Leave from

Arrive at

Duration

Cost (one way)

30 mins by regional train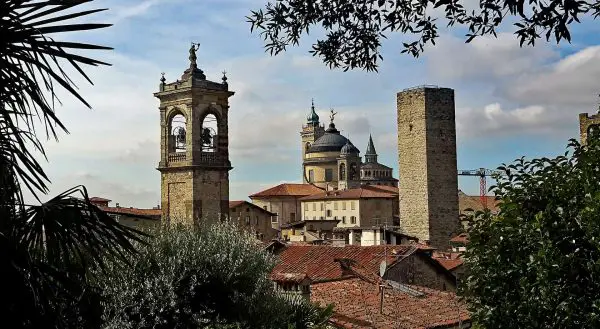 Bergamo, located 50 km east of Milan, attracts visitors for many reasons.
One of the best things to see in Bergamo is Città Alta (or Bergamo Alta), the upper town, is a hidden gem worth your time. Built in the Middle Ages, Upper Town is surrounded by the Venetian walls, now UNESCO heritage, which once served as protection against the invasors.
Also, Bergamo cuisine is something you want to try. A great example of traditional food in Bergamo is polenta e osei (meaning polenta and birds), not to mention Casoncelli and Scarpinocc. Old recipes have been handed down generation after generation, and now we can enjoy simple but good food and wine.
In fact, here you can discover the Valcalepio Wine Route and its homonymous wine, but also the smallest DOCG wine in Italy: Moscato di Scanzo DOCG. 
Have a glass of Moscato with local cheeses and other typical foods in the best traditional restaurants in Bergamo.
How to Get to Bergamo from Milan by Train
Leave from

Arrive at

Duration

Cost (one way)

50 mins by regional train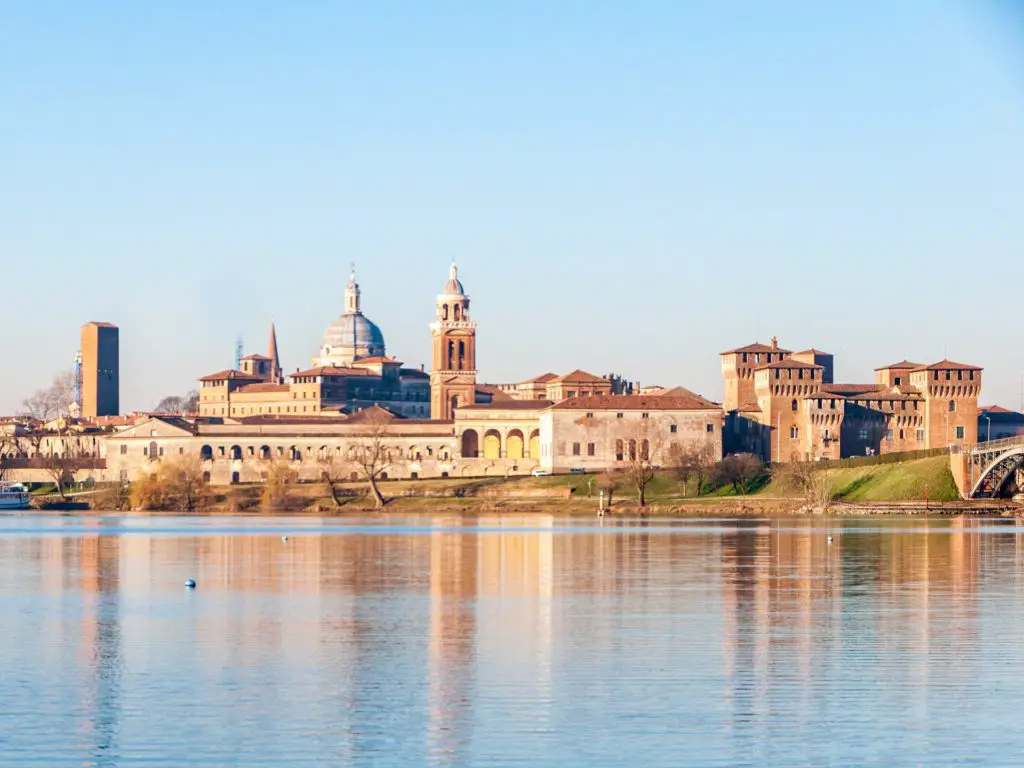 Mantua is surely worth visiting given its historical and artistic importance. It was once the cradle of the Italian Renaissance of which we can still see evidence in buildings like Ducale Palace, Basilica di Sant'Andrea and Palazzo Te, not to mention great Italian Renaissance artists such as Andrea Mantegna, who painted the Chamber of the Bride situated in St. George's Castle. In fact, in 2016 Mantua was named Capital of Culture.
Also, the traditional food in Mantua is amazing: Pumpkin Tortelli (tortelli di zucca), meat Agnoli in broth and Capunsei (sort of gnocchi made of bread and Parmesan) are the typical stuffed pasta you must try in the city.
As a second course, popular are Bigoli con sarde (thick pasta similar to spaghetti with pilchards) and Pike in sauce (pike served with a sauce made of capers, pickled bell peppers, parsil, garlic and onion). Don't miss Mantua's signature dessert: Sbrisolona can be found anywhere in the city so give it a try, you won't regret it 😉
How to Get to Mantua from Milan by Train
Leave from

Arrive at

Duration

Cost (one way)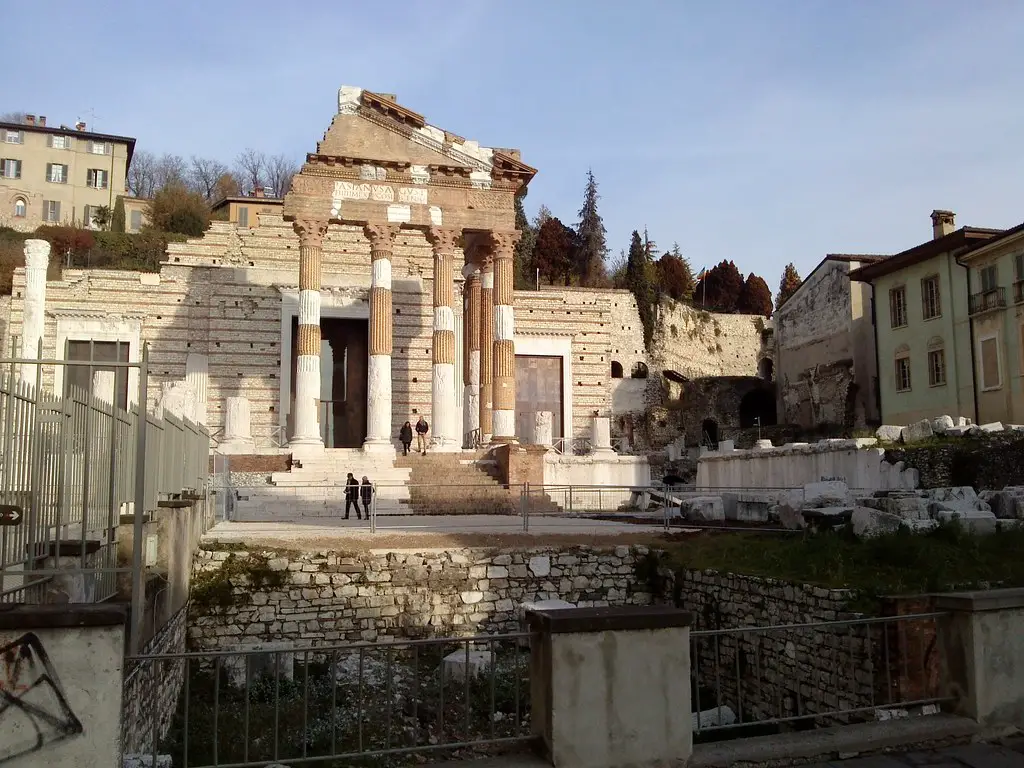 Brescia has become a famous tourist destination thanks to Christo's artwork "The Floating Piers" visible – and walkable – on lake Iseo in June 2016. 
In Brescia city center, you cannot miss to visit Santa Giulia Museum Complex, offering a journey through Brescia's history and art from prehistoric times up to the present day. 
Don't forget to have a taste of the typical cuisine of Brescia: manzo all'olio (beef in oil), Brescia-style Casoncelli, polenta taragna and Bossolà, a traditional Christmas dessert. Of course, all these delicious dishes deserve the right glass of wine: opt for a Franciacorta DOCG, the first DOCG sparkling wine made with a classic method.
If you have the chance, take a ferry and reach Monte Isola, from where you can admire the astonishing view of the mountains reflected on the water. If you're lucky enough, you'll see the island covered with colorful flowers during the "Santa Croce Festival". Taking place every 5 years, this celebration is well-known all over the Sebino area.
How to Get to Brescia from Milan by Train
Leave from

Arrive at

Duration

Cost (one way)
Hope my article on day trips from Milan by train will be helpful to plan your visit to Italy! 🙂
Did you Like the Post? Follow Me on Social Media and Stay Tuned for More Content!