Where to Eat Traditional Food in Umbria: Best Restaurants
Umbria is a wonderful region with plenty of beautiful landscapes and amazing local food. Find out Umbria best restaurants offering local wines and typical products.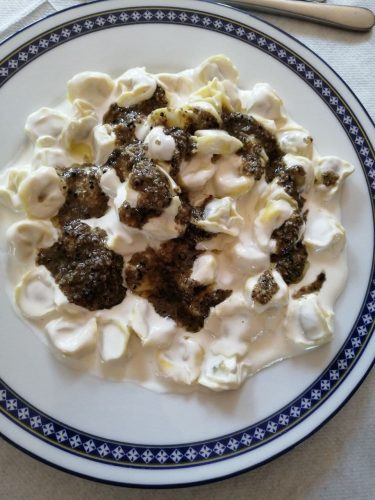 During my trip in Umbria I had the chance of getting to know more about this wonderful region and traditional food. Here is a list of places I visited where I could eat (lots of) typical food in Umbria. I take no commissions from restaurants nor any other parties to write my articles: these are just my recommendations based on my experience in 2021. 
Hope this guide about Umbria best restaurants will be useful for your travels!
Where to Eat Traditional Food in Umbria
1. Perugia: Panzanella and Vin Santo
I had a nice Umbrian dinner at Dal Mi Cocco for as little as € 17 / person (wine and water included). I was enjoying my food in Piazza Domenico Luppatelli as a few tables were set there.
The menu changes according to the day of the week: each day is different and you cannot order à la carte as the menu is already set. I was there on Thursday and had gnocchi, roasted meat (pork, veal, beef) and panzanella as a side dish.
Panzanella is a summer salad typical of Umbria and Tuscany. It's made of summer veggies (cherry tomatoes, salad, red onions, cucumber), fresh basil, olives and stale bread, which gives this salad a nice savory taste as it is previously soaked in water and vinegar.
To top it off, a glass of Vin Santo and Cantucci to finish a great meal!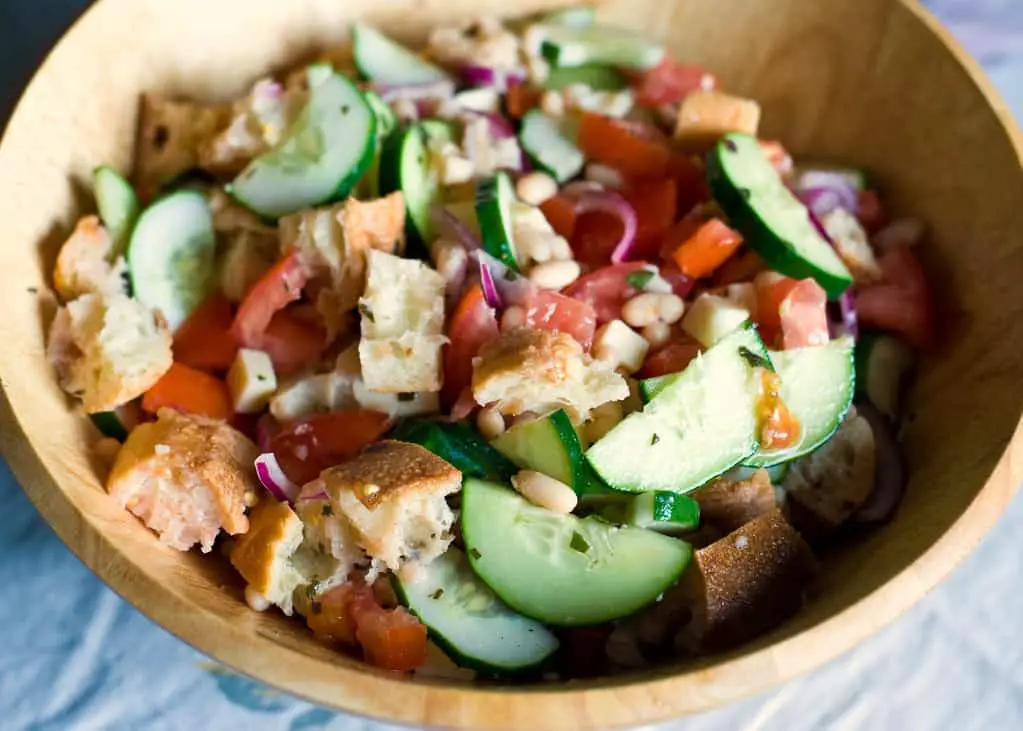 Are you a sweet tooth? For breakfast I had an "eustachio" at Turan Café, a type of croissant made by this café, an authentic delicacy.
Last but not least, Perugia is famous for its chocolate: have a chocolate tasting at Casa del Cioccolato or visit Eurochocolate in Perugia, the biggest chocolate festival in Europe!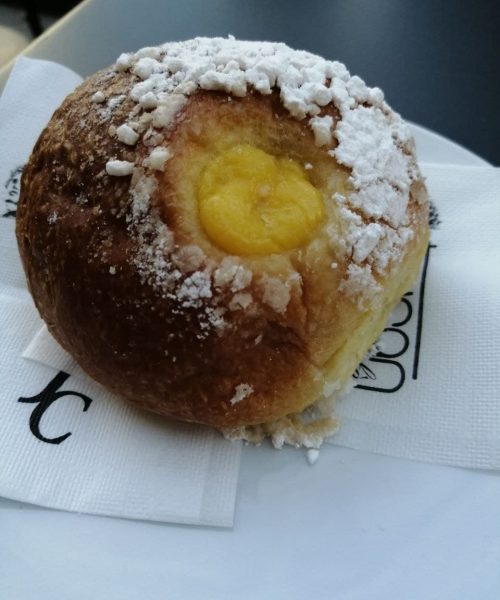 2. Todi: Strangozzi and Truffle
One of Umbria best restaurants I tried over my trip was Trattoria Da Piero & SIlvana. Here I had Strangozzi with cream, sausage and truffle and wild boar stew.
Strangozzi (or Stringozzi) is a wheat pasta typical of Umbria: long, rectangular noodles made by hand and generally served with the local black truffles, a meat ragù or a tomato-based sauce. This pasta type, named after "stringhe" (meaning "strings") for its resemblance to shoelaces, was born in the area of Foligno and Spoleto, areas where you'll find it pretty much anywhere.
Truffle: either black or white, on pasta or on crostini, you must have a dish with truffle while in Umbria!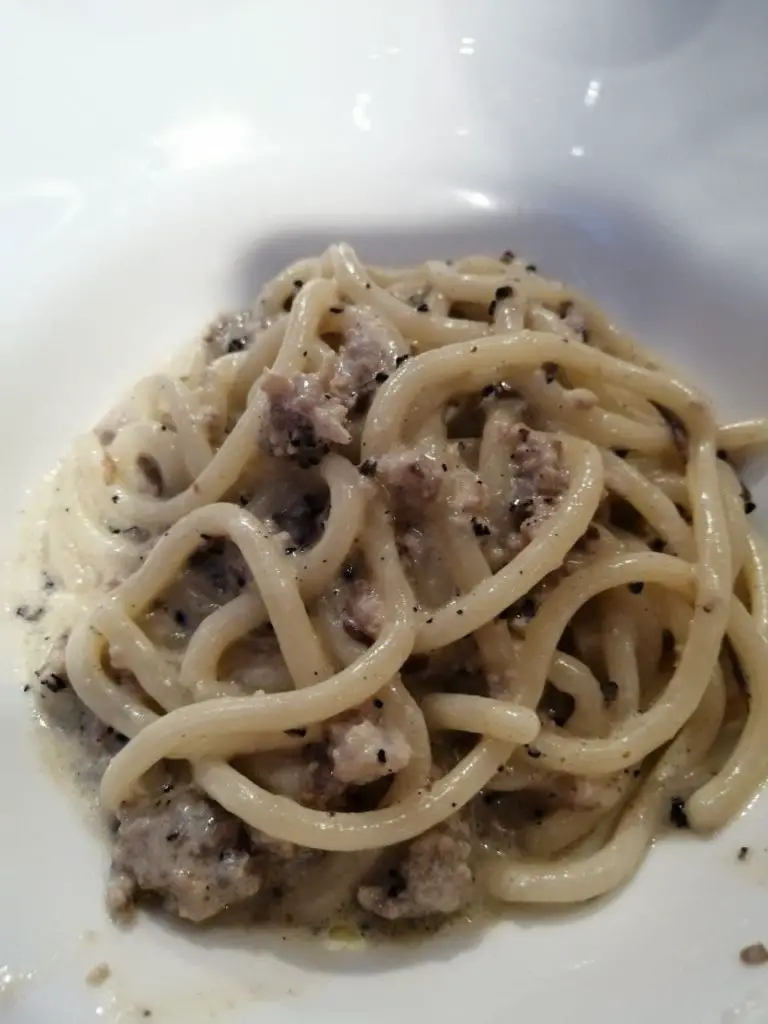 3. Lake Trasimeno: Tegamaccio and Regina in Porchetta
At caffè latino in Castiglione del Lago I had Tegamaccio and Carpa Regina in porchetta (also called "la regina in porchetta"), two typical dishes of lake Trasimeno.
Tegamaccio is a very savory soup that contains different lake fish from Trasimeno lake: pike, tench, eel, perch are cooked in a tomato and garlic sauce. 
As for  the "Regina in Porchetta", according to the Umbrian tradition, the "regina'' (carp) is stuffed with lard ("porchetta" is pork), garlic, fennel and rosemary for about 12 hours so that the fish can absorb the aromas.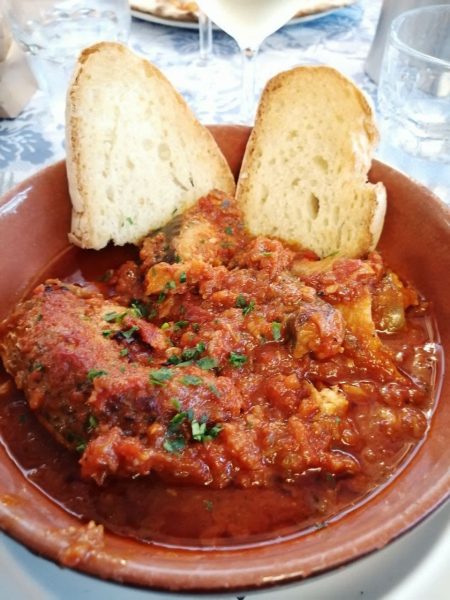 Any sweets around Lake Trasimeno? Yes, of course!
Supposedly of pagan origins, Torciglione is shaped as a snake, or better, the eel of Lake Trasimeno where you can find it on most families' tables for Christmas.
4. Gubbio Traditional Food: Crescia
At Bar Ristorante La Cia (close to Basilica Sant'Ubaldo) I had a refreshing Aperol Spritz and tried a Gubbio traditional food, crescia.
Crescia is a type of flatbread similar to piadina from Emilia-Romagna, however the ingredients are a bit different as the crescia only contains flour, water and salt (in piadina you also find lard). 
In other parts of Umbria, crescia is called "torta al testo" as it was traditionally cooked on "testi", that is to say iron dishes, directly put on the embers of the fireplace. Today it's normally cooked on cast iron pans. The most popular way you can find and eat crescia is filled with local cold cuts and cheeses or sausages and herbs.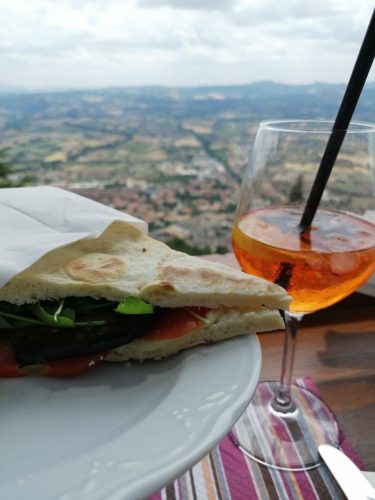 5. Marmore falls: truffles and Montefalco Sagrantino DOCG
When visiting the beautiful Marmore Falls, you'll see some picnic tables around the park where you can sit and enjoy your lunch box. However, I preferred to have lunch tasting some typical products of the area. I went to La Primula in Papigno, just a few mins away by  car from the falls. The owner is quite a character and, even if the place itself looks a bit tacky, trust me: it's a diamond in the rough!
Here I had local cold cuts and cheeses produced by the owner, fettuccine with fresh asparagus and truffle, tortellini filled with cream and truffle and a nice glass of Montefalco Sagrantino DOCG, a local red wine.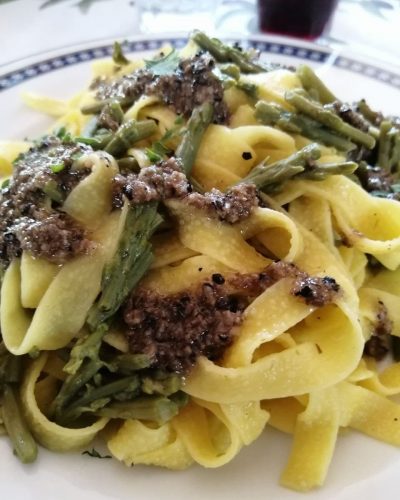 6. Orvieto: Umbrichelli and Wild Boar
At L'Oste del Re, right in the historical center of Orvieto, I had two fantastic dishes with typical products of Umbria: umbrichelli with chianina sauce and pappardelle with wild boar ragù.
Umbrichelli is a typical pasta of Umbria, you can find them pretty much anywhere in the region and are very special because of its shape and texture. They reminded me of Pici, the Tuscan pasta, as they have an earthworm shape. Their strength? They remain al dente, and absorb the sauce really well! Handmade are top and are usually quite irregular in shape.
If you like meat, certainly you don't want to miss any wild boar sauce, pot roast or stew.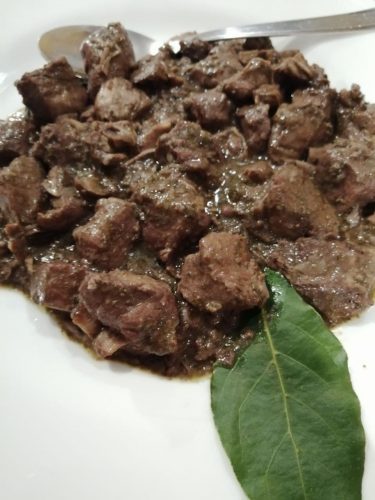 7. Castelluccio di Norcia Lentils
Despite the destruction caused by the earthquake in 2016, the local community has been able to move on, growing a wide range of legumes – from lentils to cicerchia (grass pea), beans, barley, roveja and spelt – available for sale to visitors of the area.
Fancy a beer? Try birrocchia, a beer made from Castelluccio di Norcia lentils!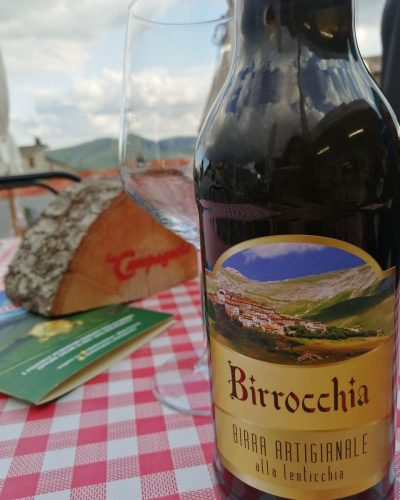 All over the province of Perugia, you can enjoy a glass of Montefalco Sagrantino DOCG (based on Sagrantino vines) and Torgiano Rosso Riserva DOCG (based on Sangiovese grape variety), the two high quality DOCG wines produced in this province.
In the area of Todi, Todi DOC and Colli Martani DOC are produced, whereas around lake Trasimeno you can find Colli del Trasimeno DOC.
Orvieto is well-known for Muffati Orvietani wines (botrytised wines), made from white grapes.
Other DOC wines pretty important in Umbria are Colli Perugini DOC, Colli Amerini DOC and Colli Altotiberini DOC. 
To conclude, Umbria has a total of 2 DOCG, 13 DOC and 6 IGT wines: quite a variety to be such a small region!
Want to Experience Italian Cuisine First Hand?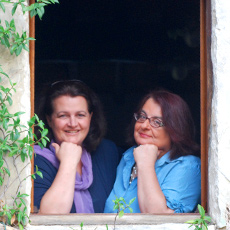 Did you Like the Post? Follow Me on Social Media and Stay Tuned for More Content!