Best Area to Stay in Rome for First Timers: Trastevere, Monti and Testaccio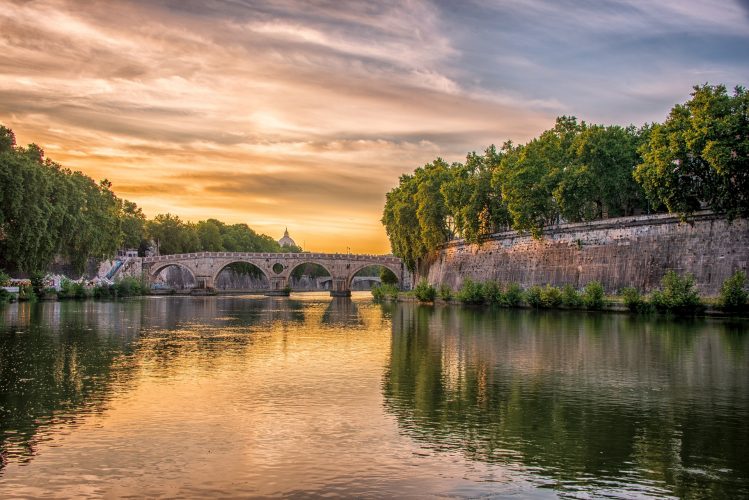 For first-time visitors to Rome, deciding where to stay can be a daunting task as the Eternal City is vast and boasts a rich history, bustling city center and a thriving nightlife scene. However, not all areas of Rome are created equal when it comes to finding the perfect base for exploring the city. 
From the quiet neighborhood of Testaccio to the up-and-coming Trastevere district, this article will provide an overview of the best areas to stay in Rome for first-time visitors. Whether you are seeking to be close to the major attractions or immerse yourself in the local culture, I have got you covered. So, let's dive in and explore Rome's most vibrant neighborhoods and find the perfect place to stay for your Roman adventure!
What is the Best Area to Stay in Rome for First Time Visitors?
Each district of Rome has its own magic. However, given that tourists don't usually have all the time in the world to explore a new city, it's good to consider a few things before booking your stay.
To help you understand space and time in this article, here you are a map of all districts in Rome.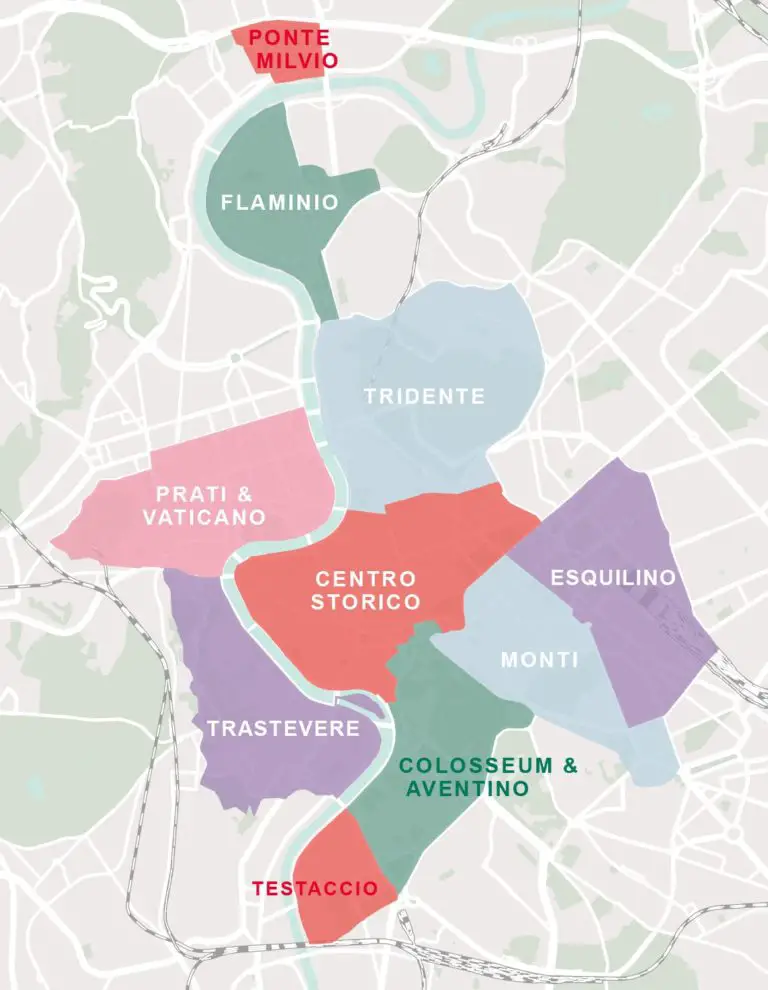 Based on my personal experience, I can tell that the best area to stay in Rome for first time visitors is in the historic center as many of Rome's famous landmarks, such as the Colosseum, Roman Forum, Pantheon, and the Vatican, can all be easily reached on foot or by public transport. The historic center is also filled with charming streets, lovely piazzas, and excellent restaurants.
However, there are other cool neighborhoods where to stay in Rome and enjoy the Dolce Vita: Trastevere is famous for its traditional trattorias offering delicious typical food, Monti is perfect if you have little time and are interested in vintage shops, street markets and modern bars, and Testaccio is the most quiet and least touristy place to stay in Rome.
In this article we're going to discuss the pros and cons of the best locations in Rome to stay:
Historic Center
Trastevere
Monti
Testaccio
1. Where to stay in Rome: the Historic Center
The historic center is the best area to stay in Rome for sightseeing for several reasons:
Location: the historic center is the heart of Rome, and staying here allows easy access to most of the popular tourist attractions, including the Colosseum, Piazza Navona, and the Vatican.
Walkability: as it is largely pedestrian-friendly, with numerous narrow streets and alleyways, the historic center is the best neighborhood to stay in Rome for exploring on foot.
Culture and History: staying in the historic center offers an opportunity to immerse oneself in Rome's rich culture and history. The area is full of ancient ruins, beautiful churches, and historic landmarks, all of which add to the charm and authenticity of the experience.
Food and Drink: home to some of Rome's best restaurants, cafes, and trattorias, serving traditional Roman dishes and excellent wine, the historic center has it all.
Atmosphere: in the historic center you can soak up the unique atmosphere of Rome, with its cobbled streets, colorful buildings, and bustling piazzas, making it the perfect place to experience the essence of the city.
Where to Eat in the Historic Center
"Da Gino al Parlamento" – Vicolo Rosini, 4 – a family run trattoria with frescoed vaults, serving homestyle traditional Roman and Italian dishes.
"Il Gianfornaio" – Via di San Sebastianello, 6 – a cozy place where to have breakfast with traditional maritozzi, or a nice aperitivo with focacce
2. Where to stay in Rome: Trastevere
Trastevere is a very large district bordering with the Vatican, therefore very close to St. Peter's Basilica, the Sistine Chapel and the Vatican museum.
It's the bohemian side of the Eternal city: with its working-class roots, Trastevere is the perfect area not only for pub hoppers as it swarms with pubs where you can enjoy a refreshing craft beer, but also traditional food lovers as trattorias are one of the main attractions of the area. In Trastevere I had the best pasta in Rome, I can assure you!
It's true that some parts of Trastevere are more lively and more touristy than others, but the neighborhood is so large that you'll certainly find a spot with no crowds but still charming and great for strolling.
Therefore, the choice of where to stay comes down to what you're looking for: if you're a party-goer you should find accommodation around Piazza di San Calisto and Piazza Santa Maria in Trastevere where all young crowds gather, while if you're traveling with family or just prefer some more laid-back areas I recommend staying in off-the-beaten-path areas.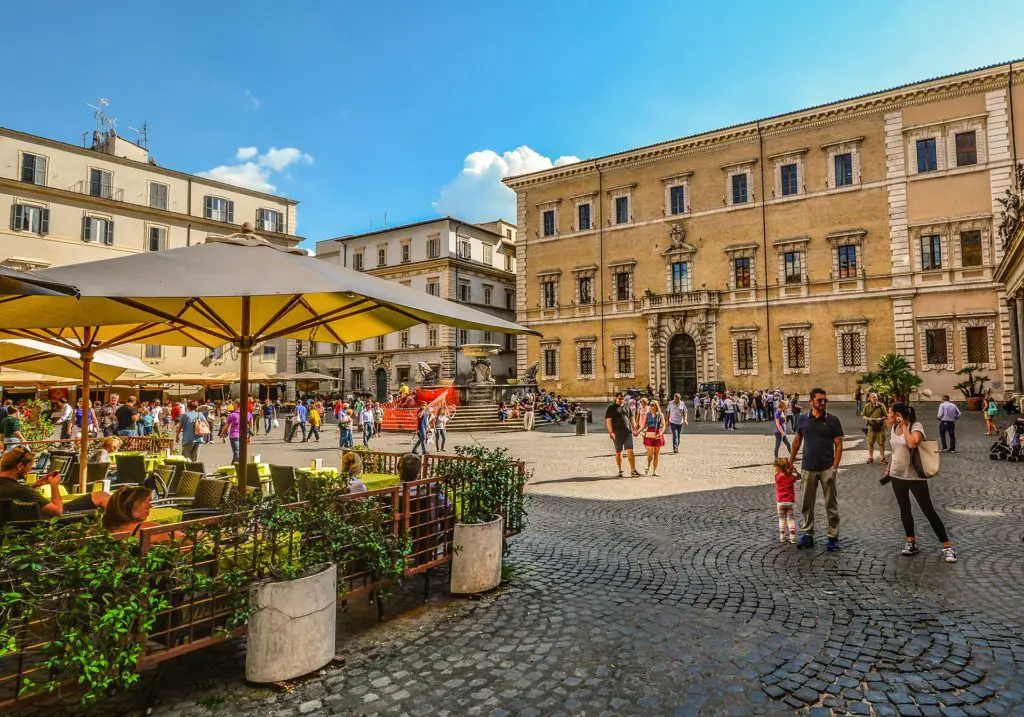 From Trastevere to Ostia Antica: Directions
In case you're staying in Trastevere, don't miss out on the opportunity to visit Ostia Antica!
If you're staying close by Via di Ponte Sisto, bus n 280 running along the Lungotevere (the river road) will bring you to Ostiense station, where you can get the train to beautiful Ostia Antica.
Directions to Ostia Antica: get on at Lgt Farnesina/Trilussa and drop off at Partigiani/Staz.ne Ostiense (direction Partigiani FS).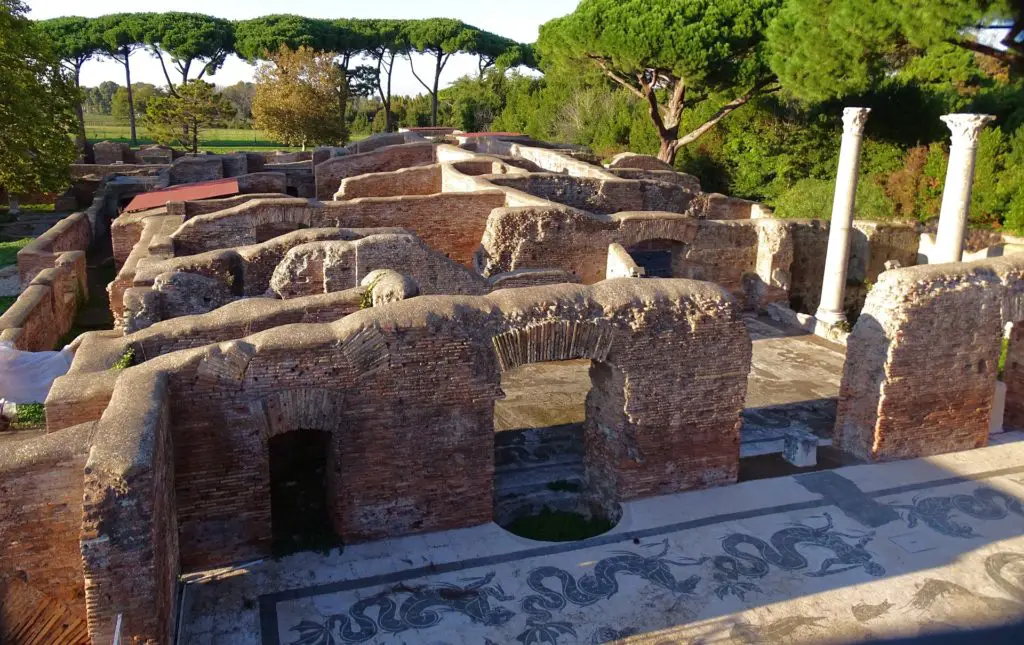 Where to Eat in Trastevere
"Sora Mirella" – Lungotevere degli Anguillara – the specialty is Grattachecca (slushie)
"Tonnarello" – Via della Paglia, 1/2/3 – Traditional trattoria where to eat the best pasta in Rome
"Il Maritozzaro" – Via Ettore Rolli, 50 – the specialty is Maritozzi, a typical pastry of Rome
"Supplì Roma" – Via di S. Francesco a Ripa, 137 – the specialty is Supplì, a fried ball of rice typical of Rome
"Trattoria Da Enzo al 29" – Via dei Vascellari, 29 – Trattoria where you should try fried artichokes and cacio e pepe
To Sum Up: Should I Stay in Trastevere?
Trastevere is a

fascinating area

to stay in, with plenty of

history and art

within its churches and

magical atmosphere

.

It's a quite

large area

so pay attention to where exactly pick your accommodation.

If you're looking for some

fun and nightlife you'd better stay near Piazza di San Calisto and Piazza Santa Maria in Trastevere. On the other hand, for more laid back areas, avoid the heart of Trastevere which may be a bit noisier. Piazza Trilussa is a very convenient location, you can get pretty much anywhere just walking (15 mins walk to reach the Pantheon).

The neighborhood is

well connected to the city center. However, I advise you to

check where the accommodation is on the map, or ask the owner for additional information for your convenience. Trastevere is

ideal to take a stroll (also, don't miss Gianicolo hill, from where you can enjoy a most beautiful view of Rome..for free!).
3. Where to stay in Rome: Monti
Monti is a smaller district, but more central compared to Trastevere. The most ancient "rione" of Rome, gives its name to the Esquilino, Viminale, Quirinale and Celio hills (in Italian "monti"), once part of this district.
Its ancient name was "Subura" that means "inhabited area under the city" which technically defines the area from Piazza della Suburra going down the stairs in Via Cavour up to Basilica di San Pietro in Vincoli, by the Borgia steps.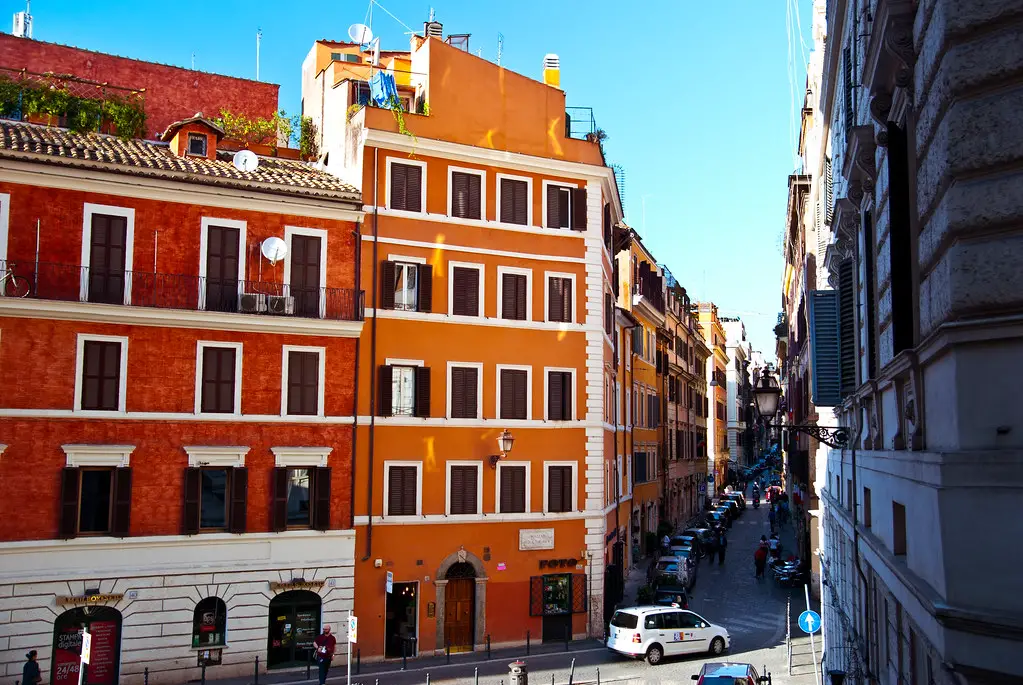 In Monti you will find a range of styles, not only from an architectural point of view – buildings vary from Roman to Medieval, from  bohemian to classical and Baroque – but also in the venues: you may stop by in cozy family-run trattorias for lunch, shop in funky boutiques and have a glass of wine in more modern and hip bars. Even in the crowd you might find some variety: from students to expats and locals.
Monti is a really good place to stay in Rome as everything is closeby: cafés, restaurants, landmarks such as the Colosseum, Altare della Patria and, farther from the city center, S. Giovanni in Laterano Basilica.
Also, Termini station is just a few minutes away (depending on which part of Monti you're staying in). Not to worry about being close to a metro station: Cavour, Repubblica, Colosseo, Vittorio Emanuele and Manzoni metro stations serve the area perfectly.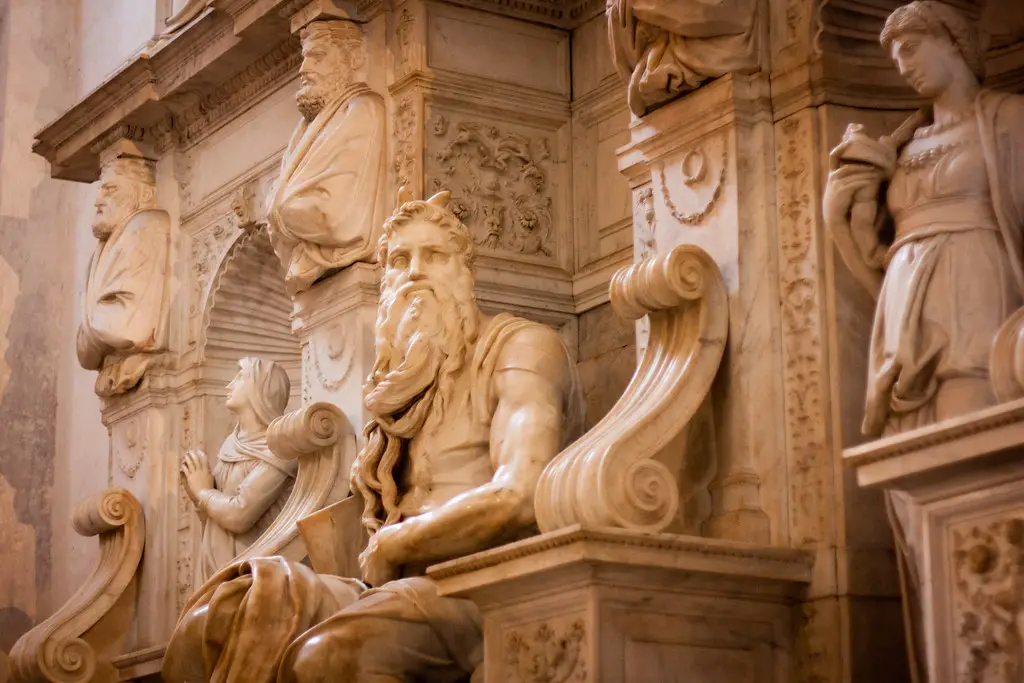 If your accommodation is near S. Maria ai Monti, you'll surely experience the fairly lively nightlife and restaurants of that area, but also, don't miss out on the market on Sunday morning!
In Mercato Monti, via Leonina 46, you will find all sorts of unique vintage clothes, accessories and craftsmen, but also vinyls and old-fashioned cameras.
Very convenient is the area around the Opera House: 10 mins away from the Colosseum (by metro), 5 mins walk to get to Termini Station and 15 mins walk to reach Trevi Fountain.
To sum up: Should I Stay in Monti?
If you're staying in Rome

one night only Monti is the perfect place for you

as all the main attractions are really close by (just to name a couple the Colosseum, Trevi fountain) and can be reached on foot.

Lively area suitable for those who have little time

and want to take the most out of it.
4. Where to stay in Rome: Testaccio
Situated south of the Colosseum and Aventino area, Testaccio is the least touristy district of the three as it's not as central as the others and it's probably not the first choice of first timers to Rome.
The neighborhood is way quieter than the other two and is more suitable for people who wish to enjoy the calm of the night without being disturbed by ords of bar hoppers and youngsters. If you have already been to Rome, this area would be a new place to discover.
Nonetheless, it is a very well connected district: wherever you're staying in Testaccio, Piramide metro station is within a stone's throw. The blue line will lead you to Termini station in no time, or else, if you want to visit gorgeous Villa Borghese, hop off there and take the red line to reach Flaminio metro station. From that station it's a nice pleasant walk to the Villa throughout its gardens.
Also, as I mentioned before, you will have Roma Ostiense nearby to reach Ostia Antica (for more info visit the official website).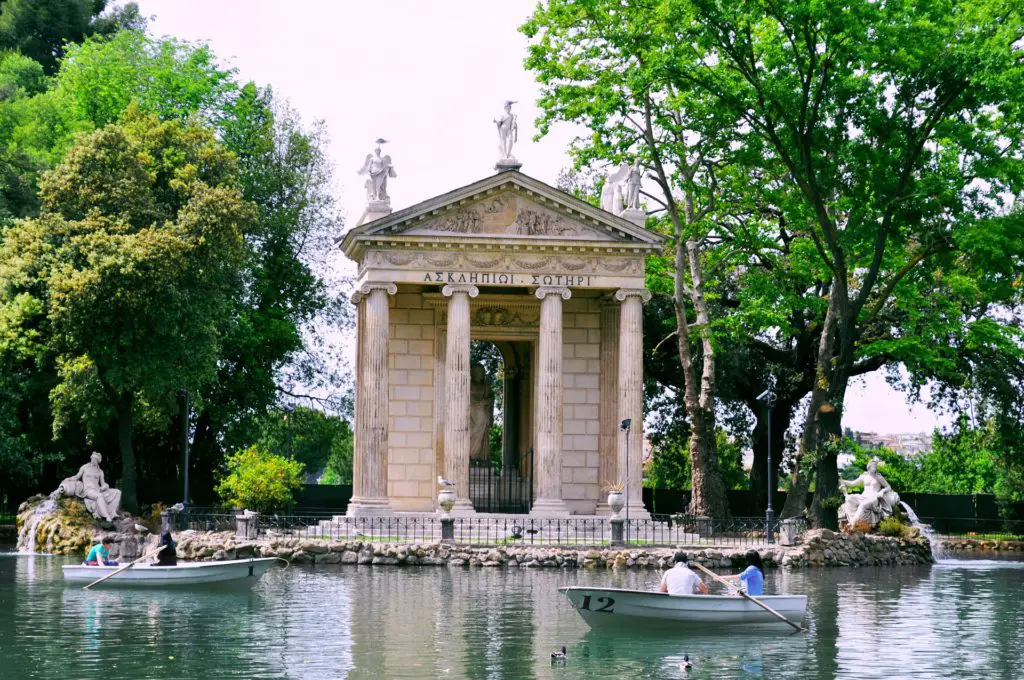 Testaccio district has developed around Monte dei Cocci (also known as Monte Testaccio), an artificial mound made of "testae" (latin word for "cocci" in Italian), that is to say Roman ancient pottery such as pieces of amphoras and jars.
People living here are the descendants of the so-called "Testaccini": this term comes from the beginning of the 20th century to designate those people who were moved into predefined houses and shops.
Among them slaughterhouses were popular, so popular that even nowadays we can see the heritage of those slaughterhouses at the edge of the district in their traditional cuisine: just think of quinto quarto, the Roman dish made of offal ("frattaglie" in Italian).
Strolling down Testaccio you will see restaurants and osterie offering this typical food..and if you have the chance, share it with a local!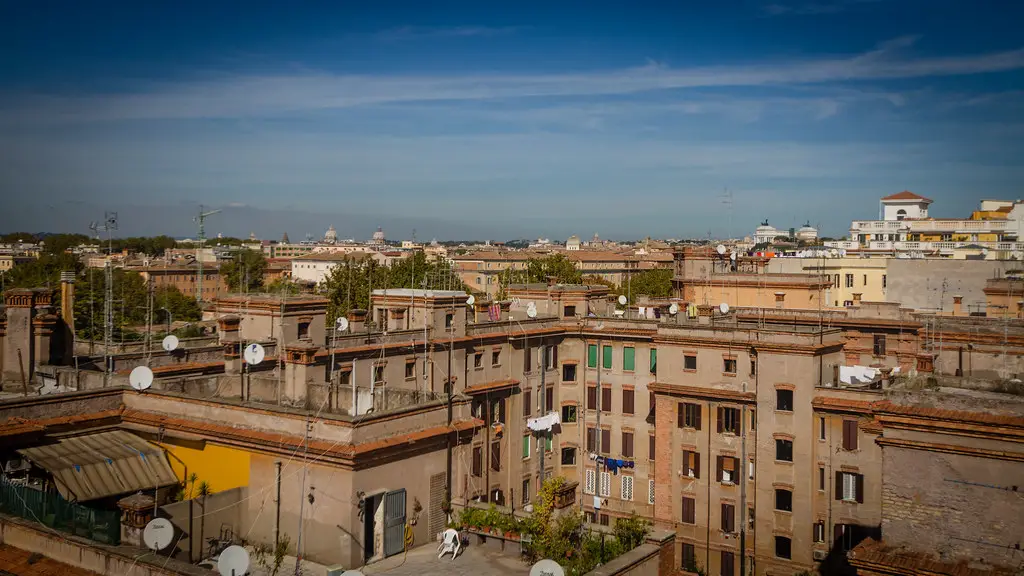 Where to Eat in Testaccio
"Felice a Testaccio" – Via Mastro Giorgio, 29 – traditional trattoria offering tonnarelli cacio e pepe, carbonara, gricia and amastriciana pasta and Roman-style "saltimbocca".
"Chiosco Testaccio" – Via Giovanni Branca, 122 – Grattachecca (slushie) kiosk
To sum up: Should I Stay in Testaccio?
Testaccio is a bit

farther from the city center

so it's probably not the best option for first timers and those who can spend just a couple days in Rome as you would have to spend time on public transit. 
Very appealing area to consider if you want to

discover another nuance of Romans

,

their habits, characters and cuisine

, offering a

calm

and rich atmosphere where you seem to be stuck in time.
In Conclusion: What is the Best Area to Stay in Rome for Sightseeing?
Surely you now have a better understanding of the main districts of Rome: the historic center, Trastevere, Monti and Testaccio.
The best neighborhood to stay in Rome is probably the historic center since all the attractions are close by and you can easily walk to reach them.
In case you're interested in a vibrant area full of restaurants and bars Trastevere is the ideal place for you, while if you're into unique shops and venues in a convenient location, Monti is a better option. In case you're craving for a relaxed stay in the Eternal City to find out more about Roman culture and traditions, Testaccio might be more suitable for you.
I hope this article will be helpful to choose where to stay in Rome. At the end of the day, the choice comes down to your travel needs, so I'm confident that after reading my post it will be easier for you to pick the best option for your trip.
Did you Like the Post? Follow Me on Social Media and Stay Tuned for More Content!
Image credits: "basilica di san pietro in vincoli" by washingtonydc // CC BY-NC-SA 2.0; "Colors, light and Rome" by mirkop82 // CC BY-NC-SA 2.0; "Testaccio SkyLine and Enrico Letta's house on the background – ND0_7121" by Nicola since 1972 // CC BY 2.0