One Day in Mantua, Italy: Best Things to See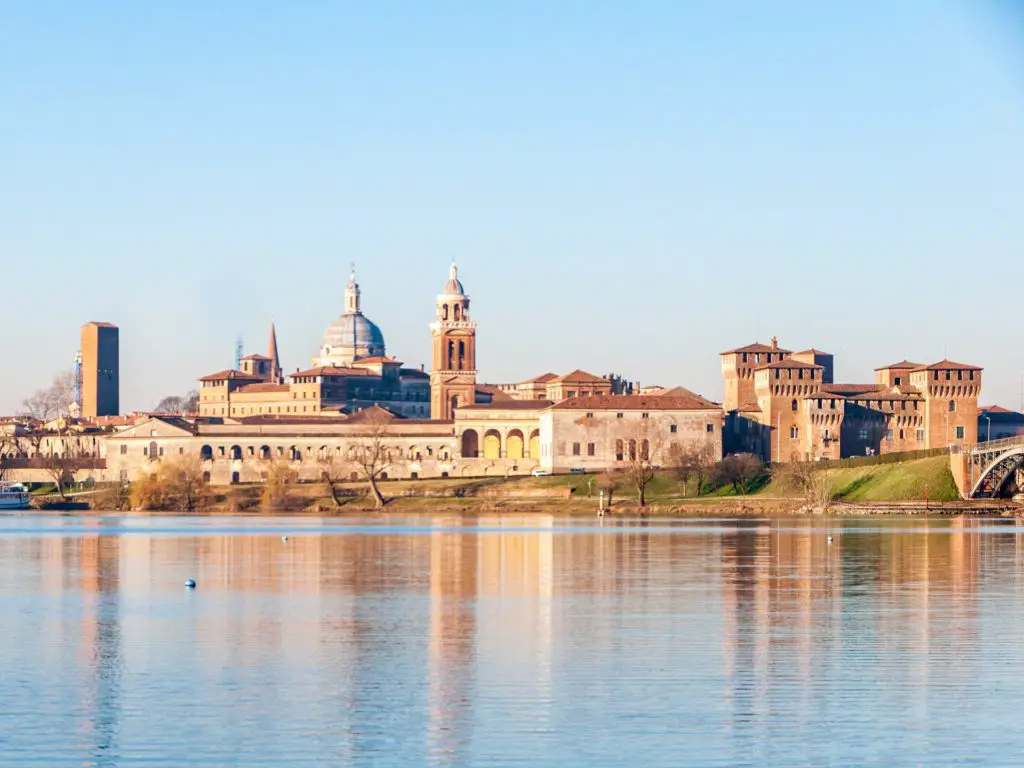 UNESCO heritage since 2008 and Capital of Culture in 2016, Mantua is surely worth visiting. The amazing typical food – tortelli di zucca and agnoli to name a few – and the cultural heritage make Mantua an ideal destination for a day trip from Milan, Venice or Verona!
Mantua is a city born from the waters as it is surrounded by three artificial lakes. This means you can either visit it on foot (take a look at my walking tour below!) or take a boat trip to enjoy the city from the outside.
For more than 400 years Mantua was governed by the Gonzaga family, who left a huge impact on the city. They commissioned a series of Renaissance-style buildings, turning Mantua a gem of northern Italy.
Nowadays you can still see the Gonzaga influence on the city: from the urban plan to the architecture, not to mention Palazzo Ducale, the family residence.
However, Mantua is famous not only for art and history, but also in literature! In fact, it was one of the settings in Shakespeare's tragic play "Romeo and Juliet".
Mantua is the perfect destination for a day trip from other Italian cities. Here is how to reach Mantua from Verona, Venice, Milan and Bologna.
| | | |
| --- | --- | --- |
|   | By car  | By train |
| Verona – Mantua | 45 mins | 45 mins (direct regional train) |
| Venice – Mantua | 1h 40 | 3h * |
| Milan – Mantua | 2h | 2h (direct regional train) |
| Bologna – Mantua | 1h 20 | About 2h * |
* Taking the train from Venice and Bologna to Mantua is not an ideal choice as it takes too much time and you have to change trains – there is no direct option. My advice? Rent a car and drive!
One Day in Mantua Walking Tour
Before we dive into our itinerary in Mantua, you must know that the best way of enjoying the city is on foot. 
For this reason, you need to get rid of your car: you can either park here, very close to Piazza Sordello but you have to pay an hourly fee, or  in Campo Canoa (free parking but a bit far away from the city center).
In case you decide to park in Campo Canoa, you can take a walk on the Bridge of St George, but you can also take a free shuttle bus.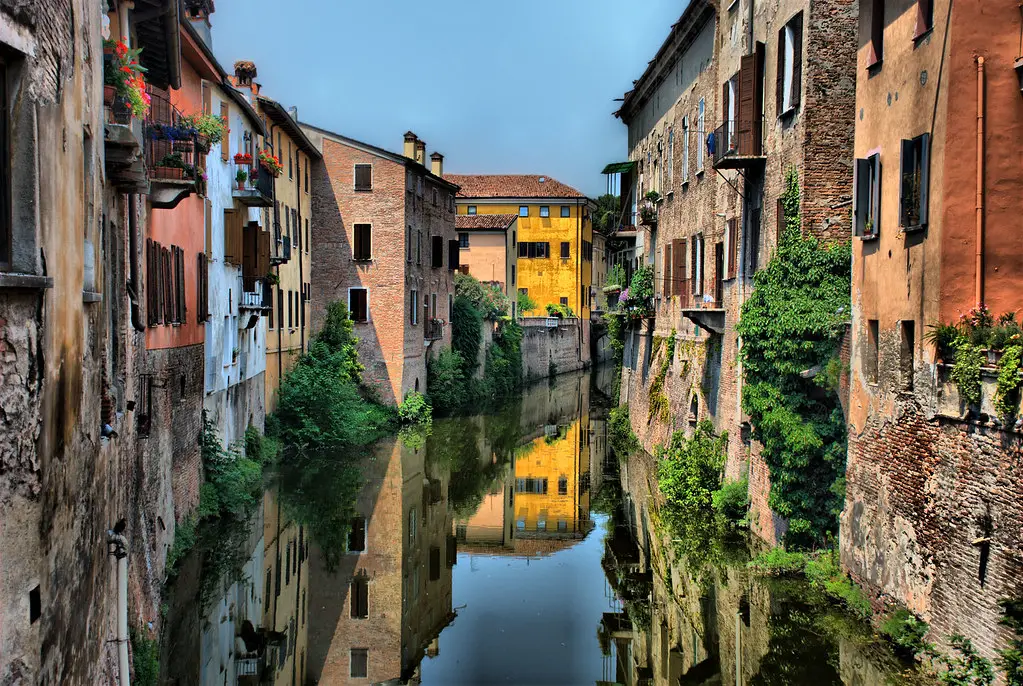 Let's start our visit from the old part of the city. Here you will see Palazzo Ducale, one of the largest palaces in Europe and royal residence of the Gonzaga family (the Dukes of Mantua), with frescoes by great Italian artists Mantegna and Pisanello. 
Its complex has no less than 500 rooms, but the one you don't want to miss is the Zodiac Room (Sala dello Zodiaco): it was Duke Guglielmo Gonzaga's bedroom and one of the most beautiful rooms in the palace. The room also served as Napoleon's bedroom during the Napoleonic Wars.
Now head to the north-eastern tower, where you'll admire another well-known room: the Bridal Chamber (Camera degli Sposi). Originally known as Camera Picta (Painted Room), the Bridal Chamber is a masterpiece by Andrea Mantegna, a most famous Italian painter of the Renaissance. It took him 9 years to complete his hors d'oeuvre.
>>> Palazzo Ducale di Mantova tickets and info here.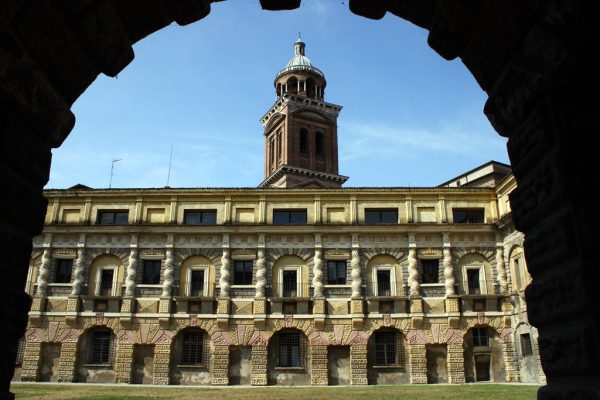 In Piazza Sordello you can see two buildings: Palazzo Bonacolsi, a magnificent palace dating back to the 13th century, and Rigoletto's House, a famous opera by the Italian composer Giuseppe Verdi. Right next to it is the Mannerist-style Cathedral of St. Peter the Apostle, where many Gonzaga family members were buried. The cathedral includes a mix of artistic styles, from Baroque to Romanesque and Gothic elements.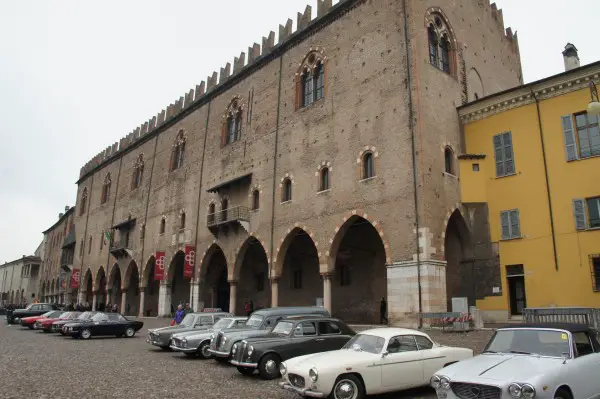 In Piazza delle Erbe you'll get to see the Renaissance-style clock tower from where you can access Palazzo della Ragione which, in medieval times, served as place for trials and gatherings for dwellers.
In Piazza delle Erbe you can also admire Podestà Palace, the Romanesque Rotonda di San Lorenzo and the Merchant House. This name comes from the commissioner, Boniforte da Concorezzo, a rich merchant who traded wool and textiles. Erected in 1455, the Merchant House is a great example of architecture inspired by the Venetian Renaissance style.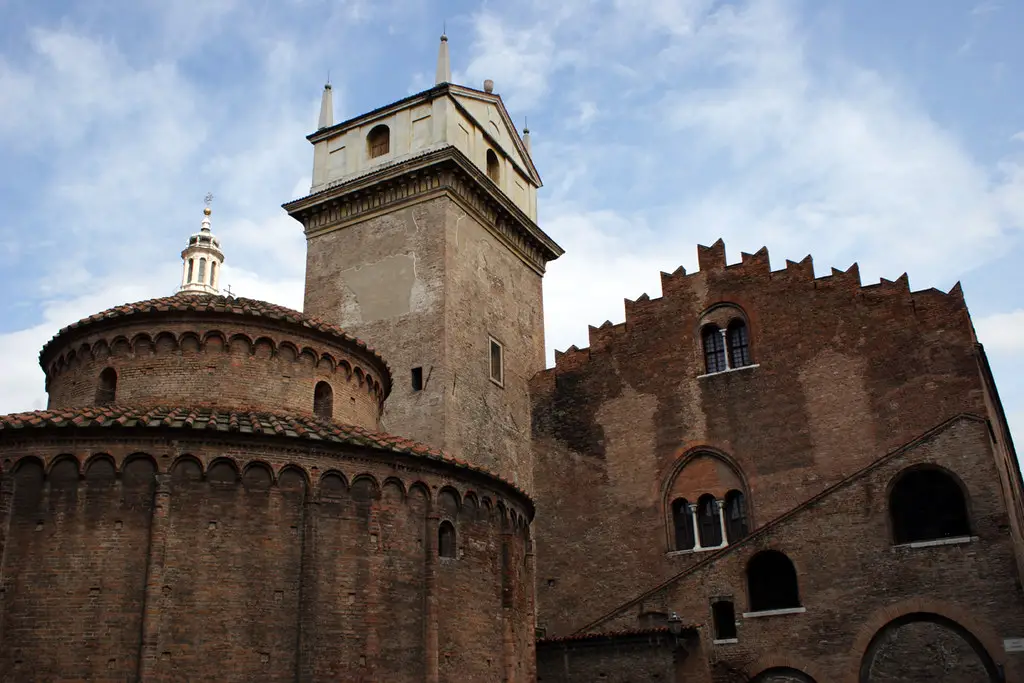 One of the best things to see in Mantua is Palazzo Te, entirely built, decorated, and painted by a painter and architect who worked alongside Raphael: his name was Giulio Romano. Nowadays the Palace hosts the Civic Museums with important art exhibitions.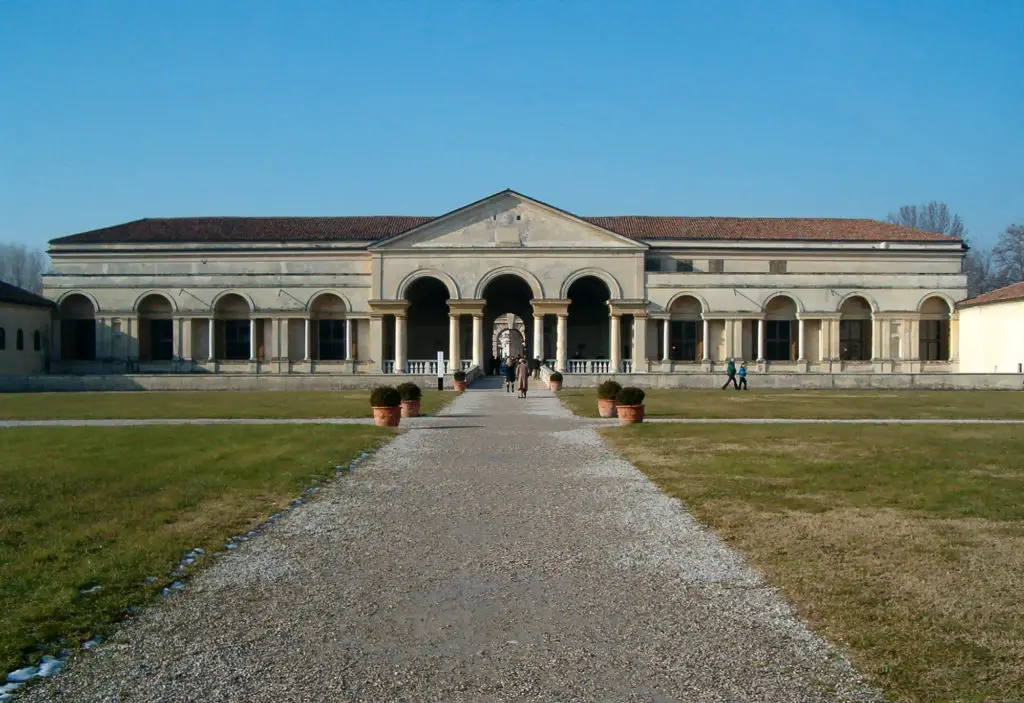 Best things to see in Mantua: Recap
In one day in Mantua you can get to see:
Piazza delle Erbe
Palazzo della Ragione
Podestà Palace
the Clock Tower
Ducale Palace
St. George Castle
Rotonda di San Lorenzo
Basilica di Sant'Andrea
Piazza Sordello
Cathedral of St. Peter the Apostle
Bonacolsi Palace
the Merchant House
Palazzo Te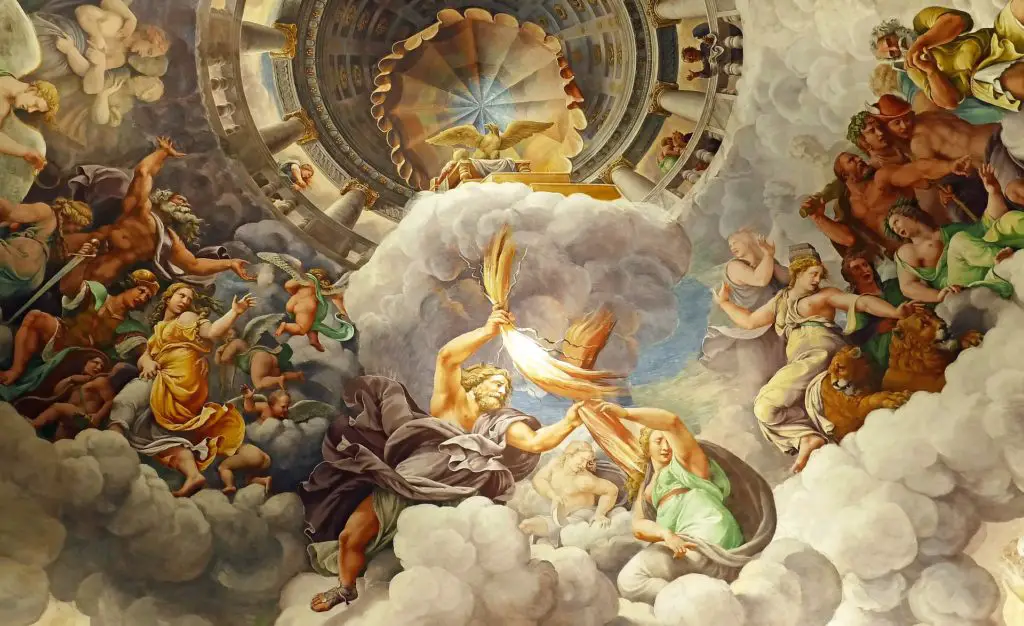 Mantua is a city rich in art but also in typical food, preserved by the Italian community with the PGI (Protected Geographical Indication) designation. 
What to eat in Mantua? The local protected products you cannot miss to try are:
Squash,

Melon and pear from Mantua PGI,

Onion from Sermide,

Vialone Nano rice. 
Thanks to the high quality of Mantua products, the city showcases an excellent range of typical dishes:
Pumpkin Tortelli (tortelli di zucca);
Meat Agnoli in broth;
Castel Goffredo bitter tortello  (tortello amaro di Castel Goffredo);
Capunsei (sort of gnocchi made of bread and Parmesan), 
Risotto alla pilota (made of at least two typical products of Mantua: Vialone rice and salamella);
Bigoli con sarde (thick pasta similar to spaghetti with pilchards);
Pike in sauce (luccio in salsa (pike served with a sauce made of capers, pickled bell peppers, parsil, garlic and onion).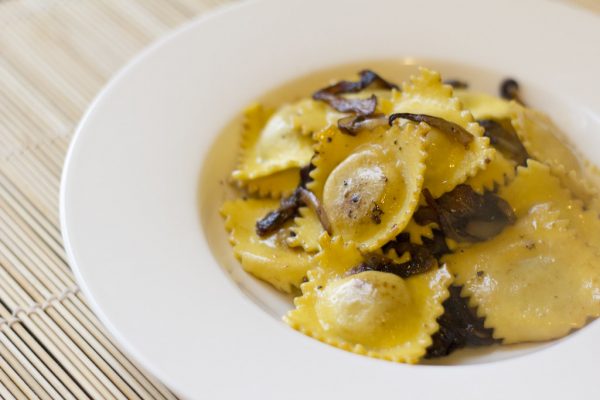 In terms of cheese, you certainly must have a taste of Parmigiano Reggiano PDO and its eternal rival Grana Padano PDO.
As for cold cuts and meats, you'll find: 
Greppole,

a type of salami; 

Gras Pistà

(pork lard) with polenta;

Salamella

and salame from Mantua (sausage and salami).
As for desserts, try sweet and almondy Torta di Tagliatelle (cake with thin tagliatelle pasta inside), Sbrisolona cake (literally "crumbly"), Helvetia cake (delicious soft cake filled with eggnog, this cake was invented by a Swiss family under Gonzaga court, that's why it's called "Helvetia" or "Elvezia") and Torta delle Rose (Mantuan soft pastry made with butter and sugar).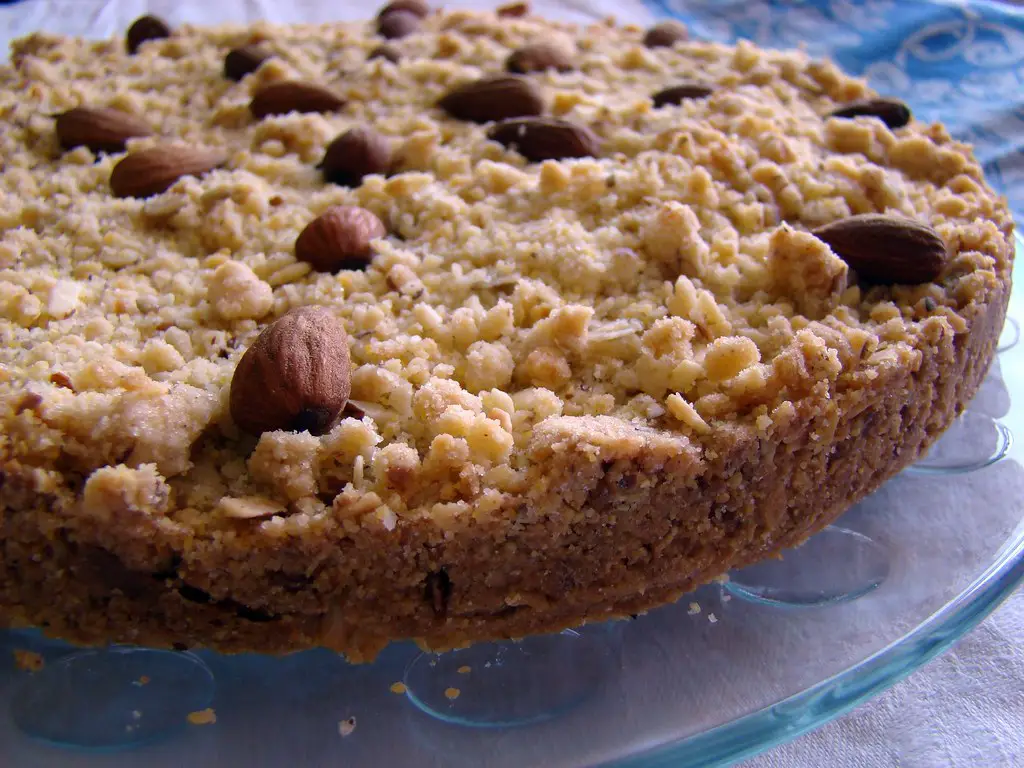 Mantua Wine Route stretches from Mantua hills to Lake Garda, heading south towards Parma and Cremona, along three rivers: Mincio, Sabbioneta and Secchia.
Great wines are produced in Mantua, thanks to the richness and conformation of this territory, its mild climate and exposure to the sun.
Along Mantua wine route you can drink a glass of Garda Colli Mantovani DOC, Garda DOC, Lambrusco Mantovano DOC, Provincia di Mantova IGT, Sabbioneta IGT, Quistello IGT, Alto Mincio IGT.
4. Where to eat in Mantua: best restaurants
Ristorante Masseria

– restaurant with frescoed walls where you can taste Agnoli, Culaccia (typical cold cut) and Mantua mustard, riso alla pilota, pumpkin tortelli and other Mantua specilties. 
Il Tartufo restaurant

– revisited traditional Mantua cuisine. Truffles are their specilaty: of course,

prices are higher than the other recommended restaurants in my list as truffle is expensive per se.

Caffé Borsa Antoniazzi – coffee and pastry shop with typical sbrisolona cake.

Cantine Giubertoni

– Mantua wine production. This winery offers wine tours (in Italian) for € 15/person from May to October.
5. Food and Wine Events in Mantua
| | | | |
| --- | --- | --- | --- |
| Event | Where  | When | What to do |
| | Goito, Mantua | October | Grana Padano cheese tastings, cooking shows by famous chefs. |
| | Monzambano, Mantua | September | Mantua wine and typical products tasting, medieval shows. |
| Festival del Lambrusco | Viadana, Mantua | May | Mantua Lambrusco is the protagonist together with live music and street food in trucks. |
| Mostra nazionale dei vini passiti e da meditazione | Volta Mantovana, Mantua | April | Wine tastings to accompany a typical Mantua menu. The location? The splendid Palazzo Gonzaga. |
| | Mantua | every Saturday | Stands with typical products |
Did you Like the Post? Follow Me on Social Media and Stay Tuned for More Content!
Images credits: Mantova Palazzo Ducale 2 by Ostrosky Photos // CC BY-NC-ND 2.0; Mantova Palazzo Ducale 2 by Ostrosky Photos // CC BY-NC-ND 2.0; Mantova Palazzo Ducale 2 by Ostrosky Photos // CC BY-NC-ND 2.0; Mantova by icomei // CC BY-NC-SA 2.0.