The Perfect Itinerary in Trentino: Discover Awesome Places
Relish the idea of being surrounded by the wonders of nature: century-old Alpine woods, the magical atmosphere of the Dolomites, World Heritage Site, the Italian Alps and their lakes.
Enjoy unique culture and traditions through local food and DOC wines in this itinerary in Trentino!
I wrote this post after my 10-day trip in northern Italy, starting from Bergamo, Lombardy, to Trentino and Veneto.
I had already been to Trentino before, however, this time it was particularly special as I had never got to see the marvelous alpine lakes everyone talks about, not to mention the Dolomites, world-wide famous UNESCO heritage, waterfalls, castles and the rich food tradition born from Italian and German cultures.
I was also surprised I could lay down and sunbathe on sandy beaches along the lakes: I swear it felt like being on a beach in the Maldives. Surrounded by mountains and nature, it's really a heaven on Earth!
Not only was I astonished by the beauty of the landscapes, but also I found that this region has a lot to offer in terms of activities and once-in-a-lifetime experiences: here you can get to do various sports like hiking, outdoor cycling, climbing, swimming and skiing, depending on the season, of course.
But what if you're not a sporty person? I'm not that into sports either. However, here you can find the right place to relax: if you have kids they'll have the time of their life!
You will find everything I've just mentioned in this article. I wanted to share my trip, my experiences and the local food I tasted with my readers so that you can get to see the Trentino I discovered and hopefully I will inspire your next trip to Italy 🙂
Take a look at my itinerary on the map before reading the article: here you'll find all the places I'm going to show you.
Day 1: Riva del Garda, Lake Garda
We're starting our itinerary in Riva del Garda, a beautiful town north of lake Garda. Enjoy a nice stroll along the lakeside: you can even take a swim in the lake water (if it's summer!).
In the afternoon drive to Arco (it's only 10 mins away). Park your car in parcheggio ex Carmellini (maps). You can leave your car for free for 2 hours, more than enough to get to the castle, visit it and go back. The view from the castle ruins is amazing.
For further information read my article about Arco where you will get to know the castle history and practical information such as entrance fee, opening times,  and, of course, my insider tips!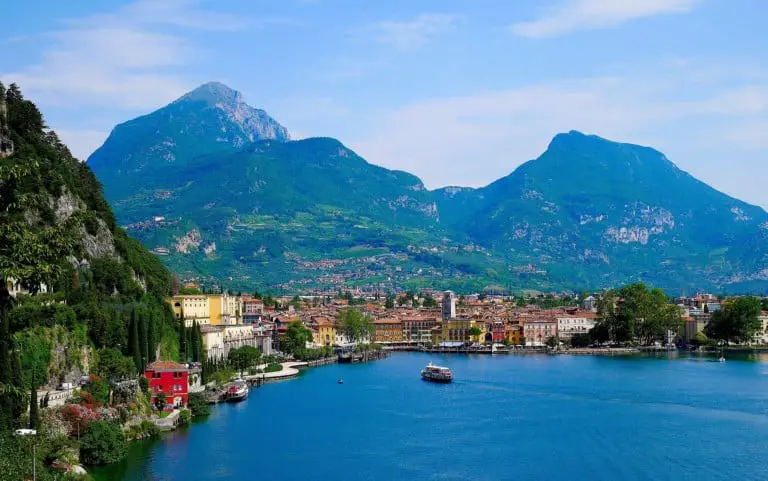 Where to eat in Riva del Garda
I recommend going to osteria Panesalame. Here I had Trentino style strangolapreti, homemade gnocchi with gorgonzola, speck and nuts, the super typical "carne salada" (salted meat) with beans and Tropea red onions. All accompanied by a glass of Quattro Vicariati DOC 2016, a red wine produced in Trentino.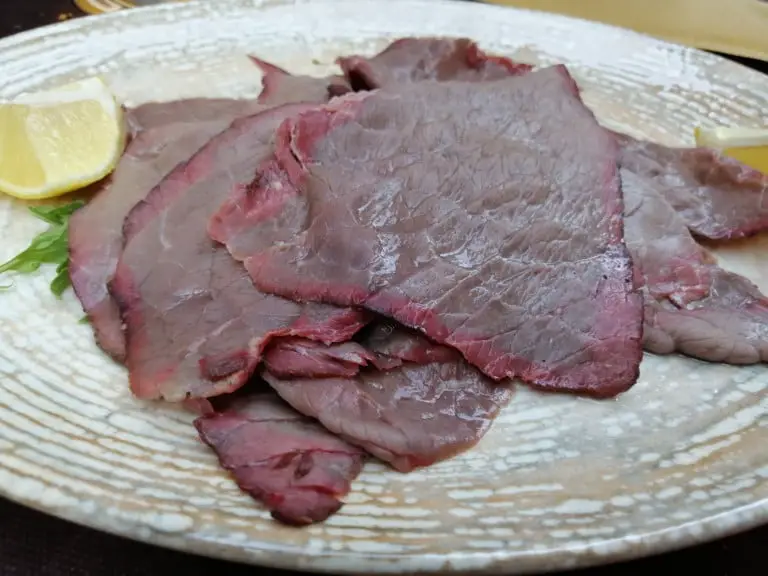 Day 2: Lake Tenno and the Medieval Borgo
After a good night's sleep, head for Varone waterfalls, 1 hour drive from Riva del Garda. 
This place is so magical. Just think that the rock erosion in the waterfalls started more than 20'000 years ago!
However, it was only 150 years ago that the first bridges and stairs were built to make this place accessible to the public. At the beginning you could get to see the waterfall only by hanging from a solid rope, but you needed to be a skilled climber!
General entrance fee: € 6.00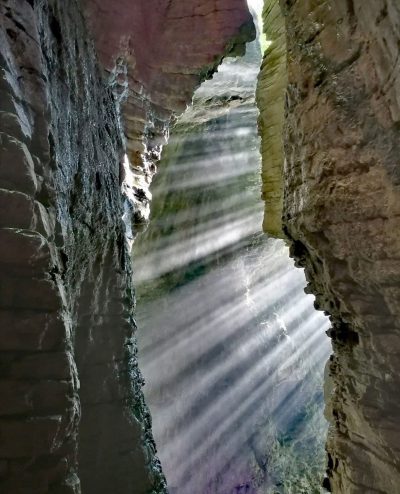 In the late morning, arrive at Borgo Canale di Tenno, one of the coziest and best-preserved medieval towns in Italy. Leave your car here:  it's free but there are just a few parking lots available so avoid the weekends.
If you happen to visit Canale di Tenno in the first two weeks of August, you'll get to experience the "Rustico Medioevo", an art festival that brings back moments of the village medieval life. Otherwise, in winter, the narrow streets host the lovely traditional Christmas markets.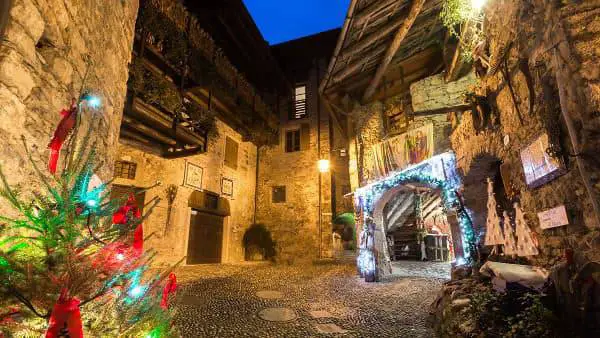 Close to the borgo is lake Tenno, an astounding alpine lake whose colors range from deep blue to emerald green. Amazing! According to a recent study by Fondazione Agnelli, lake Tenno has the cleanest freshwater in Italy! Why? Because there are neither buildings in the surroundings – let alone two private houses and a small pension – nor intensive cultivation.
How to Reach Lake Tenno from Borgo Canale di Tenno
Take the path from Canale di Tenno (you will see the signals) and take a 15-min walk to the lake. It's a very nice stroll as you're immersed in nature and you can see the borgo from the outside. It looks like a postcard!
Have lunch on the lake side and take a walking tour around it. It takes one hour for a complete tour and it's just amazing.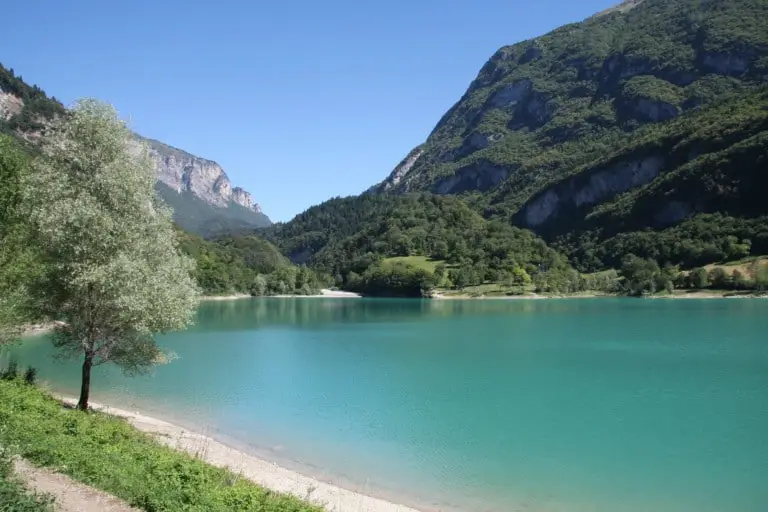 My insider tips:
It's not worth moving your car to lake Tenno. Parking there costs € 2.50 / an hour and you wouldn't enjoy the peaceful promenade to the lake. If you decide to take the path from Canale di Tenno to the lake, just remember that in summer it gets really hot and there's no shade: you'd better bring along a hat (or an umbrella) and a bottle of water.
Go back to your car once you feel you took the most out of your alpine lake experience. Consider arriving in Molveno in the late afternoon or for dinner time (driving time: 40 mins).
The way to lake Molveno gets a bit winding as you're going up (well, it's in the mountains, you cannot expect otherwise!). Make sure you're well prepared in case you suffer from car sickness!
Once arrived, you'll be amazed by the beautiful view of the lake surrounded by high mountains. Leave your belongings at the hotel and get ready for dinner!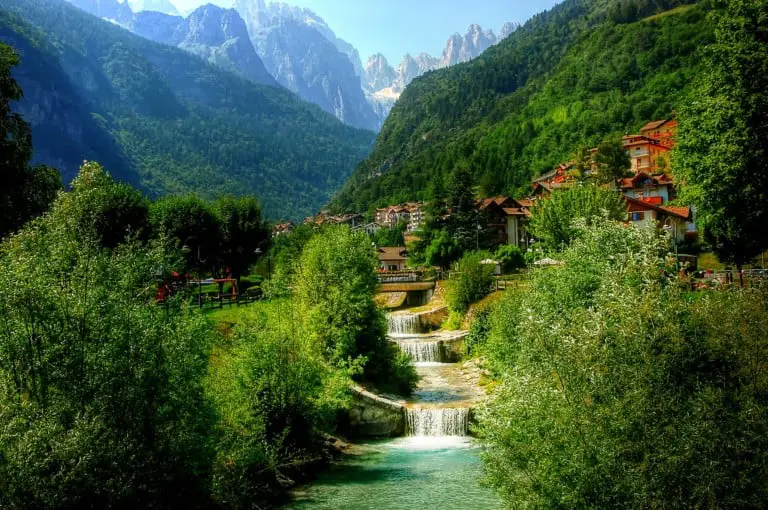 Book a table at Osteria del Maso (especially if it's over the weekend!). Here you can find the excellency of Trentino: canederli. I tried their canederlotti filled with cheese and mountain herbs and they were stunning!
Day 3: Lake Molveno and Brenta Dolomites
The area is so lovely and peaceful: if you're looking for some relaxation and some time for yourself this is the right place for you.
However, if you enjoy exploring and having adventures you can always take the cableway and go up to the two cozy mountain huts: Pradel (I section) and Montanara (II section).
If you're scared of heights you can stop at Pradel, the first section, where you can enjoy a beautiful view of the lake.
However, I honestly recommend you to make an effort: go up to the second section and reach Montanara hut, from where you can get to see a breath-taking view of Brenta Dolomites! The ticket for two sections is € 16.00 round trip.
More info on prices here.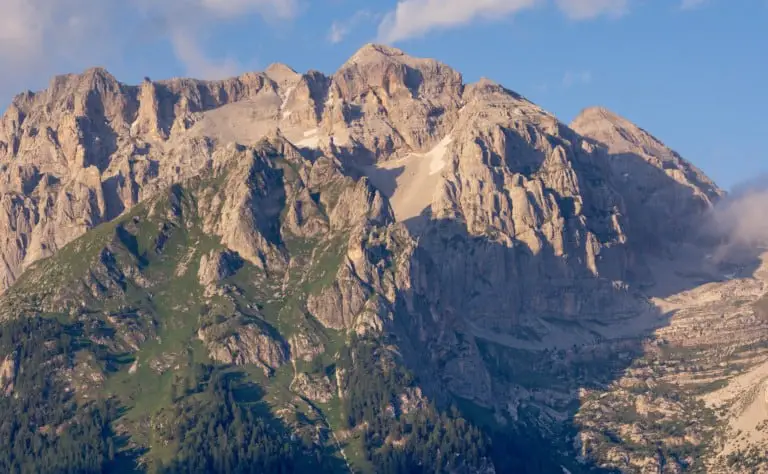 I mentioned adventure before.. Well, if you like hiking, climbing (a lot of via ferrata are available), downhill on your mountain bike, your chance is now! There are a few trails you can explore. Find more info here.
Otherwise, if you're with your kids or just want to have some relaxation, go back to the lake and rent a paddle boat (we call them "pedalò"). You'll find a list of all sport activities rates here.
I also got to visit the old Venetian sawmill dating back to 1500. It was named after priest Taialacqua who wanted to improve local people's economical conditions by building sawmills around the valley.
This is the only one left: it's just 15 mins from the town center, close to the lakeside, and you can visit it for free. It's still working!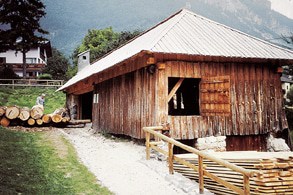 Day 4: Merano and Bolzano
With just 1h 30 drive you'll reach Merano, a cozy town where German and Italian traditions meet. You will be fascinated by Art Nouveau venues combined with medieval porticoes and large green areas with their promenades.
Also, Merano is particularly renowned for its Christmas markets which makes the city bright and lively, even in cold weather! 
Speaking of cold, in winter it feels good to bask in hot water pools. That's why we're heading to Merano thermal baths.
Once arrived, park in via IV novembre 16 (maps). It's a free parking where you can leave your car all day and it's just a 15 min walk to the thermal baths.
The ticket for 2 hours is € 13 / person, but for € 14 you get to stay for 3 hours. Personally, I recommend you to stay for 3 hours: time flies by when you're relaxing in the pools and I found that a good solution to fit everything in my travel plan was staying no less than 3 hours.
Anyway, you can check opening times and ticket prices here to find what suits you best.
My insider tips:
You can rent towels, if you don't have any with you, at the cost of € 4.50 each (all day). You can also rent sun beds on site. 
What you need to bring: shampoo, shower gel and your own flip flops. You will also need some coins for the lockers: 1 or 2 euro coins will do (they will give it back later). 
What you don't need: shower cap.
After your deserved relaxation in the hot water, take a stroll in the lovely streets of Merano. I particularly liked the promenades: one along the river Passirio (Passer), the winter and summer promenades, the Tappeiner, the latter offering a romantic view on the city and the surrounding mountains.
Worth seeing are also Trauttmansdorff castle and its botanical garden, a gem in Merano.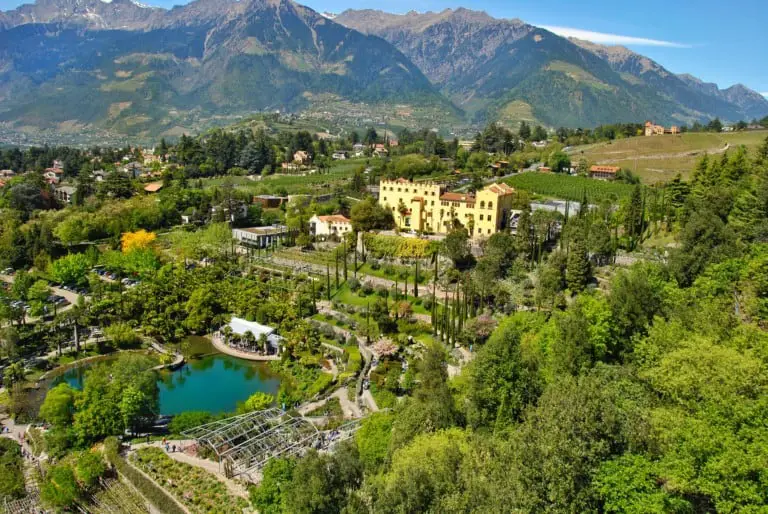 Drive back to Bolzano in the late afternoon (it takes only 30 mins by car). The city center is small and cozy: take a walk in Piazza delle Erbe, porticoes and the cathedral (Duomo di Bolzano).
Enjoy a Spritz at the most eccentric place Fischbänke spritz. Otherwise, if you're a beer lover, definitely stop at Forst.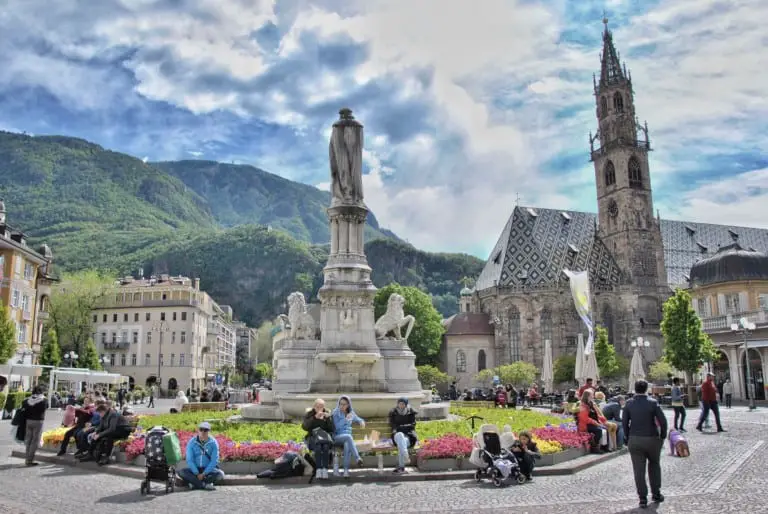 Day 5: Lake Braies and Landro
Set off for your next destination in the early morning: you're heading to lake Braies, a heavenly place you won't easily forget. Better leave early as the parking in Braies is limited and you want to be an early-bird! Drive for about 1h 40 across Val Pusteria, a 100-km valley stretching as far as the Austrian border and enjoy the magnificent panorama.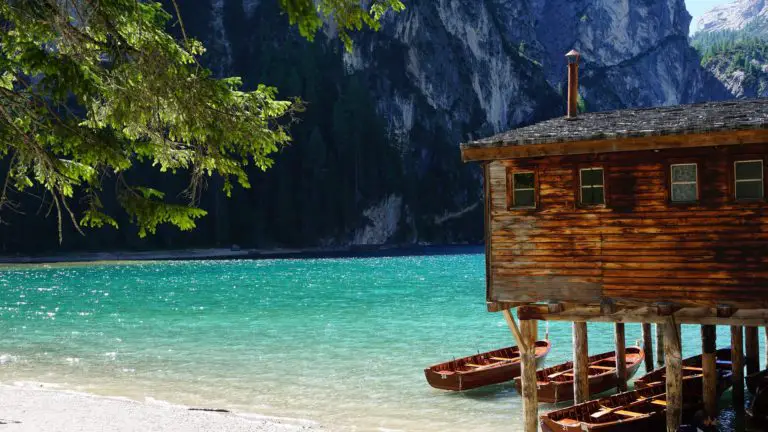 Next, you cannot miss lake Landro (in German Dürrensee), a hidden gem 30 mins away from Braies in Dobbiaco municipality where you can also get to see the beautiful lake of Misurina.
From lake Landro you can enjoy an astonishing view of the Three Peaks of Lavaredo, Dolomites. In summertime you can swim in the cold waters while in winter the surface is frozen.
As for the surrounding area, it is usually used as a cross-country ski track in winter and as a cycling lane in spring and summer.
Here I had my lunch box enjoyed on the lakeshore of lake Landro. However, if you forget it or didn't have time to prepare it, there's a small tavern right beside the lake.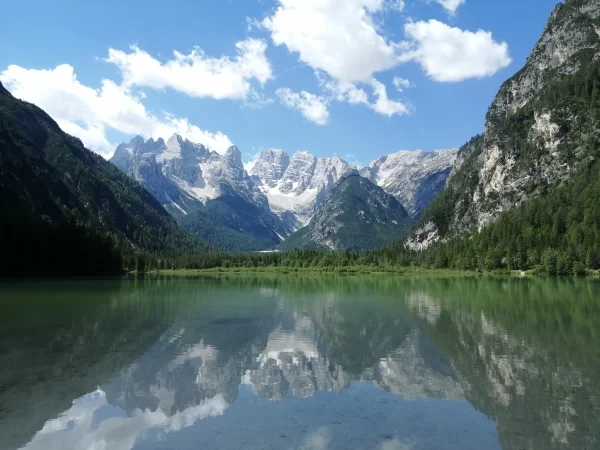 From here, I continued my travel to Veneto, particularly Cortina d'Ampezzo, Belluno and down to Venice. However, if you're enjoying your stay in Trentino you can remain here for a few days for exciting adventures. Below you will find some of the most interesting activities you can do in the area, all worth a visit.
Thanks for reading my article! Stay tuned for more content about Trentino! 🙂
Did you like the post? Follow me on Social Media and Stay Tuned for More Content!