The Ultimate Italian Stuffed Pasta Guide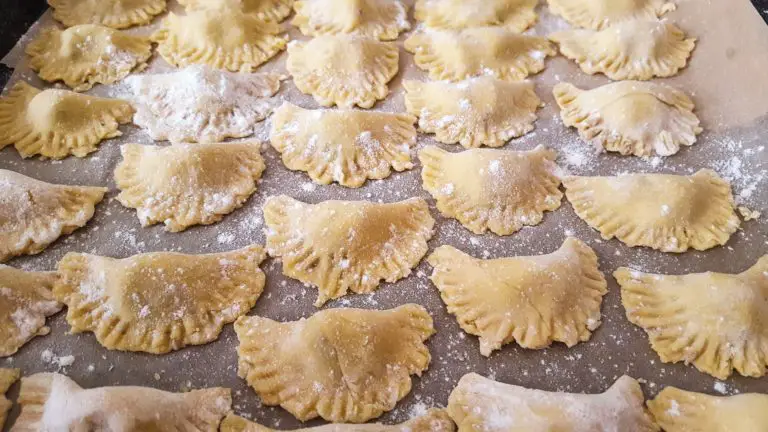 Have you ever felt the real taste of handmade pasta made by Italian nonnas? If your answer is "not yet" (a "no" is just not acceptable), here you are a comprehensive list of all filled pasta names and shapes that you'll find in Italy. There is plenty for all tastes!
The Ultimate Italian Stuffed Pasta Guide
According to legend, they were born in Gavi Ligure, Liguria, in the XII century. A precise date is hard to define, but what we do know is that they're mentioned in Boccaccio's "Decameron", a pillar in Italian literature.
Usually with a square shape, sometimes more rounded, ravioli are one of the most classic Italian egg pasta with a delicious filling that varies depending on regions.
The usual stuffing is vegetarian, with cheese and herbs, but some varieties of ravioli are made of meat. They may be served dry or in broth, like the ones made in Liguria, simmered in meat stock for hours..delicious!
You should also know that the term "ravioli" defines not only the classic stuffed pasta that comes as a first course, but also sweet ravioli such as chestnut ravioli made for Carnival in the Piceno area, Le Marche. 
Another great example of sweet ravioli are Seadas from Sardinia. They're made of a wheat dough fried in olive oil filled with freshly fermented pecorino cheese and lemon zest. Usually served with some drops of local chestnut honey, Seadas are a real delicacy!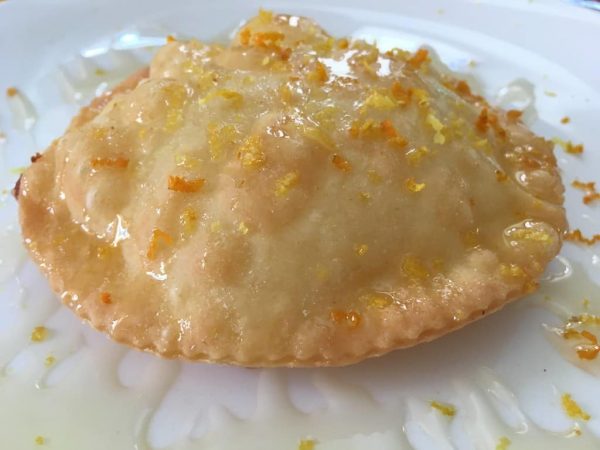 2. Casoncelli - Lombardy and Veneto
Casoncelli is one of the typical dishes from Bergamo and Brescia provinces, Lombardy. Half moon shaped and filled with meat, parmesan and herbs, casoncelli are deliciously served with butter, bacon and sage. Unmissable is parmesan grated on top.
>> Don't miss other traditional dishes from Bergamo here: Bergamo Like A Local: A Foodie Guide
There are different variations from the classic recipe: in Veneto for example beetroot is used instead of meat, and grated ricotta and poppy seeds are sprinkled on top.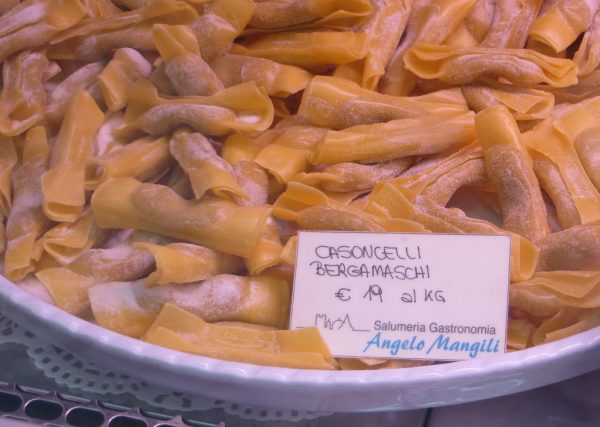 3. Scàrpinocc de Pàrr - Bergamo, Lombardy
Scàrpinocc de Pàrr is different from Bergamo casoncelli as it's vegetarian: Scarpinocc is filled with cheese, eggs, breadcrumbs, spices and butter, with a sprinkle of sage on top.
The term scarpinocc comes from the dialect for "scarpe" (shoes) because of the pasta shape, resembling shoes used in old times in Parre, a village in Bergamo where they were first created.
Best wine pairings with Scarpinocc? Why not serving them with local wines such as Moscato di Scanzo DOCG and Valcalepio DOC.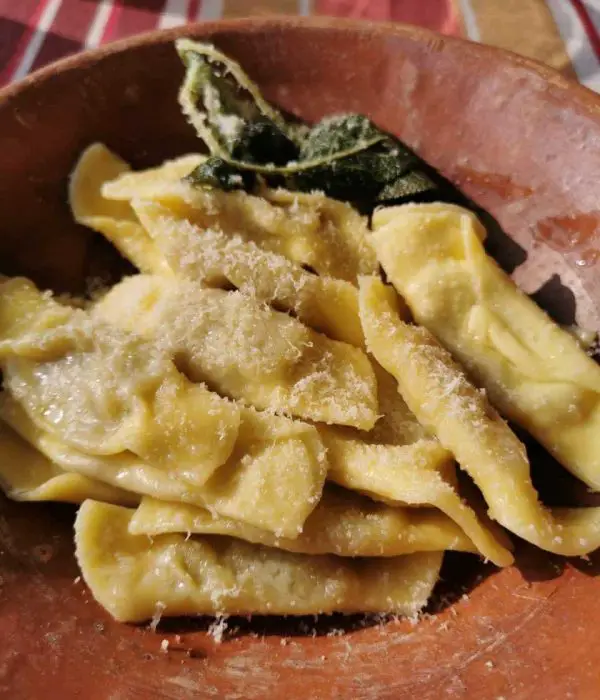 4. Tortelli, Tortellini and Tortelloni - Emilia, Lombardy and Tuscany
A northern Italian stuffed pasta I'm sure you all know is tortelli. However, there are so many types of tortelli, from tortellini to tortelloni and tortellacci. I get you might be confused and probably you must be wondering if there's really a difference between tortelli, tortellini and tortelloni.
The answer is yes, there is a difference.
Even though they fall under the same category of fresh stuffed pasta, you should be aware of the fact that they are actually different from one another.
Tortelli are like a jewellery box: what you find inside is always precious. For example, if you try tortelli in the town of Crema, you'll be very lucky as you'll find Amaretti, yolk, raisin, candied fruit, mint and parmesan.
Similar to these are Mantua's tortelli, well-known for their sweet filling of pumpkin, Amaretti and mustard, a typical Mantuan product.
A more classical filling is used for tortelli di Parma and Piacenza, where ricotta and herbs are sovereigns.
A different version could be found in Maremma, Tuscany, where ricotta, nuts, spinach and nutmeg are the protagonists.
Thus, depending on the region (or province, or even town..or village!!) you are visiting, you'll find different varieties of tortelli.
Did you know that tortellini are said to be an attempt to replicate Venus' belly-button?
A date to remember for all tortellini lovers is December 7, 1974. It was on this day that the original recipe for tortellini was officialized for the first time. Also, its city of origin is neither Bologna or Modena, but Castelfranco Emilia, a small village close to these two cities. 
The "farcia" (filling) is made of pork loin, prosciutto crudo (ham), mortadella di Bologna, parmesan, one egg, and nutmeg. The dough must definitely be thin, or else you cannot call it tortellini. And, of course, they must be served in meat broth (capon, beef or chicken).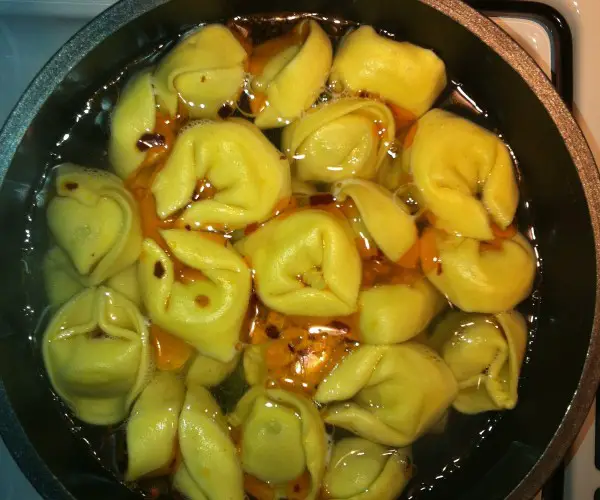 Tortelloni, stuffed egg pasta from northern Italy, are similar to tortelli but larger and with a slightly different shape as the extremities are closed using a different technique.
The most common filling is made with ricotta, while the sauce could be a tomato sauce or just melted butter and sage. Typical of Bologna are Balanzoni: spinach is added to the dough, giving it its characteristic green color, and used with ricotta for the filling.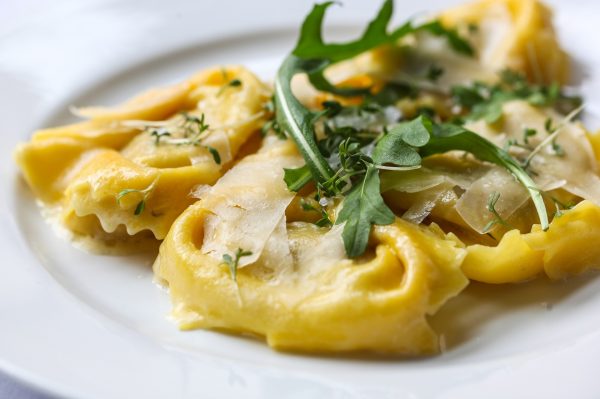 5. Cappelletti vs. Cappellacci - Emilia-Romagna and Marche
Thicker than tortellini, cappelletti are typical of Emilia-Romagna and Le Marche regions. They may have a squared or circular shape. Once the filling is added, the dough is folded, shaping a triangle first, and then matching the extremities around your finger.
Now, everyone agrees with cappelletti being served with delicious broth, however, the filling is a hot topic: some put meat (pork, veal and beef, or capon and pork), others cheese (ricotta, raviggiolo, squacquerone, stracchino and..you name it!), and the rest..well, they go for meat and cheese together. 
In Le Marche the traditional recipe is a bit different as the mix of meat, which includes veal, turkey, pork loin,  are stewed with celery, carrot and a small portion of onions, and then minced. Eggs, seasoned cheese, nutmeg and grated lemon peel are then added.
Cappellacci's filling is only made of pumpkin and it's the symbol of Ferrara cuisine. The first written recipe dates back to 1584 and was Giovanni Battista Rossetti's, chef at the court of Alphonse II. The pumpkin used in this recipe is yellow, sweet, solid and stretched.
After baking it in the oven or steaming, add parmesan, eggs, grated bread, salt, pepper and nutmeg.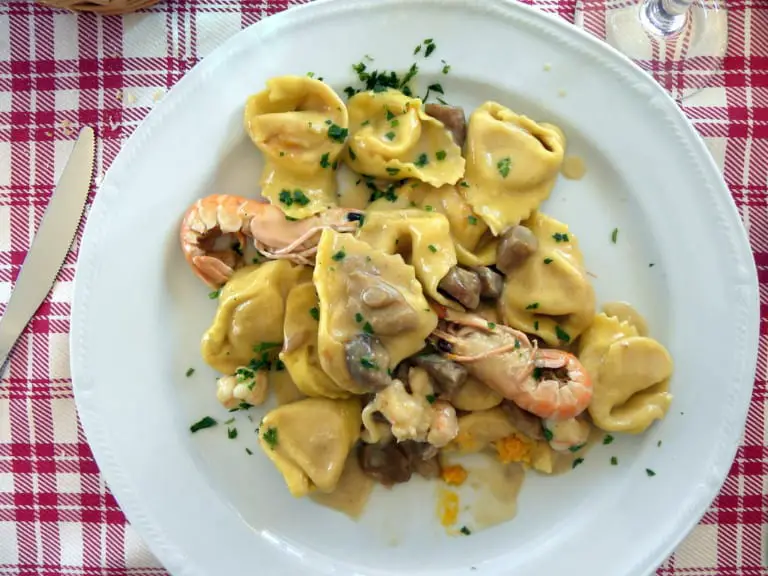 Typical of Piedmont, Agnolotti are different from ravioli not only in shape (agnolotti have one side straight, while ravioli have all sides jagged), but also in the filling. Agnolotti are usually filled with a mix of roasted beef, pork, chicken together with large-leaf vegetables, such as cabbage, endive, spinach.
Another difference with ravioli is that Agnolotti are traditionally served in either broth or with meat sauce while ravioli are served dry.
Agnolotti have different names according to the area where they are made: "agnolotti del plin" (named after the pinch to close the dough), "gobbo" (named after its bulges), "agnolotti pavesi" (in Lombardy).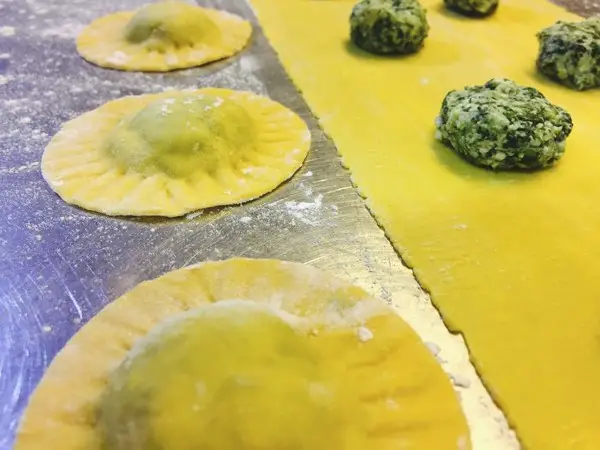 7. Anolini, Marubini, Agnolini - Lombardy and Emilia
Anolini, marubini and agnolini… What's the difference? They all sound the same, you must think.
They come from Lombardy and Emilia, in the North of Italy, however they differentiate one another in terms of shape, way of cooking and ingredients.
Even though their recipe was officially notarized in 1500, people don't really stick to any official rules: every family makes their own anolini, marubini and agnolini. Because it's quite complicated to whip up this kind of fresh pasta, my advice is to eat it in small bites: you don't really want to see the whole week's efforts swallowed in two seconds, right?
Famous are Marubini made in Cremona (see my pic below): don't they look delicious?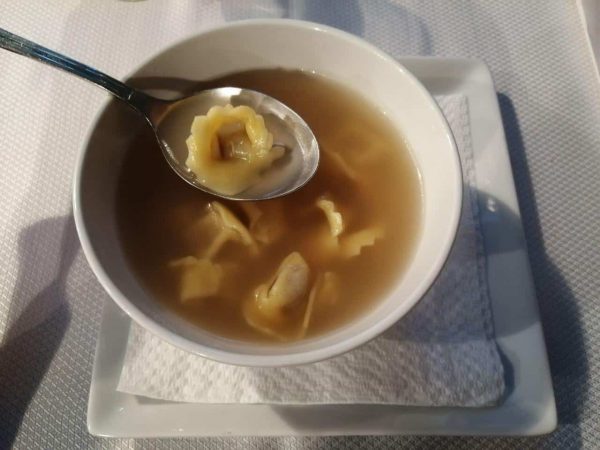 Cited in the Touring Club of Italy guide as a Rapallo specialty, pansoti (or pansotti) are ideal for vegetarians where no meat is used for the filling. Their name comes from the Ligurian dialect "pansa" (in Italian "pancia") meaning "belly" because of their shape.
You can top them with some homemade pesto Genovese, but according to the traditional Pansoti recipe, this filled pasta should come with a nut sauce where pine nuts, walnuts, garlic and extra virgin olive oil are mixed together with bread soaked in milk.
The secret is a mix of wild herbs (among them chard, spinach, borage, chicory, catalonia), called "preboggion", and a particular sour cheese called "prescinseua" that was once used on top of focaccia di Recco. Without these two ingredients it is unlikely to get the same original flavor. 
Pansoti can also be found in Cinque Terre: I took the pic you see below in Monterosso al Mare while visiting the villages of Cinque Terre. It was delicious!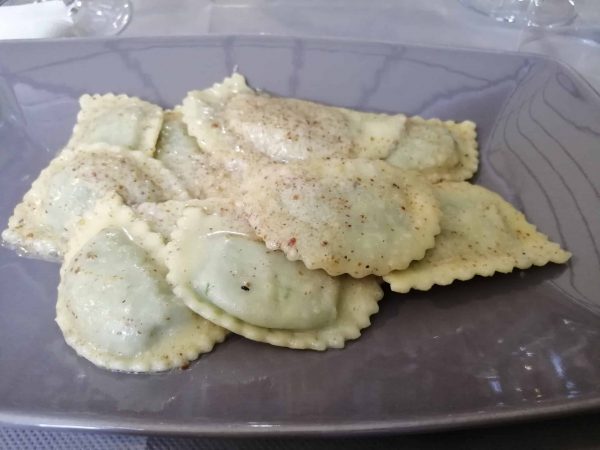 9. The Weirdest Italian Fresh Pasta Names
We're not done with the list of fresh pasta yet.
Here are some hard-to-pronounce types of Italian fresh pasta. If you can read them you'll be acknowledged as a true Italian – even better than an Italian, as some of us cannot even pronounce these names.
Zembi d'Arzillo from Liguria
Zembi d'arzillo are very delicate fish ravioli coming from Genoa, where "zembo" means "hunchback" in dialect, while "arzillo du ma" is the fresh sea scent. According to others, though, "zembo" would stem from "zembil", the Arabic for braided leaves baskets used to transport fish. 
Culurgiones from Sardinia
Culurgiones are fresh pasta stuffed with potatoes, pecorino cheese (sometimes you may happen to find ricotta instead, it depends on which area you're in) and mint. No eggs in the dough and pecorino or tomato sauce are the seasoning ingredients. The final result looks like an ear of wheat that symbolizes prosperity and good harvest.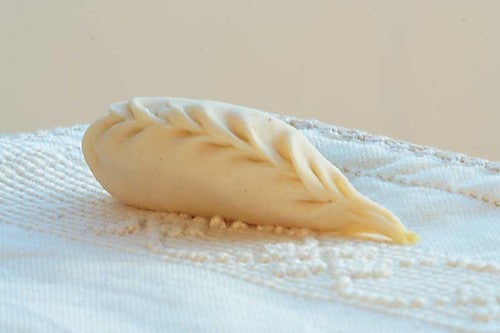 Schlutzkrapfen from tyrol
Schlutzkrapfen are type of ravioli stuffed with spinach and ricotta original of Val Pusteria, in Tyrol, north of Trentino.
The name Schlutzkrapfen comes from the verb "schluzen" that means "slide" as they literally slide on your tongue after happily swimming in the pool of butter in front of you..that is your dish of schlutzkrapfen. Usually served with melted butter.
Cjarsons are stuffed pasta typical of northern Friuli: each and every valley has its own recipe, either sweet or salty. No meat is used, but smoked ricotta is the seasoning after cooking. As for the filling, it varies from veggies to fruits, chocolate and spices (especially cinnamon).
If you happen to visit these regions, be brave enough to order them and find out what they're made of!!
Did you Like the Post? Follow Me on Social Media and Stay Tuned for More Content!
Images credits: "Bergamo-casoncelli-alla-bergamasca" by Thomas Alan; Seada (Ristorante da Gigi, Macomer) by TwoPointsCouture// CC BY-NC-ND 2.0; "cappellacci di zucca scampi e porcini – Pumpkin Cappellacci with scampi and porcini mushrooms" by Manuela Barattini//CC BY 2.0; "Gioiello Sardo" by andriaflickr//CC BY-SA 2.0.