How to Make Piadina: Best Italian Flatbread Recipe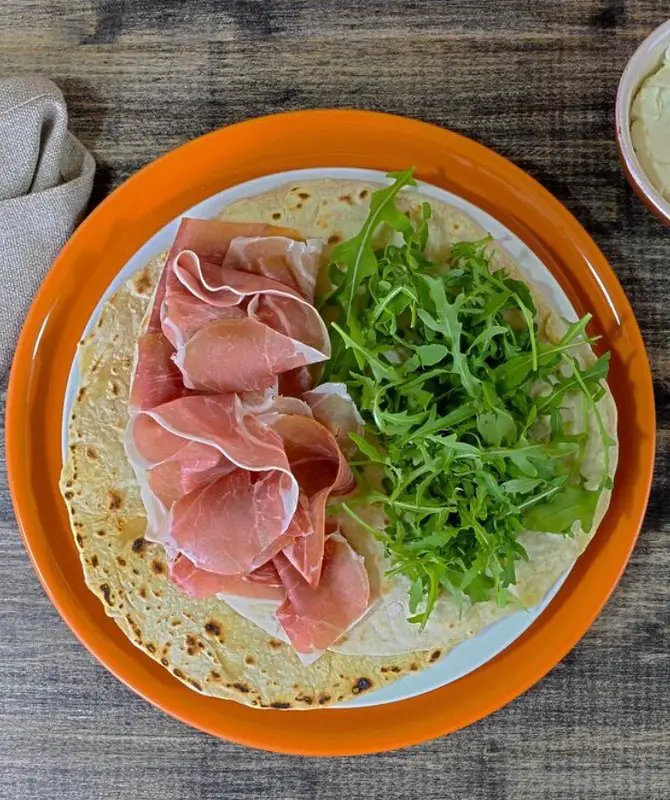 Emilia Romagna is the birthplace of two Italian cuisine staples: ragù alla bolognese and piadina.
Piadina is the excellent rustic Italian flatbread from Emilia Romagna, one of the most appreciated street foods all over the world.
The good thing about piadina is that you can choose whatever filling you like: veggies for a vegetarian version, cold cuts and squacquerone is the classic, sausages and onions for the bravest.
Find out how to make piadina at home in just 7 easy steps!
Piadina is one of the most famous Italian street foods, a thin flatbread typical of the Romagna region.
In Emilia Romagna piadina is not just food: this flatbread is viewed as an opportunity for a convivial moment with family and friends. 
The term "piadina" was used in ancient times to define a flat recipient or plate and first appeared in documents in the 14th century.
2. A Glimpse Into Piadina History
It was probably thanks to the Etruscans, a population living in today's Tuscany and Lazio areas, that we now have our beloved Piadina.
They were the first to cook grain and taught it to Romans, who initially used barley to make bread and "puls", a sort of Polenta used to accompany saucy dishes.
Later on, wheat replaced barley and, during the Middle Ages, because  bread became more and more expensive, people would substitute it with piadina, which was more affordable for the lower classes.
The first written evidence about piadina dates back to 1371, when cardinal Anglico de Grimoard, in his Descriptio Romandiolae, wrote the first Italian flatbread recipe ever. 
It was the poet Giovanni Pascoli who then gave piadina a cultural recognition, calling it "Aeneas's food" in some of his poems.
Finally, the XX century was a golden age for piadina, particularly since the 50s as it started to be sold in small kiosks on the Adriatic coast (Riviera Romagnola).
Tourists from all over the world spend their holidays along the Riviera Romagnola eating piadina and enjoying the beautiful view of the blue Mediterranean Sea.
3. Piadina, a Protected Traditional Food
Like any heritage in the world, food also needs to be protected and preserved. This is exactly the reason why piadina flatbread from Emilia Romagna has been PGI and PAT food since 2014.
What do PGI and PAT mean?
PAT denomination is given to Italian traditional food products whose process, conservation and aging have been all the same for not less than 25 years.
PGI stands for Protected Geographical Indication and applies to agricultural products and foodstuffs that have a strong link with their territory of origin.
No one is entitled to use this denomination unless their products are in compliance with the EU regulations.
This is our way of valuing our traditions and promoting them to people who come to Italy and want to discover more about our culture, including foods and customs.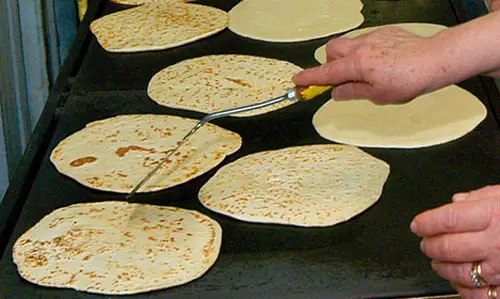 Before starting out, you should know that the dough of this most delicious Italian flatbread recipe varies depending on the city or town you're visiting.
For example, in the provinces of Forlì-Cesena and Ravenna, in the northern area of Romagna, you can find a smaller but thicker piadina.
On the other hand, if you're visiting the the southern area of the region – Rimini, Riccione, Cattolica – piadina is definitely thinner and larger. 
What you'll find below is the classic piadina recipe that most people use in their households. Check it out!
Piadina Italian Flatbread Recipe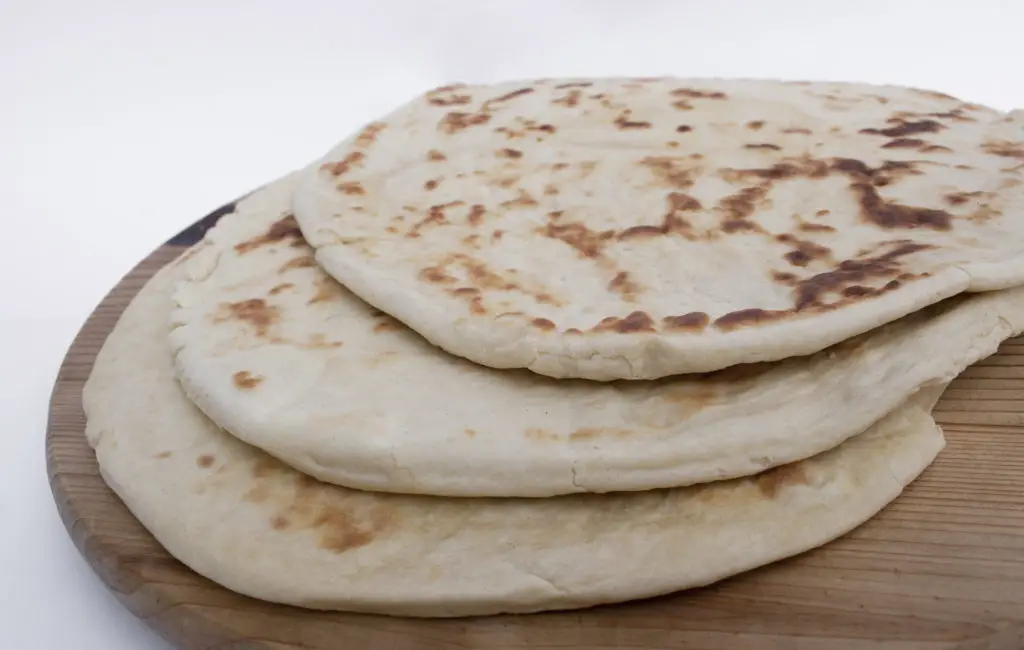 Ingredients for 6 piadine (22 cm each):
500 g all purpose flour
125 g lard
170g room temperature water
15 g salt
1 ½ spoon of baking soda
Start by making the dough: mix all purpose flour, salt, lard and baking soda in a bowl.
Start kneading the dough and add the water gradually. Work until you get a homogeneous mixture.
Form a ball, wrap it in film and let it rest for 30 mins.
Remove the wrap and form a sausage. Divide it into 6 equal portions and give each the shape of a ball by working it for about 30 seconds until smooth.
Wrap them again and let them rest for another 30 mins.
Sprinkle some flour on the work surface, then roll the balls with a rolling pin. You should get a thickness of 2-3 mm and a diameter of 22 cm.
Heat up the pan. Cook the piadina for 2 minutes on each side, making sure the surface is evenly cooked.
Your piadina is ready to be filled! 
My insider tips:
Baking soda is not necessary but it helps the piadina dough become softer.
Piadina is generally enjoyed folded and stuffed with various exquisite ingredients.
The filling of the classic piadina recipe is made of squacquerone (a fresh, soft cheese typical of this region), prosciutto crudo and arugula.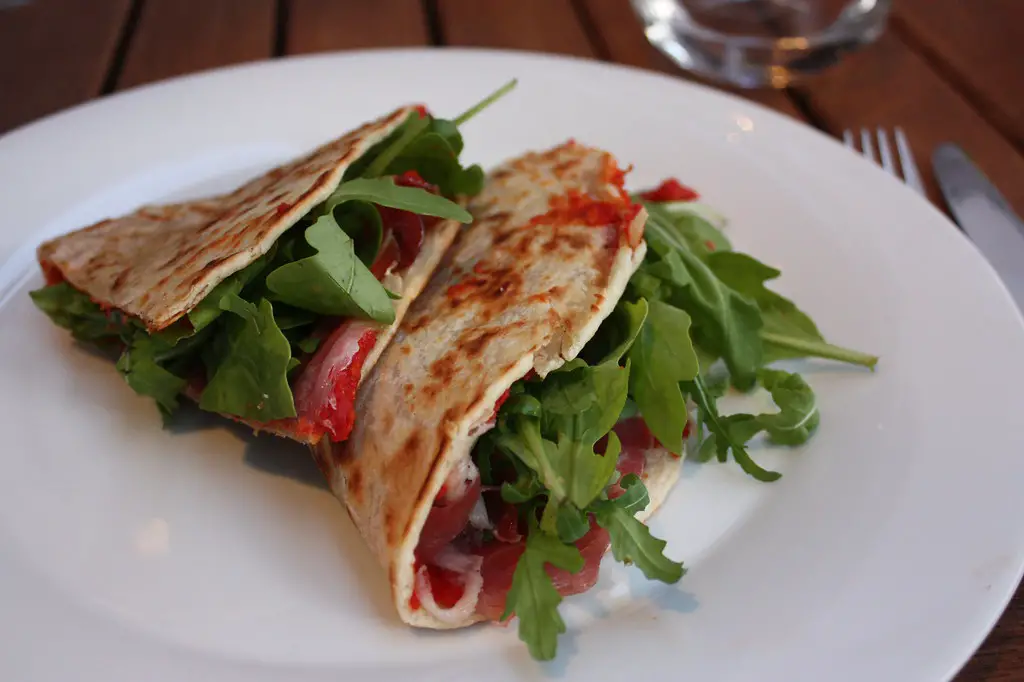 Of course there are other ways piadina can be stuffed.
Popular piadina fillings are: 
fontina cheese and prosciutto (either cotto or crudo);
tuna, cream cheese and grilled zucchini;
mozzarella cheese, lettuce and/or tomato slices, mayo, prosciutto cotto;
sausages and onions.
If you're looking for vegetarian options, here you are some piadina fillings ideas:
grilled zucchini seasoned with oil and salt, cherry tomatoes and caciotta cheese;
grilled mixed veggies (zucchini, bell peppers and eggplant);
fried eggplant slices, tomato, mozzarella and grated parmesan;
sliced tomatoes, mozzarella cheese, basil and evo oil;
mushrooms, mozzarella cheese, arugula, radicchio.
Ideal for breakfast or as an afternoon snack, sweet piadina with Nutella is a must try in Italy!
You can even play around with any decadent ingredient you like most – why not honey or fruity jams?
Piadina can be stored in an airtight container in the fridge for about 2 days.
You can freeze it once cooked and allowed to cool down.
Piadina is best consumed warm, but you can have it even at room temperature.
If you store it in the fridge, you can heat it up a bit in the oven for an even more decadent taste.
Don't serve this classic Italian flatbread with a fork and knife as the best way to eat piadina is with your hands!
8. Piadina and Other Flatbread Varieties
Piadina is not the only flatbread you can find in Italy. Liguria offers a wide range of flatbread types too: from the classic fluffy focaccia to farinata and other types of focaccia.
Even within Emilia Romagna there are various types of flatbread. In fact, the piadina dough is also used to make Cassone.
In Emilia Romagna you'll probably come across another typical street food: a stuffed piadina, folded and closed before cooking.
It has different names according to the geographical area you are in, such as "crescione", "cassone", "cascione" or "calzone".
Back in the days, it was traditionally stuffed with cheese and herbs together with garlic, onions or shallot, but now you can find spinach and cheese, mozzarella and tomato, sausages with bacon and potatoes..and you name it!
To make crescione's dough you can use the piadina recipe!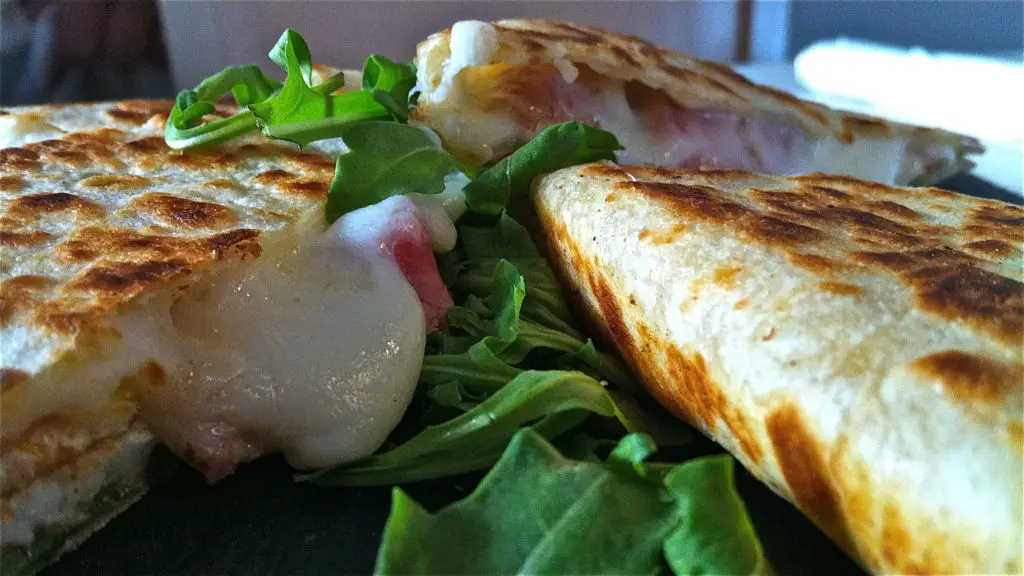 8.2 Flatbread in the World
Piadina is often confused with other types of flatbread such as tortilla, pita, naan and wraps. 
What piadina, tortilla, pita and naan have in common is that they're all types of flatbread as flour and water are used in the dough.
However, each of them comes from different cultures and traditions and are therefore used in different ways. Explore all the differences in the table below.
| | | | | |
| --- | --- | --- | --- | --- |
|   | Piadina | Tortilla  | Pita | Naan |
| Origin | Italy | Mexico and Southwestern States in the US | Greece and Middle East | Western and South Asia, Myanmar and Caribbean |
| Flour | Wheat flour | Wheat (eg. fajitas) or corn flour (eg. tacos) | Wheat flour | Wheat flour |
| Leavening Agent | yes | no | yes | yes |
| Fats | yes | yes | no | no |
| Cooking | on a metal plate | on a cast iron skillet | Baked in the oven | Baked in the oven |
Did you Like the Post? Follow Me on Social Media and Stay Tuned for More Content!