Classic Bagna Cauda Recipe in 7 Easy Steps
Even if  in the Italian tradition there is no Halloween, we do celebrate the Dead on November 2nd with the festivity of the Deaths, a feast of ancient origins. This is when Bagna Cauda is made!
As for any celebrations in Italy, our culinary tradition has in store many tasty and original recipes, all based on seasonal products.
In this article we'll see one of these great traditional Piedmontese dishes based on anchovies, garlic and oil: bagna cauda, the symbol of friendship and joy. This convivial ritual gathering family and friends is usually served with good Piedmontese wines such as Barbera or Dolcetto.
How can you say no? Well, maybe if you're on a date you don't wanna smell all garlicky…in that case you would be excused..
Bagna Cauda is a traditional Piedmontese dip sauce where you dip seasonal veggies of your choice. It is a symbol of the old peasant cuisine and, being substantial, it is usually served as a single course dish but locals consider it as a collective tasting ritual that should be eaten in company as an appetizer.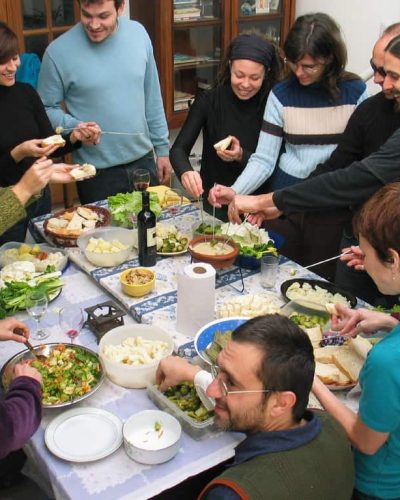 What's the Meaning of Bagna Cauda?
The term bagna cauda derives from the word "bagna", which in Piedmontese means sauce, and "cauda" (or "caoda"), which stands for hot.
It is precisely for this reason that bagna cauda is served in "fujot", earthenware stoves placed at the center of the table, so that it's accessible to everyone. The burner below the fujot continues to keep the pan warm throughout the meal.
2. Bagna Cauda Food and Wine Pairings
According to tradition, the meal should be opened and closed with typical products: a few slices of salami from the trusted butcher before starting, and a taste of Piedmontese cheese to finish.
Obviously there can be no Bagna Cauda without an accompaniment, which generally consists of a lot of crunchy bread and good wine. 
Excellent wine pairing with this anchovy garlic dip are hands down Barbera, Nebbiolo and Barbaresco, all locally produced. The choice is up to you!
3. Bagna Cauda Mysterious Origins
The origins of the Bagna Cauda are actually shrouded in mystery as no one knows exactly when, where and who invented this dish, even though Piedmontese farmers are assumed to be the creators of this dip sauce. In fact, they used to celebrate the end of the work in the fields with a rustic and popular dish, tasty and strong, always recurrent at this time of the year.
For a very long time, this anchovy garlic dip remained a dish consumed mainly by the poor and peasants because the aristocrats abhorred it for the abundance of garlic.
Over time, this appetizer has instead been re-evaluated and, today, there are many trattorias and restaurants, especially in Piedmont, offering Bagna Cauda to their guests.
4. Where and When to Taste Bagna Cauda
Some people start making Bagna Cauda in late October, when new wine is usually produced. Others prefer to make it between December and January, when the wine is decanted, as a way of fighting against the winter frost.
However, November is the best time to prepare and eat bagna cauda: in fact it's in this month that, for several years, Bagna Cauda Day has been celebrated in Asti. From November 23rd to 25th, in 150 restaurants (including the cities of Alessandria and Asti) 15,000 fujots are lit up for the event: the largest collective bagna cauda ever made.
If you are curious enough to try this traditional Piedmontese dish during these three days of celebration, you can find the complete list of restaurants participating in the initiative on the Bagna Cauda Day website.
5. Three Ingredients Only
The classic Bagna Cauda recipe includes three basic ingredients: oil, garlic and anchovies. You may happen to find more ingredients added to the classic recipe, such as butter, wine, vinegar, chopped walnuts, broth. All these variations tend to make the flavor of this sauce more delicate.
Garlic can be treated in different ways to dampen its strong flavor: soak it in milk or boil it, you'll see the difference!
Make sure you use high quality extra virgin olive oil as the ingredients of this recipe are few and their flavor is enhanced.
Anchovies are one of the staples of Bagna Cauda. However, for a  vegetarian version, you can substitute them with red or white miso.
6. What Veggies to Use in Bagna Cauda
In the classic Bagna Cauda recipe the vegetables to dip in the sauce are mixed and various. They can be cooked or raw, but all must be in season.
Raw veggies you can use are: hearts of white cabbage, endive and escarole, fresh peppers, spring onions quartered and dipped in Barbera wine, fennel, Belgian salad, turnips, Jerusalem artichoke, not to mention the hunchback thistle of Nizza Monferrato, which makes its appearance in November.
Some cooked veggies in season that you can use are: red beets, boiled potatoes, baked onions, fried pumpkin, roasted peppers.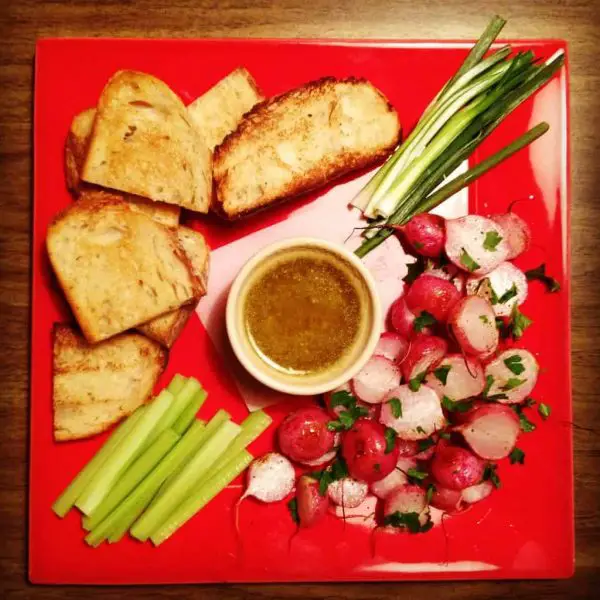 Sometimes you can find other interesting ingredients combined with Bagna Cauda: apples, raw and slightly sour like renetta, polenta, cooked and then fried to make it slightly crunchy, or even eggs. According to tradition, eggs can be either hard-boiled and sliced or scrambled directly in the fujot at the end of the meal..and why not adding a sprinkling of truffle?
7. Classic Bagna Cauda Recipe in 7 Easy Steps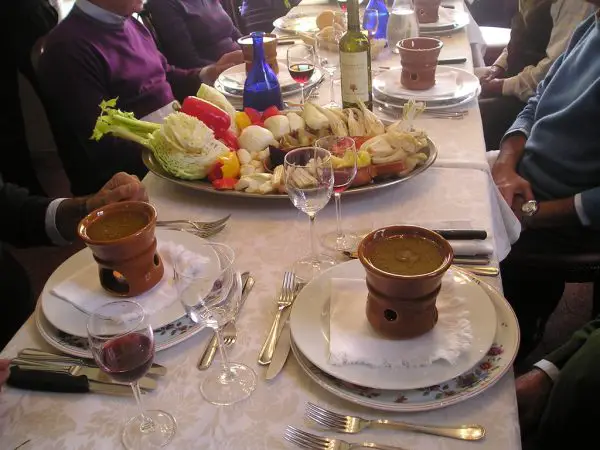 Salted Red Anchovies from Spain 300 gr

6 heads of garlic

Extra virgin olive oil 3 glasses

Butter 50 gr

Red wine 125 gr

Seasonal veggies of your choice
Slice the

garlic cloves

previously stripped and sprouted.

Place the garlic in an earthenware pan, add a glass of oil and simmer over very low heat, stirring with a wooden spoon, making sure it doesn't brown.
Add the anchovies that you previously desalted, boned, washed with the red wine and dried. Stir gently.
Cover with the remaining oil and cook the dip over low heat for 30 mins, making sure that it doesn't fry.
In the meantime cut your veggies.
At the end of cooking you can add the butter for a more delicate taste.
Pour the dip into the appropriate fujot and accompany it with the veggies.
8. Top Tips to Make Bagna Cauda
Simmer each ingredient and let them melt down very slowly. High heat may burn the dip sauce and create unpleasant foam on the surface!
Put the sprouted garlic cloves in a saucepan and cover them with fresh milk. Bring to a boil, then lower the heat and let it simmer very slowly for about 15-20 minutes, until the garlic has reached a very soft consistency.
How to Treat the Anchovies
Soak the anchovies in cold water for 2-3 hours – remember to change the water often to remove the salt. Do this very gently to prevent the anchovies from flaking.
When the anchovies have softened, drain and open them in half: remove the entrails with the central bone and rinse them under running water.
Then dry the fillets on absorbent paper. Place them in a baking dish and wash them with the red wine. Again, dry the anchovies with absorbent paper to eliminate the wine in excess.
How to Store Homemade Bagna Cauda
If you decide to follow the classic Bagna Cauda recipe and make it at home remember you can store it in an airtight container for up to 2 days.
Can You Freeze Bagna Cauda?
You can freeze Bagna Cauda in air-tight containers: just remember to take it out of the freezer a few hours before consumtpion and put it in the fridge. In this way Bagna Cauda will defrost gently and the taste will not be so much afftected. Have it simmer on low heat before searving it hot.
Free Italian Recipes Ebook
Subscribe and get your FREE ebook about TRADITIONAL ITALIAN RECIPES from 7 different regions: learn how to make Limoncello, Piadina from Emilia-Romagna, Sicilian Caponata and many other recipes!
Did you like the post? Follow me on Social Media and Stay Tuned for More Content!
Images credits (from up to bottom): Bagna cauda by vidarosarina is licensed under CC BY-NC-SA 2.0; Bagna caoda (uau) by ci_polla is licensed under CC BY 2.0; Bagna cauda, roasted radishes by Neven Mrgan is licensed under CC BY-NC-SA 2.0; Bagna-Cauda-by-Ristorante-Cannon-dOro-Vecchio-Castagno // CC-BY-NC-SA-2.0.jpg