Renting a Car in Italy: a Complete Guide for North Americans
Both Canadians and Americans are entitled to drive a car in Italy, however some restrictions apply. Here you will find all you need to know about renting a car in Italy to make you ready for your trip! Let's dive into it.
1. Renting a Car in Italy: Is It Worth it?
Depending on your itinerary you might need to rent a car in Italy. 
My personal advice is that if you're traveling between large cities or towns well connected via railway, you don't need to rent a car. All major cities and towns are served by any types of trains, from high-speed (Frecciarossa, Frecciabianca, Frecciargento) to local trains (we call them "regionali").
In case you're considering traveling across regions and want to visit small villages, natural parks and more secluded places you definitely need a car.
Also, take into account two other things: budget. If your budget is high, renting a car would be the best thing to do. However, if you want to save up, public transit is a more suitable option, even though you won't be able to reach off-the-beaten-track places.
2. How to Rent a Car in Italy as an American
According to art. 135 of the Highway Code holding a valid US driving license* is not enough to drive in Italy, but do not desperate! Here is the solution: get the International Driving Permit (IDP), a form of identification valid in 150 countries worldwide.
* This applies also to Canadian citizens
2.1 The International Driving Permit in Italy
In order for you to rent a car in Italy and drive, an International Driving Permit (IDP)* must be issued before your trip.
It contains the driver's name, photo and personal information. You must bring it along with your license, otherwise it won't be valid.
The IDP is issued by the Canadian Automobile Association (CAA) for Canadian citizens and it costs CAD 25, whereas Americans can apply through the American Automobile Association (AAA) for around  USD 20. 
Take into consideration that IDP may not be issued more than six months in advance of the effective date. So if you're landing in Italy on June 26th and are planning to rent a car and drive right away, you should apply for your IDP after February 26th.
2.2 Applying for an Italian Driving Permit
Any Canadian or American who is registered as a resident with the local Vital Records Bureau (in Italian "Anagrafe") can apply for an Italian driving permit but only within 1 year from the registration date.
This rule is valid up to one year from the moment you set foot on the Italian territory. Therefore, if you're planning a long term stay in Italy you must take the exams to get the Italian driving license.
3. Car Rental in Italy: Age Restrictions
Another aspect to consider when renting a car in Italy is age: first of all, in the Bel Paese only people over 18 are allowed to drive. In the specific case of car rentals, you must be over 21, even though some rental companies allow drivers of 18 years of age who have had their license for more than one year.
Also, young drivers under 25 might expect a surcharge on their rental fees.
As per the upper age limit, it depends on the provider – it's usually between 70 and 75 years of age. 
More info on the official website here: www.aci.it
All sorts of cars are available in any car rentals in Italy, from convertibles to minivans and sports car. The type of car to pick up is totally depending on the kind of vacation you're taking and the number of passengers with you.
If you're staying in major cities, consider that parking lots (especially free) are just a few and you really want to have a small car to fit in it, such as a mini or a compact.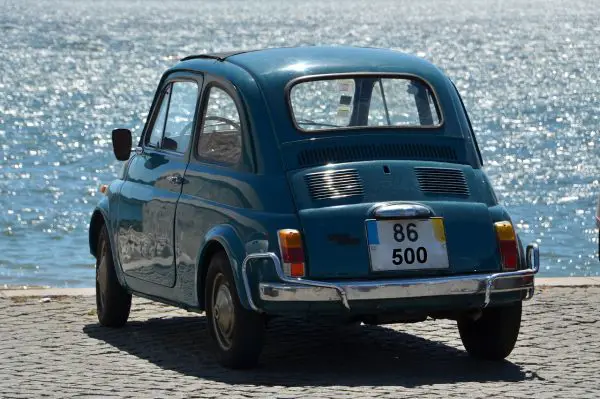 Let's say you're celebrating your wedding anniversary: you want to have the trip of a lifetime, right? Then you might want to opt for a more luxurious car to have a hyper-comfy trip.
Are you coming to Italy with friends nd family? Are you more than 5 people? Then you need a vehicle that can host 6 passengers or more: in this case a minivan will do!
In Italy (and in Europe in general) most people own a manual car. Since it's not common to have an automatic car and there are only a few of them available in car rentals, you might want to ask for it as soon as possible, especially in high season.
An advantage of the automatic car is that the average fuel consumption is similar to that of cars equipped with a manual transmission.
4.5 Cars with GPS and Mobile Hotspot
Also, if you're traveling to explore the beautiful Italian regions this may be particularly useful: a car with gps. To avoid getting lost in the countryside or take the wrong exit on the highway, you might want to consider spending a few dollars (around $10 per day) more on this item in your car.
Some car suppliers even rent cars with a mobile hotspot featured so as to avoid any unpleasant roaming charges on your phone bill!
5. How Much Is It To Rent A Car in Italy?
If you're wondering how much it is to rent a car in Italy, the answer is: it depends on how long you're going to need the car and how many features you would like.
An excellent way to find the best deals and prices is autoeurope.com.*
Here you are the factors that generally affect the car rental price:
Automatic vs. manual car; 

Inclusive vs. no deductible;

Car type (Mini, economy, compact, midsize, family size, station wagon) vs luxury cars (BMW, Audi, Jaguar, Mercedes, Porsche, Mini Cooper);

Place of collection;

Number of passengers that fit into the car and doors;

Air conditioning (particularly interesting in summer as you don't want to boil in your car!);

Suitcase capability;

Long term car rental vs. car leasing.
*Non sponsored
Depending on where you collect your car, the price varies.
If you decide to collect it in big cities like Milan, Venice, Rome or Florence for sure you will pay less than smaller towns in southern Italy or in the mountains (eg. the Dolomites in Trentino-Alto Adige).
5.2 Can I rent a Car without a Credit Card?
Most car rental suppliers in Italy require the primary driver's credit card as a payment method. Only a few accept debit cards as well.
Therefore, to avoid unpleasant surprises, you should look into the method of payment before booking your car with any supplier.
When you request a quote to the car rental provider, you will see any additional costs that might be eventually added to the price displayed.
For example, if you book a car from Milano Malpensa airport and want to drop it off at Rome Fiumicino Airport, you will see that some rental car suppliers apply restrictions or additional fees for a "one way" travel.
Rest assured that the final costs will be displayed on the booking form before proceeding with the payment.
You can find a list of surcharges that may be added to the base rate on this page.
6. Tips for a Stress-Free Car Rental in Italy
If you want to have a delightful and worry-free travel experience, here are a few things to consider before renting a car in Italy.
6.1 What does the Deposit Include?
Please note that the deposit applied to your credit card at the moment of booking (or signing the contract if on site) can either include the deductible ("franchigia" in Italian) or not. In case it does, make sure the excess amount is not too high, otherwise it will prevent you from using your credit card in the next days of your trip as you already reached the cap.
6.2 Which Insurance is Best?
To avoid unpleasant situations in case of car accident or theft, it is highly recommended to have a full coverage.
The fee will depend on the type of car you picked up.  You will have three options to consider: keep the standard deductible, decrease it or eliminate it. 
A good option might be the full zero deductible CDW (collision damage waiver) and then you can decide whether or not to add up "excess" insurance (for example tires).
Of course prices vary: the zero deductible is the most costly as it allows you not to pay anything upfront and the risks lie completely on the insurance company. It is up to you to choose which option you feel more comfortable with.
6.3 Additional Driver Fee
In case you foresee to let someone else drive the car because the road trip is long or any other reason whatsoever, make sure you read and understand the terms and conditions in the contract. This is particularly relevant in case of car accident: if the driver is not the same as stated in the contract, problems may arise.
Surcharges for an additional driver might be around € 7 to € 10 per day. To save up I suggest booking in advance (as I already mentioned). Some companies give out discount coupons for certain times of the year.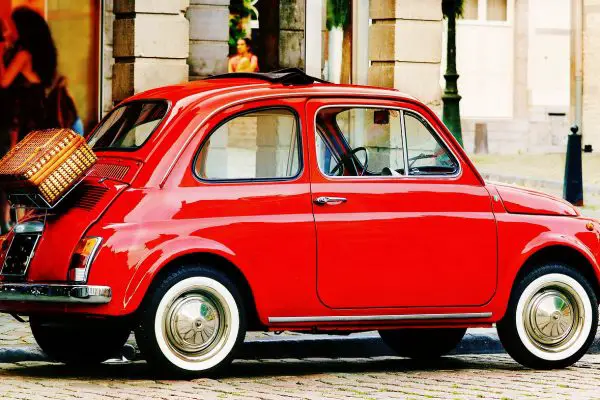 6.4 Rent a car with a driver
Whether you need a car for an airport transfer, a business meeting or a leisure trip, you might want to consider the idea of renting a car with a driver.
This allows you to enjoy the trip much more than if you were driving yourself: you would avoid driving on highways and would have a stress-free dream travel! 
6.5 Drop Off at a Different Destination
Is your drop off a different destination than the pick up?
No problem, it's doable of course. The only thing is that you'll be charge the one way fee, so make sure the amount is clearly stated in the terms and conditions. The fee could be either domestic or international, it depends if you drop it off in Italy or another European country (see below).
6.6 Can I Cross Borders with other EU countries?
When you rent a car in Italy you can cross borders and even drop it off in another European country, although international fees apply in this case.
Make sure that you can actually do so with the type of car you rented as some countries in the Eastern Europe are more selective, especially when it comes to luxury cars.
When you return the car, you'll be charged the full tank of gas no matter the quantity you put in the car. Therefore, there is no use in filling up the tank right before returning the vehicle.
6.8 Where to Find Car Rental Providers in Italy
Almost in all airports in Italy there's a car rental supplier. 
Even if you opt for a last minute decision you can be sure to find one. Nonetheless, I recommend you to book in advance: it's cheaper and you're sure of getting a car, especially because in high season you might not find the right car for your needs.
6.9 Additional Items and clauses
Gps, winter tires, child seat, empty tank clause and so on. All these features or clauses are not included in the standard prices so you might want to check all the prices and read through all the T&C before signing.
Now that you know everything about renting a car in Italy, you're ready to set off on your journey! Enjoy your drive 🙂
Did you Like the Post? Follow Me on Social Media and Stay Tuned for More Content!