Easy Creamy Zuppa Toscana Recipe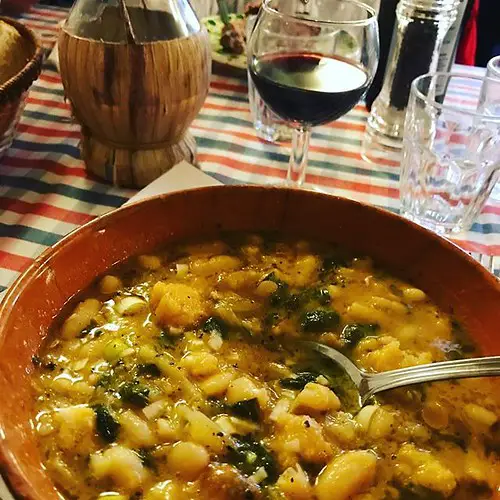 Are you looking for a light, gluten and dairy free recipe to prepare for a dinner with guests? Here you are Zuppa Toscana, a traditional tasty soup from Tuscany.
This vegan Tuscan bean soup with kale is the perfect dish when you invite your friends over.
Why?
It's easy, super flavorful – Kale makes it special – and it's good for all tastes: no dairy nor meat are used!
According to some recipes you can simmer your soffritto with guanciale but I don't think it's necessary as the soup tastes good as it is. Also, you don't need any milk to make it creamy: the tomato pulp will do!
1. One Pot Tuscan Soup Recipe
Zuppa Toscana (or Tuscan soup) is a great option if you care about eating well: it's healthy as it only includes veggies and it's perfect to fill you up if you're on a diet.
You can meal prep it on the weekend and store it in the fridge for the week to come: I froze it and it tasted the same. Make sure you follow my tips in the FAQs section!
Below you will see how to make Zuppa Toscana Recipe in 7 easy steps. Also, you will only need one pot!
Kale 400 g

Potatoes 200 g
2 medium carrots
1 stalk of celery
1 small yellow onion
Boiled cannellini beans 250 g
Tomato pulp  400 g
Some slices of toasted Tuscan bread
Vegetable stock 1l
Thyme (2 sprigs)
Extra virgin olive oil
Salt
Pepper
1. Finely chop onion, celery, one carrot and saute in a large pot with extra-virgin olive oil.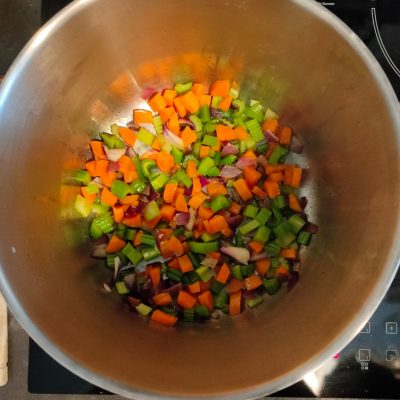 2. Cut the potatoes and a carrot into medium-size cubes. Wash kale and cut the leaves into thin strips, removing the central rib.
3. Add the veggies, cannellini beans and thyme to the soffritto. Stir-fry for 3-4 mins.
4. Add tomato pulp and half of the stock. Simmer for 15 minutes.
5. Add salt and pepper. Simmer for at least 1.30 hour and add the rest of the stock from time to time to prevent the soup from drying up.
6. Blend a generous ladleful of soup and put it back in the pot.
7. Serve your Zuppa Toscana with some drops of extra-virgin olive oil and slices of toasted Tuscan bread.
Soffritto (finely chopped carrot, celery and onion mixed together) is a staple for many traditional Italian recipes, from ragù alla bolognese to roasted meat..and soups!
Therefore, don't skimp on soffritto!
Whether you roughly chop your veggies or not it's not important, provided that you entirely cover the bottom surface of your pot.
2.2 Fresh ingredients for your vegetable stock
The secret lies in the vegetable stock. Use only fresh veggies: a carrot, an onion and a stick of celery. If you like, you can add cloves – insert them in the onion so that it will be easier to take them off! 
I like to add a potato, but some even add a tomato. Let all the veggies boil at medium heat for 2 hours. Your vegetable stock is ready!
2.3 Good quality tomato pulp
The quality of the ingredients is very important and the tomato pulp plays a key role in the Tuscan soup recipe. Make sure you use a good one – as natural as possible.
Furthermore, I like to use tomato pulp and not tomato sauce as the latter tends to be too sweet to my taste. I feel tomato pulp tastes like freshly picked tomatoes.
3. Creamy Zuppa Toscana Recipe FAQs
3.1 Can you use spinach instead of kale in this soup?
If you can't use kale in your soup, you can substitute it with spinach. The taste will be different though!
3.2 Zuppa Toscana Wine Pairing
Zuppa Toscana is well paired with a classic of the Tuscan tradition: a glass of Chianti DOCG goes perfeclty with this flavorful soup!
3.3 How to store Zuppa Toscana soup
You can store Zuppa Toscana in the fridge for a few days in a plastic or glass container. If you're meal prepping for the weeks ahead, you can even store it in the freezer.
3.4 Can Zuppa Toscana soup be frozen?
Yes, you can freeze your Tuscan soup. However, make sure you defrost it gently: either in the fridge (mind you, it takes a full day so better do it the day before) or bain-marie in a pot with hot water. I don't recommend boiling it at high heat as the abrupt change in temperature may affect the soup taste.
3.5 Zuppa Toscana with a slow or quick cooker?
A normal pot can be used for this recipe. However, to make this delicious Tuscan soup you can use any type of slow cooker (instant pot or crockpot) as it takes 1h 30 of cooking at low heat.
The pressure cooker is ideal when you make soups with legumes, barley or other cereals. In this case, we only use veggies, therefore it's not necessary.
3.6 What's the difference between zuppa, minestra and minestrone?
All these three dishes are composed of either vegetarian stock or chicken broth, plus some other ingredients. 
Zuppa is made of veggies simmered for hours until the texture is thick. It is accompanied by slices of toasted bread (crostini) that are dipped into the soup to absorb its flavor.
Minestra is made of broth and includes either rice or small-size pasta. It is widely spread in northern Italy tradition, especially in Lombardy and Veneto, where, according to tradition, they are served in the evening.
Minestrone is a type of minestra having more or less broth but with a great quantity of veggies and legumes. You can add rice or pasta if you like.
>> Are you interested in learning Tuscan recipes first hand?
Simonetta and Paola from Toscana Mia Cooking School are very happy to help you! These savvy ladies provide zoom and in person cooking classes on pasta and other delicious Italian dishes.
Get a 10% OFF! Sign up here
> Check out our LIVE SHOWS here
Did you like the post? Follow me on Social Media and Stay Tuned for More Content!