How to Eat Panettone: Best Ways to Cut, Serve and Pair it
Italians like to celebrate Christmas with a slice of Panettone or Pandoro in their hands.
Even though in Italy we have many Christmas desserts – Torrone from Cremona, Struffoli from Naples and many others – Panettone is the king cake for Christmas and we cannot do without it! In this article you'll find out how to eat Panettone – the way Italians cut it and serve it. Go on reading!
Panettone is a typical Italian Christmas cake born in Milan but widely spread in the Bel Paese.
The classic Panettone has candied fruits, especially citron, and raisins. However, there are countless varieties, such as Panettone with black cherries, Panettone with pear and chocolate, Panettone filled with custard and many others.
What is the difference between Panettone and Pandoro?
Panettone and Pandoro are both well-known Christmas Italian desserts appreciated all over the peninsula.
As previously mentioned, Panettone was first created in Milan, while Pandoro comes from the Veneto region, more precisely from Verona. Even if dough and ingredients are similar, there are a few things that differentiate these two cakes.
First of all, some ingredients vary: Panettone has candied fruits and raisins, while Pandoro has none. In fact, Pandoro's dough is plain and simple. Also, Panettone is normally decorated with almonds and sugar sprinkles, whereas Pandoro is covered with icing sugar.
As for the shape, Panettone is short and round, wrapped in its typical brown paper. On the contrary, Pandoro is tall and star-shaped.
3. How to Eat Panettone: the Italian Way
First things first, we need to cut our Panettone. It may look easy, but to get a perfect slice you need the perfect knife! The best way to cut Panettone is by using a serrated bread knife as it allows you to cut regular slices without crumbling it.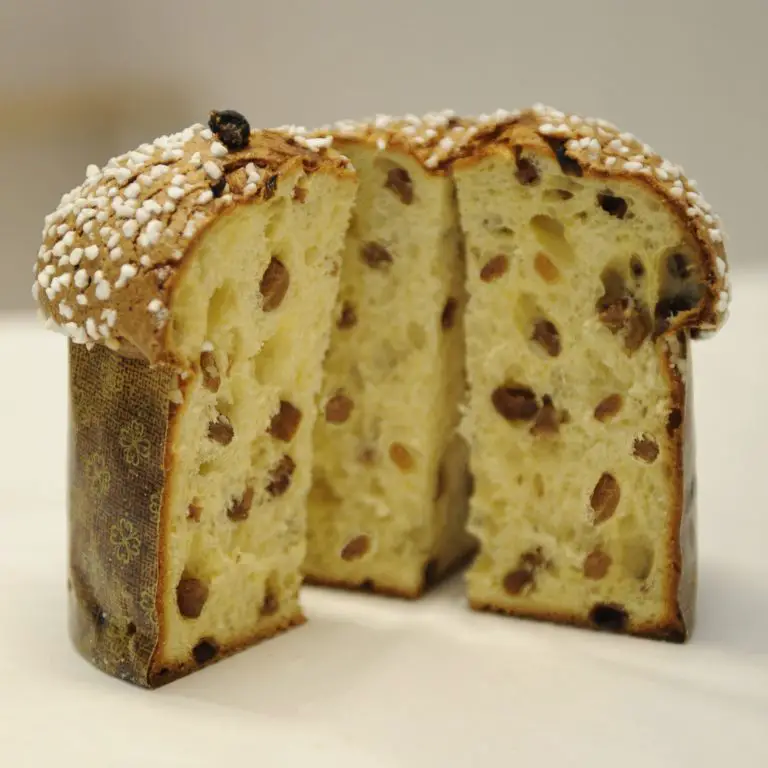 3.2 Should panettone be served warm?
The best way to enjoy Panettone is warming it up, no doubt. But how?
You cannot heat it up in the oven as it would dry it up and wouldn't taste as delicious as before! A good idea could be placing it on a radiator or a heater. Alternatively, for those of you who are lucky enough to have a fireplace in their home, leave it close to it so as to make it fluffier and let it release its fruity aroma.
3.3 How to Serve Panettone
Now, if you have guests you want to serve Panettone the best way possible, right? Pretty much anywhere you can find a Panettone dish – large enough and with Christmas decorations.
However, if you're looking for something more fancy, you could get a cake stand. So elegant and practical as it makes it easier for you to cut it.
4. What do Italians eat panettone with?
If you're wondering how Panettone is served in Italy, the answer is simple: in many ways.
1. The easiest way - not to take for granted!
Unwrap it, slice it and give it out to your guests: by serving it plain as it is you can fully enjoy its taste without spoiling it. Eat it with your hands, it's even better – promise!
The most traditional way of serving Panettone is with mascarpone cream. Similar to the cream we use to make Tiramisù, mascarpone cream is very easy to whip up. Mix mascarpone cheese, eggs and sugar et voilà! Put it on the dish beside the slice of Panettone and you'll impress your guests!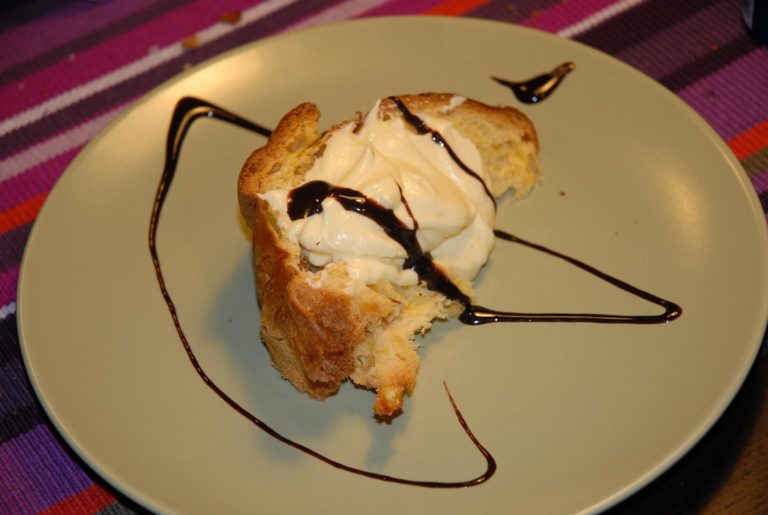 Chocolate, hazelnut or pistachio spread, whipped cream, custard are always a good match for Panettone!
Lighter than creams, jams and marmalades are a good way of accompanying Panettone.
The flavor of marmalade that goes perfectly with it is orange as it brings out the flavors of the candied fruits 
Warm up your slice – follow the instructions above – and serve it on a dish with a scoop of ice cream. You can choose any flavor, but I recommend fior di latte (the plainest flavor), pistachio, stracciatella or cream.
We also like to pair Panettone with a nice glass of wine or a spirit.
In case you opt for wine, either sweet or sparkling wine is ideal:
a. Passito – Primitivo Di Manduria Dolce Naturale DOCG is a suitable option,
b. Moscato – pair Panettone with a glass of the sweet Moscato d'Asti DOCG from Piedmont or Moscato di Scanzo DOCG from Bergamo,
c. Spumante – bubbly Franciacorta DOCG is a good match.
If you happen to be in Tuscany, try it with a glass of Vin Santo, a sweet wine (passito) typical of this region.
Alternatively, you can accompany Panettone with a spirit like grappa, limoncello, mandarinetto or any other fruity liqueur. 
Did you like the post? Follow me on Social Media and Stay Tuned for More Content!
Images credits: Panettone – Nicolettone 2017 – by Nicola since 1972 // CC BY 2.0; pandoro by Radio Alfa // CC-BY-NC-SA-2.0; Panettone con crema di mascarpone e cioccolato by Luigi Rosa // CC BY-SA 2.0.