Sarde in Saor, Authentic Traditional Recipe
A symphony of sweet and sour, crispiness and softness. You must have heard of this Italian appetizer at least once in your life: I'm talking about the Venetian Style Marinated Sardines or Sarde in Saor!
A great example of a poor dish that, over time, has become a symbol of traditional cuisine of the Veneto region. Apparently dating back to the 14th century, Sarde in Saor can now be found in any traditional "bacaro", the Venetian "osteria" where humble typical dishes and the unmissable spritz are served.
It can be prepared either for special occasions, such as the Redentore Festival in July, or for convivial meals with family and friends: any moment will do!
Let's see Sarde in Saor authentic recipe: all ingredients, procedure and tips below!
1. How to Make Sarde in Saor
You know that Sarde in saor is a world-wide famous Venetian appetizer. But the question is:  why is it so well-known? After all, it's a simple dish as it only counts two main ingredients, sardines and onions. 
Its secret lies in the balance of flavors between crunchy deep-fried sardines and caramelized onions cooked in vinegar or white wine. 
Sometimes pine nuts and raisins are sprinkled on it, creating a beautiful mélange between their sweetness and the strong taste of sardines and vinegar sourness.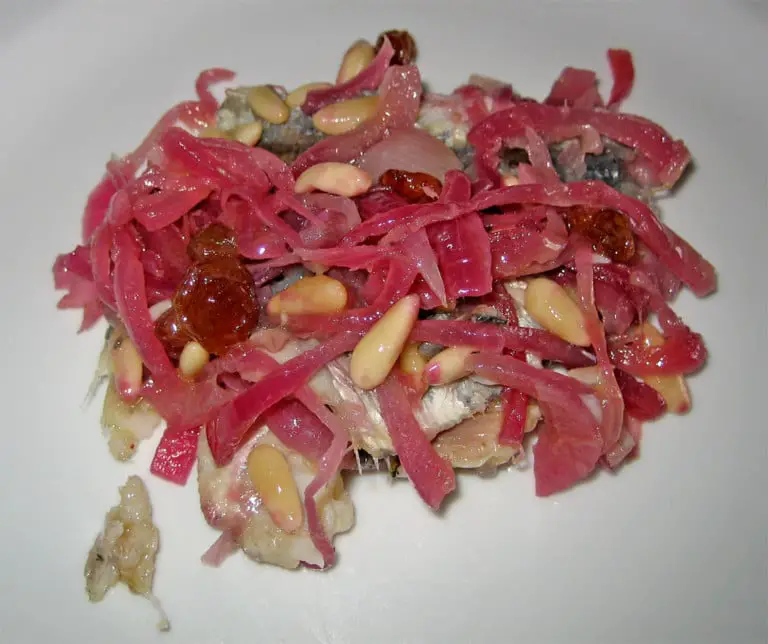 2. What Does "Sarde in Saor" Mean?
"Sarde" is sardines and "saor" means "flavor" in Venetian dialect, so it's really something rooted in this region culture and Venetian people are fairly proud of it.
Not only that, but "saor" was also a preservation technique that sailors used to apply during their long sea trips. In fact, this method allowed fried fish to be preserved for days keeping its excellent qualities.
Even nowadays sarde in saor tastes even better after 2-3 days of rest, so that it absorbs all the marinated flavors.
3. Top Tips for the Perfect Venetian Style Marinated Sardines
As I said before, it's not a complicated dish. 
Nonetheless, if you want to make the perfect sarde in saor, well this is another story.
First of all, there is one thing that you must consider: the freshness and quality of the ingredients.
It is most important that the fish be the highest quality possible and, if you want to keep the original recipe as it is, the onions must be local, particularly from Chioggia where you can find a white variety perfect for sarde in saor.
As you want to score some points, some nice sliced polenta would be a perfect match with sarde that are best served cold.
Also, as it takes long time to clean the fish, it would be great to have medium-large sized  sardines as it gets easier.
Usually people have 6 or 7 sardines each as an appetizer, but you never know. They are so good that your guests may ask you for another round..so you'd better be ready!
4. Sarde in Saor Authentic Traditional Recipe
Sardines are the protagonist of this dish, but sweet and sour onions are the magic touch. In the past onions were cooked with vinegar and oil and then laid in layers with fried sardines in terracotta containers. Over time, the recipe has changed by adding crunchy pine nuts and raisins to sweeten the taste.
It is best to consume sarde in saor at least after 24 hours rest.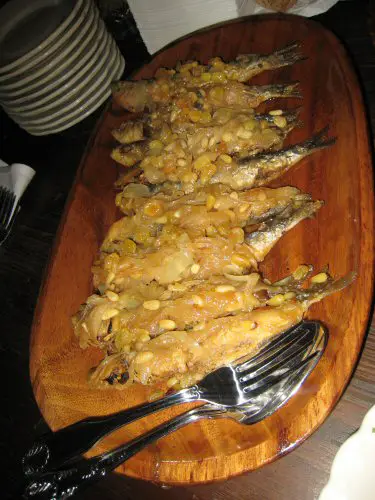 Sarde in Saor Authentic Recipe
Ingredients for 6 people:
Already cleaned Sardines 600 gr
White onions 600 g
White wine vinegar 200 ml
Bay leaf 2 leaves
Sugar 1 tbsp
Pine nuts 40 gr
Raisins 40 gr
Extra virgin olive oil 3 tbsp
Pepper
Salt
Peanut oil for frying
Flour 2 spoons
Here you are all the steps to follow:
Finely cut the onions, salt them and lightly fry them for about 30 mins in olive oil.
Once turned golden, add a spoonful of sugar and drizzle with half a glass of white wine vinegar. Set aside when ready.
In the meantime, flour the sardines and fry them in the peanut oil. Dry the sardines from the oil in excess.

Soak the raisins in warm water for 10 mins, then squeeze them to remove water.

In a bowl lay some of the sardines, add a layer of onions, pine nuts, raisins and vinegar. Add other layers of sardines and onions until the end. Finish the preparation with the onions.
Add salt, pepper and the bay leaves. Cover with plastic wrap. Store the bowl for at least 24 hours in a cool, dry place.
Serve it at room temperature. You can sprinkle some breadcrumbs, olives and capers to taste.
5. Sarde in Saor Wine Pairing
Serve Sarde in Saor with a glass of fine Venetian wine such as Soave Superiore DOCG or Colli Euganei Pinot Bianco DOC. 
Hope you'll try this delicious Venetian style marinated sardines recipe! 🙂
Free Italian Recipes Ebook
Subscribe and get your FREE ebook about TRADITIONAL ITALIAN RECIPES from 7 different regions: learn how to make Limoncello, Piadina from Emilia-Romagna, Sicilian Caponata and many other recipes!
Did you Like the Post? Follow Me on Social Media and Stay Tuned for More Content!
Image credit: sarde in saor (con cipolle rosse) by fugzu//CC BY 2.0; Sarde in saor (sardine) by KRISTA [1].