Just 1 hour away from Milan and 30 mins from Bergamo, Franciacorta wine route stretches for about 80 km,  from Brescia to lake Iseo, on an area characterized by vineyards, villas, medieval villages, centuries-old abbeys and natural parks. 
The name Franciacorta appeared for the first time in 1277 when the vineyards on this land belonged to Benedictine monks. In exchange for their hard work in wine making, the monks were exempted by paying imperial taxes.
That's why the land where the Benedectine monks used to live was called "Corte franca", meaning "duty-free land", which then developed in "Franciacorta" , the term we use nowadays.
Area of wine production since ancient times, Franciacorta and Terre di Franciacorta wines were respectively awarded DOCG and DOC designations in 1995. 
Franciacorta DOCG is the most well-known wine of the area: it has been the first sparkling wine (spumante) made with a classic method to be named DOCG. If you opt for a tasting, you certainly want to try the different types of Franciacorta DOCG:
Franciacorta Satèn DOCG
Franciacorta Rosé DOCG
Franciacorta Millesimato DOCG 
Franciacorta Riserva DOCG 
Not to miss in this area are also Curtefranca DOC and Sebino IGT.
If you're into spirits take the chance to try Grappa Franciacorta DOC, obtained through a strict distillation from grapes of Franciacorta. Alternatively, opt for Genepy, a spirit made from a plant called Arthaemisia glacialis that grows in Tonale and Adamello glaciers.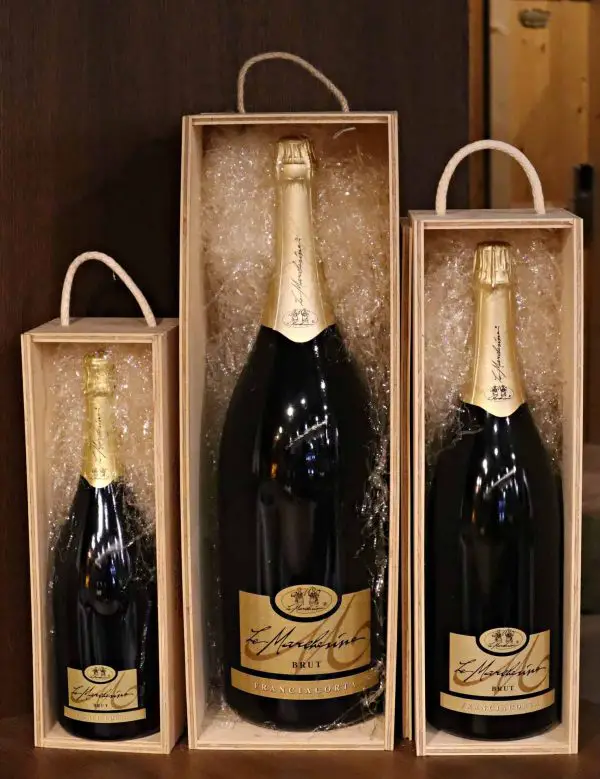 2. Franciacorta Typical Food and Products
Franciacorta typical dishes come from the Brescia cuisine tradition, which varies from cheese to meat, cold cuts and fish.
Among the typical products of Franciacorta there is a wide range of cheeses (Casolet Nostrano, Bagòss, Robiola Bresciana, Fatulì Val Saviore, Silter Camuno), meats and cold cuts (Luganega, Monte Isola Salami, Curtefranca lard, Soppressata Bresciana), and a variety of lake fish (dried sardine, whitefish, pike, char, bream).
A precious PDO product specific to the area of Sebino, in Franciacorta, is the extra virgin olive oil Laghi Lombardi DOP.
3. Franciacorta Wine Route: What to Visit
You certainly cannot miss the chance of strolling in one of the beautiful small villages on lake Iseo: the homonymous town of Iseo, Clusane and Paratico.
If you have kids, take the opportunity for some camping in the area. As for couples, Iseo is so cozy and romantic that you'll be fascinated! I definitely suggest a dinner on the lakeside.
Located north to Franciacorta, Iseo is an excellent place to depart for excursions. In fact, you can easily reach: 
Monte Isola, the biggest island of lake Iseo that the artist Christo connected with the mainland through his great artwork "The Floating Piers" in 2016.
Capo di Ponte

in Valcamonica, alpine valley famous for the

UNESCO heritage Rock Drawings.
Trekking

and nordic walking trails, cycling paths and walking routes on the mountains

(more info here

).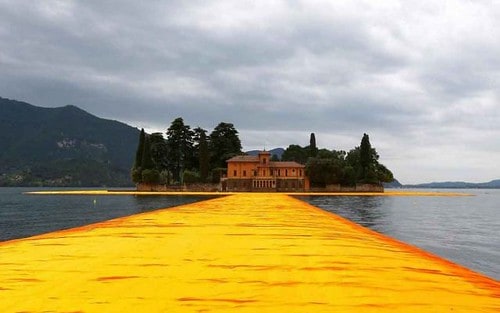 "Torbiere del Sebino" Nature Reserve (wetlands), where you can enjoy a walk through nature, learning about local history.

 From the Central path, you'll get to see the

 Monastery of San Pietro in Lamosa

(XI century) in Provaglio, which you can visit by taking the Central or South path in the Natural Reserve.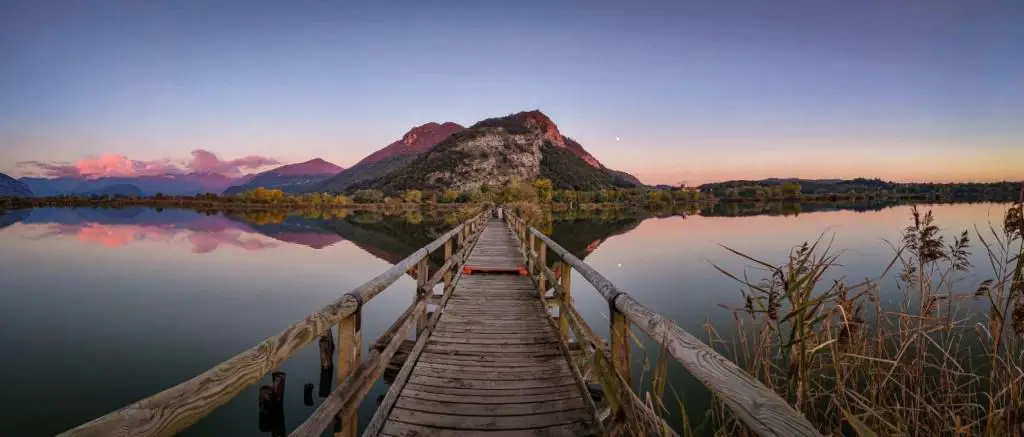 the 

Convent of the Annunciation

on Monte Orfano.

If you're into art, don't miss this gem. Here you'll find a famous 16th-century-old painting "Annunciation" by Romanino.
the picturesque Castello di Bornato, dating back to 200 AD, this castle in the place where excellent wine is still produced today.
Outlet Franciacorta. If you're looking for some time for yourself, 2 km away you can spend the whole day shopping. Expensive Italian fashion brands sell their products at deals that will blow your mind!
Franciacorta Surroundings: What to Do
As you're planning your visit along Franciacorta wine route, you cannot miss to explore the surrounding areas:
4. Franciacorta and Lake Iseo Wine Tasting
5. Franciacorta and Lake Iseo Best Local Restaurants
5.1 Antica Trattoria del Gallo
Antica Trattoria del Gallo is a restaurant in Clusane, Iseo, offering typical and authentic specialties from lake Iseo, especially lake fish.
5.2 Pizzeria Lido Dei Platani
Restaurant Pizzeria Lido dei Platani is located in the town of Iseo, on the lake shore. It is the perfect place to enjoy a romantic sunset on the lake while having dinner. You can choose wheter to eat pizza or lake specialties accompanied by local wines. In fact, they offer prestigious wines from local wineries, such as Ca' del Bosco and Barone Pizzini.
Put de Fer is an Italian Street Food place, ideal for a quick and informal meal. You can find it in Via Sole delle Alpi 62, Adro, Brescia.
6. Food and Wine Events in Franciacorta
If you find yourself in Franciacorta either in Fall or Spring, you definitely want to check out these events: they're all about Franciacorta wine and food.
6.1 Festival Franciacorta in Cantina
Held every year in September, Festival Franciacorta in Cantina  welcomes all those wine-lovers that can get to taste all the best Franciacorta DOCG wine varieties together with typical dishes prepared by the local chefs. All sorts of activities are put into place: from guided tours in abbeys and monasteries to picnic in parks, trekking and bike tours!
6.2 INSI&ME in Franciacorta
INSI&ME in Franciacorta is a Food and Culture Festival that takes place over three days in March. Get to taste wonderful wines accompanied by local food!
Natale con Gusto is a Christmas market held in the town of Iseo the first two weeks of December. You can get to savor tasty traditional food and wine both local and from the Lombard and Trentino mountains. The streets of the city center get crowded thanks to local products stands (with tastings!), street artists shows, music and much more.
Did you Like the Post? Follow Me on Social Media and Stay Tuned for More Content!
Images credits: "Gala dinner d'estate in onore del Floating Piers" by gastronomiaslow.