Bergamo: Valcalepio Wine Route
Valcalepio, the hilly belt area in Bergamo, just 1 hour away from Milan, certainly plays a key role in Lombardy wine production.
In this article you will get to know which wines make up the Valcalepio wine route, what to visit along your way, where to enjoy wine tastings and the best restaurants that combine Bergamo local cuisine with Valcalepio wine production.
You can see an overview of the route in the map below: places to see, wineries and restaurants offering local food.
1. Valcalepio Wines, an Introduction
Back in the days Valcalepio hills were abandoned due to wild industrialization. However, the Cantina Sociale Bergamasca succeeded in revitalizing this area: thanks to years of experimental vinification, Valcalepio wines were finally awarded with the DOC designation in 1976.
Today hundreds of hectares between 300 and 500 meters above sea level are cultivated with vineyards. Bergamo proudly offers a well-known range of wines that you must absolutely try:
Terre del Colleoni DOC

Valcalepio Bianco (white), Rosso (red), Rosso Riserva (Riserva red) and Moscato Passito  DOC

Bergamasca IGT
1.1 Moscato di Scanzo DOCG
1.2 Terre del Colleoni DOC
Awarded the DOC designation in 2011, Terre del Colleoni DOC wine production dates back to the 16th century. Today we can count 10 types of Terre del Colleoni DOC according to the grape variety used.
Does the name Colleoni sound familiar to you? Well, if you read my article about Bergamo you would know that Bartolomeo Colleoni was a great commander born in a small village in the area of Bergamo in 1395. Terre del Colleoni DOC is a tribute to him, who managed to conquer the lands that are now part of the Bergamasque province.
Valcalepio DOC is classified into red (also Riserva), white and Moscato Passito. Even though we have evidence of the existence of this wine in the Middle Ages, it was only in the 70s that Cantina Sociale Bergamasca started a series of vinification experiments leading to the official designation for both red and white Valcalepio DOC.
Bergamasca IGT was born in 1995 and can be white, rosé, red (Novello and Moscato). As it comes to an IGT wine, producers are much freer to experiment and express their personality as the disciplinary is not as strict as DOC and DOCG.
2. What to Visit along Valcalepio Wine Route
The Valcalepio Wine Route includes three routes in one: the monasteries route, the core route and the lake route.
2.1 The Monasteries Wine Route
The first route is called "I Conventi" (the monasteries) in Bergamo: along its way you can admire the Saint Egidio in Fontanella Abbey in the town of Sotto il Monte Giovanni XXIII, the Abbey of Pontida and the splendid Rotonda of San Tomé in Almenno San Bartolomeo.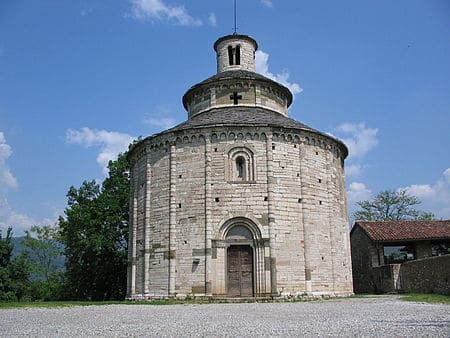 2.2 The Core of Valcalepio
The second route, "Il Cuore della Valcalepio" (the core of Valcalepio) goes from Bergamo and ends at Grumello del Monte. Start visiting the beautiful Città Alta (Upper Town) and its UNESCO heritage Venetian Walls, and head for San Paolo d'Argon to visit its Benedictine monastery and Romanesque church of San Pietro delle Passere (Saint Peter of the Sparrows).
Then continue your trip to Trescore Balneario and Villa Suardi. In this villa you will admire the unmissable Oratory of Santa Barbara, frescoed by no less than the famous Italian painter Lorenzo Lotto, not to mention the countless castles that belonged to condottiere Bartolomeo Colleoni's family.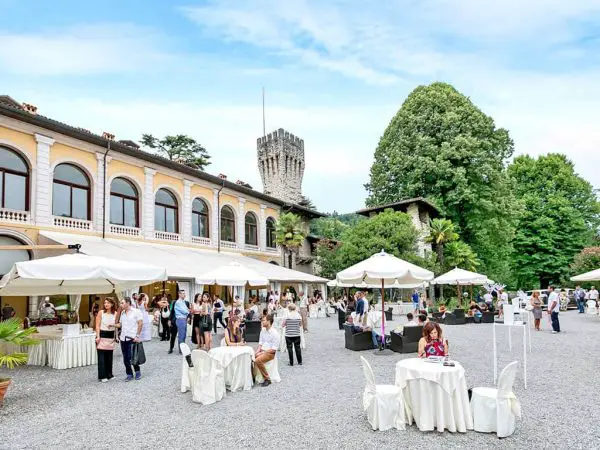 The third route called "Il Lago" (the lake) winds its way from Grumello del Monte to Sarnico on Lake Iseo. Along the way stop by Castelli Calepio, where you will find the fifteenth-century Castel Dei Conti (the Castle of the Counts of Calepio), the Carolingio Palace and the restored medieval village.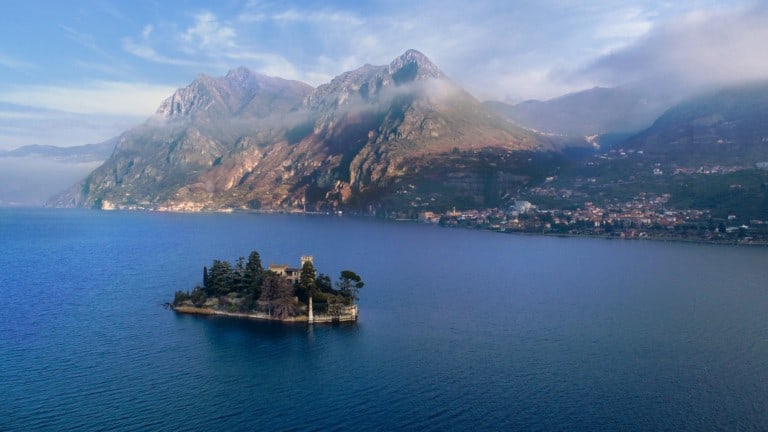 Here is a selection of restaurant, farmhouses and wineries where you can find Valcalepio DOC wines and local products from Bergamo.
Il Cipresso is a winery that offers both visit of the cellar and wine tastings. They produce Moscato Di Scanzo DOCG (wine and grappa), sparkling wine, Valcalepio DOC and Bergamasca IGT.
Medolago Albani is a villa, farmhouse and winery (visit and tastings). Here you can find Valcalepio DOC (white, red, Passito) and sparkling wine.
Tenuta degli Angeli  winery offers Valcalepio DOC and sparkling wine tastings, but it is also an olive oil maker and vinegar factory.
4. Bergamo Valcalepio Wine Route: Best Restaurants
Are you wondering where you can taste Bergamo cuisine along Valcalepio Wine Route?Here you are my list of recommendations including the best local restaurants: I've been there several times and never been disappointed!
Cascina del Frances is a farmhouse and restaurant located on the hills of Scanzorosciate, where Moscato Di Scanzo DOCG is produced. This local wine, together with  other wines made in this area, are served to accompany local products in a rustic but familiar environment.
Trattoria d'Ambrosio (also called "Da Giuliana") is an osteria with an informal atmosphere where you have two different menu options at a very convenient price: lunch (€ 10 – € 12) or dinner (€ 22 – € 28). Here you can get to taste Casoncelli and spelt and barley soup, polenta with meat and a wide selection of local cheese and other northern Italy dishes. All accompanied with Valcalepio, Franciacorta wines and other northern Italy wines.
Trattoria All'Alpino is situated on the hills close to Città Alta (Upper Town) and San Vigilio. This historical trattoria offers a very-low priced Bergamasque menu where Casoncelli, polenta and good local wine rule. This place is rather peculiar as it displays objects belonging to "alpini", mountain soldiers who fought in WWI and WWII. In summer you can enjoy a stunning view from their terrace.
Trattoria Parietti is a typical trattoria where they make casoncelli, gnocchi, polenta taragna with baccalà, braised meat and mushrooms, all served with local wines. Here you can spend from € 10 (one dish, water and coffee) to € 20, if you take a complete menu.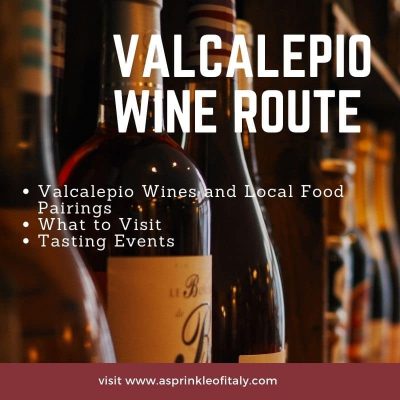 Here I listed the most interesting events for wine tasting, where you can also get to try (and buy) local products, such as casoncelli.
5.1 Sagra del Moscato di Scanzo
"Sagra del Moscato di Scanzo" – September
During the festival you can get to taste great Moscato di Scanzo DOCG from different local wine producers. It's usually paired with local food, especially cheese and cold cuts, but also dark chocolate!
Also, you can order food made out of Moscato from the stands. I pleasantly remember trying risotto with Moscato di Scanzo and Tiramisù with blueberries and Moscato. Visit the event website here to stay updated.
"Serendipity Wines" – January
This International Oenological Competition was born to give the chance to people to discover all those wines that are difficult to meet in everyday life. Focused on dessert, fortified and aromatized wines, "Serendipity Wines" has been part of Vinitaly in Verona since 2019.
De Casoncello – May
If you want to try Casoncelli, this is the moment to taste tradition in this convivial sagra!
Emozioni dal Mondo – October
This is an international wine competition offering tastings of Merlot and Cabernet wines. More info on the official website.
5.5 Cantine Aperte in Vendemmia
Cantine Aperte in Vendemmia – September, October, November
Over this festival, which takes place in fall during grape-harvest, cellars are open to visitors.
5.6 Valcalepio en Primeur
Valcalepio en Primeur – May
Held in Grumello Del Monte Castle, during Valcalepio en Primeur you can enjoy red, white and rosé wine tastings, together with dairy products from local farms.
Did you Like the Post? Follow Me on Social Media and Stay Tuned for More Content!
Images credits:
The Rotonda of San Tomé from Wikipedia; Villa Suardi from villasuardi.it.