Brescia Cuisine, Typical Food and Places to Eat
Brescia is a lively city in Lombardy, just 1 hour away from Milan and Bergamo.
Brescia cuisine has its roots in the countryside: nowadays we can taste traditional dishes coming from the peasants' habits and creativity. In fact, they were able to turn humble products into rich and fine specialties now offered in restaurants.

The cuisine is enhanced also thanks to the great ancient winemaking tradition: just think of Franciacorta wine route, an area in the province of Brescia where they produce Franciacorta DOCG, the first sparkling wine (spumante) made with a classic method to be named DOCG. Here you can also get to taste DOC wines such as Garda Classico, Lugana and San Martino della Battaglia.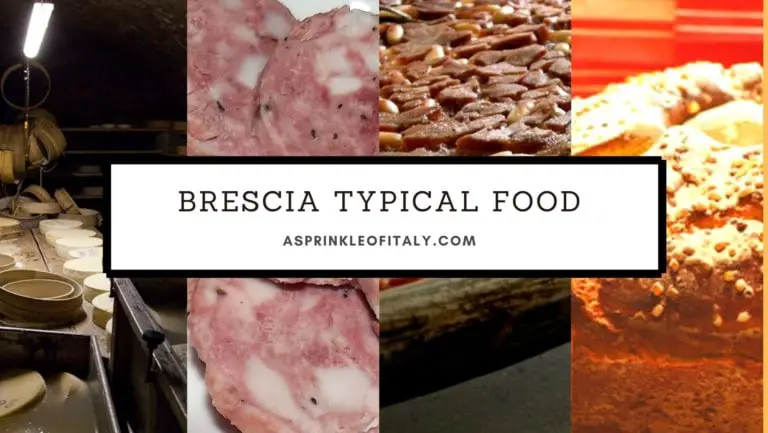 Bigoi col pestöm is a typical Brescia pasta dish prepared with the salami dough, the Pestöm.
The type of pasta used for this dish is called Bigoi, that is the dialect for Bigoli, large spaghetti similar to vermicelli made of wholemeal flour, eggs and water. Even though Bigoli can be also found in the Veneto cuisine, they have successfully spread to Eastern Lombardy, particularly in Brescia.
As for pestöm, it is a coarsely chopped fresh salami paste; in the province of Brescia it is used to season pasta, ravioli and even casoncelli, as a substitute for butter.
Casoncelli alla Bresciana
Casoncelli alla Bresciana is a type of stuffed pasta similar to Casoncelli from Bergamo. The difference between the two types lies in the ingredients used for the filling. In Brescia, the filling includes a long list of ingredients, among them beef, red wine, vegetable broth, a pinch of cinnamon, cloves, nutmeg, grated parmesan and breadcrumbs. In the filling of the Bergamasque casoncelli we find minced salami, amaretti, sultanas and pears.
Casoncelli are always served hot, seasoned with melted butter, crunchy pieces of bacon, sage, grated Parmesan and a sprinkling of pepper.
Caicc de Bre (Ravioli di Breno)
Brescia cuisine has developed a lake fish culinary tradition over the years, thanks to the proximity of Lake Iseo.
To name a few fish specialities: grilled eel, fried carp, chub "cavedano" soup, filleted whitefish, pike, catfish, perch, sardines, tench, dried marbled bleaks and missoltini.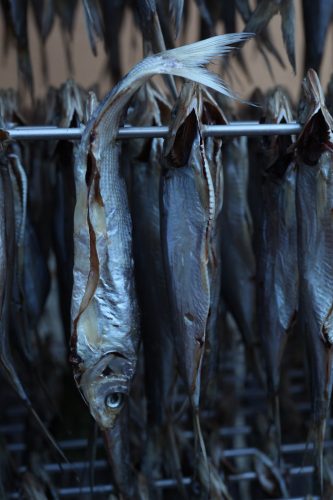 Polenta is the ideal accompaniment for the wide variety of cheeses made in Brescia: Silter PDO, Nostrano Valtrompia PDO, Bagòss PAT (Prodotto agroalimentare tradizionale), Grana Padano PDO, Provolone Valpadana PDO, Stracchino, Robiola Bresciana PAT and Taleggio PDO.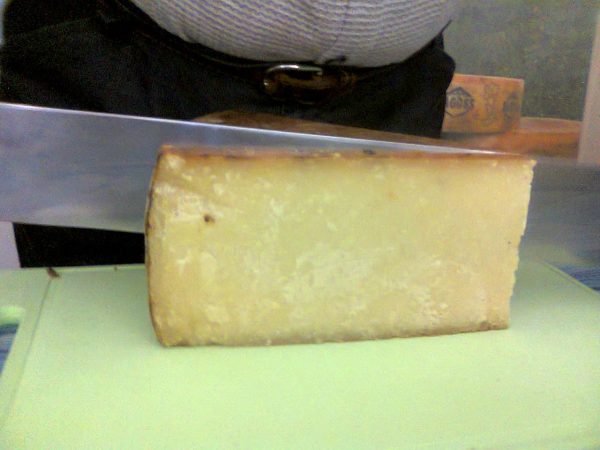 As for cold cuts, you can find the locally-produced coppa (meaning capocollo), "Salame Morenico di Pozzolengo PDO", Salsiccia di castrato ovino, Soppressata bresciana. 
My mum sometimes tells me about a typical type of salami produced in the southern part of the province, the so-called "Salame Cotto" (literally cooked salami). The Salame Cotto of Quinzano d'Oglio, a small town in the Brescia province, is a type of sausage that's been produced probably since the Roman period and perfected by the Longobards. It is produced with the finest pork meat, with a minimum age of 12 months and a weight over 60 kg.
This salami is peculiar as it needs some cooking time: the salami must be boiled in hot water for about 30 minutes. It's usually accompanied by spinach, garden herbs, peas or even with polenta.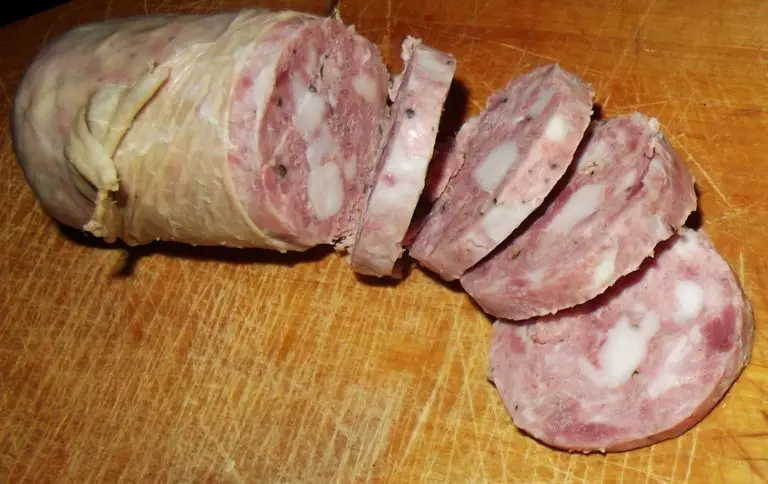 Spiedo con Polenta (Skewers with Polenta)
Despite the details of the recipe vary according to the area and tradition of each family, the main characteristics are well defined: the dish consists of pieces of meat (from pork to chicken or rabbit) and potatoes served on long skewers cooked over very low heat. Before cooking, they are seasoned with melted butter, sage, salt and flavors. After several hours in the oven they are ready to be served with polenta and a good glass of Franciacorta red wine.
Coniglio alla bresciana (Brescia style rabbit)
This is a historical dish made by any Brescian nonnas. Thanks to science, specifically to the Maillard reaction, we can get a crunchy rabbit on the outside, but tender and soft on the inside as all the meat juices are kept and not released in the pan.
In Brescia, everyone loves polenta taragna. Its name comes from "tarèl", a long stick used to mix polenta in the copper pot. 
Polenta taragna is made up of corn and buckwheat flour, the latter giving it the characteristic brownish color. Also, cheese (in Brescia they use the local Bagoss PDO) is added while cooking, so that the final texture is even more smooth than classical polenta.
Its secret? Excellent quality of the flour and very long cooking time!
Manzo all'Olio (Beef in Oil)
Manzo all'olio is a second meat dish and one of the most popular recipes in Brescia. It is a tasty delicacy that warms you up in the winter days, combining the truest flavors of local traditions in a single dish.
It is one of the many variations of the classic braised meat, cooked with vegetables and broth. However, what distinguishes it from the other versions is the use of anchovies. Despite not being a local ingredient, anchovies have been historically present in the territory because of the Venetian domination in Brescia that lasted for almost 400 years and that influenced the local cuisine with sea ingredients.
Manzo all'olio belongs to the most ancient Brescia tradition: just think that  is mentioned in documents of the XVI century!
The Cuz, a very ancient recipe, is not just a dish: it's a way of preserving meat, typical of Corteno Golgi, a very small village in the upper Val Camonica, in the Brescia province.
It's a stew made of local sheep meat, called the "Cortenese", a protected breed. It was first prepared by the shepherds who used the meat of animals that suffered from injuries during transhumances. Over time, this dish became the protagonist of Cortenese families' holiday meals.
Castagnaccio or Torta Patuna (Chestnut Cake)
This traditional cake is typical of the Brescian countryside. The name "castagnaccio" comes from "castagna", chestnut, as it's made of chestnut flour, sultanas, pine nuts and rosemary. Some also call it "patuna" which means "chewy" in Brescian dialect given its texture. However you call it, this traditional cake is very simple though delicious, especially prepared in the cool fall days.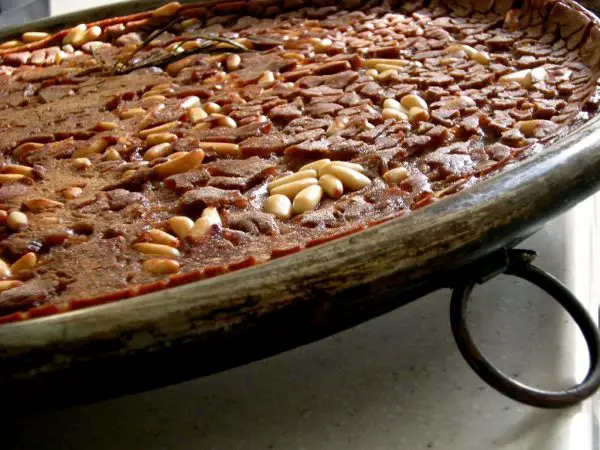 The Spongata (or "spongada" in the local dialect) is a traditional sweet from Valcamonica, a valley in the Brescia province. Originally prepared at Easter, it's now made all year round.
As it is a sweet focaccia, it's best served with homemade marmalade..so yummy!
The Bossolà is a simple and soft donut, a typical Christmas dessert in Brescia. You can always find it around that time of the year in the great pastry chef Iginio Massari's shop in Brescia.
Accompanied by chocolate cream or custard, this leavened cake dusted with icing sugar can be enjoyed for breakfast or as a snack. If served at the end of the meal, pair it with a very cold Franciacorta DOCG sparkling wine.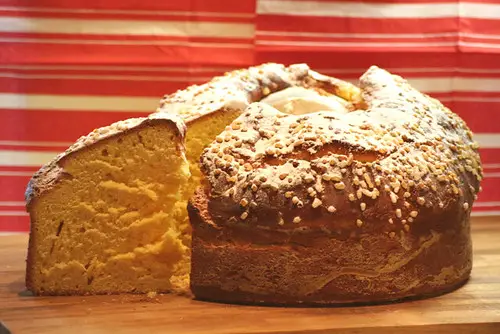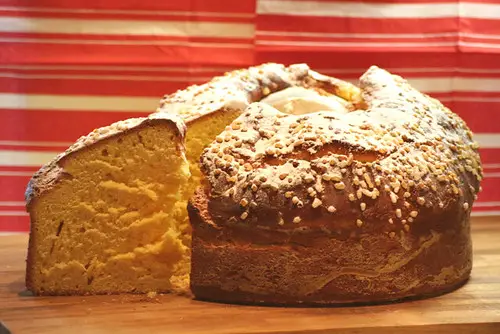 Made of ripen peaches and sugar, Persicata is a traditional sweet with ancient origins, very simple but delicious. The real thing is made with Collebeato peaches!
7. Where to Eat in Brescia
There are so many restaurants among which you can choose! Too many? I will help you with that!
Here I listed the most authentic restaurants in Brescia where you can get to taste a good range of local dishes.
Here you can get to taste some delicious traditional dishes such as casoncelli with zibello, malfatti with Bagoss cheese, manzo all'olio, wheat semolina gnocchi with Bitto cheese, Delta del Po IGT risotto with Curtefranca wine.
Via Trento n° 52, Brescia
Opening time: Lunch 12:00 – 14:00 | Dinner 20:00 – 22:00. Closed on Sunday (dinner) and Monday (all day) 
Also recommended by Gambero Rosso, this humble restaurant offers typical dishes such as manzo all'olio with polenta, Tortelli with Val Camonica cheese, Taglioni with local lake fish and cherry tomatoes, Borgogna snails, a variety of cold cuts. A wide range of Franciacorta wine is in their menu.
Depending on the season and what Iseo lake has to offer, the menù may vary but the main dishes are kept.
Via Mirolte 33, Iseo (BS)
This rustic and humble farmhouse immersed in the nature serves most of their fruits and veggies from their own vegetable garden and they are available according to the season. Their cold cuts and sausages are produced in the farm while the meat (beef, pork, donkey, sheep, poultry) is purchased from local farmers belonging only to the ethical supply chain.
In the restaurant you can find red and white wine produced by the farm or coming from Lombardy and Veneto wineries.
Via Lugasca 18, Lonato del Garda (BS) 
Opening times: Lunch: 12.00-14.30 / Dinner 19.00-21.30 (Wed to Sat). Closed on Tuesday
TRATTORIA LA COMMEDIA DELLE PENTOLE
This restaurant with barbecue is made for Brescia cuisine lovers. The menu is seasonal and the offer of cold cuts and cheeses is also excellent, all homemade.
Among the traditional dishes you can find polenta, produced from selected harvests, goat cheeses, homemade pasta (casoncelli, malfatti), Brescian skewers are available from September to May. The meat specialties include tripe, ribs, braised meats, stews and beef with Rovato oil.
Via Zara 125, Brescia
Opening times: Lunch 12.00 – 15.00 / Dinner 19:00 – 24:00 (Tue to Sat). Closed on Monday
Did you Like the Post? Follow Me on Social Media and Stay Tuned for More Content!
Images credits (descending order): Pixabay, "Brescia" by hoteledensalo, "Bagoss" by Sistoiv, "Salame cotto parzialmente affettato" by F Ceragioli, "Castagnaccio" by Fraenzi, "Bossolà bresciano" by marciespics.