Eat Local in Bergamo:
A Foodie Guide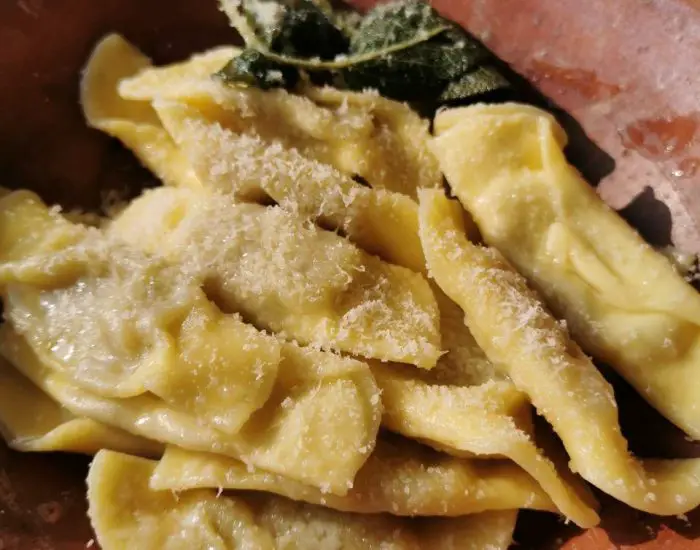 Just 1 hour away from Milan, Bergamo is a lovely town rich in history and..food!
Bergamo cuisine comes from peasants' traditions: it's simple and dishes are made with local products. Simplicity doesn't mean lame taste, though. In fact, despite being poor, the Bergamasque cuisine is rich in succulent and flavorful dishes.
All over the province many restaurants still offer traditional food: below you will find my list of "Best Restaurants in Bergamo". Also, many festivals dedicated to traditional dishes are held over the year, for example the "scarpinocc festival" in Parre or the "polenta taragna festival" in Branzi.
1. What to Eat in Bergamo
Bergamo is a city worth visiting for different reasons, but first of all..food.
In the past it was a land of hard-working peasants and nowadays we have proof of it in the authentic dishes whose recipes have been handed down generation after generation.
The staple ingredients of Bergamo local dishes are just a few and are all grown and produced on this land: from corn (from which we make flour) to meat and cheese.
1.1 Bergamo Typical Food: Main Courses
Casoncelli alla Bergamasca
Similar to ravioli, Casoncelli (in dialect Casonsei) are half moon shaped and filled with meat, parmesan and herbs. They are always served with butter, bacon and sage with a sprinkle of parmesan. Casoncelli can also be found in Brescia and Veneto, however the filling is different.
Pronounced "skar-pee-notch", Scarpinocc de Parr are the vegetarian option to Casoncelli. They're a type of stuffed pasta whose filling consists only of bread and cheese.
Strangolapreti, close relatives of the most popular strozzapreti, are a sort of gnocchi made with spinach or nettle. Its name comes from the union of two words: "strangola" (meaning "choke") and "prete"(meaning "priest"). These gnocchi are called "priest choking"..curious, isn't it?
Today it is estimated that there are about 150 mountain pastures still active in the province of Bergamo. As a matter of fact, Bergamo is in the first place in Italy for the number of Protected Designation of Origin (in Italian D.O.P.) cheeses. This quality mark is awarded by the European Union to all food products which owe their characteristics to their place of origin.
The 9 PDO awarded cheeses in Bergamo are the following: 
Formai de Mut DOP

(Upper Brembana Valley)

 
Taleggio DOP
Bitto DOP
Grana Padano DOP
Gorgonzola DOP
Quartirolo Lombardo DOP
Provolone Valpadana DOP
Salva Cremasco DOP
Strachitunt DOP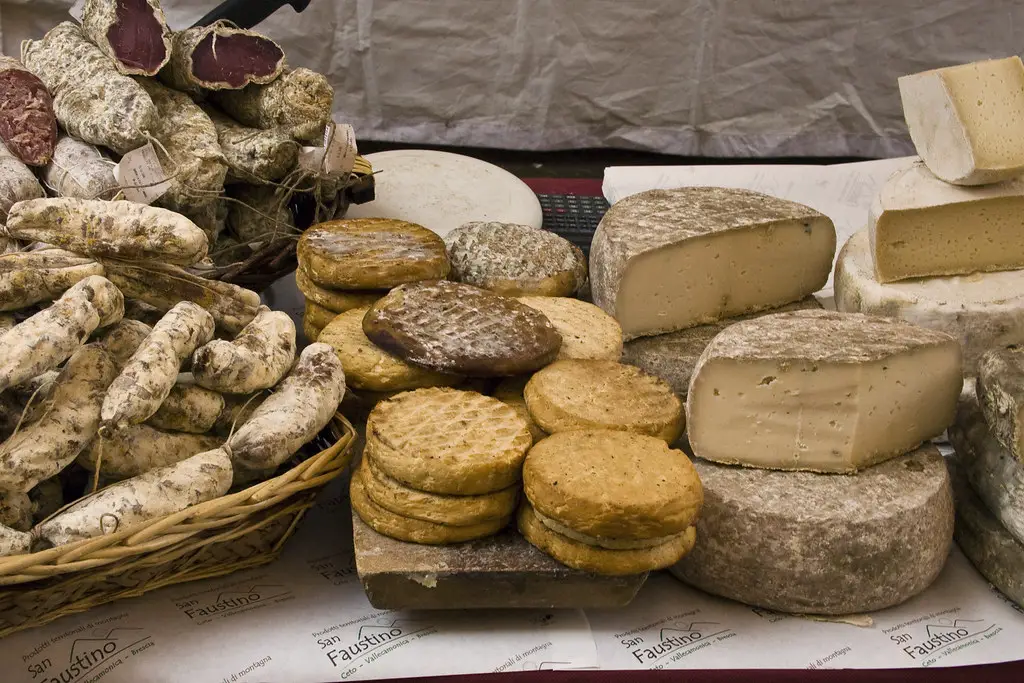 An insight into: Formai de Mut
The Formai de Mut of the Upper Brembana Valley is produced and aged in an Alpine area of great environmental importance, entirely enclosed in the perimeter of the Bergamasque Western Orobie Park, corresponding to the administrative territory of 21 municipalities in the province of Bergamo. Excellent table cheese traditionally accompanied with polenta, it is served with white Valcalepio DOC if it is fresh, while red or Riserva Valcalepio DOC if it is seasoned.
Other popular types of cheese from Bergamo are:
Even though nowadays it's common to find cheese as an appetizer, according to tradition cheese should be served at the end of the meal. In fact, a popular saying in the Bergamasque dialect goes "là bóca l'è mai straca se no la sènt de aca" meaning you should end your meal with the flavor of cheese in your mouth.
Certainly all these typical products of Bergamo deserve to be accompanied by great  local wines to exalt their characteristics: Moscato di Scanzo DOCG, Valcalepio DOC, Terre del Colleoni DOC and Bergamasca IGT.
By combining cheese together with corn flour, people from Bergamo have turned a northern Italy food into a signature dish: polenta.
Every year in October the festival of polenta taragna ("Sagra della Taragna") is held in Branzi, Brembana Valley. Here the taragna, a type of polenta made of buckwheat flour and a lot of cheese, is prepared according to the traditional method: a long stick called tarell is used to stir the polenta inside the copper pot where it is prepared.
Plain or taragna, polenta can be served in several ways, but it's often accompanied by:
sausages (

luganega

), 

birds (

polenta e oséi

), 

rolled meat filled with cold cuts and sage (

oselì scapacc

)

tripe, a soup made up of veggies and offal (

trippa

)

donkey meat stew (

stufato d'asino

), 

braised or roasted rabbit (

polenta e cunì

), 

game (

lepre in salmì

), 

young goat (

capretto

), 

stewed snails (

lumache in umido

),

local salami (

salame nostrano bergamasco

)

bread and sausage (

pa e strinù

), unmissable in summer BBQs.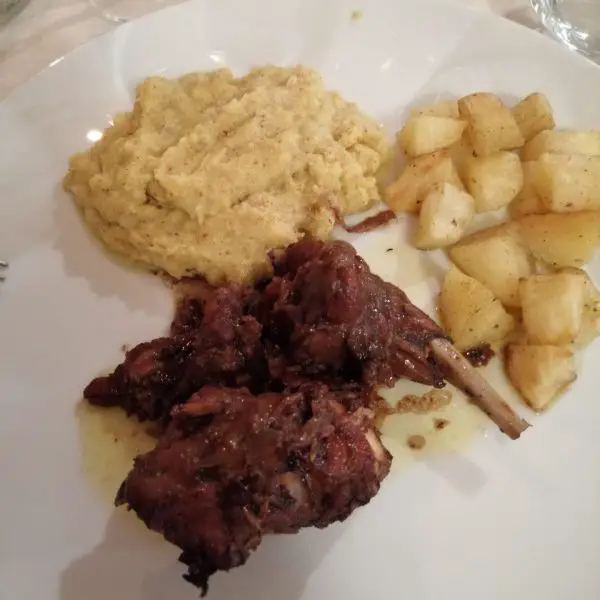 1.4 Bergamo Typical Desserts
Polenta e Osèi: Traditional Polenta Cakes
The above mentioned Polenta e oséi is not only a second course, but also a dessert.
The polenta cakes you can see in shop windows in Città Alta are indeed called Polenta e osèi, but they're made of sponge-cake with marzipan birds covered with chocolate.
Stracciatella ice-cream was invented by Enrico Panattoni in Bergamo in 1961 when he combined fiordilatte flavor with dark chocolate flakes in his ice cream parlor, giving life to a real legend.
2. Eat Local in Bergamo: Street Food
Street food is one of the best ways to enjoy traditional food, in my opinion. I always try to find markets, festivals, small venues where you can eat local in a cozy and familiar environment.
Below you will find the best places to eat Bergamo traditional street food!
In Città Alta (Upper Town) there's a place called PolentOne where you can get to taste polenta. The shop is so tiny that tables are all outdoors , but you can also eat sitting on stools. I feel nostalgic thinking about it as this was my favorite place to eat when I was attending university: I would go there with my classmates and enjoy a dish of hot polenta in between classes!
2.2 Pa e Strinù, a Traditional Panini
If you happen to visit Bergamo in summer, you certainly cannot miss the various festivals that we call "sagre" held from June to September: on these occasions you can enjoy local traditional Bergamo food which also comes as street food: pa e strinù is a perfect example! A loaf of bread split in two and filled with grilled "salamella" (typical sausage) for just a handful of euros: what else do you need?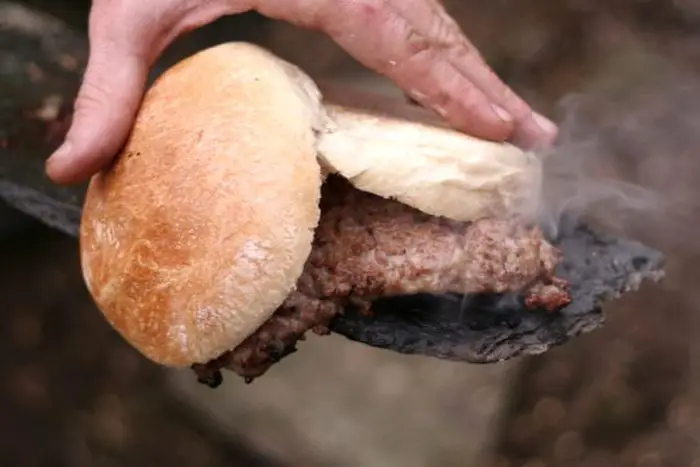 2.3 Bergamasque Hamburger
Speaking of sausages and salami, you must try gamburger at Goss Grill Burger in Città Alta. Gamburger is a 200gr hamburger made of Bergamasque salami and scottona meat produced by a local farm, garnished with Branzi cheese, bacon, lettuce and pumpkin compote.
3. Slow Food Events in Bergamo
Every fall, Bergamo City Council organizes a Slow Food Event to give value to locally produced cheeses: Forme. From labs to tours, from tastings to experts showing the characteristics of these wonderful cheeses, Forme will give you a 360° overview on the 14 PDO cheeses from Lombardy and the Orobian Valleys cheeses. As the organizers say, Forme is "an open door to the future that links knowledge and experience, breaks down geographical barriers and promotes agri-food products".
Every Saturday on the Sentierone, from 8.30 am to 1 pm, the Bergamo Earth Market (Mercato della Terra) offers a range of healthy, tasty and genuine products. At around Christmas time, you'll find everything you need for your "cenone" (big Christmas meal): bread, cheeses, beer, flour, fruit and vegetables, and sparkling wine for the toast! Of course you will also find salami and "cotechino" (sausage) to celebrate both Christmas and New Year's Eve in the most traditional way possible.
Don't miss out Slow Food Bergamo agricultural market at Piazzale della Malpensata. Among the stalls of Slow Food producers you will find a wide variety of local products every week: wine, cold cuts, fresh and aged cheeses, meat, fruit and vegetables (and even snails!). The aim of all these zero kilometer producers is to enhance typical products of the Bergamo area, creating a valuable bond with consumers.
4. Best Restaurants in Bergamo
Traditional Bergamo cuisine can be found in any trattoria and osteria: casoncelli, cheese, meats, cold cuts and polenta are the staples so it's not hard to find them.
However, what is hard to find is good food at a good price.
Here I listed a few places where you can get to eat authentic food accompanied by local wine for a reasonable price. Enjoy the experience!
Bergamo Restaurants in Città Alta
Trattoria Parietti is a typical trattoria where they make casoncelli, gnocchi, polenta taragna with "baccalà" (cod fish), braised meat and mushrooms, all served with local wines . Here you can spend from € 10 (one dish, water and coffee) to € 20, if you take a complete menu.
Located on the hills close to Città Alta (Upper Town) and San Vigilio, this historical trattoria offers a very-low priced Bergamasque menu where casoncelli, polenta and good local wine rule. This place is rather peculiar as it displays objects belonging to "alpini", mountain soldiers who fought in WWI and WWII. In summer you can enjoy a stunning view from their terrace.
bergamo Bassa Best Places to Eat
Three words to define Trattoria Caironi: traditional, informal and affordable. Situated in via Torretta 6, in Bergamo Bassa.
I'm used to celebrating my grandma's birthday here every year as she loves Bergamo cuisine: here you cannot miss the fabulous "stracotto d'asino" (stewed donkey-meat) accompanied with polenta. Absolutely a must-try!
Trattoria d'Ambrosio is a humble osteria with an informal atmosphere in via Broseta (downtown) where you have two different menu options at a very convenient price: lunch (€ 10 – € 12) or dinner (€ 22 – € 28).
Here you can get to taste Casoncelli and spelt and barley soup, polenta with meat and a wide selection of local cheese and other northern Italy dishes. All accompanied with Valcalepio and Franciacorta wines and other northern Italy wines.
Restaurants and Agriturismi around bergamo
Agriturismo Ippolita Lucchetti
If you want to taste local products and dishes accompanied by great Moscato di Scanzo DOCG and Valcalepio DOC, Agriturismo Ippolita Lucchetti is the place for you.
Traditional dishes are prepared and presented in an elegant atmosphere on the hills of Cene, a beautiful location 15 mins by car from Bergamo center. I particularly loved risotto made with their locally produced Moscato di Scanzo (one of a kind!) and the friendliness of their staff. 
Leave the city and head to Trattoria del Moro. Few dishes on the menu but well made.
Let's start from home-made Casoncelli prepared according to the old family recipe, one of the most imitated and envied in the province. Speaking of stuffed pasta, you can also find Scarpinocc in case you haven't tried them yet.
As for the second course, you cannot miss their braised rabbit with polenta: a special recipe for a typical Bergamo dish.
I hope this article has made you hungry enough to set off to Bergamo at once!
Did you Like the Post? Follow Me on Social Media and Stay Tuned for More Content!
Images credits: Formaggi bergamaschi by candido33 // CC BY-NC-SA 2.0; Cono LaStracciatellailgelatodiBergamo.jpg by BeaC  // CC BY-SA 4.0; Pà-e-strinù by bresciaatavola.it.