Polenta Origins and Regional Differences
All over Italy we consider polenta an accompaniment for meat and veggies and each region has its own traditional version. Find out polenta origins and all regional differences: polenta taragna, polenta e osei, polenta concia and many other polenta types!
1. What is Polenta Made of?
Corn flour, water and salt.These are the ingredients polenta is made of: just as simple as that.
Today the most popular and widespread polenta is made of corn flour, which makes polenta yellow. According to our traditions, all the ingredients are tirelessly mixed up in a copper pot called "paiolo" for around one hour.
Polenta is then served covered by a dishtowel on a round wooden tray, usually cut with a knife or a spoon, depending on the texture of the polenta. In fact, tradition has it that soft polenta should be cut with a cotton thread!
2.1 Polenta in the Ancient World
The origins of polenta trace back to ancient times, more specifically to the Italic peoples who inhabited Italy from the second millennium BC.
Before the arrival of corn in Europe, polenta was made out of different varieties of grain, from spelt to buckwheat and barley, but also chestnut or bean flour, extensively used in the mountains.
During Roman times, a very common food was the so-called "puls", made of spelt or buckwheat, from which today's polenta is deemed to derive. It was made out of one type of cereal (either spelt or buckwheat), water, salt and a drop of milk, all mixed up in a terracotta pot, the "pultarium". The Greeks, instead, would prepare polenta with barley.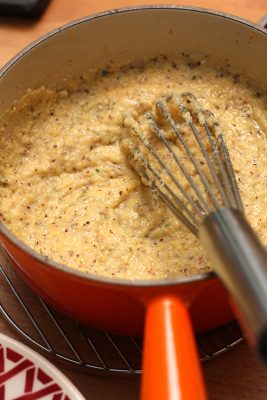 2.2 Polenta After Columbus
Christopher Columbus brought corn (called "mahiz" in the language of the Aruaca) to Europe in the 16th century and it spread all over the continent, and in Italy too.
The first lands in Italy which were dedicated to growing corn were in the Venetian territories, then it was cultivated also in the whole Po Valley as well as hills and mountains around.
From the moment corn was grown in Italy, people started using it to make polenta.
At that time, polenta was cheap food consumed especially by the poor as they couldn't afford fresh food rich in vitamins and nutrients.
Unfortunately, the exclusive consumption of polenta and the consequent lack of vitamin niacin (B3) brought about pellagra, a disease which spread among the lower ranks of society and was only eradicated at the beginning of the 20th century.
Nowadays polenta is made in different ways: it can be served freshly cooked in its softest form, fried or baked.
Baked and fried polenta are quite popular: they are normally served in sticks or slices.
As for polenta grits, fritters and balls, it's not really common to find them as it's not a classic Italian way of presenting this humble dish.
Polenta is also a great substitute for any carbs like bread or pasta: perfect also for vegans as it only takes water and corn flour (for extra taste you can add vegan cheese or stewed juicy veggies), it could be a good option if you're looking for some variety in your diet.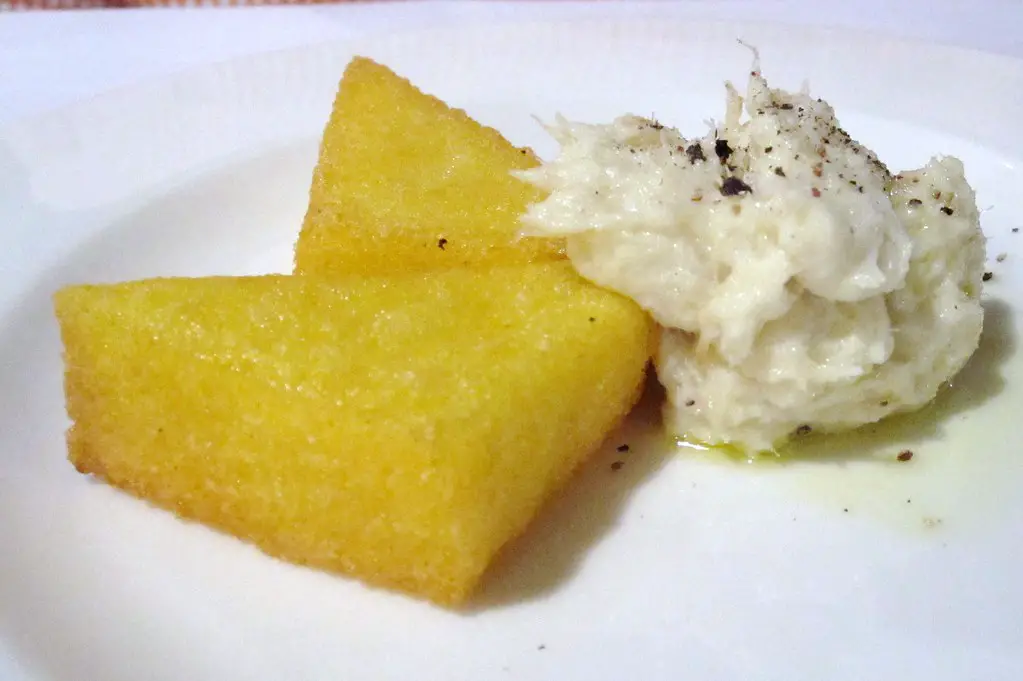 3. Polenta Regional Differences
Even though Polenta is thought to be a Northern Italy dish, it can also be found in other parts of the peninsula, such as Tuscany, Marche, Abruzzo, Lazio, Puglia, Sicily and Sardinia.
Polenta is usually served with melted butter, soft cheese and juicy stewed meat, but each region has its own recipe. Take a look below!
Polenta is the symbol of Bergamo and Brescia provinces, in Lombardy. In these areas, the most popular polenta dishes you can find are: polenta e osei (plain polenta with roasted "birds"), polenta e cünì (rabbit), polenta with brasato (braised meat) and arrosto (roast). The best wine pairing? A glass of the local Valcalepio wine.
>> Check out my Bergamo Foodie Guide here!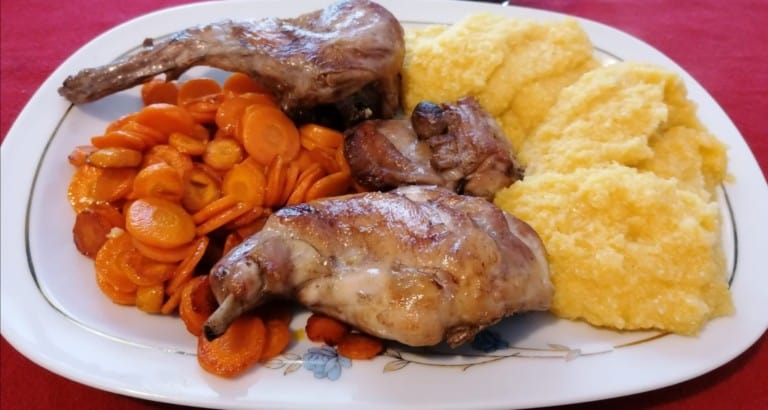 In Bergamo you won't only find "polenta e osei" but also its sweet version made of yellow almond paste decorated with chocolate or marzipan birds. As a matter of fact, the dialect term "osei" means "birds".
The sweet version of Polenta e Osei is greatly combined with Moscato di Scanzo DOCG, a sweet wine produced in Scanzorosciate, in the province of Bergamo.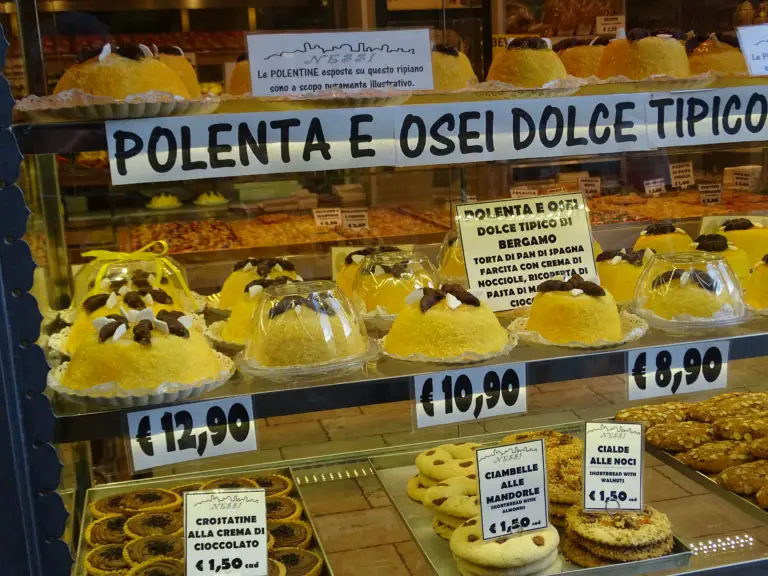 Another famous sweet version of polenta is "pattona" (or "patuna" typical of Brescia) or "castagnaccio" (typical of Tuscany) made with chestnut flour.
In the past it used to be served with  meat, fish or vegetables, whereas nowadays it's a full-fledged dessert brought to the table at the end of a meal.
3.3 Polenta alla Carbonara
Polenta alla Carbonara is a well-liked dish from Le Marche and it's made out of corn flour, guanciale (cheek lard) and pecorino (sheep's milk cheese).
Today, a variety of polenta alla carbonara called "polentone" is the protagonist of fests like "Sagra del Polentone" in Piobbico (PU), one of the most well-known.
In Trentino you can also find a variety of polenta alla carbonara called "carbonera", which is made of corn flour, slices of fresh salame, onions and small chunks of Spressa cheese.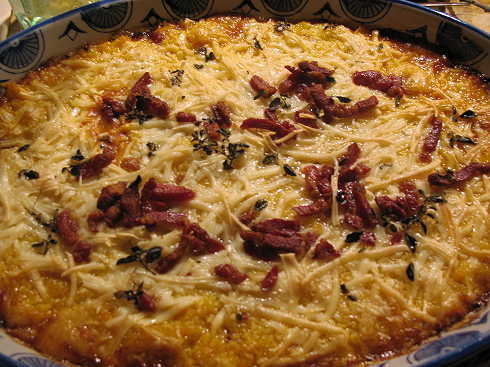 Polenta Taragna is a typical recipe of Orobie Alps, in Lombardy, especially of Valtellina, Lecco, Bergamo and Brescia. Its name comes from "tarèl", a dialect word used to define the long stick used to mix polenta in the copper pot. 
To make polenta taragna you need to mix up two different varieties of flour: corn and buckwheat flour. It's the latter which gives this type of polenta its characteristic brownish color. 
Also, cheese is added while cooking, so that the final texture is even more smooth than classical polenta. Depending on the province where you are tasting polenta, you may find different types of cheese: Valtellina DOP or Bitto DOP in Valtellina, Branzi in Bergamo, Bagoss in Brescia.
Polenta taragna is paired with great locally produced red wines such as Valtellina Superiore DOCG.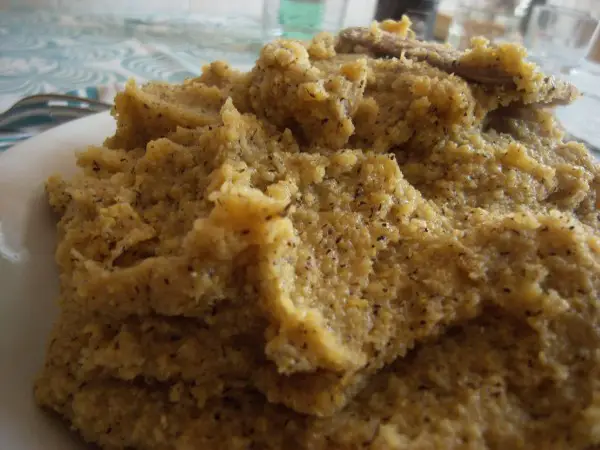 In some areas of South Trentino, polenta is made of potatoes boiled in salt water, mashed adding buckwheat or other varieties of flour. Close to the end of the cooking some ingredients like local salame, cheese, stir-fried onions are added.
Although similar to taragna, polenta cròpa is cooked in cream, mixing up buckwheat flour, potatoes and cheese. This type of polenta comes from Val d'Arigna, in Valtellina, on the Orobie Alps – just a couple of hours from Milan.
Pult is a variety of classical polenta, but softer thanks to the milk added to water and flour. After 45 mins cooking, pult is served in bowls with just a drop of milk at room temperature.
3.8 Polenta with Ciccioli
Polenta with ciccioli is typical of the North of Italy, even though it's called by different names.  It's accompanied by the fatty parts of a goose simmered until melting. After the extra parts of fat are eliminated, some spices like pepper, cinnamon and cloves are added, 
Similar in texture to polenta taragna, Polenta concia is typical of Northern Italy mountain areas. It is also called "polenta uncia", "polenta conscia" and "polenta cunsa", depending on where it is made.
In Aosta Valley, the region of Fontina cheese, it's called polenta concia or consa (which means "seasoned") and it's made of chunks of Fontina DOP, Toma cheese and (tons of) butter, all mixed with corn flour.
The best wine to serve with polenta concia? Red, of course! Try it with a Valpolicella Ripasso DOCG.
Tossignano polenta is named after a small village in Romagna where, every year since 1622 (except for 1943 and 1944 when Germans occupied the territories) this type of polenta has been prepared.
What's so special about this type of polenta is that it usually comes in blocks cut with a cotton thread, accompanied by ragù made up with pork and beef and abundant parmesan.
Polenta with ragù is best served with red wines such as Morellino di Scansano DOCG.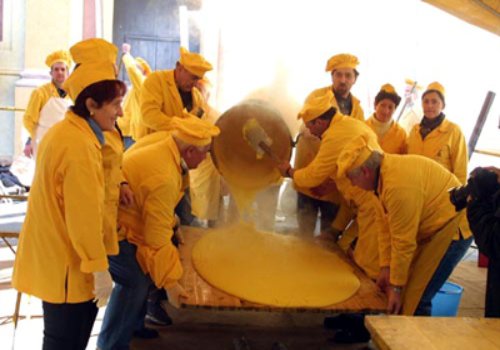 With a dialect name (in Italian would be "caccia gatti", that is to say "chasing cats away"), cazzagai is renown in the area of Reggio Emilia, especially in the mountains.
Cazzagai is traditionally made with yellow polenta and beans together with tomato sauce and bacon.
This version of polenta was extensively in demand among poor people in the past as beans were the only cheap source of proteins.
Fried polenta is deliciously consumed as a street food or appetizer in many Italian regions. Thanks to the frying it gets amazingly crunchy, that's why it is so popular and widespread.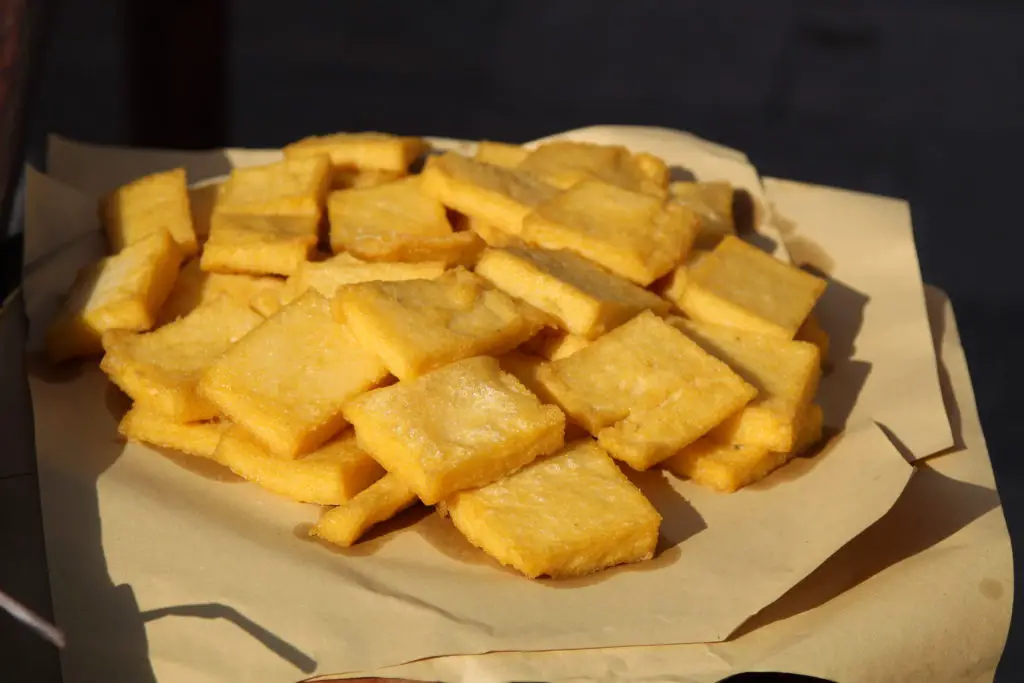 It's a characteristic polenta of Basilicata, Calabria and Sicily made with corn flour, potatoes and fat. It's usually served with sauce or cotechino or sausages, with mulled wine.
Best wine to accompany polenta and sausages? Have it with a glass of Barbera d'Asti DOCG.
In Sicily you are likely to find it accompanied with fish, vegetables, chick peas or broccoli soup, while in Calabria broccoli and pork fat are the most popular varieties of frascatula's seasoning.
Unlike most people would think, polenta made in Sardinia is very different from the continental traditional recipe.
Salt water is used to cook corn flour and mirepoix, pork fat, olive oil, parsley, fresh tomato and sausage are added. Almost at the end of the cooking process, some pecorino cheese is grated on top.
It is thought that barley polenta dates back to Nuragic civilization (probably from the 18th century BCE to 238 BCE, when the Romans colonized the island) as various mortars have been found.
More recently, corn has been the most popular staple ingredient for polenta in Sardinia, even though other types of flour may be found, such as chestnut, oat, rye and rice flour.
In Sardinia people like to accompany polenta with sausages, pecorino cheese, bacon or any sorts of veggies which deliciously enrich this simple dish.
Did you Like the Post? Follow Me on Social Media and Stay Tuned for More Content!
Images credits: Polenta taragna by pollobarca2 //CC-BY-SA-2.0; Polenta e osei-by-jkb // CC-BY-SA-3.0-scaled; Polenta by David Lebovitz on Flickr; Polenta fritta by Sergio Barbieri on Flickr; Polenta Carbonara by Decobabe on Flickr; H'osteria Giusti Antipasti – Baccala Mantecato con polenta fritta2 by artnbarb// CC BY-NC-SA 2.0; sarde in saor con polenta bianca by catcetera on flickr.