Cinque Terre Best Traditional Food
Cinque Terre is a lovely small portion of Liguria where centuries-old seaside villages are perched on the rugged coastline.
I'm sure you'll get very hungry after hiking on the trails around Manarola, Corniglia, Monterosso, Vernazza and Riomaggiore.
Do not despair! In each of the 5 colorful villages you'll find all sorts of places where to eat traditional food: from bakeries to trattorias and street food shops.
Let's plunge into the most delicious foods to try in Cinque Terre!
Foods to Try in Cinque Terre
Cinque Terre best traditional food: frisceu, focaccia, muscoli are just a few of the many foods to try in Cinque Terre. Discover what to eat in Manarola, Corniglia, Monterosso, Vernazza and Rio Maggiore.
Muscoli, Cinque Terre Mussels
In any restaurants in Cinque Terre you will find "muscoli". 
Even though in Italian "muscoli" means "muscles", this type of "muscoli" refers to mussels.
There are mainly two ways in which you can find them: stuffed (muscoli ripieni), with a nice and lovely sauce that reminds you of the sea, or else marinated (muscoli alla marinara), seasoned with white wine (for connoisseurs, Vermentino, a fine Ligurian wine) and parsley, all presented with lemon slices.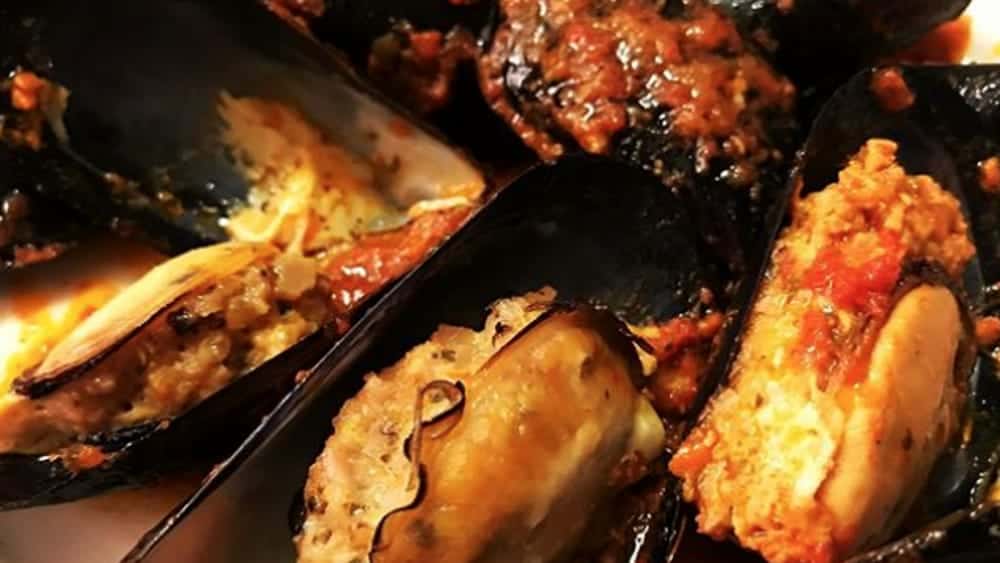 Salted Anchovies in Monterosso
Typical of Monterosso are salted anchovies, you'll find them in every nook and cranny (all shops have them, believe me!). Anchovies are a type of bluefish also called "gianchetti" in Liguria.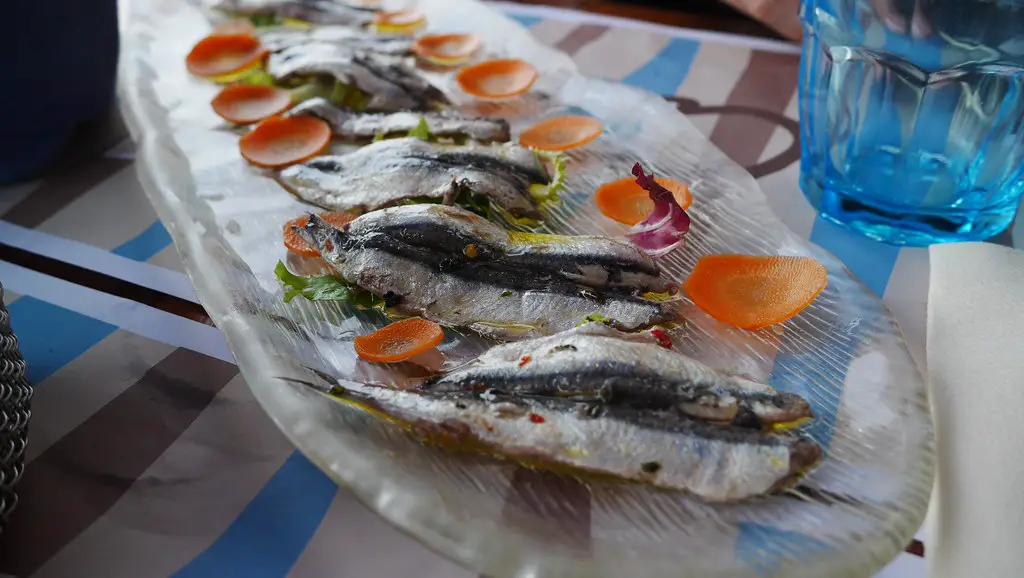 Octopus Salad with Potatoes
A traditional dish from Cinque Terre that I really love is octopus salad with potatoes, parsley and extra-virgin olive oil: when the octopus is perfectly cooked it just melts in your mouth.
Stockfish is by no means a typical fish from the Ligurian Sea. However, tradition has it that stockfish is fished and dried in distant lands and then brought to Liguria, in fact, over the centuries, this has become a traditional dish. 
To prepare the "Stockfish with chard" ("stoccafisso con bietole", or else in Ligurian the so-called "stucafissu a zemin") the fish needs to be rehydrated by soaking it in water. Then, the stockfish is cut into pieces and browned slowly in a saucepan together with aromas such as onion, garlic and parsley. Veggies are added later with some water to help the cooking.
2. Pesto Genovese in Cinque Terre
The well-known Pesto Genovese is a must-try in Liguria and Cinque Terre. The ingredients are: basil, extra virgin olive oil, grated cheese (parmesan and seasoned pecorino), sweet garlic, coarse salt, pine nuts and nuts.
In Cinque Terre, Pesto Genovese is used to dress first courses, such as trofie, trenette but also tagliatelle (in Ligurian dialect "tagiain cun er pistu crudu"). The homemade tagliatelle are made by mixing flour, water and salt (no egg!) and then cut by hand.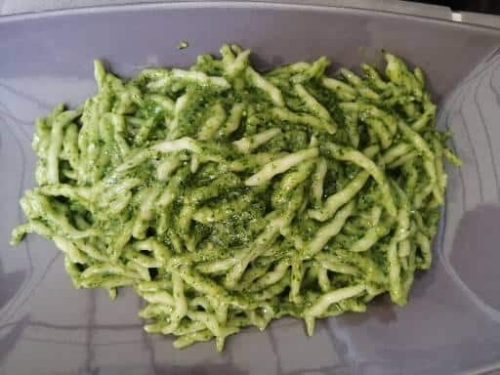 Want to make pasta al pesto at home? Boil pasta in the same water you used to boil summer veggies such as zucchini, green beans and peas so that the pasta will absorb all these flavors.
A generous dose of Pesto Genovese, together with fresh green beans and diced potatoes, and here it is, the masterpiece of Ligurian cooking tradition.
Focaccia. The whole Riviera di Levante is known for its oily, fluffy flatbread focaccia. 
There are some hacks to make the fluffiest focaccia, but every producer jealousy keeps the doses for themselves.
However, everyone knows that the fundamental ingredient is oil, which must be strictly extra virgin olive oil. The higher the quality the better focaccia you get. How much oil, you're wondering? Abundant. Try it out in one of those fantastic bakeries in Riomaggiore, Manarola and Vernazza.
There are different types of focaccia. It can be either plain or enriched with additional ingredients like rosemary on top, potatoes, or soft cheeses (stracchino or goat cheese), like focaccia di Recco.
If you get the chance try focaccia with lemon! I wanted to try it in Riomaggiore but at 11 am it was already finished, so please try it for me!
Farinata, chickpea flatbread
Prepared with chickpea flour mixed with water, salt and extra virgin olive oil, farinata is a very savory flatbread cooked in a pan in a wood oven.
In Cinque Terre it is customary to eat farinata as fast food which can be found in bakeries next to focaccia, quiches and pizzas.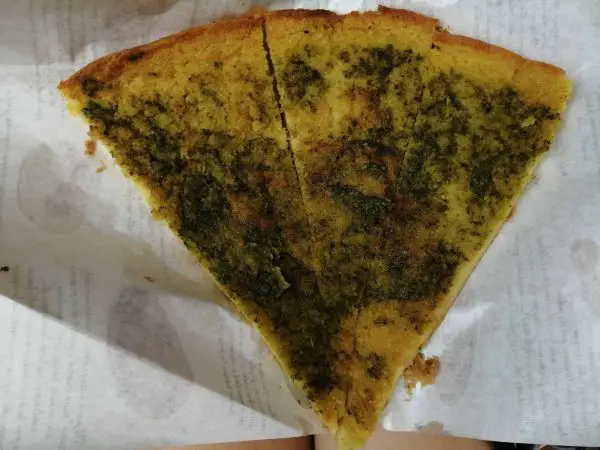 4. Cinque Terre Street Food
A street food to try in Cinque Terre is frisceu, fried cod that Ligurians like to have as an appetizer. Even though it's originally from Genoa, you can find it anywhere in Liguria. My recommendation? Eat it right out of the hot boiling oil, the taste is defintely better!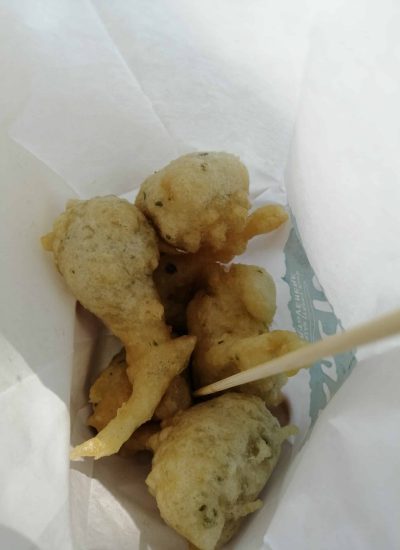 Panissa from chickpea Flour
A popular Ligurian street food made from chickpea flour, water and salt: panissa.
The panissa is prepared in a casserole like polenta and then seasoned with oil, pepper and lemon or else passed in the fryer.
It is then presented in the form of cubes or sticks. I personally tried fried panissa in Portovenere, and it was amazing, as you can see in my pic below.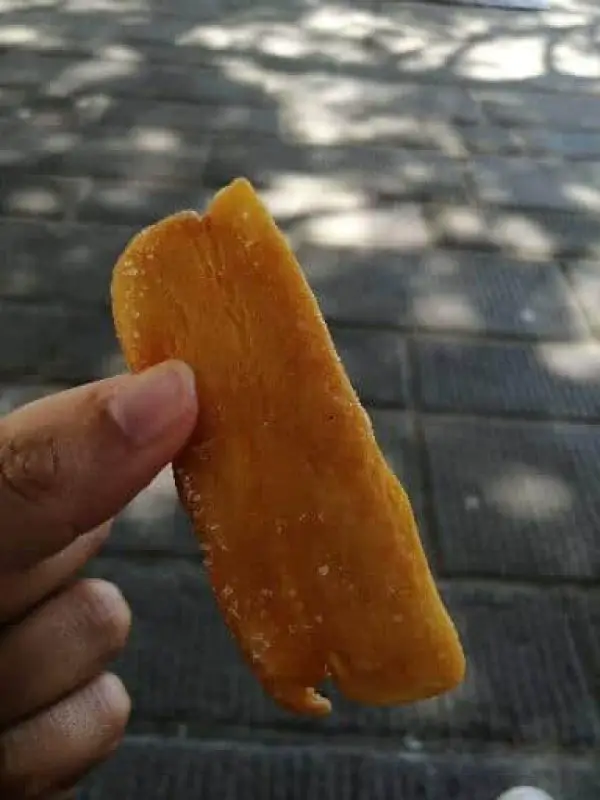 A variant of focaccia is sgabeu (or sgabeo), a sort of focaccia cut into strips after rising and then fried in abundant extra virgin olive oil. So yummy!
A famous Ligurian street food you cannot miss is Zucchini Flower Fritters ("Fris  de Burbugiun" in the local dialect). The zucchini flowers are dipped in a liquid batter made of flour, water and salt and then poured into hot oil. Just delicious.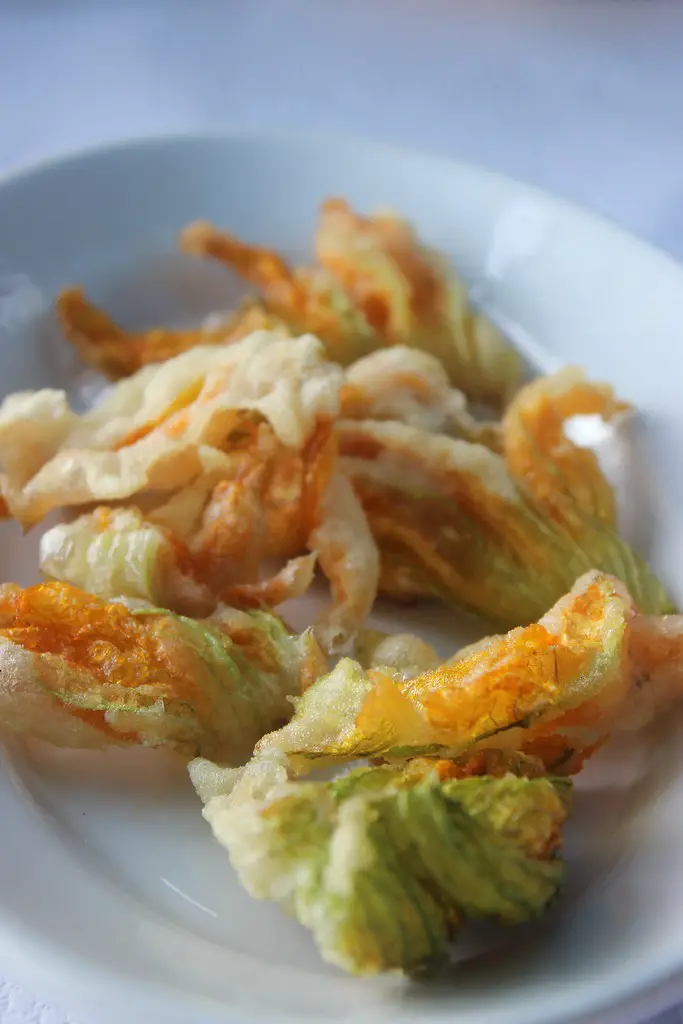 Whitebait Fritters (bianchetti fritti)
Another fried food you should try in Cinque Terre is whitebait fritters (bianchetti fritti).
Whitebait are the juveniles of bluefish that take on a light color when boiled (that's why they're called "bianchetti", from "bianco", white). Usually served as an appetizer, it also fits as a main course.
Monterosso Torta di Riso (Rice Cake)
Among desserts, a traditional cake of Cinque Terre is Monterosso rice cake. Prepared on the occasion of the feast of the Madonna di Soviore, on August, 14th, Monterosso rice cake is made from a puff pastry of flour, water and wine and the filling is prepared with cooked rice, eggs, oil, parmesan and mushrooms.
Although originally from Genoa, the rice cake can be found in all the towns of Cinque Terre.
Why don't you have it while contemplating the sea on a marvelous beach in Cinque Terre? And don't forget to accompany it with a nice glass of Cinque Terre sweet wine Sciacchetrà DOC.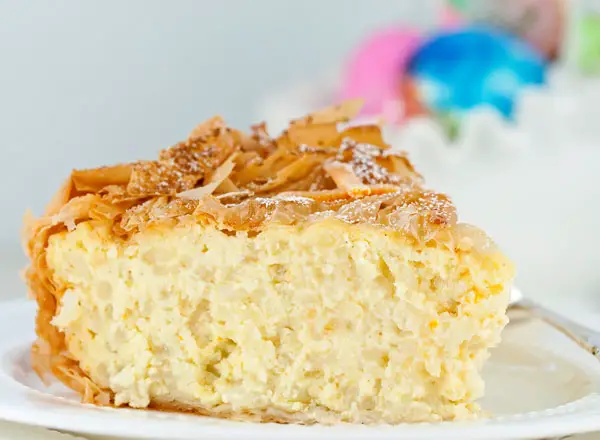 6. Other Typical Products
You must also try the gorgeous, huge and juicy lemons of Liguria, Limoncello and lemons marmalade. Not to mention honey, especially chestnut and acacia.
Now that you have an overview of Cinque Terre local food you only have to get there and taste it yourself. Wanna leave a comment here to let me know if you liked it? 😉
Did you Like the Post? Follow Me on Social Media and Stay Tuned for More Content!
Images credits: muscoli-ripieni-by-genovatoday.it; Cinque-Terre by samneang.sin  // CC-BY-NC-ND-2.0; Torta-di-Riso-by-Susan-Filson-on-Flickr; Fiori-di-zucca by ivonnezanzucchi //CC-BY-2.0;