One Day Itinerary in Cremona: What to See and Typical Food
Cremona is one of the 12 provinces of Lombardy: it's a perfect day trip from Milan and Mantua as it takes around 1 hour by train from both cities.
Over the decades Cremona has become renowned for the typical cuisine: every year crowds of people come here to taste torrone, marubini, gran bollito and many other local dishes.
In this article you'll read my stress-free and time-saving one day itinerary in Cremona, things to see, what to eat and where to taste this excellent cuisine.
What Does Cremona Mean in Italian?
The name "Cremona" stems from the Italian word "crema", which means "cream, milk fat, butter".
In fact, originally Cremona meant "great (farm of) butter" as butter has always been a staple in the diet of populations from the Po Valley, where the city of Cremona is located.
One Day Itinerary in Cremona
Before starting your super exciting culinary day, you need to find parking. There are a few free parking lots near the city center: my recommendation is to park in Piazzale della Croce Rossa, where you can leave your car all day and it's just 7 mins from the main square, Piazza del Comune.
My insider tip:
As Cremona is situated in the Po Valley, you should expect some fog on your way to the city, especially in fall and winter. Adjust your arrival and departure times accordingly, avoiding traveling too early in the morning and after 5pm in winter.
2. What to see in Cremona
From the parking, walk to Piazza del Comune, one of the most beautiful squares in Italy.
Here you'll be spending the morning, visiting the following buildings:
Cremona Cathedral, in Italian called "Duomo" or "Cattedrale di Santa Maria Assunta"

, and

the

Baptistry

,

the

Torrazzo

(the bell tower), the symbol of the city,

the

Loggia dei Militi

, the "soldiers' loggia",

the

Town Hall

.
It's interesting to note that in the Middle Ages the Cathedral, representing the religious power, and the Town Hall, representing the civil power, were built facing each other: a meaningful metaphor of the power holders, friendly enemies through time.
2.1 the Sistine Chapel of the North
Cremona Cathedral is a perfect example of Romanesque building, second only to Milan's Cathedral, with extraordinary frescoes on the inside that made it gain the title of "Sistine Chapel of the north". Definitely worth visiting.
Don't miss to take a peek into the medieval baptistry adjoining the cathedral!
2.2 the Torrazzo, symbol of the City
Right beside the Cathedral is the Torrazzo, the tallest  brickwork bell tower in Europe and the third in the world!
112 meters high, for a total of 502 steps: from the top you can get to see the whole city. Want to take up the challenge? Inside there is a vertical museum dedicated to time-measuring.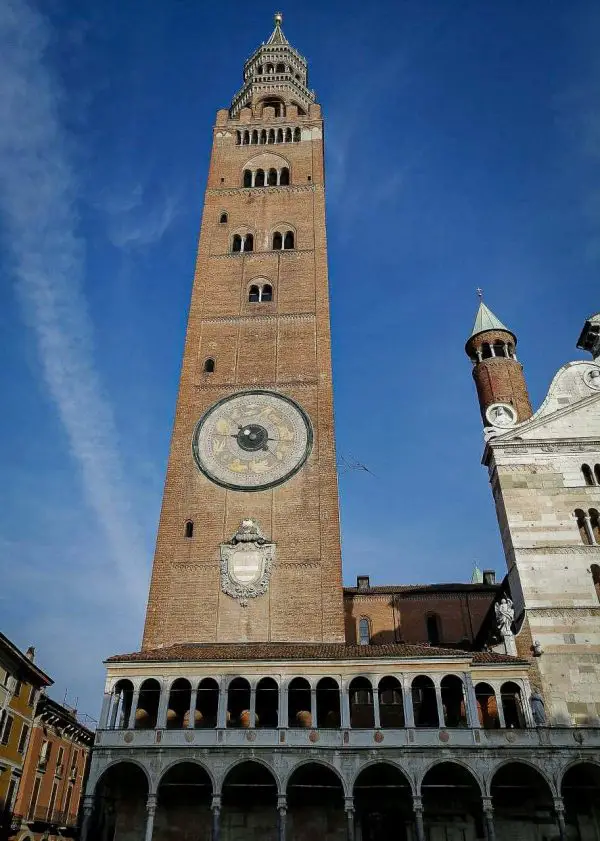 2.3 the Loggia dei Militi
Built in 1292 as reported on its façade, the Loggia dei Militi was the seat of assemblies for the local "Società dei Militi", an association composed of the most important people in the city.
Under the portico, you can see the coat of arms of Cremona: two Ercoli holding the blazon of the city – Ercole, according to the legend, was the founder of the city. The blazon of Cremona (Gonfalone), visible on the Loggia façade, is composed of four lions, each representing the four city gates.
3. What to Eat in Cremona: Local Food
Now that you know what to see in Cremona, it's time to eat!
If you don't know what to eat in Cremona, here is all local food this city is famous for, from stuffed pasta to meat, cold cuts and cheese!
You'll find out where to eat local food in Cremona right after the list.
3.1 Marubini, Signature Dish of Cremona
With no doubt, the most famous dish of the city is the Cremonese marubini.
This stuffed pasta the size of a chestnut is filled with marinated beef and roasted veal, flavored with sage or rosemary. It is also common to use pork sprinkled with white wine, the so-called "pistum", a typical Cremonese salami, as an alternative to veal.
MUST-TRY: Marubini with three broths. This kind of broth is made by putting together three different stocks: chicken (capon or hen), beef, pork and vegetables. Each of them is put in cold water and then brought to the boil to obtain the broth.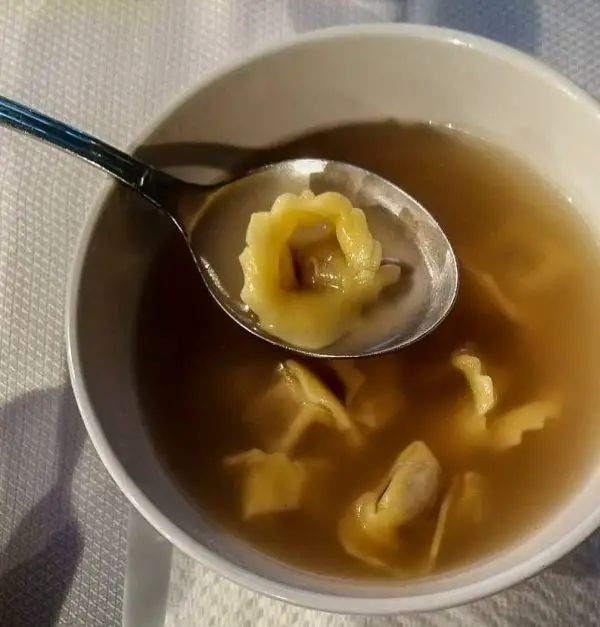 3.2 Tortelli Cremaschi and Blisgòn
Other types of stuffed pasta are Tortelli Cremaschi (with sweet filling) and Blisgòn from the Casalasco area, nearby Cremona. Blisgòn are stuffed with pumpkin. In fact, they're similar to Mantua's pumpkin tortelli.
The Cremonese countryside has always stood out for its cattle breeding and for this reason we can find a large production of cold cuts and cheese. I suggest you try the PGI salami, a soft mixture lightly flavored with garlic, and the Cremonese Vanilla Cotechino – despite its name it has nothing to do with vanilla!
MUST-TRY: order the Cremonese Gran Bollito Misto (mixed boiled meats): a recipe that includes from 3 to 7 cuts of meat including veal tongue and salami.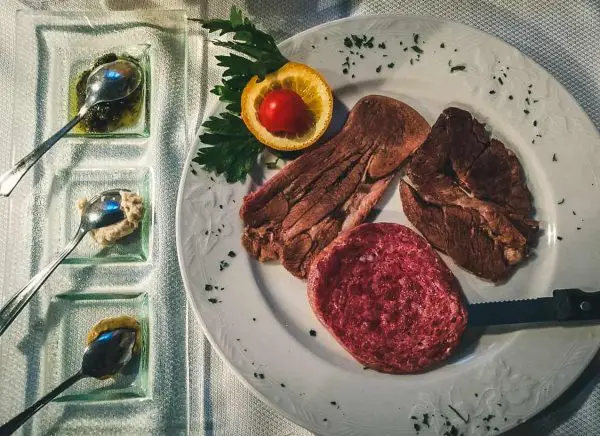 3.4 Mostarda, a Specialty of Cremona
Meat and cold cuts taste even better when accompanied by Mostarda Cremonese (mustard), a symbol of the holidays. Prepared with pieces of candied fruit and made spicy by mustard, it is the protagonist of "Festival della Mostarda 6.0" where this local product is celebrated.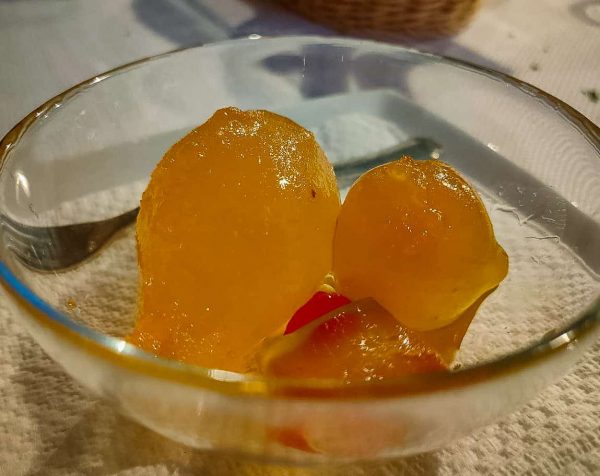 3.5 Cremona Local Cheeses
Among local dairy products we find Grana Padano PDO, Provolone Valpadana PDO, Quartirolo Lombardo PDO  (soft cow's milk cheese) and, last but not least, Salva Cremasco PDO.
If you want to taste something really different, treat yourself to a taste of Taleggio PDO: combined with jams, honey or polenta is something you won't easily forget! 
My insider tip:
When buying local products, always look for PDO (Protected Designation of Origin) or PGI (Protected Geographical Indication) designations. They both certify high-quality local products.
4. Where to Eat Local Food in Cremona
In Cremona center you can find a lot of osterie and trattorie where to eat local food in an informal but cozy environment.
I've been to Antica Locanda Il Bissone where I took Marubini in broth, Gran Bollito Misto and Mustard (see pics above), all accompanied by a glass of their locally produced red wine. Good sense of hospitality, excellent food, reasonable price: all that I was looking for!
5. Unmissable Sweets of Cremona
To top it off, have a taste of the delicious sweets Cremona is so proud of.
Walk around the historical sweet shops along the remains of two Roman roads. Here you can find the following unmissable desserts and sweets in Cremona.
Torrone, the Italian nougat, can be found in the internationally recognized Sperlari and Vergani shops.
Torta Bertolina is a typical cake made after grape harvesting. It's made with "uva fragolina", a type of grape with strawberry scent and taste.
Sbrisolosa is a very close version of Sbrisolona from Mantua. This crubly cake was once made by  the "bugardéere", the women who used to wash the home linens in the countryside.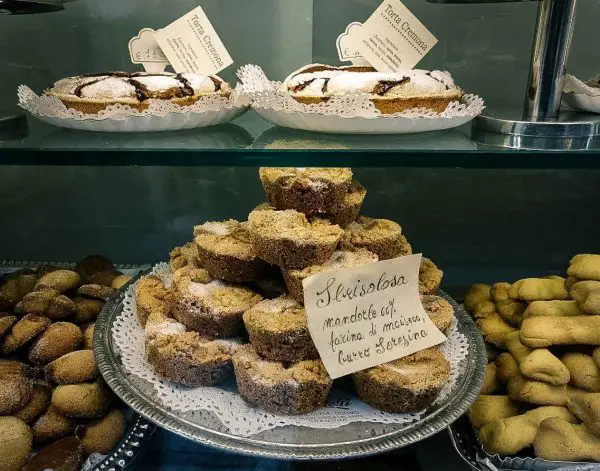 Pan di Cremona is a homemade sort of Torta Paradiso cake, enriched with almonds and covered with dark chocolate. It's immediately recognizable for its square shape and you can get to taste it at Pasticceria Lanfranchi, one of the oldest pastry shops of the city, founded in the late 19th century.
Graffioni Cremonesi were born as a method of preserving the hardest cherries, Graffioni have become typical Cremona chocolates made with dark chocolate filled with cherries in alcohol. The name derives from their irregular shape, as they are handmade and placed on a grill to rest for 15 days to let the inside sugar dissolve completely.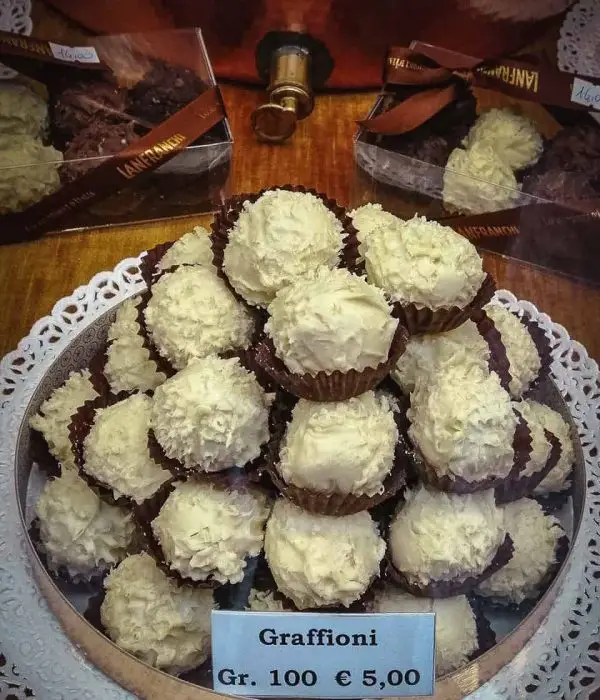 Cotognata is a marmalade obtained from the careful processing of fresh quince, manually selected. What's most interesting is that Cotognata is made following ancient recipes and local people still use copper machinery of the early 1900s!
6. Discover the History of Violin Making
In the afternoon, head to the Violin Museum of Cremona, where you can get to know more about the history of violin making and Stradivarius instruments. There are a total of 10 rooms where you'll learn about the origins and spread of the violin, the luthier's workshop, the classical Cremonese school and much more.
Why should you visit the violin museum of Cremona?
Cremona is the birthplace of the violin: it is called the Violin City and is known all over the world for the excellency of its luthiers. In fact, luthiers' workshops are scattered all over the city: you can find them in every nook and cranny!
The ancient tradition of violin making in Cremona started when in 1566 the luthier Andrea Amati invented the prototype of the modern violin starting from the Medieval fiddle. It was then that his grandson Nicolò, together with his pupils Antonio Stradivari and Giuseppe Guarneri, made the best violins ever seen.
Today, the Traditional Violin Craftsmanship of Cremona has been part of the UNESCO heritage since 2012. What's impressive about this art is that each violin-maker makes between 3 and 6 instruments per year and no two violins are alike!
Antonio Stradivari, the Inventor of the Violin
Antonio Stradivari became famous all over the world: born in 1644, he was one of the greatest Italian craftsmen of string instruments such as cellos, guitars, violas and harps, let alone violins. It is said that he made a total of 1'100 musical instruments and that, nowadays, 600 of them still exist. You can imagine how valuable they are!
As you must know, these instruments are called Stradivarius, the Latinized name of their creator, also called Strad in more colloquial terms.
The Secret of Stradivarius
Stradivarius instruments seemed to have something magical within them and people have been trying to discover their secret for well over 250 years. 
All we know for sure is that Italian violin makers of the 17th and 18th century had neighboring workshops in Cremona and probably used nearby forests of the Southern Italian Alps as their source of spruce wood.
This wood, which the great Stradivari used, was of unusual density owing to the freezing conditions of the 17th century "Little Ice Age" in which it grew. May that be the secret?
In this one day itinerary in Cremona there is also time for art as there are two other places worth mentioning: the Ala Ponzone Civic Museum and the Monastery of San Giuseppe in San Sigismondo.
The Ala Ponzone Civic Museum
The Ala Ponzone Civic Museum has about 2'000 works including paintings, sculptures and musical instruments. Most of the people visit it for two works: "Saint Francis in Meditation" by Caravaggio and "The Gardener" by Arcimboldo.
Monastery of San Giuseppe in San Sigismondo
If you take a walk outside of the city center, you'll get to see the Monastery of San Giuseppe in San Sigismondo. Don't be fooled by the very simple exterior. The interior hides one of the most beautiful pictorial cycles of Lombard Mannerism.
This place also has an historical importance as here Bianca Visconti and Francesco Sforza got married, starting the Sforza dynasty. On that occasion also torrone was born.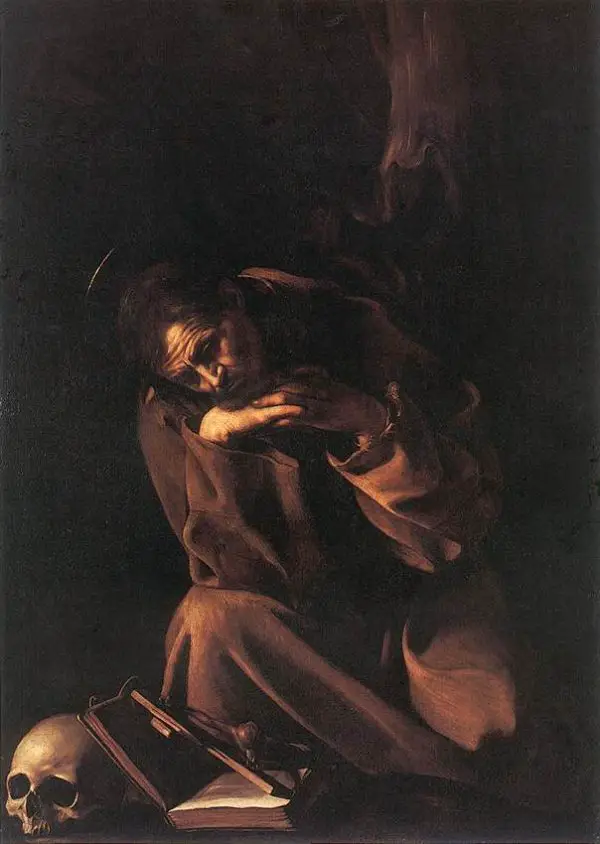 Hope you'll find my one day itinerary in Cremona useful for your travel plan! Don't forget to try Cremonese food, including Torrone 😉
Did you like the post? Follow me on Social Media and Stay Tuned for More Content!