How to Spend One Day in Bergamo: Top Things to See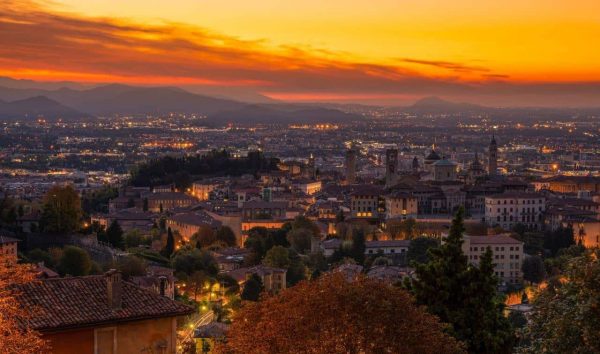 Bergamo, my small but lovely hometown, is considered a worthwhile one day trip from Milan or lake Como. In this article you'll find all you need to  know on how to spend one day in Bergamo, my travel tips and food suggestions.
Chosen as a location for director Guadagnino's movie "Call me by your name", Bergamo has much more to offer:  beautiful landscapes (mountains and lakes), good food and wine (here you find the smallest DOCG wine in Italy!), but also old traditions handed down from our ancestors!
Let's dive right into this helpful guide for first-timers in Bergamo!
1. Bergamo Bassa and Bergamo Alta
Bergamo (pronounced  /ˈbɝɡəˌmoʊ/) is just 40 min away from Milan by train and it's urban plan is quite peculiar. In fact, Bergamo is famous for having two different city centers: one downtown in the "Lower Town" (we call it Città Bassa) and one in the "Upper Town", also known as Città Alta (or Bergamo Alta). The two parts are close to one another and are linked through a series of stairs and paths, some of which are easily spotted while others are well hidden to foreigners' eyes!
However, if you have little time or just want to take it easy (some stairs are quite steep!) you can always take the funicular: it costs the same as a bus ticket (if you've already purchased one and it's still valid you can use that), which is € 1.50.
There is one funicular from Città Bassa to Città Alta and another one from Città Alta (located in Largo di Porta Sant'Alessandro) going up to San Vigilio Castle, located 496 m above sea level, from which you can enjoy a stunning view of the city as well as Città Alta. Sometimes, in the clearest days, you can get to see Milan skyscrapers if you look west!
>> Bergamo Bus Tickets (ATB bus/funicular fare system and routes) can be found here.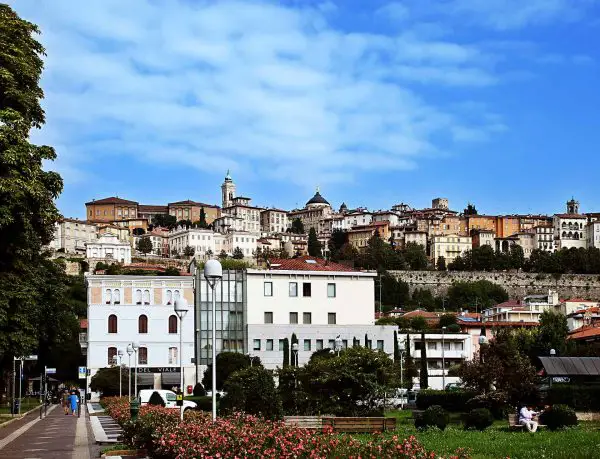 The city of Bergamo is worth a visit, especially the Upper Town, the medieval part of the city surrounded by the Venetian walls (UNESCO heritage). Now, you must be wondering, why Venetian walls? What does Venice have to do with Bergamo? They're not even in the same region. Well, let's take a closer look at our history.
The name "Bergamo" comes from "Bergomum", a city between Brixia (now Brescia) and the Larius lake (now called lake Como or lake Lario), founded by a Celtic tribe ages ago.
Over the years, Bergamo became part of different sovereignties, from the most famous Roman empire to the Lombard Kingdom.
It acquired the status of independent commune only after the 11th century. At this time, in Bergamo there were two factions: the Guelph-allied Colleoni family and their opponents, the Ghibelline-allied Suardi family. Bear in mind these names as they will come in handy when you read the "How to Spend One Day in Bergamo: Itinerary" section 😉
Later on, in 1428 the Duchy of Milan gave up Bergamo and from that moment on was under the control of the Republic of Venice.
At the end of the 18th century, Bergamo also underwent a French period with Napoleon's sovereigns: they left a trace in Bergamasque dialect, in fact!
Bergamo, City of the Thousand
Finally we come to know why Bergamo is called "The City of the Thousand": Bergamasques played an important role in the Italian unification in 1861 (before that date we were just tiny little communes all with different governors). That year, Giuseppe Garibaldi gathered brave men from the northern regions of Italy: most of them came from Bergamo and surroundings. This army was called "Expedition of the Thousand" and they departed from Liguria heading to the south to unify this fragmented peninsula. 
We still celebrate the unification on June 2nd, now a national holiday.
3. How to Spend One Day in Bergamo: Itinerary
If you're wondering how many days you need to visit Bergamo, one day is enough to visit the most important landmarks of the city, but consider more days if you want to explore the surrounding areas and the Valcalepio wine route.
Here you find useful info on how to spend one day in Bergamo. This walking itinerary starts from the Lower Town and goes up to Upper Town. It includes all my recommendations in terms of food and must-do things in my beloved city.
Porta Nuova and the Shopping Area
Start your itinerary here, the only "Porta" (gate) of the Lower Town (the other four are in Bergamo Alta). From here walk along via XX Settembre (the main shopping street) and go on via Sant'Alessandro up to via pignolo, a narrow and slightly steep road leading to the second gate of the city: Porta Sant'Agostino. Don't miss out Torta del Donizetti, dedicated to the great musician Gaetano Donizetti in Balzer bistrot and pastry shop, on Sentierone.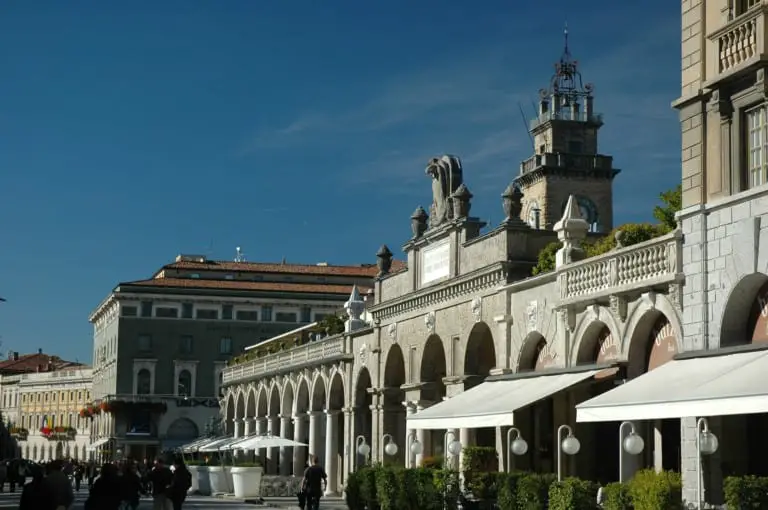 Porta Sant'Agostino and the Park
Here you are in Bergamo Alta. Take a stroll in the park and enjoy the beautiful view. In summer time this park is full of temporary stands with food and drinks and live concerts! Exit the park and walk along Parco della Fara and via Porta Dipinta. Here you can visit San Michele church where 16th century frescoes by Lorenzo Lotto are still preserved.
Piazza Mercato delle Scarpe and the Rocca
You have now reached Piazza Mercato delle Scarpe where you can get the funicular to the Lower Town. However, we're going to the Rocca, a 14th century fort for military defense. Taste the sweet sponge cake-made "Polenta e Osei" at Nessi Bergamo Alta after descending from the Rocca. 
Rocca opening times: Tue-Sun 9.30 am – 1 pm/ 2.30 pm – 6 pm. Free entry.
Take the main road in Bergamo Alta (via Colleoni, also called Corsarola) and when you get to the Gombito Tower (you cannot miss it), turn right and take a deviation from the main road to visit the fountain.
Opening times: from April 6th to October 14th: 9 am – 1 pm (on Saturday and Sunday 10 am-12 pm / 2 – 7pm). Free entry.
Go back to the main road and reach Piazza Vecchia with the Contarini fountain, Angelo Maj Library, Palazzo della Ragione and its Clock Tower (more commonly called "Campanone" whose bells ring 100 times at 10 pm so as to remember the old curfew), the Cathedral (duomo), Basilica of Santa Maria Maggiore with Lorenzo Lotto's carvings and the Baptistery. Do you remember the name Colleoni? Well, here you'll see his coat of arms on the Baptistery: three testicles (as his last name comes from the latin for testicles). Palazzo della Ragione aside (the entrance fee is € 6.00), all attractions are free.
Palazzo della Ragione opening times: Tue-Sun 9 am – 6.30 pm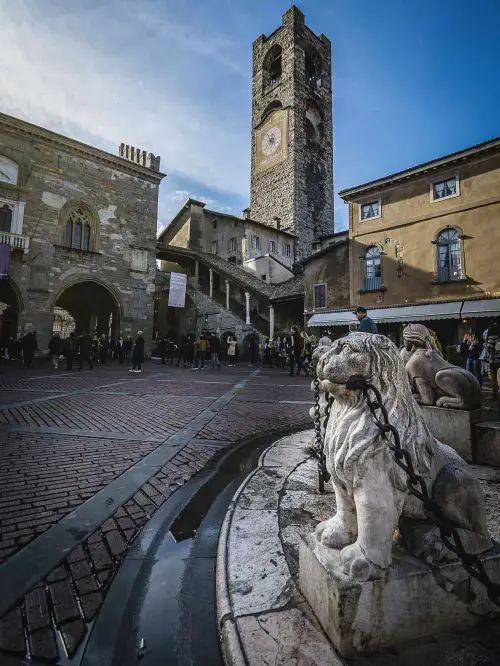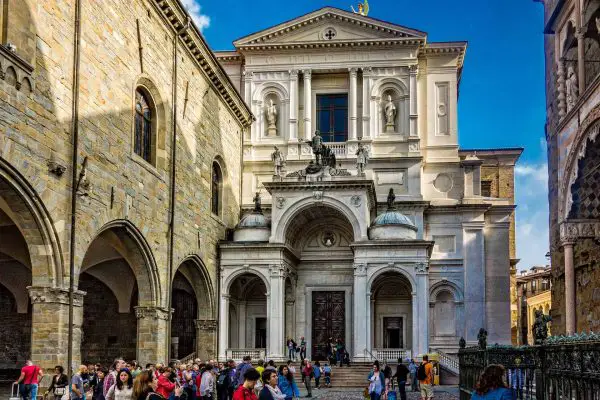 Head to the Citadel and "Caffi" Science Museum. Then you have reached Colle Aperto (literally "open hill"). Here you can get to taste the original Stracciatella gelato flavor at "La Marianna".
Pass through Porta Sant'Alessandro, another gate of Bergamo Alta, and take the funicular to San Vigilio and its castle. It's mostly ruins but the atmosphere is fascinating. From there you can get to view the whole town of Bergamo!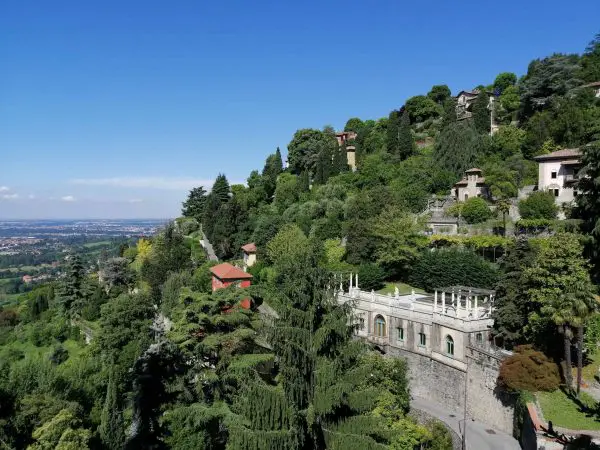 The Venetian Walls, Unesco Heritage
Enjoy the magnificent view of Lower Town walking down the Venetian Walls, erected in the 16th century under the Venetian Republic with a defensive purpose. Since July 9th, 2017 these walls have been part of the UNESCO heritage, particularly the "Venetian Works of Defence between 15th and 17th centuries: Stato da Terra – western Stato da Mar".
Take the stairs heading to the Lower Town from Porta San Giacomo. If you're tired you can take the bus n° 1 that runs every 15 mins and brings you as far as the train station.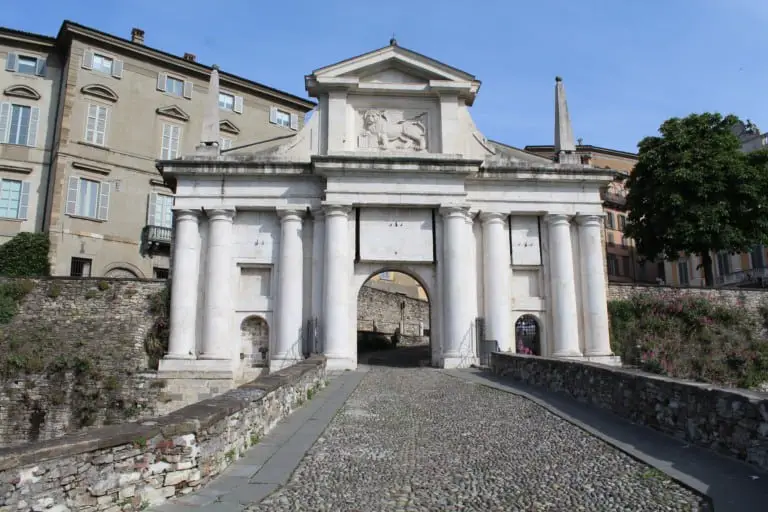 The most famous traditional dish is certainly Casoncelli, Bergamo style stuffed pasta similar to ravioli, filled with meat and seasoned with melted butter, crunchy bacon and sage. They're similar to Brescia style Casoncelli but the filling has different ingredients.
Another type of stuffed pasta is Scarpinòcc de Pàrr, a good option for vegetarians as the filling is made of tasty cheese.
Surely you must try Polenta e Oséi (literally polenta with birds), Polenta e Cunì (polenta with braised and roasted rabbit), Strangolapreti (close relatives of the most popular strozzapreti), not to mention the wide variety of DOP cheeses (Formai de Mut, Branzi, Strachitunt and many others).
For dessert, in the itinerary I recommended places where you can taste the Torta del Donizetti, Stracciatella gelato and sweet Polenta e Osei.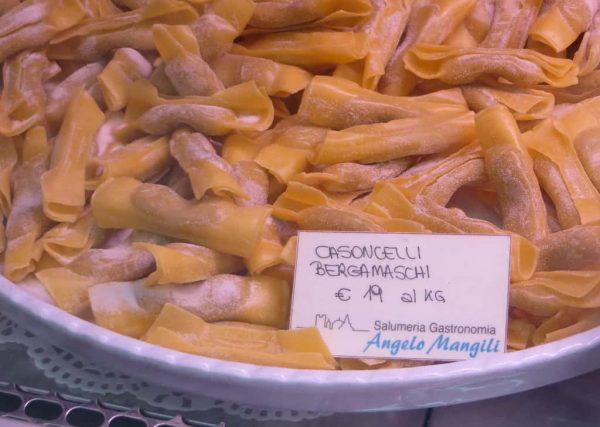 As for wine, we do produce a nice range of prestigious wines (just think of Moscato di Scanzo DOCG). If you're going to spend more than one day in Bergamo, I definitely advise you to check out the Valcalepio Wine Route where you'll get to know all famous wines of Bergamo and surroundings.
At Trattoria Parietti in Bergamo Alta you'll find an excellent combination of typical products and food (Casoncelli, polenta..) served with local wine.
5. Best Things to Do in Bergamo
There are many things to do in Bergamo, especially in summertime. 
Here I listed the events and activities I love the most and highly recommend:
MUSIC: don't miss Bergamo Jazz Festival (in June) and Donizetti Opera Festival, a series of operas dedicated to the famous composer from Bergamo.
CELEBRATIONS: parade of masques and parade floats for Carnival (in March or April).
FAMILIES: Soap Box Rally, race of home-made wooden cars along the Venetian Walls of Upper Town in May.
SCIENCE: BergamoScienza (in Fall), a series of conferences held by professors, academics and experts in the field of science.
RELAX: One of the things that I love the most is spending the day in a spa. I always go (once a year at least) to QC Terme San Pellegrino

, 3-storey thermal baths with the possibility of having an all-inclusive aperitivo (wine, non-alcoholic drinks and food) included in the price.
DISCOVER: Have a free walking tour of around 2h 30 with a certified local tourist guide and discover the history and fun facts of Bergamo.
TASTE: If you happen to visit Bergamo in summer, surely you have to check out our famous "

sagre

"

, sorts of festivals where food is so delicious that you will want to get double dishes!

I said food, but you can get wine too! In September don't miss "

Festa del Moscato di Scanzo

"

in Scanzorosciate, just a few minutes away from Bergamo city center.
SHOPPING: Between the end of May and the first weeks of June, come to Chiuduno to experience the festival celebrating indigenous and tribal peoples at "Lo Spirito del Pianeta".
How to Reach Bergamo Train Station
You can easily get to Bergamo by train from the following:
Milan Central Station: Just take the local train and the journey lasts 40 mins – ticket: € 5.50 one way (direct train). This is the cheapest and fastest way to get from Milan to Bergamo train stations.
Lake Como: local train from Lecco train station it takes about 40 mins (6 stops) – ticket: € 3.60.
Venice (Santa Lucia train station): take Freccia Rossa bullet train for Milano Centrale (around 1h 50), get off at Brescia Railway Station and take a local train to Bergamo (they run every hour and it takes about 57 mins) – ticket:€ 30 – € 40.
How to Reach Bergamo Airport
If you wish to reach Bergamo Airport from Bergamo train station you can hop on bus number 1. It costs € 2.40 and it takes you there in 15-20 mins depending on traffic.
Bergamo Bus Tickets and Fares can be found here.
How to Reach Bergamo by Bus
There are two alternatives by bus:
Terravision bus service: it runs from Milan Central Station to Bergamo Airport and back. The journey lasts 60 mins and costs € 8.00 (one way, no stops).
Orio Shuttle bus service: from Malpensa (MXP) airport to Bergamo (both downtown and Caravaggio airport) and back. One way takes around 2 hrs as it stops in Monza. From Milan Central Station to Bergamo airport it takes 50 mins and costs € 8.00 (one way, no stops).
Thanks for reading this article, hope it will come in handy someday. Take a chance on Bergamo! 🙂
Did you like the post? Follow me on Social Media and Stay Tuned for More Content!