Arco Castle: a Gem on Lake Garda, Trentino

Arco is a small town in Trentino, north of Italy. A real gem surrounded by the mountains, ideal if you're planning to stay a few days on lake Garda and nearby. Here you will find things to do and see, tips and recommendations about everything you need to know before heading to Arco.
Maybe you have already heard of famous castles in Trentino region, such as Buonconsiglio, Thun, Cles, Toblino and Rovereto.
However, also the castle of Arco is worth a visit! From the top you'll get an astounding view of Lake Garda and the small town of Riva del Garda with its beautiful surroundings.
The name of Arco probably derives from "arx" which means fortress and the castle has ancient origins: it dates back to even before the year 1000.
Albrecht Dürer, famous German painter who visited the town of Garda in 1494, was enchanted by the charm of these lands.
In fact, inspired by these places, he painted the Castle of Arco and the ancient village surrounded by olive trees.
At the end of the 15th century, as you can see in Dürer's painting, the castle was a small fortified village, one of the largest in Trentino: it housed not only the dominant family (the Counts of Arco, since the year 1000), but also the cadet branches and the numerous relatives, very often in open contrast with each other.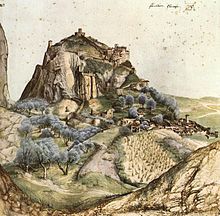 The castle also housed numerous shops, workshops, laboratories, humble craftsmen and servants homes, the guardhouse, the prison, large cisterns for water (three visible today) and numerous deposits and barns.
The castle was in fact a real city within the city, connected to the village of Arco further down, but at the same time, in case of need, autonomous and self-sufficient.
The beginning of the 18th  century marks the decline of the fortress ending with the bombing by French general Vendôme who destroyed many castles in the area.
In 1982 the Municipality of Arco decided to purchase the manor, proceeding with a restoration and protection of the olive grove, making it accessible to the public.
2. How to Get to Arco Castle and Parking
You can reach the castle from the historic center of Arco walking through the charming olive grove surrounding the castle (from the bottom about 15 mins).
My insider tips:
The route is nice but uphill, therefore you need to be careful (I was about to slip a couple times!): make sure you're wearing sneakers. If you want to visit the inside of the castle ruins sneakers are mandatory!
I also suggest that you bring a bottle of water along, especially on hot days in summer. There is a fountain in the olive grove where you can refill it, or else, when you reach the end of the path, you will see a small bar near the castle ruins (and toilets!).
Here's a list of free available parkings around the castle:
Via dei Legionari Cecoslovacchi, 26

I parked here

->

Parcheggio ex Carmellini

– Via Paolina Caproni Maini, 14 (white markings define free lots. You can leave your car for free for 2 hours, more than enough to visit the castle. Start of the walk to the castle: 5 mins walking).

Via Porta Scaria, 2 (free after 7pm and on Sunday)

Via della Cinta, 32 (half of the parking lots are free) 

Viale Monache, 8 (open from 9am to 5pm)

Via Al Calvario, 4

Parcheggio del Viale dei Capitelli – Via Capitelli, 2

Parcheggio della Sarca – Via P. Leonardi (free parking, a bit further away from the castle)

Parcheggio Donatori di Sangue – Via Donatori di Sangue, 1 (public parking open 24hrs)
3. Tickets and Opening Times
The general admission is € 3.50. No need to buy tickets in advance, you can purchase them on site. Below are the opening and closing times per month.
| | | |
| --- | --- | --- |
| Months | Opening hours | Last admission  |
| April to September | 10am – 7pm  | 6pm, with 1 hour to finish the visit |
| October and March | 10am – 5pm | 4pm, with 1 hour of time to finish the visit |
| November to February | 10am – 4 pm | 3pm, with 1 hour of time to finish the visit |
Closing periods:
January 6th to 31st

February 1st to March 15th on weekdays (open on Saturday and Sunday only)

Public holidays: November 1st, December 25th-26th, January 1st, 

December 24th and 31st in the morning (open in the afternoon)
4. What to See Near Arco Castle
From the castle you can take your car and drive until "Passo San Giovanni", a panoramic viewpoint, on Strada Padaro: it takes 15 mins from the castle.
The road is large enough for a car but be aware that a number of locals cycle on that road (you can do it too, it depends on your physical shape though as the road is quite steep) so just be careful about that. The road is one way so no need to worry about other cars.
Once you reach the "Passo", the road enlarges and you can momentarily park your car on the right side of the street and enjoy the magnificent view of the surrounding mountains and the lake below. It's really worthwhile!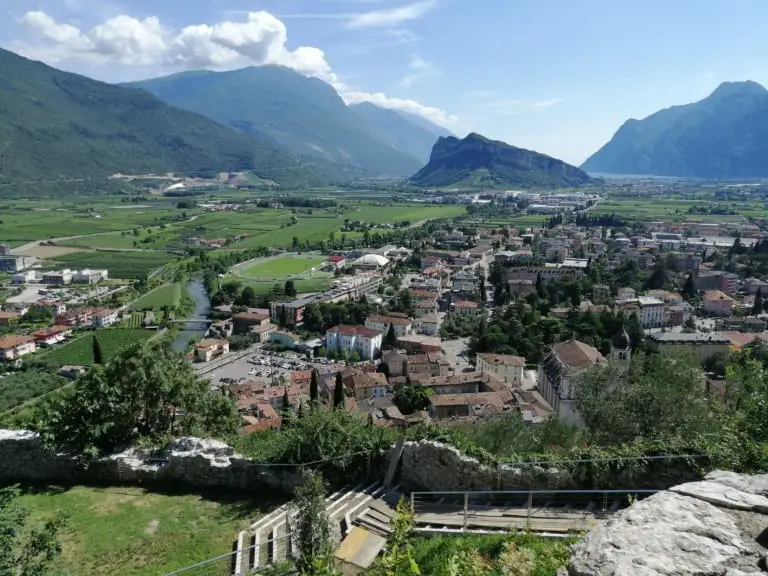 Continue on your way and reach Eremo di San Paolo, a cute small church embedded on a rock slope. The consecration of the altar dates back to April 9, 1186 according to documents.
This is a magnificent example of sacred art with enchanting frescoes both inside and outside. The inside is not accessible for tourists, apart from some weekends in summer.
Only 20 mins away from Arco castle is lake Tenno, a gem in Trentino landscape. This almost perfect round shaped lake is embedded in a lush tropical-like forest at the foot of Mount Misone.
However, its most peculiar feature lays in its colors and shades: from light blue to turquoise, the sight is astonishing. Here time seems not to run as its location is secluded and magical. You can reach its parking by car but then you have to walk on its medieval stairs!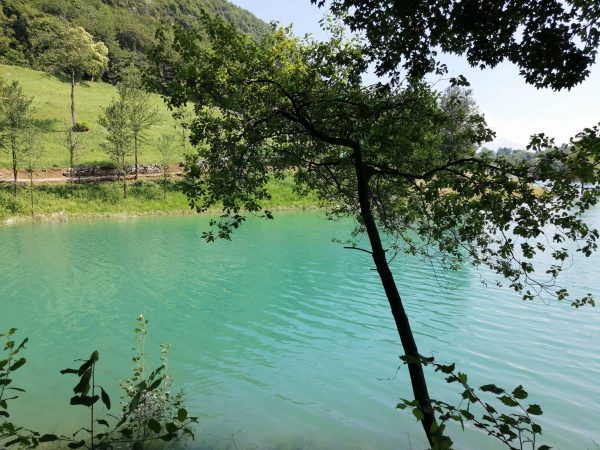 Before (or after) visiting the lake, 5 mins away is Borgo Canale di Tenno, a tiny super cute medieval village dating back to 1211. Think that the urbanistic plan is original! So now we are able to see the four main streets converging into the piazza (square), but also the houses made of stones, typical of the Medieval period. Abandoned at war times, after World War II it started to be inhabited again.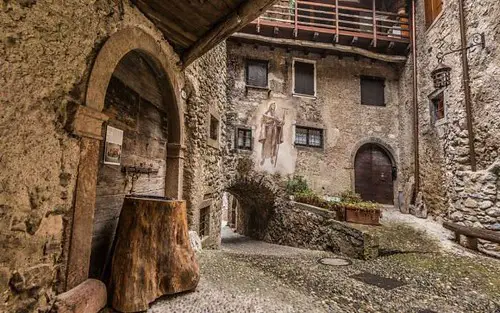 5. Activities: Climbing, Hiking and Trekking.. and Weddings!
Walking, cycling, hiking, climbing.. in this area you will find activities that suit all tastes!
The Monte Baone (479 m) is a small mountain near Arco where nature lovers find their place. You will enjoy a great view of the mountains and the lake from the top, in spite of its low altitude: interesting trails for hiking and trekking, but also a mix of trail and climbing have been created.
In fact, several opportunities for climbers and people interested in bouldering are present around the area, from single-pitch to multi-pitch climbing routes, low difficulty climbing walls and walls equipped for blind people.
Here you will find the crags near Arco you are looking for  with detailed explanations of each site.
For the activities proposed above make sure you are well equipped. Comfy walking shoes are a must for light walks (as for example up to the castle), but you should be even more prepared in case you are thinking of hiking or trekking in the surroundings. 
As mentioned above, on Arco castle site weddings are hosted!
Have you always dreamt about your special yes day on the green grass under a white gazebo? In the castle of Arco your dream may come true and not only that! You will have the most wonderful wedding: picture a unique scenery in a manor evoking the glory of the past and surrounded by high and green mountains with the splendid Lake Garda on the bottom. I bet everyone would love that!
Visit these beautiful gems of Trentino and you'll literally be transported into a magical dimension you won't forget!
Stay tuned for more content about Trentino!
Did you Like the Post? Follow Me on Social Media and Stay Tuned for More Content!
Images credits: Canale di Tenno un borgo medioevale tra i più belli d'Italia by ViaggioRoutard // CC BY 2.0.