Traditional Specialties
from Lucca, Tuscany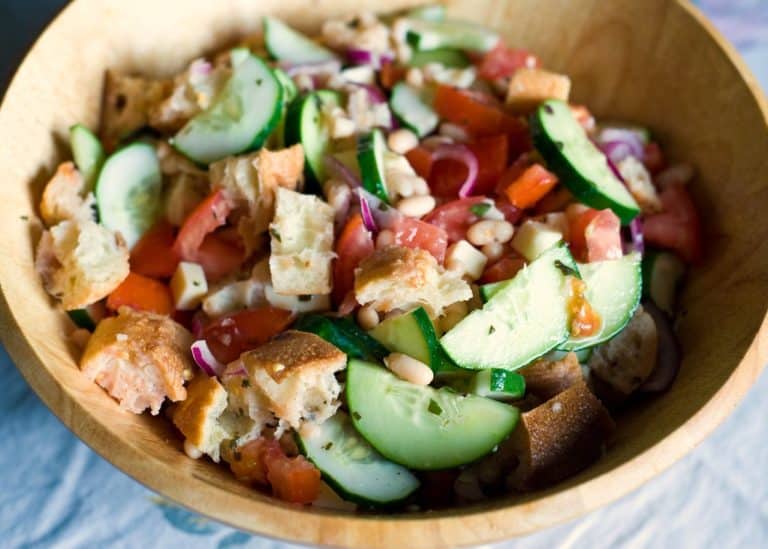 In Lucca, a beautiful town not so far from Florence, you can find an old tradition of Tuscan food handed down from one generation to another. As a matter of fact, the city swarms with small deli and wine shops, not to mention local food markets, where you can get to purchase all sorts of traditional products made in this province.
If you already took a look at my Northern Tuscany Itinerary, you must know that Tuscany is full of surprises when it comes to food, and Lucca is definitely a hidden gem.
Before diving into Lucca traditional dishes, we need to consider that the province stretches out from seaside locations (Forte dei Marmi, Lido di Camaiore, Viareggio) to the mountain areas of the Apuan Alps, Garfagnana, Serchio Valley and the Tuscan-Emilian Apennines. Therefore, there is a wide variety of local products and Tuscan food specialties that this territory offers.
Here you will find the must-try foods that make both the city of Lucca and its province unique. Check it out below!
Traditional Specialties from Lucca
1. Not "Tortelli" But "Tordelli"
Tordelli di Lucca is an egg pasta similar to ravioli typical of Lucca, one of the unmissable Tuscan food specialties to try.
Legend has it that people would use Sunday leftovers for the filling, together with eggs, grated cheese, chard, mortadella and soaked bread. Tordelli are commonly served with a classic meat ragù – simply delicious!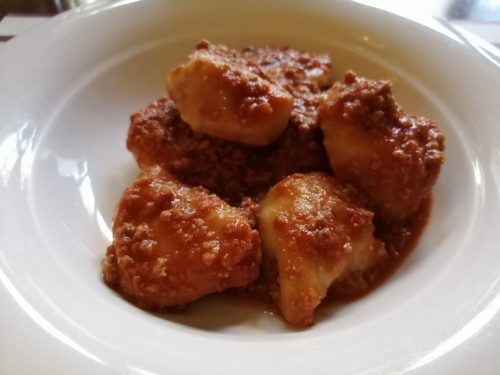 2. Typical Tuscan Soups: Spelt and Frantoiana
Spelt soup is a classic Tuscan food, a very popular dish throughout the area of Lucca. Spelt is the protagonist, to which Borlotti beans, cabbage, peeled tomatoes and a pinch of bacon are then added. This typical Tuscan soup is served topped with some drops of extra-virgin olive oil from the surrounding hills.
Looking for a vegan option? The frantoiana soup is richer in vegetables as it is made of borlotti beans, zucchini, potatoes, chard, celery, cabbage, leeks, black cabbage, pumpkin, fennel and borage. Frantoiana soup is usually accompanied with a slice of stale or toasted Tuscan bread soaked in the delicious broth of the soup.
Garfagnana Spelt Fun Facts
Garfagnana spelt, recognized in 1996 with the PGI (Protected Geographical Indication) designation, is the oldest grain that has come down to our days. We have news of its cultivation as early as the seventh millennium BC. Sowing in Garfagnana takes place in fall, at an altitude between 300 and 1000 meters, while the harvest takes place in summer, usually in July.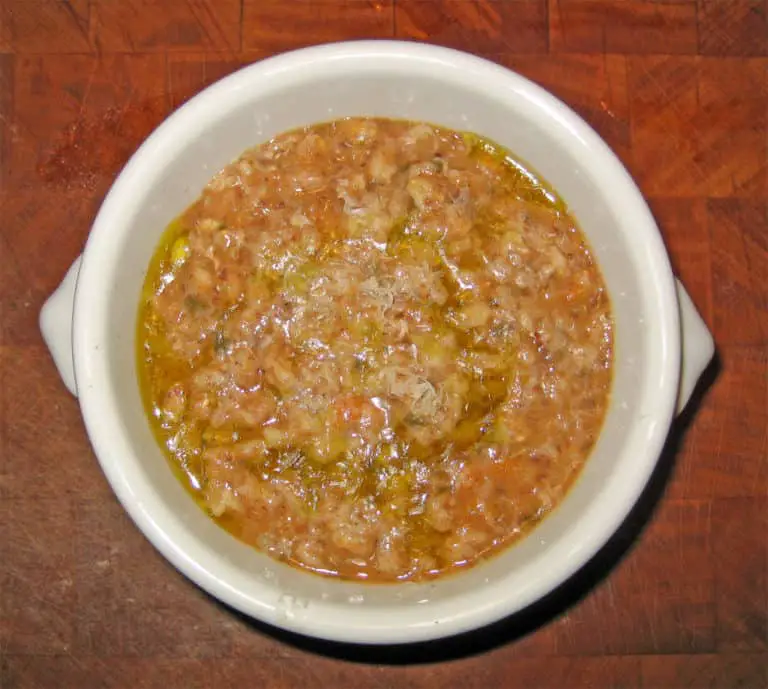 3. A Fresh Summer Salad: Panzanella
Craving for something fresh on a hot summer day? Panzanella is the right choice!
Panzanella is considered one of the best Tuscan food, even though this rustic summer dish can be found also in other Italian regions such as Umbria, Lazio and Abruzzo. Depending on the region, some call it "pansanella", some "panmolle" or "panmòllo", while others "pane 'nzuppo".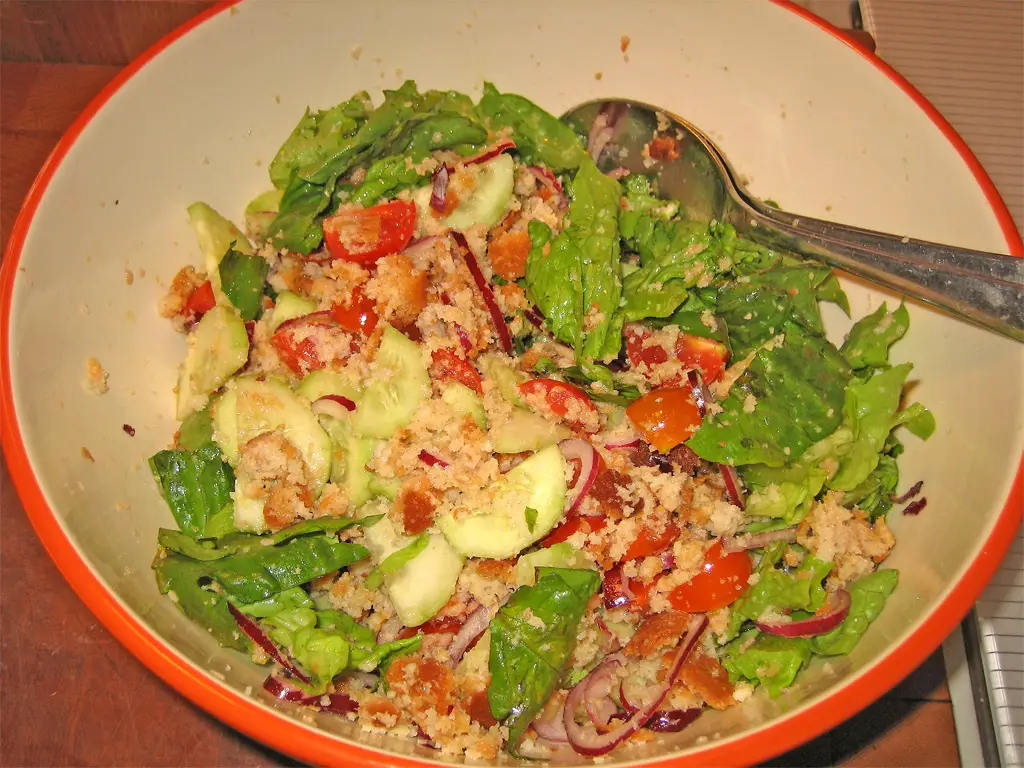 No matter how you call it, panzanella recipe is the same: diced tomatoes and cucumbers, red onion, basil and stale Tuscan bread, all seasoned with extra-virgin olive oil, salt, pepper and vinegar. As simple as that! No cooking is needed – which makes it a perfect recipe for the lazy bones.
The origin of panzanella is uncertain: it is believed to derive from the peasants' custom of soaking dry and stale bread (so as not to throw it away), combining it with the veggies from their garden. They would mix everything in a salad bowl called "zanella", from which the name "panzanella" comes from.
Garmugia, Marmugia..such tongue-twisting names! Hard to pronounce even for Italians, the origin of this Tuscan food is still unknown but the word "garmugia" is thought to derive from "germoglio", that is "sprout". 
Paolo Petroni, expert of Tuscan food specialties, describes this dish as a soup that should be made only in spring, given the ingredients. In fact, the veggies used in this soup, which must be fresh to exalt the flavors, are peas, broad beans, baby onions, artichokes and asparagus tips.
Unlike most typical Tuscan soups, Garmugia is not vegetarian as the veggies are cooked with meat, specifically with bacon and veal pulp (minced or in small chunks). Therefore, if you're looking for a lighter soup and you happen to be in Lucca, take "Marmugia". This is a similar version of Garmugia, dating back to the 13th-century, made without meat. Ideal for all tastes!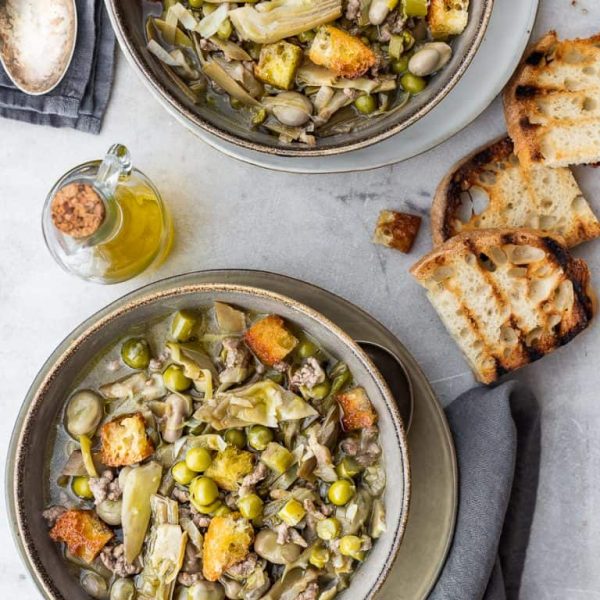 5. Matuffi: Layers of Polenta and Meat Sauce
Matuffi, which is typical of Garfagnana (in the province of Lucca), is composed of layers of soft yellow polenta and meat sauce, or mushrooms and parmesan. The type of polenta used for this Tuscan dish is the Formenton Otto File maize PGI, so called because of the eight rows of kernels on the cob.
You should know that this rare grain is still grown in the Middle Serchio Valley and Garfagnana with natural methods only. In fact, the flour obtained is the result of an ancient tradition of stone grinding.
6. Biroldo, the Blood Sausage
"Nothing of pork is thrown away". Biroldo is a great example of this popular saying!
The first evidence of blood sausages consumption in Italy dates back to the early Middle Ages. In fact, I'm sure you all remember a particular scene from the movie "The Name of the Rose" where friar Guglielmo da Baskerville (Sean Connery) finds the corpse of another religious of the abbey immersed upside down in a container full of pig's blood, collected precisely for the preparation of cold cuts.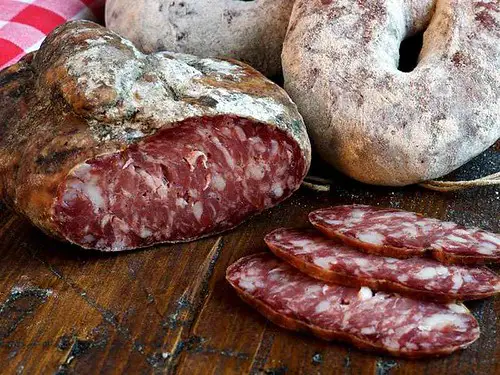 There are three types of Biroldo: the Luccan, the Apuan and the Garfagnino. 
The latter has become part of the Slow Food Presidium since 2003. Slow Food regulations require the pig's head, heart, tongue, rinds and lungs to be cooked in a boiler for about three hours. After boning the head, all the boiled meat is cut into small pieces and mixed with squares of lard, blood, salt, pepper, cinnamon, nutmeg, coriander and cloves.
The pork is manually stuffed into the bladder or stomach (buzzetto) which is then sewn and placed to boil for another three hours in the broth where the meat was previously cooked. The Biroldo is then placed on a shelf to cool in the air and enable draining and fat loss. 
In the past, local dwellers would eat it cold and accompanied by the typical potato bread of the area or neccio polenta made with chestnut flour.
7. Torta di Erbi or di Becchi
Torta di erbi is one of the Tuscan food specialties you must try over your trip in this beautiful region. This pie is made of a shortcrust pastry filled up with herbs like chard, pine nuts, raisins, but also stale bread, aromas given by cedar, cinnamon and rum, and sugar.
Wait a sec..sugar?? Yes, sugar! It looks like a "torta salata" but..it's sweet! This rustic cake from Lucca is one of a kind as it combines sweet and salty taste.
Torta di erbi is prepared for Santa Zita, the patroness of Lucca, protector of housewives and bakers. It's celebrated on April 25th with exhibitions and flower markets located in various squares of the historic center. In the streets, you can smell the scent of flowers blended with that of homemade cakes!
Torta di erbi (erbi means herbs) is also called torta di becchi. Why "becchi"? The term becchi comes from the 'beaks' created along its edges.
8. Buccellato, The "Donut" Cake
Buccellato di Lucca (not the Sicilian one!) is a typical Lucca dessert that you can find at any time of the year, but it's especially made for the celebration of the Exaltation of the Holy Cross, on September 14th. 
The origin of its name derive from "buccellatum", a round-shaped bread that was very popular among the ancient Romans. Even the modern Buccellato di Lucca was originally brought to people's tables as a Sunday dessert after the Mass. Today, it's very likely to find it with a straight shape – easier to carry inside a bag!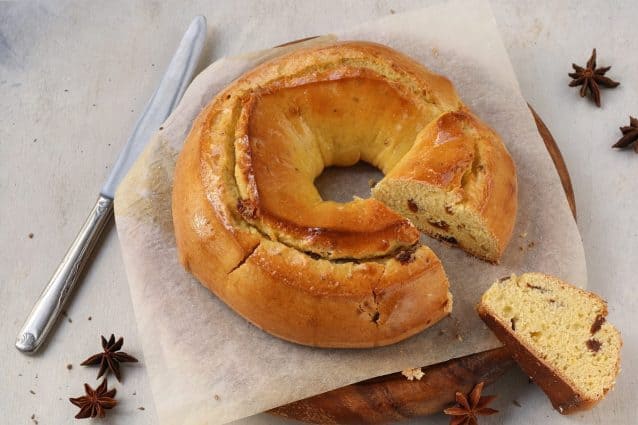 9. Biadina, the Liqueur from Lucca
Tuscany is not only famous for its cuisine but also for typical liqueurs – think of Vin Santo! 
In Lucca you will find Biadina, a liqueur obtained after a slow maceration of aromatic herbs grown in the local territory. Legend has it that at the end of the 19th century, in San Michele square, a livestock market was held and someone shouted "some fodder (biada) for the livestock and a little (biadina) for the knight". This is where the name Biadina comes from!
It's customary to place some shelled pine nuts on the bottom of a small glass and pour Biadina. Whether you drink it in one gulp or sip it slowly, make sure that, with the last sip, the glass remains empty. No pine nut must be left!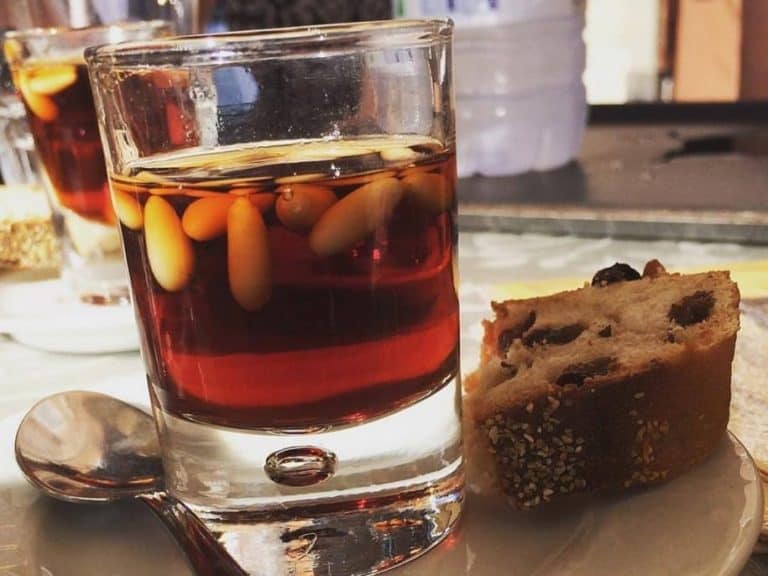 10. Lucca PDO Extra-Virgin Olive Oil
As other Tuscan provinces, Lucca proudly produces a PDO extra-virgin olive oil that you cannot miss to try – taste it or buy it!
In this area, olive growing has ancient origins: the first documents date back as early as the 8th century. This activity experienced a significant growth in the 14th and 15th centuries when, throughout Tuscany, measures were taken to promote and protect this type of crop. 
And the taste? Thanks to its mildly spicy taste, it is excellent to season salads and bruschette. It is also particularly recommended in typical Tuscan soups such as Zuppa Toscana, Ribollita, spelt and frantoiana soups, but also other Tuscan food specialties like Pappa al Pomodoro and Panzanella.
Get to Lucca and try all of this delicious Tuscan food!
Did you like the post? Follow me on Social Media and Stay Tuned for More Content!
Images credits: "Italian Panzanella" by hlkljgk // CC BY-SA 2.0; panzanella by fugzu on Flickr; "Il borgo di Castiglione della Garfagnana (Toscana), tra il Biroldo, la Mondiola e il pane di patate" by ViaggioRoutard // CC BY 2.0