Best Wines in Italy by Region (pt 3): Southern Italy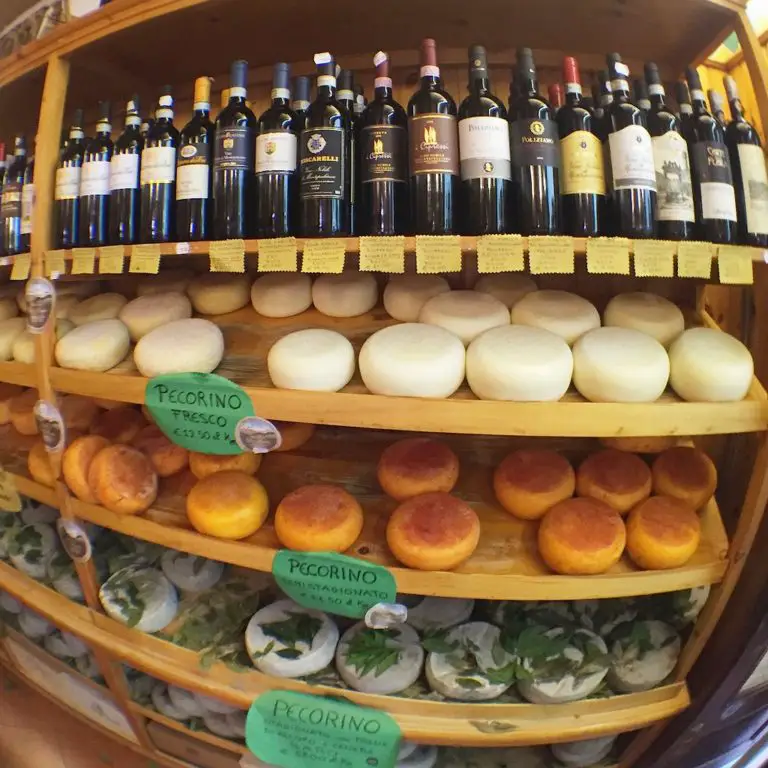 Best Wines in Italy by Region
Southern Italy can boast amazing wines: from fine Sicilian wines such as Marsala and Passito di Pantelleria DOC to great Aglianico del Vulture DOCG from Basilicata and Primitivo di Manduria DOC from Apulia.
Nonetheless, until a few decades ago, Southern Italy  – Apulia, Basilicata, Calabria, Sicily, Campania and Sardinia –  produced wine grapes that were used for great Italian wine regions such as Tuscany and Piedmont.
>>> Read about Brunello di Montalcino, Chanti, Vino Nobile di Montepulciano here: Best Wines in Italy by Region (pt 2): Central Italy
Luckily, over time southern Italy farmers have become producers starting to vinify and bottle their own wines, gaining appreciation from both national and international markets.
Among the most important grape vines of Southern Italy we must mention:
Aglianico del Vulture Lucano from Basilicata,
Aglianico Taurasi from Campania,
Primitivo di Manduria from Apulia,
Gaglioppo from Calabria,
Negroamaro, Nerello Mascalese, Nero d'Avola, Frappato and Zibibbo from Sicily.
Given the wide range of wines that Italy offers, from low to the highest quality, first of all you should know how to figure out the difference! Learn the difference between DOCG, DOC and IGT wines here.
Campania offers magnificent panoramas with its ancient ruins, gulfs, a volcano and Amalfi coast: a rare pearl in the world.
Since ancient times this region has been covered by vineyards. Its mediterranean climate and its gentle slopes conquered both Romans and Greeks who decided to cultivate this fertile land and started producing wine.
The first wine produced was Falerno, which can be found nowadays as white (Falanghina) or red (Aglianico or Primitivo).
Vesuvio is one of the remaining active volcanoes in Europe: here, thanks to its volcanic soil, some DOC wines are produced, such as Campi Flegrei DOC and Vesuvio DOC .
The DOCG wines produced in Campania are 4:
Aglianico del Taburno DOCG,
Fiano di Avellino DOCG,
Taurasi DOCG,
Greco di Tufo DOCG.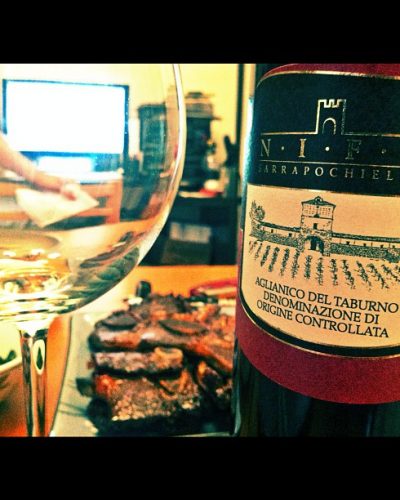 Aglianico del Taburno Rosso DOCG
Features: ruby red wine with a dry taste and characteristic and persistent aroma.
Alcoholic content: 12%
Accompaniments: baked white meat, veal with baked potatoes, medium mature cheeses.
Pizza (highly recommended with salsiccia and friarielli),

Spaghetti ai pomodorini del Piènnolo del Vesuvio (spaghetti with dry cherries tomatoes),

Orata alla Positano (sea bream with herbs, capers and stale bread),
Minestra maritata (soup with different types of veggies and meats),

Spezzatino di agnello (veal stew),

Mugliatielli (sheep innards wraps),
Neapolitan dessers (Neapolian Pastiera, Sfogliatelle, Zeppole, Babà).
Vine-growing in Apulia started in Phoenician times, but it was thanks to Romans that it was further developed, living up to Falerno, the best wine made at that time. 
Like other regions of Italy, Apulia is characterised by plains and hills surrounded by sea: all these elements combined create the perfect land for cultivating vines.
The DOCG wines in apulia are 4:
Castel del Monte Bombino Nero DOCG,

Castel del Monte Nero di Troia DOCG,

Castel del Monte Rosso Riserva DOCG,

Primitivo di Manduria Dolce Naturale DOCG.
The most renowned DOC wines are Primitivo di Manduria DOC, Negroamaro di Terra d'Otranto DOC, Rosso di Cerignola DOC, San Severo DOC and Terra d'Otranto DOC.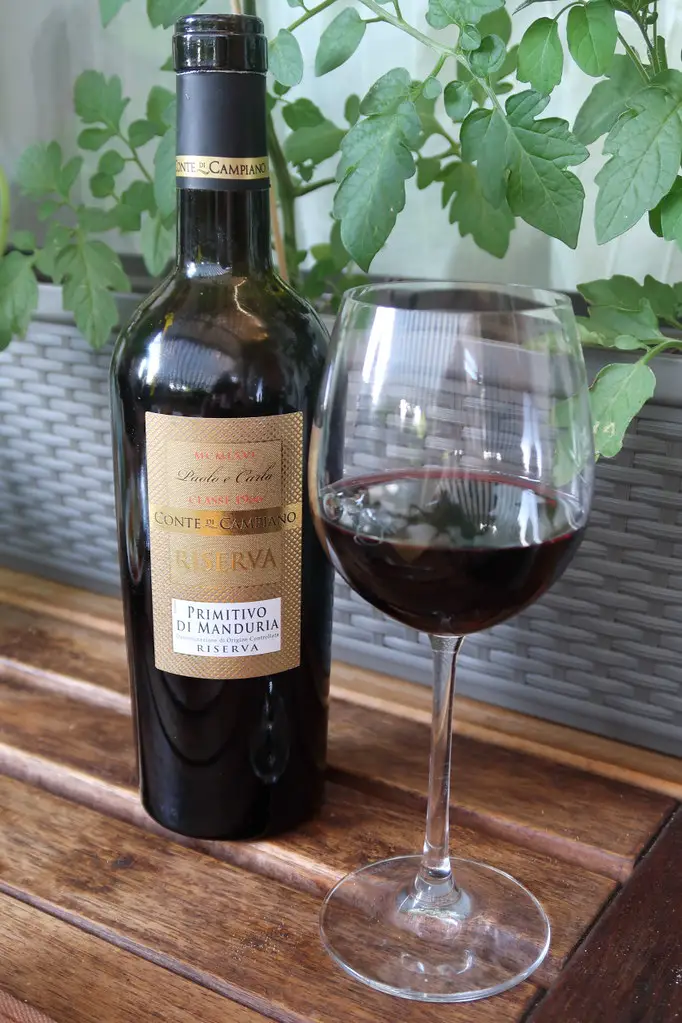 Castel del Monte Nero di Troia Riserva DOCG
Features: aged red wine with characteristic and delicate aroma.
Alcoholic content: 13%
Accompaniments: main courses with ragù (meat sauce), grilled meats and matured cheese.
Orecchiette con cime di rapa (orecchiette with turnip greens),
Tiella di patate, riso e cozze (potato and mussels casserole),

Baccalà with baked potatoes and olives,

Gnumerieddi (sausages made of lamb / goats innards),
Bombette (small meat rolls stuffed with melted cheese and pancetta),
Cartellate (Christmas fried sweets made with wine or honey)
This gem in the south of Italy has spectacular natural parks, mountains and limestone-rock hills, fortresses and ancient Greek ruins spread all over the region.
Despite not being among the most touristic destinations in Italy, Basilicata is really worth a visit. 
Aglianico del Vulture is the main grapevine cultivated in this region, from which one of the best wines produced in Basilicata is made: Aglianico del Vulture Superiore DOCG, a best-selling Italian wine.

Basilicata can be divided into 3 wine areas: Vulture, Val d'Agri and Matera province.
In Val d'Agri, a very important valley for Basilicata wine production, we find two DOC wines: Terre dell'Alta Val d'Agri DOC and Grottino di Roccanova DOC, also organically produced.
The other two DOC wines are Aglianico del Vulture DOCand Matera DOC, the latter produced in the UNESCO heritage area of Matera.

Aglianico del Vulture Superiore DOCG
Features: intense ruby red wine with a pleasant and intense aroma and dry tannic, sapid, persistent and balanced taste. With aging, because of the storage in wooden containers, a slight hint of wood can be tasted.
Alcoholic content: 13.5%
Accompaniments: aged cheese (Caciocavallo podolico, Canestrato di Moliterno, Pecorino di Filiano), soppressata, ravioli, meat (especially veal).
Specialties in Basilicata
Aged cheese (Caciocavallo podolico, Canestrato di Moliterno, Pecorino di Filiano),
Luganiga (sausage),
Baccalà (codfish with bell peppers),
Strascinati (homemade pasta) with meat sauce and cheese (Cacioricotta),
Pane di Matera (country-style sourdough bread made with semolina dough).
Calabria is a magnificent region of southern Italy, rich in history and traditions, boasting a vast cultural heritage.
The mild climate, the splendid colors of the sea, the rocky and sandy coasts, the intense and the local cuisine's genuine flavors  combined with the evidence of its ancient origins make Calabria a unique place.
The ancient Greeks called this region Enotria, "Land of wine", and Calabrian wines were the prize for winners of the Olympics.
It's thanks to the Greeks who imported vinegrapes during the colonization of the pre-Roman era that nowadays we can taste the characteristic flavor and consistency of traditional southern Italian wines. 
Even though no DOCG wines are produced in Calabria, the region showcases quite a variety of DOC and IGT wines.
Among DOC wines we find Bivongi, Cirò, Greco di Bianco, Lamezia, Melissa, Scavigna and Terre di Cosenza.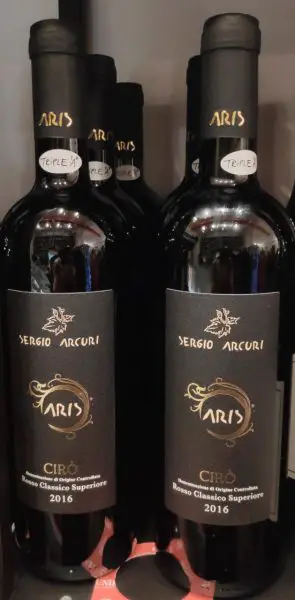 Cirò Classico Superiore DOC
Features: red wine with a more or less intense ruby ​​red color and violet reflections. Pleasant, delicate, intensely vinous, dry, full-bodied, warm, harmonious, velvety with aging.
Alcoholic content: 13.5%
Accompaniments: main courses with ragù (meat sauce), red meats, game, 'nduja, pecorino crotonese cheese and cold meats.
Tropea red onion,
Peperoncino (chili pepper),
Lagane e ceci (lagane – wide pasta –  with chickpeas, garlic, and oil),

Caciocavallo cheese,

'Nduja (spicy, spreadable pork salume),
Rosamarina (also known as sardella and sometimes called "the Caviar of Southern Italy"),
Pitta 'mpigliata (pastry made of dried fruit, nuts, liqueurs and honey).
The first signs of wine growing in Sicily date back to the 2nd Millennium BC.
Later on, the Greeks, who colonized the island, introduced new techniques and grape varieties. After a period of decline, the Arabs coming to our land started producing raisins (as they couldn't drink wine for religious beliefs).
All these influences are reflected in nowadays Sicilian wines, which have gained both national and international fame over the years.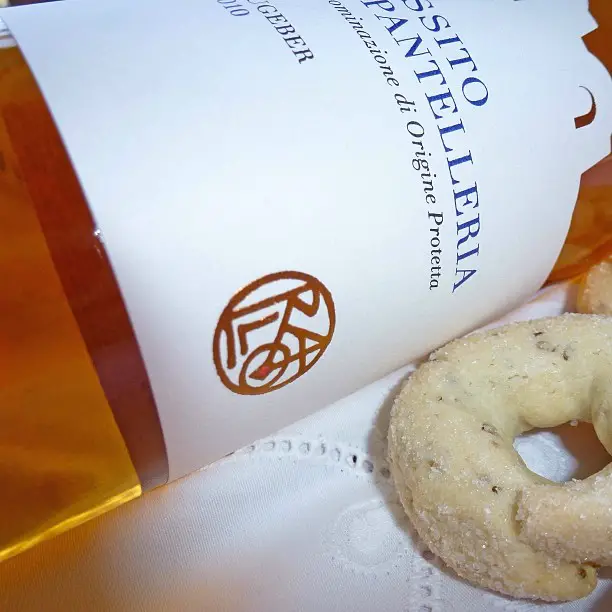 One of the most important red wine grapes in Sicily – and Italy – is Nero d'Avola, also called Calabrese.
Its cultivation spreads over about 14'000 hectares in the municipalities of Eloro, Pachino and Avola, Syracuse, in the far south of Sicily.
Nero d'Avola wine grapes are used to produce the only DOCG wine of Sicily: Cerasuolo di Vittoria DOCG, produced in Ragusa, Caltanissetta and Catania provinces.
Production areas of well-known Sicilian wines Marsala DOC, Alcamo DOC and Contessa Entellina DOC are spread throughout the West island.
At the foot of Etna we find a great soil, exploited for the production of Etna DOC, while on minor islands you can enjoy Malvasia delle Lipari DOC – produced on Lipari islands – and the famous Passito di Pantelleria DOC – one of the greatest Sicilian wines – made on the island of Pantelleria.
Here, the zibibbo vinegrape is grown to produce Pantelleria DOC wines in different versions: moscato, passito, spumante and dolce.
Passito di Pantelleria DOC
Features: sweet white wine with moscato features (100% from Zibibbo  white wine grape).
Alcoholic content: 20%
Accompaniments: dry pastries, blue-veined cheese, cassata siciliana.
Pasta con le sarde (pasta with sardines seasoned with wild fennel, raisins, pine nuts, roasted crumbreads),
Tonno alla ghiotta (Sicilian-style tuna steak with capers and green olives),
Parmigiana di Melanzane (eggplant parmesan),

Salsiccette alla palermitana (sausages),

Cannoli and Cassata Siciliana.
Wine growing in Sardinia started thanks to Phoenicians, but Romans, Greeks and Carthaginians went on with it.
Over the centuries new wine grapes were introduced by other people: Vernaccia, Vermentino, Cannonau are among them.
Over the last century new technologies were implemented and, therefore, the quality of the wine has improved, so much so that they now produce great red and white wines, exported all over the world.
Famous are Nuragus di Cagliari DOC (white wine perfectly paired with fish), Cannonau di Sardegna DOC (a best-selling Italian wine) and Vermentino di Sardegna DOC (the most famous white wine in Sardinia, produced in Gallura).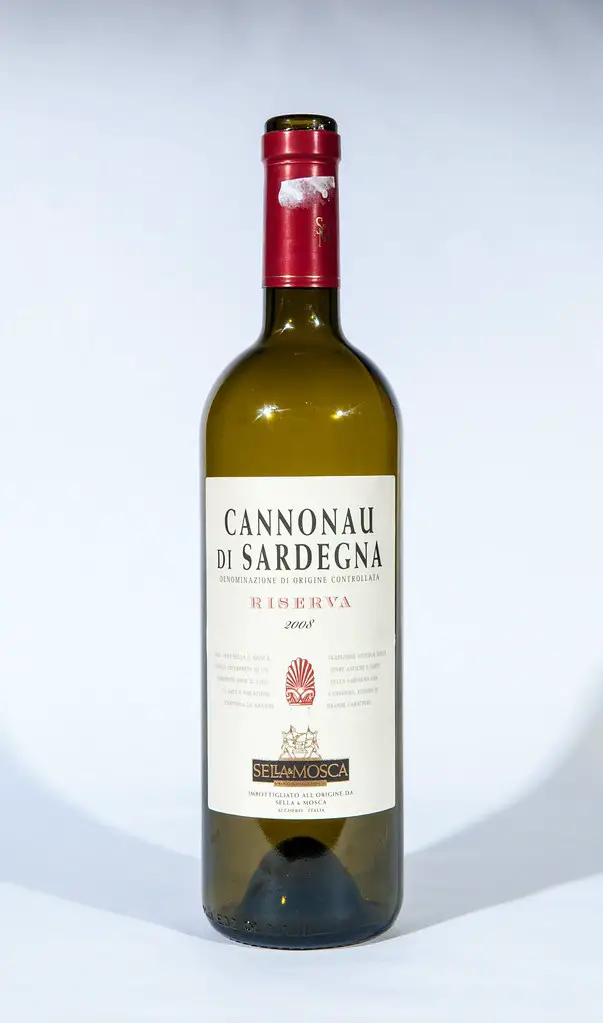 Cannonau di Sardegna Classico DOC
Features: red wine with a ruby red color with a floral aroma of roses and rape fruit, spicy and vegetable base from balsamic vinegar; the taste is dry, sapid, full and very warm; bitter aftertaste.
Alcoholic content: 12.50%
Accompaniments: main courses with meat sauce, roasted meats, veal, sheep hard cheese.
Pane Carasau (Sardinian typical flat and crunchy bread),
Culurgiones (fresh stuffed pasta similar to ravioli),
Homemade pasta such as Lorighittas, Maccarones de busa, Fregula, Malloreddus,
Meats (typical of this region are Porceddu – roasted piglet – kid, veal, sheep),

Spaghetti con Bottarga,

Cheeses such as Fiore sardo and Pecorino sardo, 
Seadas (honey and cheese fried pastries),
Pan'e Saba (typical Sardinian Christmas dessert made with must).
Did you Like the Post? Follow Me on Social Media and Stay Tuned for More Content!
Images credits: 2008-Tenute-Sella-Mosca-Cannonau-di-Sardegna-Riserva by Anna Michal // CC-BY-2.0; Passito-di-Pantelleria by Francesca Rizzo on Flickr; Vino-Ciro-Rosso-Classico-superiore-2016 by Marcuscalabresus //CC-BY-SA-4.0; DAngelo-Aglianico-del-Vulture-2007 by Moestue Grape Selections // CC-BY-2.0; Primitivo-di-Manduria-Riserva-Classe-66-2015er-Rotwein-von-Conte-di-Campiano-Apulien-by-multipel_bleiben // CC-BY-NC-ND-2.0; Aglianico-del-Taburno by Catalak on Flickr; Cheese and Wine, Tuscany by Michael Foley Photography // CC BY-NC-ND 2.0.