Best Wines in Italy by Region (pt 2): Central Italy
Brunello di Montalcino, Montepulciano d'Abruzzo, Montefalco Sagrantino..Central Italy regions have a lot to offer in terms of high quality wine. In this blog post you'll get to know the best DOCG, DOC, IGT wines in Tuscany, Abruzzo, Lazio, Molise and Le Marche.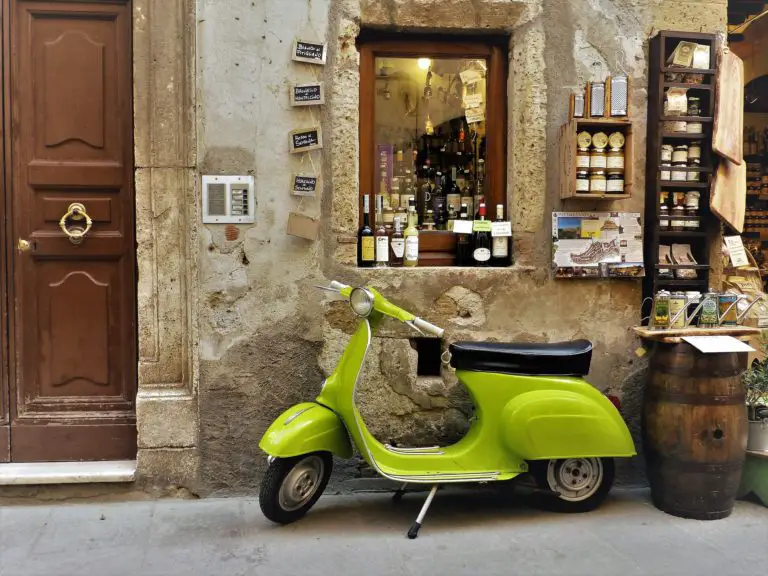 Best Wines in Italy by Region
Italy is a country rich in beautiful landscapes, good food and..a huge variety of wines!
That's why it's always hard for non-Italians to find the best wine on the restaurant menu. To make it more complicated, each region has its own wine production.
In this article you'll learn the best wines in Central Italy regions, starting from Tuscany, one of the best wine regions in Italy!
>>> Read about Prosecco, Valpolicella, Bardolino, Barolo and others here: Best Wines in Italy by Region (pt 1): Northern Italy
Given the wide range of wines that Italy offers, from low to the highest quality, first of all you should know how to figure out the difference! Learn the difference between DOCG, DOC and IGT wines here.
Tuscany has been one of the best wine regions in Italy since the 18th century, when Cosimo de' Medici set the highest standards for wine production we still have nowadays.
This region boasts some of the most famous Italian wines:
Brunello di Montalcino DOCG,

Chianti DOCG,

Vino Nobile di Montepulciano DOCG,

Rosso di Montalcino DOC,

Vin Santo.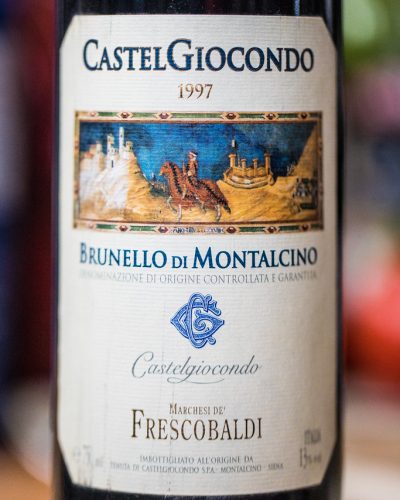 Vino Nobile di Montepulciano DOCG
Features: gorgeous ruby red colors and aromas of bright red fruit.
Alcoholic content: 13%
Years of Ageing: 2 years (at least 1 year in oak barrels); three years for riserva. 
Accompaniments: ideal with white meat roast, game, fine poultry, meat sauces, cold cuts and cheese.
Bistecca alla fiorentina (Florentine style steak),
Pappa al pomodoro (tomato soup),
Ribollita (vegetables soup whose main ingredient is kale),
Pappardelle with wild boar sauce,
Crostini toscani (chicken liver crostini),
Panzanella (sort of soup of bread and vegetables),
Cacciucco (fish soup),
Zuppa Toscana (Tuscan Soup)
Finocchiona (cold meat made with fennel seeds and red wine),
Colonnata lard,
Pecorino toscano DOP (pecorino cheese),
Cantuccini  (biscuits usually served with Vin Santo).
Since Roman times, wine in Umbria has been of great importance.
Just think of the numerous pottery aimed at containing wine found in Etruscan tombs, or, in Medieval times, vine growing carried out by the Benedictines monastic community.
Nowadays Umbria can be proud of its 2 DOCG (Torgiano Rosso Riserva DOCG and Montefalco Sagrantino DOCG), 13 DOC and 6 IGT wines. These excellent wines are a perfect match with Umbria country cuisine where meats, cereals and legumes absolutely stand out.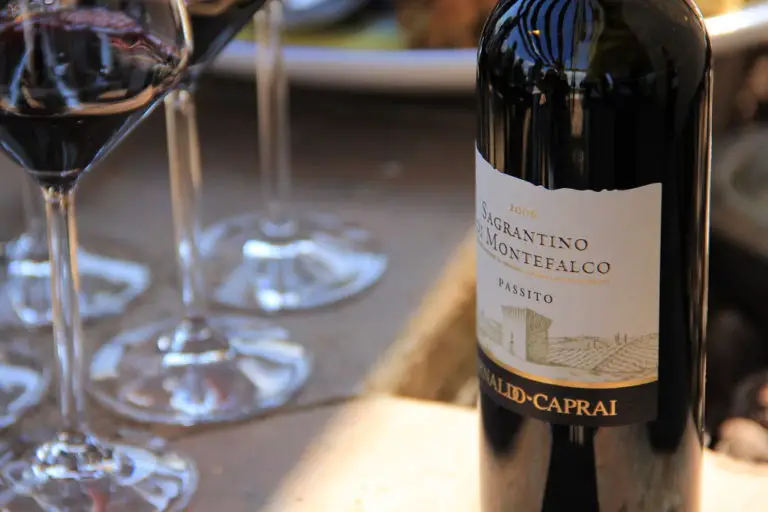 Montefalco Sagrantino DOCG
Features: red wine that has several versions: secco (dry), passito (sweet) and vigna (dry).
Alcoholic content: 13% (secco), 18% (passito).
Years of ageing: 1 year (secco), 33 months (passito).
Accompaniments: roast, furred game, truffle and hard cheese. Baked pastries, pies with red berry marmalade.
Tegamaccio (fish soup of Trasimeno lake),
Umbrichelli (long shaped pasta) with wild boar ragù or truffle,

Castelluccio di Norcia legumes,

Norcia ham,
Crescia (Umbrian flatbread)
Torciglione (Umbria Christmas dessert).
Landscape in Le Marche is stunning thanks to the mountains overlooking the coast. This creates a terrific panorama to enjoy from a sailing boat on the sea.
It's particularly along the coast that DOC and DOCG areas were born: its good climate together with modern technologies have created such excellent products. 
Nowadays more than 200 grapevines are grown here. The DOCG wines of Le Marche are 5:
Verdicchio dei Castelli di Jesi DOCG

(from the homonymous city),

Vernaccia di Serrapetrona DOCG

(a very nice village 1 hour from famous Perugia),

Conero DOCG (prduced in Ancona province),
Offida DOCG (in the province of Ascoli-Piceno)
Verdicchio di Matelica Riserva DOCG.
Le Marche also offers a wide range of DOC wines. Among the most well-known are Lacrima di Morro d'Alba Superiore DOC (winner of "tre bicchieri" prize 2020), Rosso Conero DOC and Rosso Piceno DOC.
The only IGT wine is Marche IGT that can be found all over the region.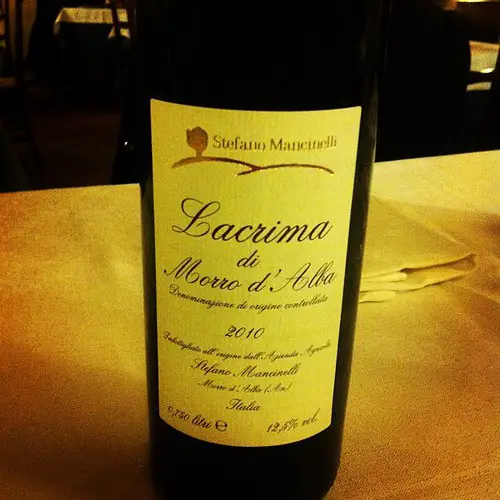 Vernaccia di Serrapetrona DOCG
Features: ruby red wine (spumante brut / demi.sec / doux) with rape red fruity aroma and bitter aftertaste.
Alcoholic content: 11.50%
Accompaniments: roasted meat, desserts and pastries.
Cappelletti (sort of ravioli filled with veal, turkey and pork loin)
Fish dishes such as ray with bell peppers, squid and peas, octopus salad with potatoes.
Ascolana olives (deep-fried stuffed olives),

Pappardelle with hare sauce,

Frustingo (also called Bostrengo), a Christmas dessert made of soaked bread or rice with apples, dry figs, nuts, almonds and cocoa.
Wine culture in Lazio dates back as far as Etruscan times, especially in the Viterbo area.
Thanks to Rome being the capital of the Roman Empire, vines growing spread over the lands and, in Medieval times, monks played a crucial role in the development of wine making, which was perpetuated by popes in the Renaissance.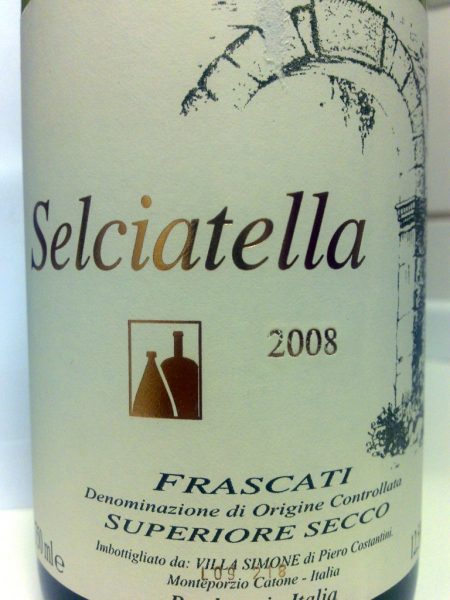 The DOCG wines are Frascati Superiore, Cannellino di Frascati and Cesanese del Piglio, produced in Frosinone province. 
However, Lazio is a well-known wine region in Italy also thanks to the DOC wines, mostly white wines, different from one another because of the soil composition: Tarquinia DOC, Colli Etruschi Viterbesi DOC, Colli della Sabina DOC. 
Some good IGT wines are Nerobono di Cori, Bellone, Arciprete bianco, Moscato di Terracina and Greco.
Frascati Superiore DOCG
Features: dry white wine with intense aroma. Fresh and balanced, delicate with floral aromas.
Alcoholic content: 12%
Accompaniments: delicate main courses such as fish and white meat.
Cacio e Pepe (usually tonnarelli pasta, with cacio cheese and pepper),
Carciofi alla romana e alla giudea (artichokes),
Saltimbocca alla romana,
Pupazza frascatana (Frascati cookie with a shape of a three-breast woman).
Spreading from the Apennines to the Adriatic Sea, Abruzzo is wild and mountainous. Here we find ski resorts on renowned mountains like Maiella, Gran Sasso and Monti della Laga. Thanks to these mountains, inland vineyards are protected from humidity and winds from the sea.
The most representative wine from Abruzzo is with no doubt Montepulciano d'Abruzzo DOC, (not to be confused with Montepulciano from Tuscany), whose production dates back to the 18th century.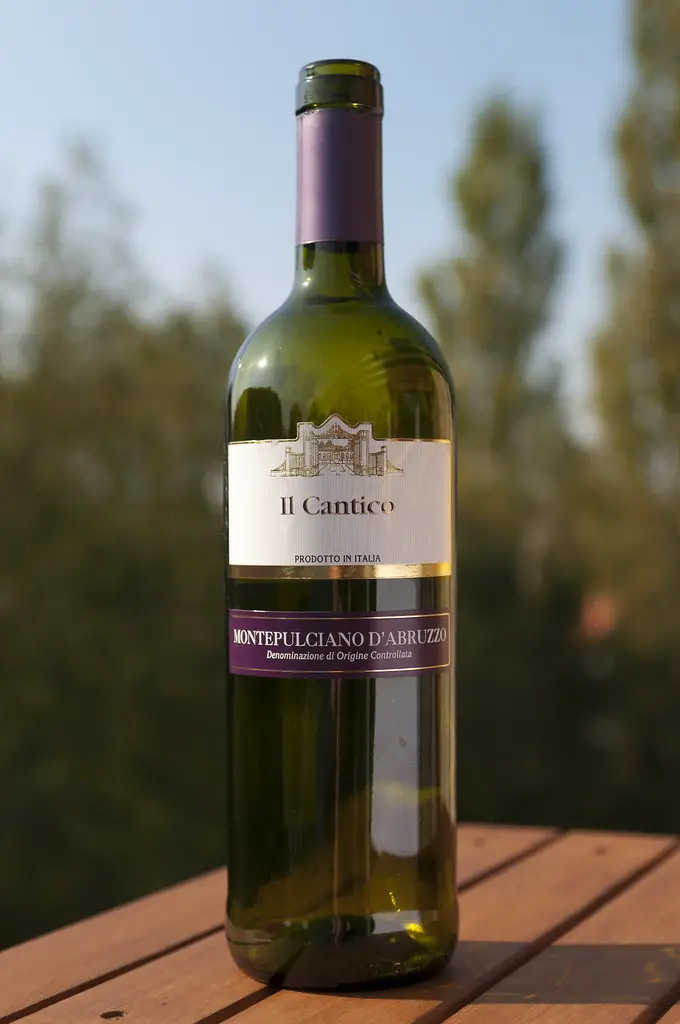 Montepulciano d'Abruzzo Colline Teramane and Terre Tollesi are the only DOCG in Abruzzo (or at least, for the moment). 
Other DOC wines in Abruzzo are:
Abruzzo DOC (especially Pecorino and Passerina),

Cerasuolo d'Abruzzo (same grape vine as Abruzzo DOC but different process),

Trebbiano d'Abruzzo.
Important are also IGT wines such as Alto Tirino, Valle Peligna, Colline Pescaresi, Colli Aprutini, Del Vastese o Histonium, Colli del Sangro, Colline Frentane, Colline Teatine, Terre di Chieti.
Montepulciano d'Abruzzo DOC
Features: dry red wine with ruby color and light purplish nuances and aromas of red fruits and spices.
Alcoholic content: 12%
Accompaniments: pasta with meat sauce (ragù), grilled and baked red meats, game, soups and cheese.
Brodetto di pesce (fish stew),
Pecora al cotturo (cotturo style lamb),
Spaghetti alla Chitarra (typical pasta from Abruzzo, similar to Tonnarelli from Lazio),
Arrosticini (skewers),
Scrippelle 'mbusse (crepes in broth),
Sfogliatelle di Lama (shell-shaped pastries filled with cream),
Bocconotto (dessert similar to a muffin),
Parrozzo (Christmas cake made of almonds and dark chocolate from Abruzzo, also enjoyed year round).
Since ancient times, Molise has grown grape vines, even mixing different varieties of grapes. In modern times, wine-growing has been modernized and results have been great.
Unfortunately, due to its limited territorial extension and mountains, Molise has only 4 DOC areas, representing ⅓ of wine production.
The most well-known wines from this region are:
Molise Rosso,

Tintilia del Molise,

Pentro di Isernia,

Biferno Bianco.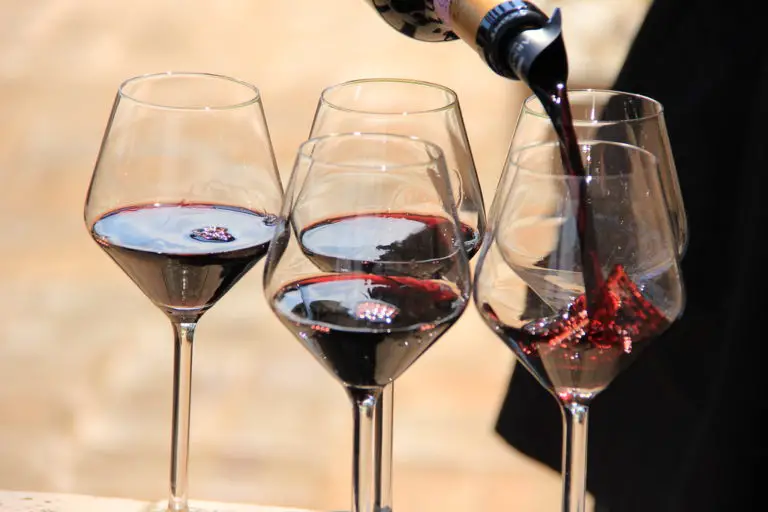 Molise Rosso DOC
Features: red wine (dry version). Ruby color with more or less intense aroma.
Alcoholic content: 12.50%
Accompaniments: light main courses, pizza, polenta with meat sauce, fresh cheese, baked meat.
Did you Like the Post? Follow Me on Social Media and Stay Tuned for More Content!
Images credits (descending order): 1997-Castel-Giocondo-Brunello-di-Montalcino-by-Thomas-Hawk // CC-BY-NC-2.0; Lacrima-di-Morro-dalba-by-lucasimone // CC-BY-NC-ND-2.0; Vinho-Frascati-Superiore-Selciatella-by-Ana-Paula-Hirama // CC-BY-SA-2.0; 2008-D.O.C.-Il-Cantico-Montepulciano-DAbruzzo-by-Anna-Michal // CC-BY-SA-2.0; Montefalco-sagrantino-Succede-alle-cantine-Caprai…-by-Michela-Simoncini // CC-BY-2.0.