Truffle Hunting With Dogs in Italy: a Beginner's Guide
If you are on vacation in the Bel Paese there's something you don't want to miss: truffle hunting with dogs in Italy is one of the funniest activities you can do.
If you don't know where to start, here is what you need to know!
A truffle is the fruit of a fungus that grows underground, close to the roots trees such as oaks, beeches, linden trees, hazels and poplars.
A truffle shape depends on the hardness of the soil: the softer the soil the more spherical the truffle, while the harder the soil the lumpier the truffle.
Truffles are a clear sign that the area in which they grow is unspoiled and unpolluted.
2. How much does a truffle cost?
As truffles are hard to find, their cost is high: just to give you an idea, at the restaurant 10 gr of grated white truffle cost around € 28 (to add to your dish price, of course!).
The price per kg varies according to the variety of truffle. Here are retail prices for truffles in Italy in 2022.
| | |
| --- | --- |
| Truffle Type | Avg price per kg |
| White Truffle | $ 5'423,76 |
| Burgundy Black Truffle | $ 1'558.50  |
| Winter Black Truffle | $ 1'352,28 |
| Summer Black Truffle | $ 281,73 |
3. The Most Well-Known Truffle Varieties in Italy
There are different varieties of truffles. Here you are the most appreciated:
White Truffle
Burgundy Black Truffle (Uncinato)

 

Winter Black Truffle (Norcia Truffle

or

Périgord

)

Summer Black Truffle (Scorzone)
White truffle is the finest of all. It has a distinctive and intense aroma reminiscent of garlic.
Particularly, Alba White Truffle is a top-rated truffle and also the most expensive. It grows not only in Alba, Piedmont, but also in some areas of Molise and Abruzzo.
Hunting time: from the beginning of October to the end of December.
Burgundy Black Truffle (Uncinato)
Although it may look the same as the summer truffle, the Burgundy black truffle has a stronger aroma.
Hunting time: from October to the end of December.
Winter Black Truffle (Norcia Truffle or Périgord)
It is the most expensive among black truffles due to the high demand.
Hunting time: from mid-November to mid-March.
Summer Black Truffle (Scorzone)
Scorzone has a more delicate aroma than other black truffles.
Hunting time: from mid-May to the end of August.
4. Truffle Hunting with Dogs in Italy
As the truffle grows underground, it's not easily detectable by humans. That's why to truffle hunt we need a faithful companion.
A dog for example.
Today truffles are sought with the help of dogs that respond to the owner's calls and don't damage the areas where the truffle grows. 
Mind you, the search for the truffle without a dog is strictly forbidden!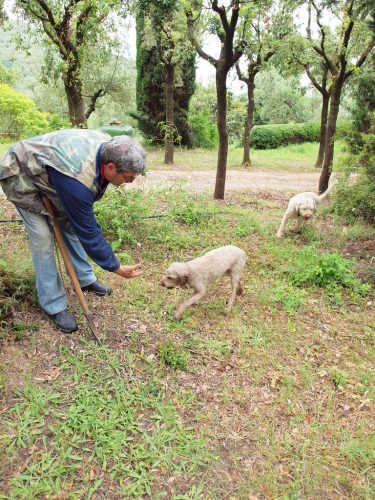 4.1 Best dog Breed for truffle hunting
Each breed of dog can be trained to look for truffles, but one of the most used for this work is the Lagotto Romagnolo, the only one to be explicitly indicated as "truffle dog" in the breed standard.
The Lagotto has a graceful and gentle appearance that could be misleading (it is curly like a Poodle and of reduced dimensions) but it is actually a rustic, resistant and rural dog, who loves working.
Lagotto is not the only dog breed for truffle hunting. Whichever breed you choose, any dogs suitable for truffle hunting must be trained.
The training can take place by the truffle hunters themselves or by a specific breeder or trainer.
In the first case, you will only be able to get good results if you already have some knowledge of dog training, or else..well, it's tricky to think of training a truffle dog if this is your first dog!
5. Where to Truffle Hunt in Italy
Italy offers so many places where you can go truffle hunting with dogs that it would take the whole page to list them all.
In fact, anywhere on the Apennines you can find truffles – easily or not. Instead, here you will find the places where you'll get to find the most prestigious varieties.
In northern Italy's Piedmont region there is an area called Langhe which is rich in truffles. Here you can go hunting for the prized White Truffle of Alba.
Langhe is also famous for wine production, so, as you're at it, I strongly advise you to have a glass of Barolo DOCG wine together with your truffle tasting!
In Emilia-Romagna you can go truffle hunting in the following provinces:
Bologna

and

Modena

, famous for both the White and the Black Truffle.

Piacenza

, where you'll find the White Truffle, the Uncinato, the Scorzone, especially in the mountainous areas.

Parma

, where you'll find the Black Truffle of Fragno and, in some areas like Berceto and Borgo Val di Taro, the White Truffle.

Reggio Emilia

, where you'll find the White Truffle.

Bologna

and

Modena

, famous for both the White and the Black Truffle.

Ferrara

and

Ravenna

, an area rich in White Truffles and Scorzone.

Forlì-Cesena

, explore the villages of Casentino Park in particular in the towns of Bagno di Romagna.

along the

Adriatic coast

(Cervia area), in the pine woods you'll find Bianchetto.
This region is famous around the world for pasta making as Emilia is the birthplace of tortellini and other types of stuffed pasta. As you're here, take the chance of trying truffles with local dishes!
The areas where you'll find truffles in Tuscany are the following: Mugello, San Miniato, Valtiberina, Crete Senesi, Casentino and Maremma Grossetana. The varieties of truffles you can find in Tuscany are many, from Black to White, from the Marzuolo (spring truffle) to the Scorzone.
The famous Black Truffle of Norcia can be found anywhere in the region.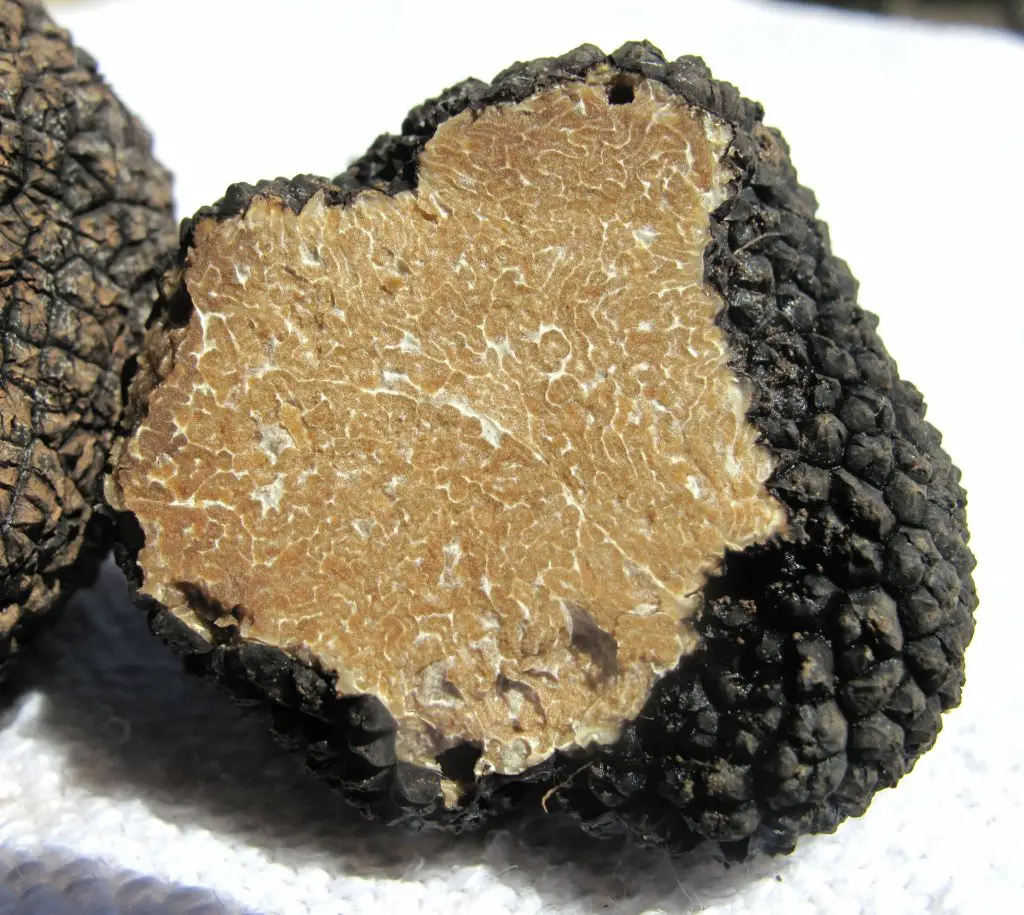 Here you can hunt for the famous White Truffle of Acqualagna.
In Abruzzo you can find truffles in the provinces of Pescara, Teramo, Chieti and L'Aquila.
6. Skills for the Beginner Truffle Hunter
Even if the dog plays a key role in truffle hunting, it can't do everything. It's the truffle hunter who must bring it closer to the right areas ("pasture" in Italian).
Obviously there are many precious secrets in this profession and truffle hunters tend to jealously guard them, revealing them only to their closest relatives. So, unfortunately, don't expect expert truffle hunters to tell you the areas where they find truffles: it would be a waste of time.
The beginner truffle hunter must have good legs, be willing to walk for kilometers and know the seasonality of the various types of truffles.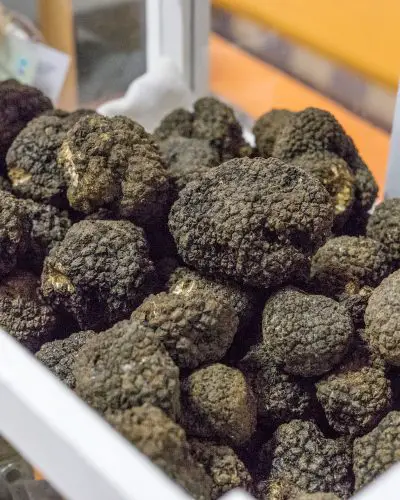 It is also very useful to study the characteristics of the forest that will be explored, inquiring about the type of soil and the type of vegetation present. 
Climate events also have their role, so it is good to keep an eye on temperatures and rainfall in areas where truffles will be sought. Generally, a very rainy season generates more truffles.
Finally, some insects are particularly attracted to truffles (for example the famous Truffle Fly), so knowing them will help in the work.
Once the dog has aimed at the truffle, there you have it! However, be careful as you don't want your dog to dig too deep. You should pay enough attention to stop your dog at the right time and continue digging yourself, better with a small spade.
Truffle hunters usually put their truffles in bags called "catane", in their jacket special pockets or in baskets similar to those for mushroom collection.
7. What to Wear When Truffle Hunting
The perfect gear includes sportswear, a waterproof jacket and comfy shoes – better if you have walking boots. Remember that you'll be walking through the woods, on hilly lands.
8. Preserve the Woods: Truffle Hunting Regulations in Italy
It's pleasant and relaxing to be immersed in nature working with your dog. It feels great when you can establish a relationship of mutual esteem.
However, given the dangers of the woods, you cannot be an improvised truffle hunter: you should always be informed and stick to rules and regulations, care for safety for you, the environment and your faithful collaborator. If you keep this in mind, you're ready to start a new adventure!
That being said, keep in mind the following rules:
You can collect

up to 2 kg

of truffle by law (which sometimes varies according to the Region) unless the land is owned by the truffle hunter, in which case there are no limits. 

Truffle hunting

without a dog is prohibited

since it risks creating many useless holes, thus damaging the ecosystem.

Theoretically, only those who have enough expertise can search for truffles with no dog causing no damage. In fact, the presence of circles of scorched earth suggests the presence of truffles.

This is because all types of black truffle, through substances released by their spores, lower the PH of the surrounding soil, causing a ring-shaped vegetation called "quarry", "burnt" or even "witch's circle" around the host plant. In ancient times witches were thought to have danced there.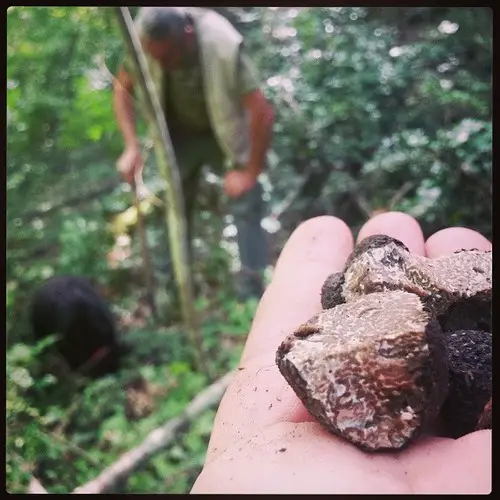 Always hunt for truffles with a

trained dog

!

Use the

right equipment

: use a small spade (in Italian "

vanghetto

") that must be max 15cm long and up to 8 cm large.

According to regional regulations, it is absolutely forbidden to look for truffles

at night

and outside the allowed period of time. However, there are some exceptions: for example, in Piedmont you are allowed to hunt Alba white truffles at night.

In case you find a

rotten or immature truffle

, don't collect it but leave it in the woods. This way you will allow that truffle to spread its spores, thus giving birth to new truffles.. to the delight of other truffle hunters!

Once the truffle is found,

the hole must be covered with the same earth

because otherwise it risks damaging and it can't be undone.
9. Where to Sample and Buy Truffles
You can get to know more about truffles and sample prestigious varieties during food festivals (we call them "sagre") where prized truffles are showcased.
It could be a great idea to plan your travel around one of those sagre, for example the International White Truffle Fair of Alba, in Alba, Piedmont.
It lasts about a month (between October and November) and here you can sample and purchase truffles. Visitors come from all over the world to try the magnificent Magnatum Pico.
What are you waiting for?
Did you Like the Post? Follow Me on Social Media and Stay Tuned for More Content!