Vernaccia di San Gimignano DOCG
San Gimignano is a lovely medieval town situated in northern Tuscany famous for its 14 UNESCO heritage towers. Not only is San Gimignano a beautiful gem, but also an area where a fresh, aromatic golden nectar is produced: Vernaccia di San Gimignano DOCG.
Vernaccia di San Gimignano DOCG (pronounced /ver-nat-cha/) is a white wine produced in the province of Siena, and it's one of the best Italian wines you can find in Italy.
If you happen to visit San Gimignano, you will find shop windows full of Vernaccia wine bottles. An embarrassment of riches, as they say.
1. About Vernaccia di San Gimignano DOCG
Vernaccia di San Gimignano was awarded the DOC denomination in 1966. It was only in 1993 that it became a DOCG wine.
There are two types of Vernaccia di San Gimignano: base and riserva. The latter must undergo wood ageing for at least 11 months and a period of bottle ageing of 3 months.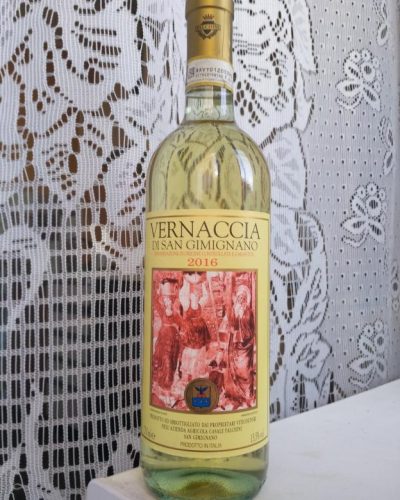 To be defined as Vernaccia di San Gimignano DOCG a wine must be produced with the Vernaccia di San Gimignano grape variety for at least 85%. The rest can be made up of other whites grape varieties cultivated in Tuscany (up to 15%).
The production area includes the rolling hills in San Gimignano municipality.
This area spreads over 1900 ha, 720 of which are destined to the production of Vernaccia di San Gimignano DOCG, whereas the rest is destined to the production of other wines, specifically San Gimignano, IGT, Chianti and Chianti Colli Senesi wines.
What's so special about San Gimignano hills?
We all understand that the San Gimignano area is very well suited for winegrowing. But why?
For ages marine deposits that included yellow sand and tuff had been piling up on these lands and, over the years, layers of sand and clay had been formed. This, together with the absence of heavy stones, has resulted in a soil that allows good penetration of vine roots and good drainage, especially thanks to the tuff.
All these factors have led to the peculiar, savory flavor that makes Vernaccia di San Gimignano a special wine.
Thanks to the quality of the land and, therefore, of the wine, San Gimignano farms have always been recognised by wine traders all over the world.
Moreover, starting from the 20th century, a series of experiments have been led by wise local winegrowers: not only have they created a stable cultivation of grapes on the hills of San Gimignano, but also expanded traditional vinification techniques with the use of wooden containers in different sizes.
2. Vernaccia Food pairing
If you're wondering what foods to pair up with Vernaccia di San Gimignano DOCG here is a list of excellent pairings:
Amazing with

seafood appetizers

– for a fancy aperitivo;

primi piatti

(main courses) with baked, grilled, fried or in foil

fish;
Typical Tuscan dishes such as ribollita, zuppa toscana

, panzanella (don't forget to add the delicious extra virgin olive oil produced in this area!);

Any fresh veggies in season;

Great also with soft and

fresh cheeses

as the wine exalts their sapidity.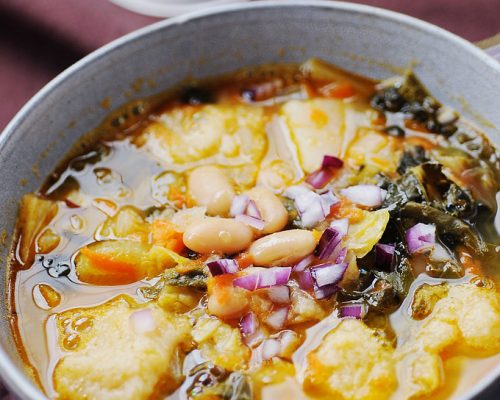 3. Vernaccia Average Price
As all wines, Vernaccia di San Gimignano has a wide range of prices.
On average, let's say you can buy a bottle for € 15. The price depends on several factors, such as ageing (riserva wines are more expensive) and organic vines growing.
In these cases, a bottle may cost up to € 50.
>> Learn how to choose your wine in Italy in this article
4. Vernaccia Wine Tasting Tours
If you want to experience Vernaccia first hand, at Azienda San Quirico organic wine tours are offered for as little as € 8 / person (minimum price).
In case you can't spend much time in the Tuscan countryside, there is an option in the town of San Gimignano: you can get to do a wine tasting at Vernaccia di San Gimignano Wine Experience – La Rocca where all local producers are gathered to offer you a 360-degree experience on this amazing wine.
—> You may also like
Northern Tuscany Experience: Trip Itinerary With Typical Food
Did you Like the Post? Follow Me on Social Media and Stay Tuned for More Content!
Images credits: "Vernaccia-di-San-Gimignano-falchini" by Yozh // CC-BY-SA-4.0; "Ribollita" by 3liz4 // CC-BY-NC-ND-2.0.