10 Christmas Italian Desserts You've Never Heard Of
All Italians have a traditional dessert at the end of their Christmas meal, after (or before) unwrapping presents with the warmth of the family. 
Panettone, Pandoro, peppered bread..I'm sure you all know about these Christmas specialties. However, I'm also convinced thatyou've never heard of Cartellate, Struffoli, Mécoulin, Pandolce, Parrozzo..
Below you'll get to know 10 Italian Christmas desserts typical of our tradition!
10 Christmas Italian desserts
1. Mécoulin from Aosta Valley
Mécoulin is a sweet bread typical of the Aosta Valley, in particular of Cogne. Even though nowadays we can find it all year round, Mécoulin was once  prepared only for Christmas.
It is a soft bread with little raisins and a nice shiny surface. Usually considered a dessert, it may be an interesting experience to have it combined with salty foods such as blue cheese or, why not, paté!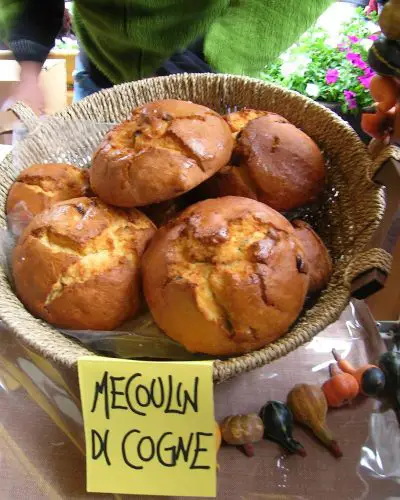 2. Tronchetto from Piedmont
Tronchetto is how people in Piedmont end their Christmas meal. A triumph of chocolate, cream, brandy and chestnuts in the shape of a trunk, a symbol of good luck.
Which wine to pick to accompany it? Open up a bottle of Barolo chinato: it goes really well with this dessert.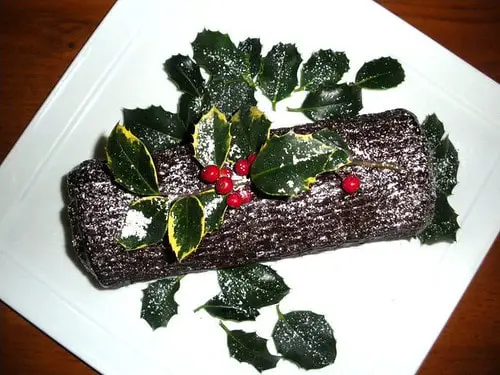 The Gubana is a typical dessert from the Natisone valleys (Udine) and Cividale del Friuli valleys, in Friuli Venezia Giulia. It is prepared at Christmas and Easter, but also on special occasions such as weddings and festivals.
The name Gubana probably comes from the Slavic "guba" (fold) referring to the dough that is folded creating its typical spiral shape. The sweet leavened dough is filled with walnuts, raisins, pine nuts, sugar, grappa and grated lemon rind. Such a delicacy!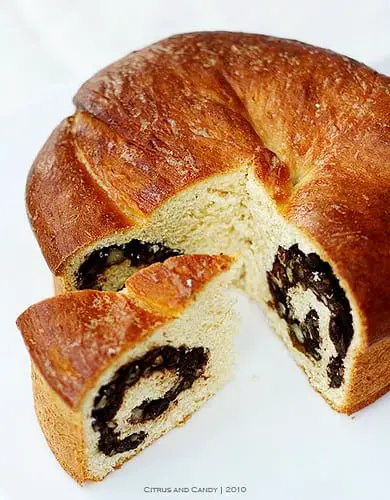 4. Pandolce Genovese (Genoa Cake) from Liguria
If you happen to be in Liguria and Cinque Terre, you must try Pandolce Genovese.
This Genoa cake was born at admiral of the Republic of Genoa Andrea Doria's time. It is said that he requested a dessert that would last so that he could bring it in his sea travels to remember his beloved city.
Tradition has it that the youngest in the family serves the cake, while the oldest cuts it in slices. This ritual is thought to bring good luck for the following year.
According to the traditional recipe, Genoa cake was tall, soft and naturally leavened, even though nowadays recent variations have a thinner and harder dough.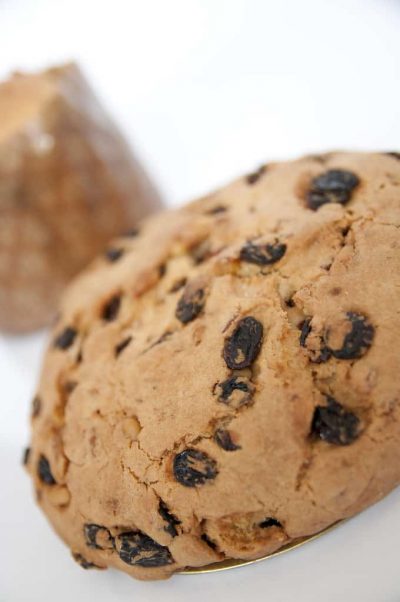 5. Torciglione from Umbria
Composed of a mixture of coarsely chopped almonds and sugar, Torciglione is a typical Christmas dessert from Umbria.
It is given a sinuous snake-like shape complete with scales, eyes and forked tongue. The creativity of every cook indulges in the creation of this delicate and traditional specialty.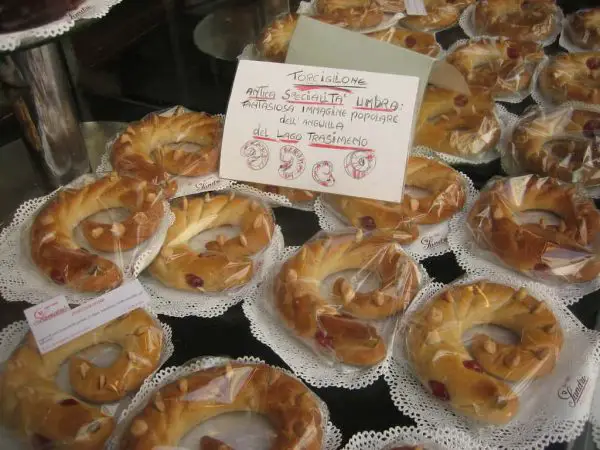 The origin of this dessert is believed to be linked to pagan rites where the snake was worshiped as a divinity. At that time the snake was a symbol of life and property because of the changing of the skin representing a return to youth, but also because its spiral shape reminds us of the cycle of time.
It seems that in the towns overlooking lake Trasimeno in Umbria, the shape of the torciglione is similar to the eel, whose consumption is traditional on Christmas Eve. Today, torciglione is not only a Christmas dessert but can be found in bakeries any time of the year.
The Parrozzo is the most appreciated typical Christmas cake from Abruzzo. It was created in 1920 by pastry chef Luigi d'Amico who took inspiration from "pan rozzo", a typical rustic bread of this region, yellow on the inside and brown on the outside. In fact, eggs are used to give it a yellow color to make it similar to the corn flour used for the rustic bread and its dark chocolate cover resembles the toasted bread crust.
Parrozzo is also made with almonds giving it a bitter and aromatic aftertaste that goes perfectly well with dark chocolate.  It was so good that even D'Annunzio wrote about it in "the song of parrozzo".
Excellent pairings with Parrozzo are Aurum, a liqueur from Pescara that combines brandy and citrus fruit. Another alternative from Abruzzo is Ratafià made with black cherry and Montepulciano d'Abruzzo DOC.
7. Struffoli from Campania
Another typical Christmas dessert is Struffoli, a traditional dessert from Naples. It is said to be either a Greek or Turkish original recipe that Neapolitans have revisited over time.
Whatever the origins of Struffoli might be, tradition has it that these delicious fried balls are dipped in honey and sprinkled with colored dragées. According to tradition, they should be as big as a bean.
If you prefer having a lighter version of Struffoli, oven baked versions exist! Before presenting them on the Christmas table, they are decorated with candied fruits, slices of citron and the so called "diavulilli" (meaning "little devils"), the dragées sprinkled on top.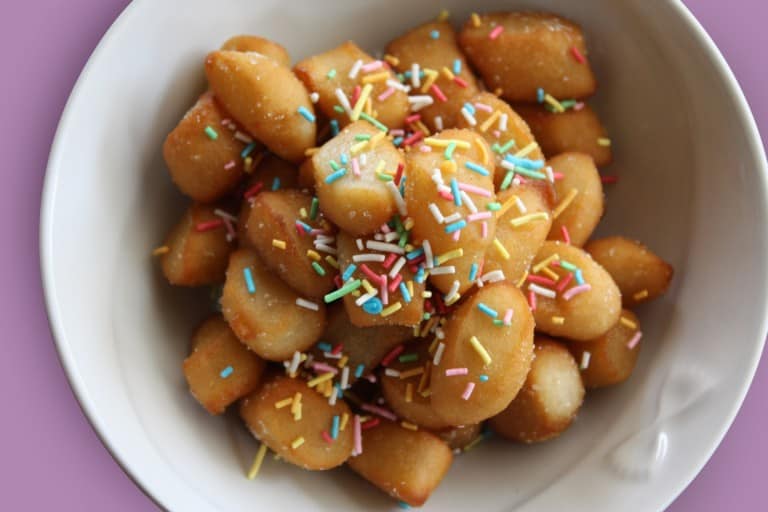 The Frustingo, a typical Christmas dessert of Marche, is considered to be the most ancient Italian Christmas cake. In fact, it derives directly from the "panis picentinus", literally "bread of the Picentes", the population living in this area at Roman times. Evidence of that comes from the Roman Pliny the Elder's description of Frustingo dating back to the first century AD: 
"After a 9-day maceration, they knead it with raisin juice and make a pastry. Then they bake it in the oven […] It can only be eaten soaked in milk and honey". 
Over the centuries, various and more exotic ingredients were added: coffee, cocoa, rum, cinnamon, nutmeg. The name "Frustingo" stems from the Latin "frusto" which means poor. However, nowadays it's a quite exclusive Christmas dessert appreciated by everybody.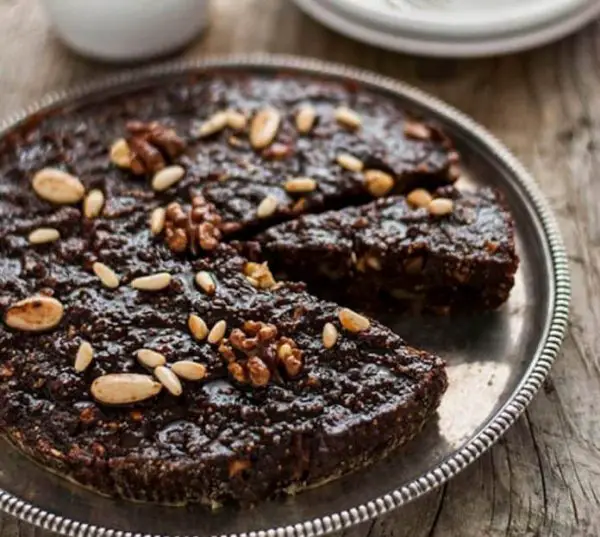 9. Cartellate from Apulia
Fried crumbly and crunchy Christmas cakes from Apulia: Cartellate (also called Carteddate).
Cartellate origins are lost in the mist of time: they probably date back to the ancient Egyptians and their most famous pharaoh Ramses III, who apparently had them carved on the walls of his tomb!
There are many ways to savor cartellate. However, the most typical is certainly to steep them in "vin cotto", a sort of sauce obtained from cooking the must of the Apulian Negroamaro and Malvasia grapes, or else from figs.
Other cartellate variations are made of honey, almonds, sprinkles of sugar and chocolate. So tempting, isn't it?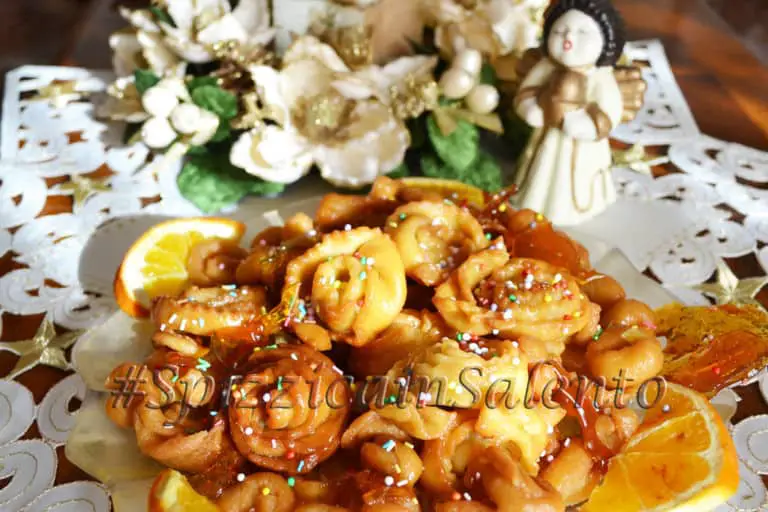 Pan'e Saba is a typical Sardinian recipe, an old Christmas dessert that was once considered poor. In fact, the ingredients were staples in everyone's houses: flour, stored to make bread, and grapes, from which sapa (or saba) is made.
You can get sapa by boiling the must for 8-10 hours over low heat until it becomes a thick and dark colored syrup. Sapa is not something you can find everywhere in Italy: it's produced only in some regions like Sardinia, where it is prepared with grapes, figs or prickly pears.
If you want to prepare this fantastic Christmas dessert, get ready for the long wait because you can only eat it after a long leavening: it takes 4 days!
Did you like the post? Follow me on Social Media and Stay Tuned for More Content!
Images credits (from top to bottom): Gubana by mokapest // CC BY-NC-ND 2.0; Mecoulin di Cogne q2.JPG by Patafisik // CC BY-SA 3.0; Tronchetto di Natale by G.iulina // CC BY 2.0; Gubana Sweet Italian Easter Bread by Citrus and Candy // CC BY-NC-ND 2.0; Pandolce Genovese, Sol Levante, Omote-Sando by yuichi.sakuraba // CC BY-NC 2.0; Perugia – Sandri's – Torciglione by artnbarb // CC BY-NC-SA 2.0; Parrozzo by visitareabruzzo.it; Frustingo by ilgraffio.online; Carteddate e Tarallini al Miele e Arancia by SpizzicainSalento // CC BY-NC-ND 2.0; Pan'e Saba by cristianocani // CC BY 2.0