Where to Base Yourself in Tuscany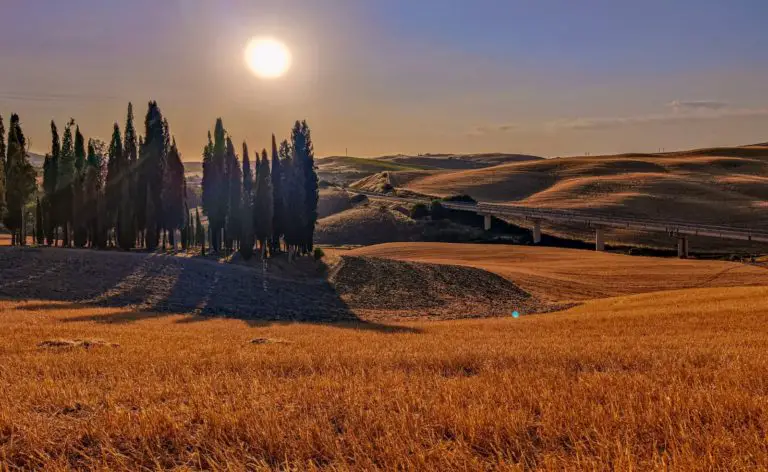 Tuscany attracts visitors from all over the world thanks to its historical treasures, art cities such as Florence, Siena and Pisa, and small picturesque villages surrounded by bucolic countryside and rolling hills. 
Also, Tuscany offers an amazing simple cuisine (just think of Zuppa Toscana!) with genuine flavors and prestigious wines, among the best in the world.
Art, landscapes, slow rhythms and good food create a highly regenerating atmosphere that you won't easily forget!
Where to Base Yourself in Tuscany: a Complete Guide
You can explore Tuscany in different ways: a car trip, a vespa ride, walking or cycling. Regardless of the means of transport you choose, you will be astonished by the beauty that this region offers.
However, when planning, most people wonder what the best city to stay in Tuscany is, not to mention where to stay in the Tuscan countryside. Is Florence a better location than Siena? Or is it better to find a cozy small village on the hills of Val d'Orcia? And Chianti? Keep reading to find out the best small towns in Tuscany to stay!
The choice of where to base yourself in Tuscany really comes down to the length of your stay in this region, the means of transport you choose and what you wish to visit. In this article I will give you some useful tips on where to stay in Tuscany and the reasons why a location is more suitable than others.
1. How Many Days Do You Need To Stay In Tuscany?
Ideally, to fully enjoy Tuscany you need one week. Consider visiting the main cities and towns such as Florence, Pisa, Siena, Volterra, San Gimignano (you don't want to miss them!), plus add a few days to immerse yourself in the beautiful Tuscan countryside. 
If, for any reasons, you're not able to travel around Tuscany for a week or more, you might want to save at least 3 days to enjoy the highlights: a city of art and a day or two in Chianti or Val d'Orcia.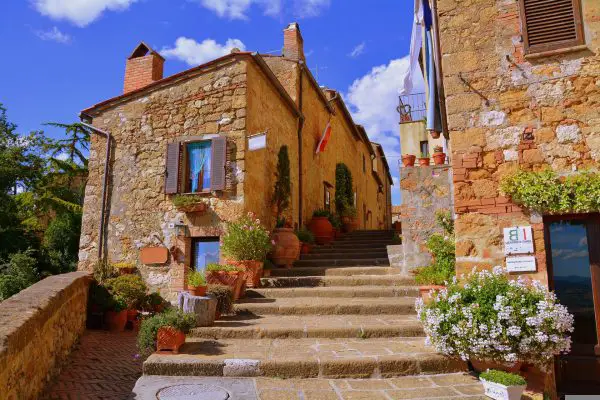 2. How To Travel Around Tuscany
Before planning your Tuscany itinerary, you need to consider whether you're going to drive a car or not. 
You can easily stay in Tuscany without a car: you just need to pick the right place. In fact, to visit northern Tuscany, renting a car is not really necessary: all the main cities and towns such as Florence, Lucca, Pisa, Viareggio are well connected by public means of transport.
Also, if you come from northern Italy (say Milan, Venice, Lake Como or Garda), you won't have any problems with transportation. Trenitalia trains conveniently connect all the aforementioned areas to the main Tuscan cities.
However, if you wish to visit the countryside like the Chianti region or Val d'Orcia, a car is indispensable. You can either rent it or drive your own car. It's quite easy to drive around Tuscany since all the main cities are connected to the highway and the countryside roads have gentle bends and mild uphills.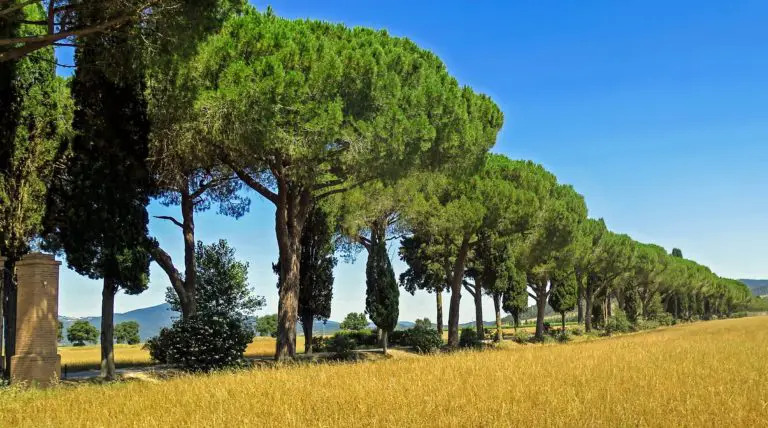 3. Where to Stay in Tuscany
I suggest choosing your base depending on how long you're going to stay in Tuscany. 
In case you have only a few days I recommend Florence or Siena. Both locations are ideal to reach any part of the region: it will take you less than 1 hour to get to other destinations such as San Gimignano, Volterra, Lucca, Pisa, Val d'Orcia and the Chianti area.
What if you're lucky enough to spend a whole week in Tuscany? Well then, you can allow yourself to stay in two different locations.
If you have a week and it's your first time in Tuscany, you should definitely stay in a city like Florence or Siena for 2-3 nights, and then spend the other days in the astounding Tuscan countryside.
4. Best City to Stay in Tuscany
Tuscany is full of beautiful cities and towns: Florence, Siena, Lucca, Pisa, San Gimignano, Arezzo.. the hardest part is to pick the right base for your trip. 
Below you will find the best city to say in Tuscany and reasons why you should be based in Florence and Siena.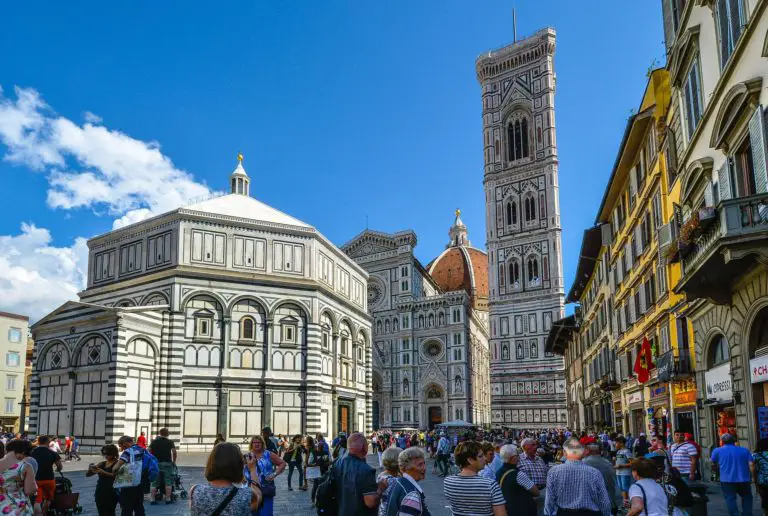 Florence is the capital of Tuscany and a city full of art, history and culture. Certainly you cannot miss spending one or two days in such an impressive location. If you wish to visit the Uffizi Gallery, Pitti Palace or any other museums, spending two days is the best option for you.
But why is Florence the perfect city to stay in Tuscany? Florence is ideal if you're planning some day trips in other cities and towns in northern Tuscany such as Lucca, Pisa, Viareggio (check out the Carnival of Viareggio), San Gimignano and Volterra, not to mention the Mugello valley and the Garfagnana region, natural areas north of Florence.
Also, this city is a very convenient location if you wish to visit other Italian destinations such as Cinque Terre. It takes about a couple of hours to get to Riomaggiore, the closest of the five villages.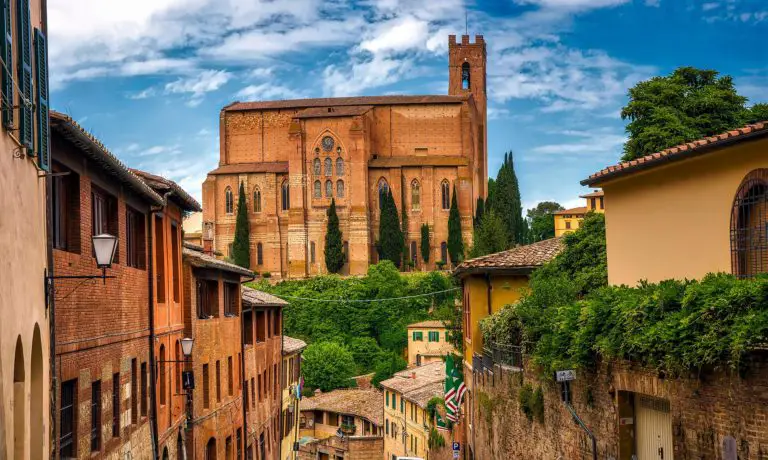 Siena is a good base in Tuscany since it's situated in the center of the region. You can easily access the Chianti region, Pienza, Montalcino and Montepulciano, not to mention Arezzo and Cortona to the east and Umbria in the south-east. In fact, Siena is very close to the A1 highway entrance.
One thing to consider when picking your accommodation in Siena is the location of your lodging. Since there are severe traffic restrictions (ZTL) within the walls of the historical center, you choose your accommodation carefully and check if the hotel is accessible by car beforehand.
Alernatively, you can always opt for lodging outside of the city walls – and the ZTL – but close to the center. A convenient parking is Parcheggio Santa Caterina in Via Esterna di Fontebranda
(€ 2.00 / hour), just 5 mins from Siena Cathedral.
5. Where to Stay in the Tuscan Countryside
The Tuscan rolling hills of Val d'Orcia, the beautiful vineyards in Chianti and the cozy medieval towns of Val d'Elsa are certainly something you don't want to miss. If you're wondering which area is best to stay in the Tuscan countryside, you will find the answer below.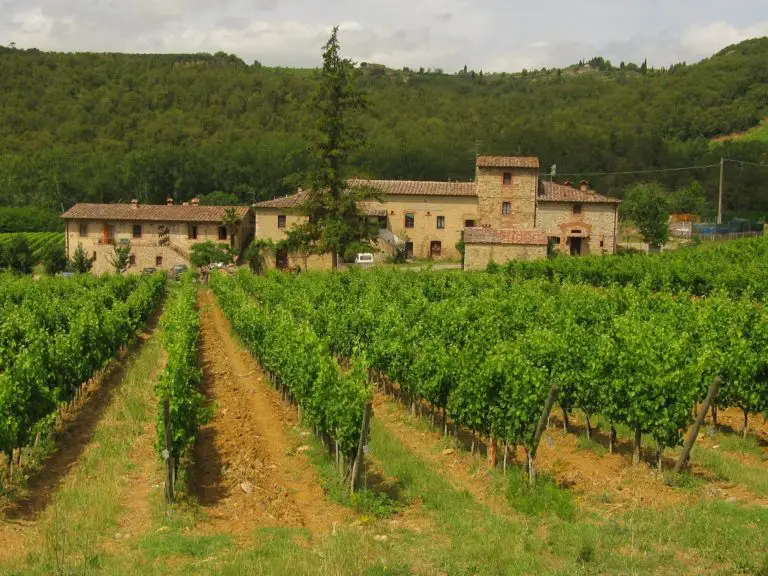 Situated between Florence, Siena and Arezzo, the Chianti region is famous all over the world for its gorgeous hills covered with vineyards, cozy borghi where time stands still, fortresses immersed in strikingly beautiful nature. Also, this area offers a wide range of typical products, from DOCG wines to foods like liver crostini, Florentine-style steak, Castagnaccio, Tuscan Buccellato and much more.
Chianti is the perfect location since day trips to other Tuscan destinations can be easily organized thanks to its central position. You will be surrounded by the countryside, but at the same time the main cities are reachable in less than one hour by car.
The best small towns to stay in Chianti are the following:
Radda, Castellina and Gaiole, the most ancient, 

Greve,

Panzano,

Montefioralle,

Castelnuovo Berardenga, 

Badia a Passignano,

Volpaia,

San Gusmè,

San Casciano in Val di Pesa, 

Tavarnelle Val di Pesa.
Visit Chianti in September, the best season for wine lovers: enjoy a tour in the colorful vineyards and learn more on grapes harvesting in one of the many wineries of Tuscany.
How To Travel Around Chianti
Drive along Via Chiantigiana SR222, a road which connects Florence to Siena, passing through Greve. Enjoy the beautiful landscapes and stop in stunning villages. It is also great for cycling!
>> Are you interested in learning Tuscan recipes first hand?
Simonetta and Paola from Toscana Mia Cooking School are very happy to help you! These savvy ladies provide zoom and in person cooking classes on pasta and other delicious Italian dishes.
Get a 10% OFF! Sign up here
> Check out our LIVE SHOWS here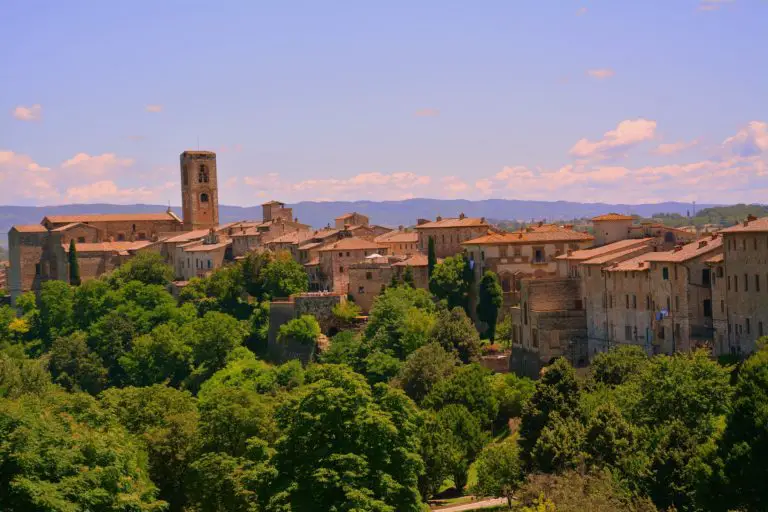 Val d'Elsa is the most central area in Tuscany and is divided into two valleys: Alta Val d'Elsa (Upper Elsa Valley) and Bassa Val d'Elsa (Lower Elsa Valley). Crossroad of the main Tuscan cities, Val d'Elsa is the birthplace of important Italian artists and writers such as Leonardo da Vinci, Jacopo Carucci, also known as Pontormo, and Giovanni Boccaccio.
The typical products of this area are Prosciutto Toscano PDO, locally produced Tuscan ham from San Gimignano, and Finocchiona, a type of cold cut whose name comes from the fennel seeds used to aromatize it. In terms of wine, you cannot miss to try Vernaccia di San Gimignano DOCG, the first Italian white wine to be awarded the DOC denomination. 
Val d'Elsa  is also famous for truffle hunting: the town of Certaldo hosts a truffle festival called Sagra del Tartufo Marzuolo in the month of March.  
What stands out in this beautiful valley with low rolling hills is the number of medieval borghi such as Colle di Val D'Elsa, Monteriggioni, Poggibonsi, Barberino, Certaldo, Castelfiorentino and the more famous San Gimignano and San Miniato. Consider staying in one of these charming villages to immerse yourself in the real Tuscan life.
Also, if you're interested in walking, Colle Val d'Elsa is along the Via Francigena, a pilgrimage route built in the Middle Ages.
Located in southern Tuscany, Val d'Orcia is the jewel of Tuscany: golden fields, secluded farmhouses surrounded by vinyards and olive groves, cypress avenues, medieval villages and hidden gems to discover. This is what makes Val d'Orcia a unique place in the world.
The whole area has been part of the UNESCO heritage since 2004. The best thing about Val d'Orcia is that every season is different and colors change accordingly. You will feel like in a timeless painting portraying breathtaking nature. 
Since it is in the south of the region,  Val d'Orcia is the ideal place to stay if you are considering Umbria or Rome as the next destinations. Montepulciano is just 1 hour away from Perugia, the capital of Umbria, and it takes about 2h 30 to reach Rome.
Certainly you cannot miss to visit the best small towns of Montepulciano, San Quirico d'Orcia, Pienza, Montalcino, Bagno Vignoni and Bagni di San Filippo with their natural thermal baths.
The whole area is incredibly rich in local products of great quality such as the fabulous Pecorino di Pienza, the intense olive oil, the delicious wine like Brunello di Montalcino DOCG and Vino Nobile di Montepulciano DOCG, following a long and ancient tradition, not to mention saffron, mushrooms, truffles, game and many other specialties.
You want to drive a car to visit Val d'Orcia: public means of trasport are available but if you wish to explore and live this area to the fullest, I suggest driving a car.
You can always rent a car in bigger cities like Florence or Rome to take the most out of your experience in Tuscany.
Did you Like the Post? Follow Me on Social Media and Stay Tuned for More Content!