How to Explore Val d'Orcia, Tuscany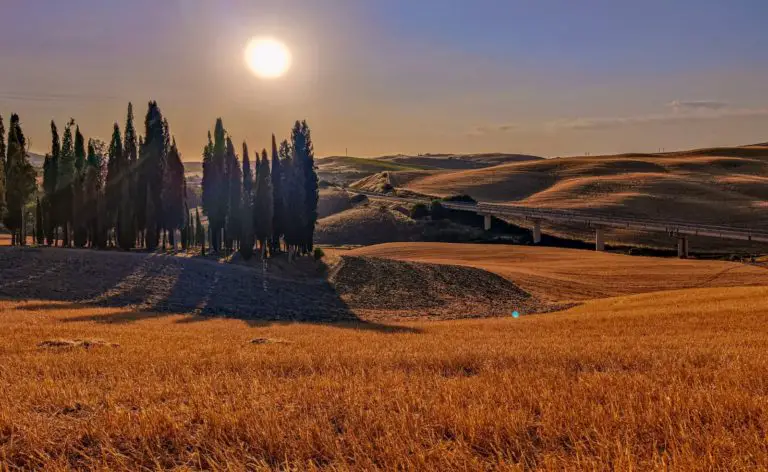 Val d'Orcia, a magical valley in the heart of Tuscany. Certainly, you cannot miss visiting this stunning place on your trip to Italy. Here you must try Pecorino di Pienza cheese, sip a glass of Vino Nobile di Montepulciano DOCG, and have a bath in Bagno Vignoni hot springs.
In  this article you will find all you need to know on how to explore Val d'Orcia, its best towns, typical food and wine, and restaurants!
What is Val d'Orcia famous for?
Val d'Orcia has been on the UNESCO world heritage list since 2004.
Named after river Orcia, which runs through the whole valley and makes the countryside lush and flourishing, this valley has always been the perfect habitat for a great number of animals and plants, so much so that Val d'Orcia has been a protected natural area for more than 20 years.
The Gladiator movie locations in Val d'Orcia
Val d'Orcia is famous all over the world for being the astonishing setting of Ridley Scott's masterpiece "The Gladiator".
The two popular movie locations in Val d'Orcia are the Manzuoli farmhouse, which was used as Maximus' house, at the outskirts of San Quirico d'Orcia, and the fields of the Pieve di Corsignano, Pienza, where the famous final scene in the Elysian Fields was shot.
1. How to Get to Val d'Orcia
The best way to travel around Val d'Orcia is definitely driving since you can get to reach to farthest places, which, unfortunately, are poorly served by public transport.
Here you will find info on how to get to Val d'Orcia – by car and public transport – from the main cities in Tuscany, and Rome.
1.1 How to Get to Val d'Orcia from Siena
Getting from Siena to Val d'Orcia takes about 50 mins by car along Via Cassia SR2.
If you do not intend to drive around Val d'Orcia, from Siena train station you can take bus 114, get off in Buonconvento (it takes 40 mins), and then take the next 114 bus. You will arrive in Montalcino in another 30 mins.
All bus lines and timetables running in the province of Siena can be found here.
1.2 How to Get to Val d'Orcia from Florence
Drive along highway A1 Florence – Rome (direction Rome), take exit Valdichiana / Bettolle and head to Torrita di Siena and Montepulciano. It generally takes about 1h 30.
If you take public means of transport, take the train in Firenze Campo di Marte and get off at Chiusi-Chianciano Terme (1h 40). From here take FT4 bus at Chiusi Stazione – p.zza Dante for Montepulciano Autostazione (1h).
1.3 How to Get to Val d'Orcia from Rome
Drive on highway A1, exit Chiusi-Chianciano Terme and you will get to Montepulciano. It takes about 2 hours.
If you take the train from Roma Termini station, get off at Chiusi-chianciano Terme (1h 40). Then take bus FT4 direction Montepulciano Autostazione (50 mins).
2. Where to Stay in Val d'Orcia
If you have any doubts on where you should stay to take the most out of your experience in Val d'Orcia, that's perfectly understandable.
All the towns and villages of this area are so magical and charming that the choice is really hard to make!
The most important thing to consider is whether you have your own means of transport or not. According to this, you can opt for staying either in the countryside or one of the towns.
If you're going to drive a car or ride a bike, then pick a village on the rolling hills of Val d'Orcia. You don't want to miss living in the peaceful and stunning countryside.
In case you can't drive, you should stay in one of the main towns of Val d'Orcia: Pienza, Montalcino, Montepulciano or San Quirico d'Orcia. They're all connected by bus lines so it's easier to move around the valley.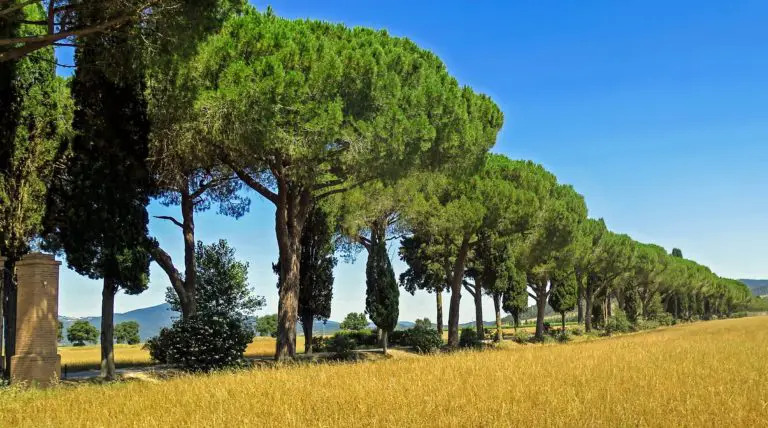 3. Best Towns in Val d'Orcia
In Val d'Orcia you will get to see some of the most beautiful medieval villages in Tuscany.
But before discovering the best towns in Val d'Orcia to visit, you must know that there are many hamlets worth visiting.
Here is a list of all the villages in Val d'Orcia. Despite being small, this area includes a lot of beautiful borghi!
Pienza

Montalcino

Montepulciano

Radicofani

San Quirico d'Orcia

Bagno Vignoni

Monticchiello

Castiglione d'Orcia

Rocca d'Orcia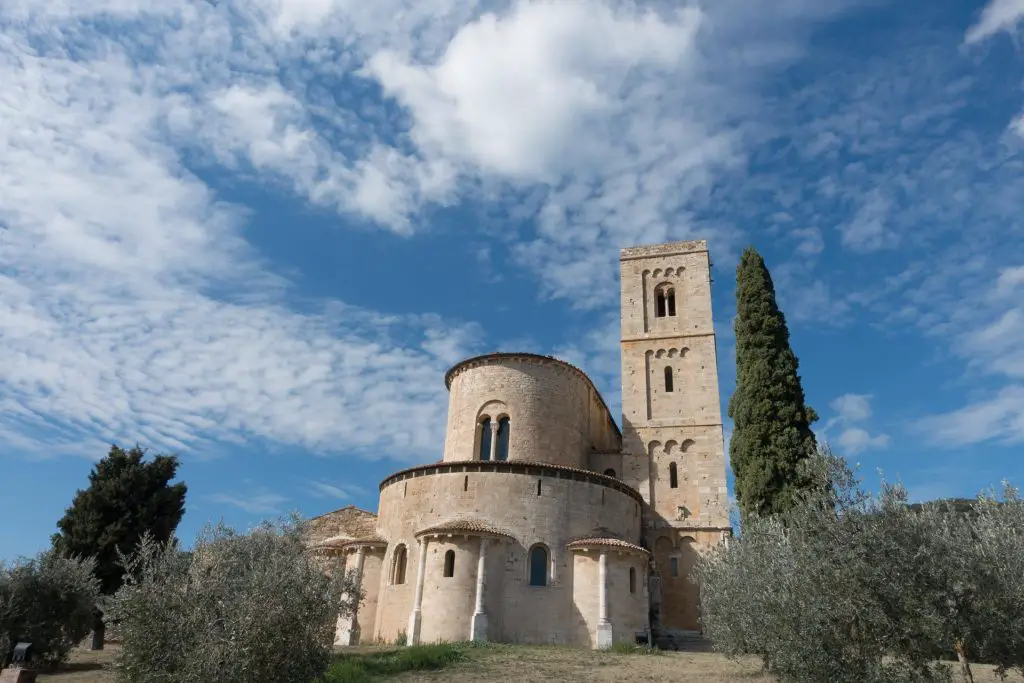 Renowned all over the world for the Brunello wine, Montalcino is one of the most charming medieval towns of Val d'Orcia. Walk along the narrow and steep streets and reach the Rocca, a fortress built back in 1361 when Siena took over the city. The panorama from the walls is just amazing: from Mount Amiata to the Crete Senesi, you can enjoy the view of the whole valley.
Just outside of the city walls is Sant'Antimo Abbey, a highlight in Val d'Orcia. Dating back to the 9th century, this abbey is a beautiful jewel surrounded by the peaceful Tuscan countryside. Definitely worth a visit!
Montalcino also offers one of the greatest and most appreciated Italian wines: Brunello di Montalcino DOCG, made from the Sangiovese vines. This variety of grapes was first used in 1888 by Ferruccio Biondi Santi, who revolutionized wine production in this area. Since then this borgo has become well-known everywhere in the world.
Another great wine produced in Montalcino is Rosso di Montalcino DOC. It goes without saying that you must try both Rosso and Brunello!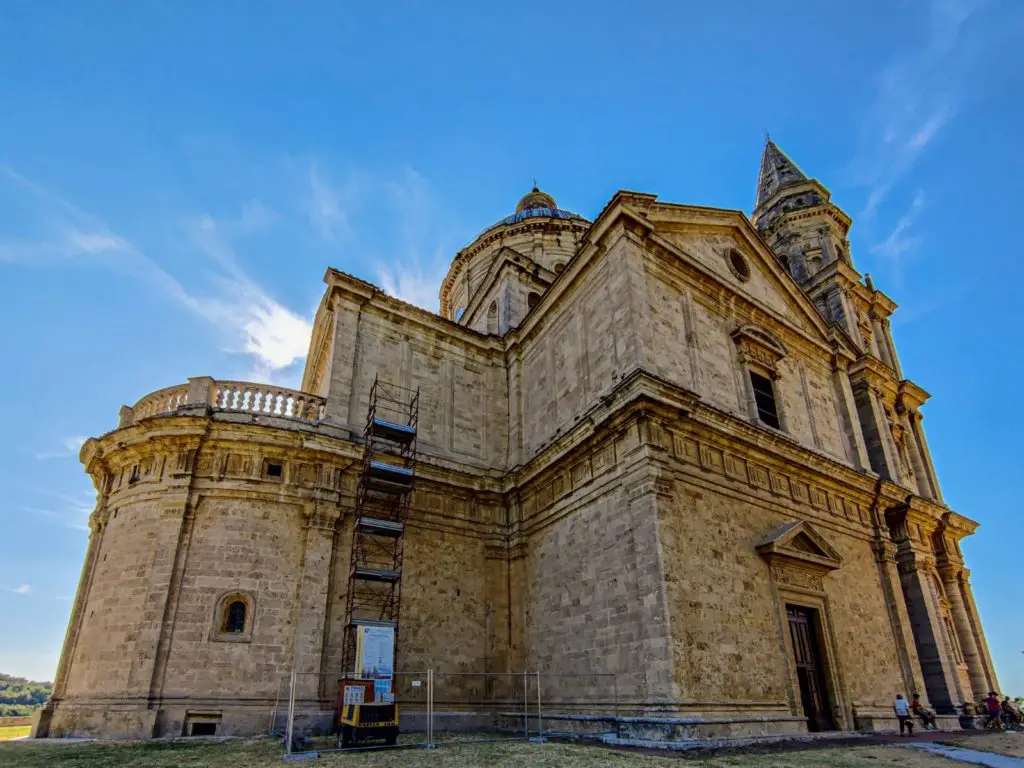 Montepulciano is a unique borgo characterized by Renaissance buildings, ancient churches, beautiful squares and an amazing view of Val d'Orcia and Val di Chiana. Taking a stroll in the streets of this charming town is the best way to enjoy its magical atmosphere.
A few steps outside of the center is Madonna di San Biagio, a Renaissance church by Antonio da Sangallo the Elder. The church is considered such a great example of architecture that even Michelangelo took inspiration from it when drawing for St. Peter's Basilica in Rome!
Don't miss Montepulciano's specialties: the town is well-known all over the world for the production of Vino Nobile, obtained from the grapes cultivated in the surrounding stunning vineyards. Other typical products are pappardelle with wild boar, pici all'aglione, a typical sauce of the Val di Chiana, Cinta Senese ham and the delicious Chianina steak.
Every August piazza Grande, the main square in Montepulciano, hosts events like the Bravìo delle Botti, when the eight "contrade" (districts) compete for a painted cloth by rolling barrels of about 80 kg each, along a path uphill for over a kilometer. The barrels are pushed through the evocative streets of the historical center. More info here.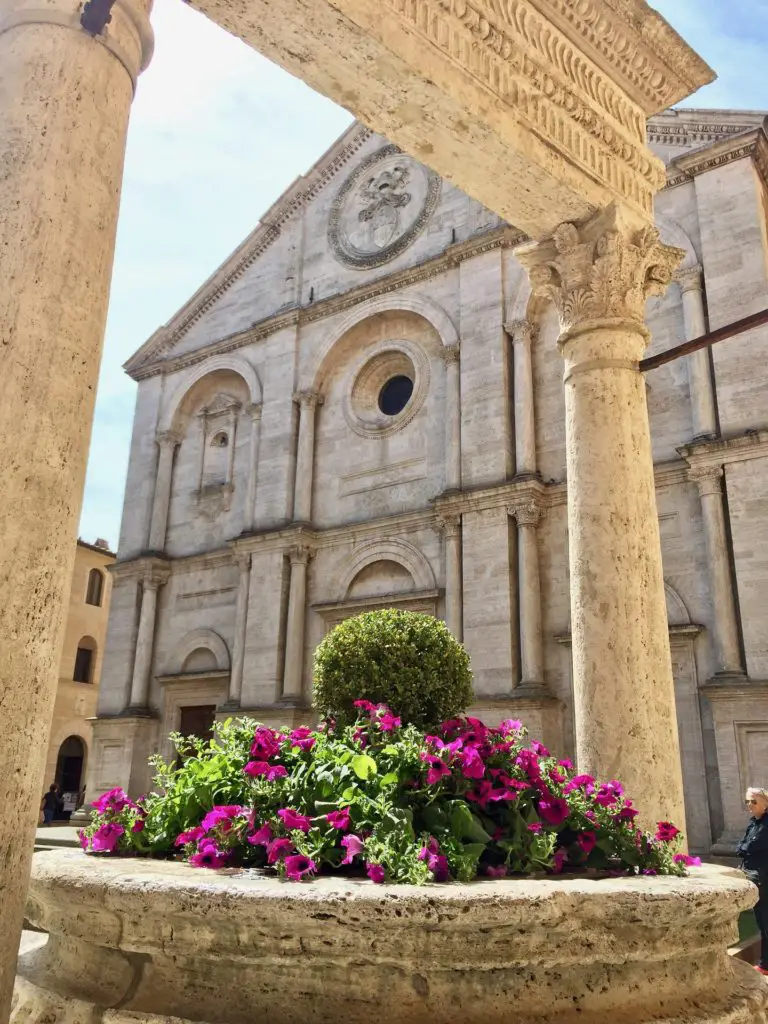 Pienza, once known as Corsignano, is a tiny but charming village also referred to as the "ideal city". The reason why Pienza has been called like that is because Pope Pius II wanted to turn his birthplace into the perfect town.
Still nowadays this Tuscan borgo is an amazing example of Renaissance architecture and organization of urban spaces. The historical center was enlisted in the UNESCO heritage site list in 1996 and still attracts crowds of tourists from all over the world.
Half a day is enough to enjoy Pienza: you can find many of the things to see in the majestic Piazza Pio II, including the Cathedral of Pienza, where the Gothic and Renaissance styles blend harmoniously, and works of art by greatest artists from Siena are exhibited.
To the right of the cathedral stands Palazzo Piccolomini, once the summer residence of Pope Pius II. From the back of its loggia, you can enjoy a beautiful view of the romantic Val d'Orcia and Mount Amiata.
Piazza Pio II also hosts the Palazzo Comunale, in which you can see a 15th century fresco, and the Palazzo Borgia housing a precious collection of medieval and modern art.
Lose yourself in the quiet alleys of Pienza and come across streets with unusual names, such as Via dell'Amore (Street of Love) or Via del Bacio (Street of Kiss).
In Pienza you cannot miss trying Pecorino di Pienza cheese accompanied with a nice glass of excellent red wine.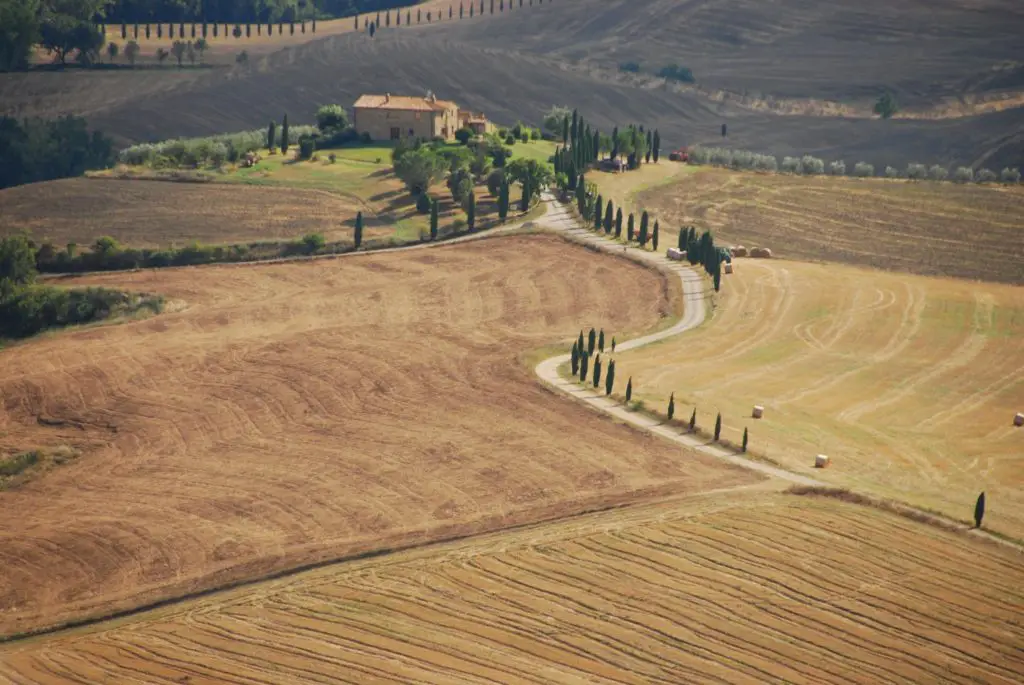 In the heart of the Tuscan countryside is the town of San Quirico d'Orcia. Thanks to its undeniable charm, this lovely town is considered one of the gems of the region and an excellent base for exploring the Val d'Orcia.
The small historic center characterized by stone houses and narrow streets is completely pedestrian, which makes it easy to explore. Visit the Pieve dei Santi Quirico e Giulitta, informally known as the Collegiate Church of San Quirico, but don't forget to take a pic of the most famous Cypresses at about 6 km away from the center of San Quirico d'Orcia, along the Via Cassia (road SR2).
This row of cypresses is the symbol both of the Val d'Orcia and, by extension, of the whole of Tuscany. In fact, they're often depicted in souvenirs and postcards, and have become one of the most photographed landmarks of this region.
Last but not least, pay a visit to the Cappella della Madonna di Vitaleta, a small chapel located in the open countryside and surrounded hills, in a truly relaxing and pleasant environment.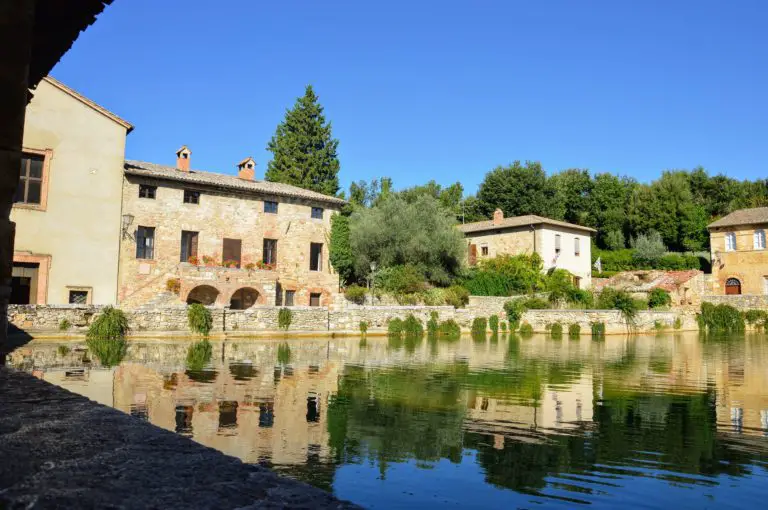 Where else can you find a square entirely occupied by a large medieval basin, where the water gushing from the thermal spring slowly smokes, thus creating a surreal atmosphere? Nowhere but in Bagno Vignoni, a unique village in Val d'Orcia. 
The water flows on a limestone cliff and falls towards the river, dividing into very suggestive waterfalls and concretions. Thanks to this, the area is characterized by a fairytale atmosphere that has amazed travelers of all times. This place is called Parco dei Mulini, where anyone can take a bath at any time of the year!
4. Best Restaurants in Val d'Orcia
4.1 What to Eat in Val d'Orcia
Game, especially wild boar, is used for mouth-watering ragù on "Pici", the traditional Tuscan pasta. The cured meats certainly deserve a prominent role, absolutely accompanied by typical Tuscan bread – without salt, so as not to cover the tastes of other foods.
Among the delicacies to be recommended is Pecorino cheese, excellent both fresh and seasoned, Crostini with spleen and liver, Porchetta and the excellent spelt or bean soups.
To end a hearty meal in the best possible way, the typical sweets of this area are Castagnaccio and the renowned Cantucci, to be dipped in the superb Vinsanto.
4.2 Where to eat in Val d'Orcia
If you're looking for a good restaurant with a view in Pienza check out Idyllium, whose terrace offers a great panorama of the fields and vineyards of Val d'Orcia.
In this elegant venue you will get to choose from a wide range of Tuscan cold cuts, typical local first courses like Pici all'Aglione, Ribollita, and pappardelle with wild boar, all accompanied with a selection of wines made in Chianti, Montalcino and Montepulciano.
What's interesting is that you can also order cocktails and spirits for a pre or after dinner!
In San Quirico d'Orcia at Osteria Val d'Orcia you can get to taste typical Tuscan dishes like Pappa al Pomodoro, Panzanella, Pecorino cheese and bruschetta with fegatini (liver) at really reasonable prices.
In Monticchiello I had a great lunch at Trattoria il Bronzino, the restaurant hosted by the Teatro Povero, an ancient 18th-century barn, in the center of the hamlet. 
Here I tried their selection of cold cuts and cheese with honey and fig jam, Pici with Chianina sauce, penne with wild boar, and, to top it off, a glass of Vin Santo where I dipped the delicious Cantucci.
Wish to have a quick but typical lunch in Montalcino? Try Il Gallo Stuzzicheria, a small but cozy venue offering Crostoni (sort of bruschetta) and Brunello di Montalcino DOCG, Vin Santo and Taralli made of wine. Certainly, if you're a wine lover you will meet your match here!
Did you Like the Post? Follow Me on Social Media and Stay Tuned for More Content!