Savory Traditional Dishes of Trentino, Italy
Trentino cuisine is simple and made of recovered ingredients such as herbs, flours, potatoes and stale bread, but, at the same time, it is rich, caloric and substantial, in response to harsh winter.
When we think of Trentino cuisine, there are two things that immediately come to mind: the first are  apples, used for the sublime strudel and grown in Val di Sole and Val di Non, and the second are cold meats, among which carne salada and speck stand out.
However, Trentino cuisine is also well-known thanks to local products such as the wide variety of cheese produced in farmsteads (masi) and mountain cottages (malghe): the high quality and great variety of dairy products of these areas place Trentino at the top of Italian dairy production.
—> Curious about this region? Read my travel itinerary in Trentino!
1. Canederli, Trentino dumplings
Symbols of Trentino cuisine, Canederli is a very ancient dish of peasant origin. They are prepared with stale bread, milk, eggs, speck and in some cases cheese, onion and parsley.
Shaped as round balls, canederli's texture is deliciously soft. In most venues, you can get to choose whether to have them served in a soup or dry, with a sprinkle of parmesan on them.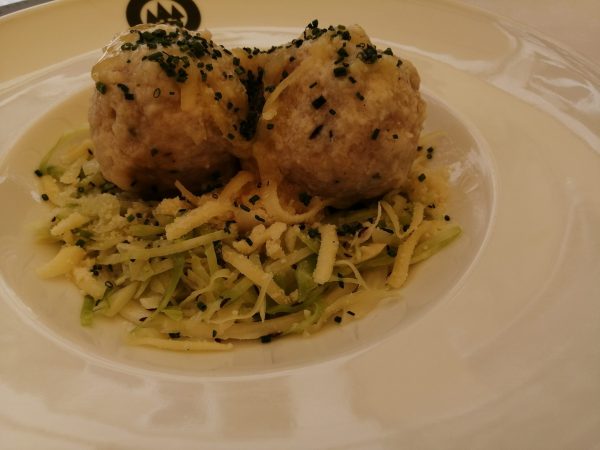 Minestrone d'orzo is a delicious barley soup that warms you up in winter months.
It's made of simple ingredients: the protagonist is barley, cooked with veggies (carrots, celery, potatoes, onions, cabbage) and herbs (bay leaves, chive).
To flavor it, meat stock and pancetta (some even add a pork leg!) are added to the rest of the ingredients. This soup is so hearty that it could be eaten just as a single course!
Spätzle, the symbol of Trentino cuisine, are made by mixing soft wheat flour, eggs and water. Just as simple as that!
Very common in Tyrol, southern Germany and Switzerland, they've become an extremely popular dish over the centuries.
Do you know how to make spätzle? You can get their typical drop shape with a special tool, the Spätzlehobel, formed by a grater with a perforated base and a container for the dough. Have the dough slide back and forth and let the drops fall directly into the boiling water in the pot.
The result is spätzle!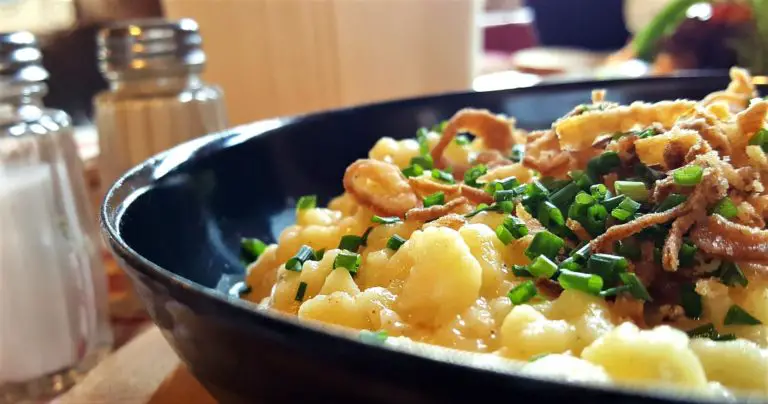 Smacafam is a popular pie in Trentino: the dough is made 50% of white flour and 50% of buckwheat flour, while the sausage, the so-called "lucanica", and smoked bacon (pancetta) are used to add some flavor to it.
5. Trentino Style Strangolapreti
Trentino-style strangolapreti are similar to gnocchi, but they're made by mixing bread with spinach, and served with plenty of Parmesan or melted butter flavored with onion.
Strangolapreti is a truly ancient recipe, which, back in the day, involved much more bread and less spinach. But over time it evolved. Now every family and restaurateur cherish their own recipe, each having their own secrets.
Thanks to the richness of Trentino's plants and herbs, spinach may be replaced with nettles, purslane or just with herbs and beets.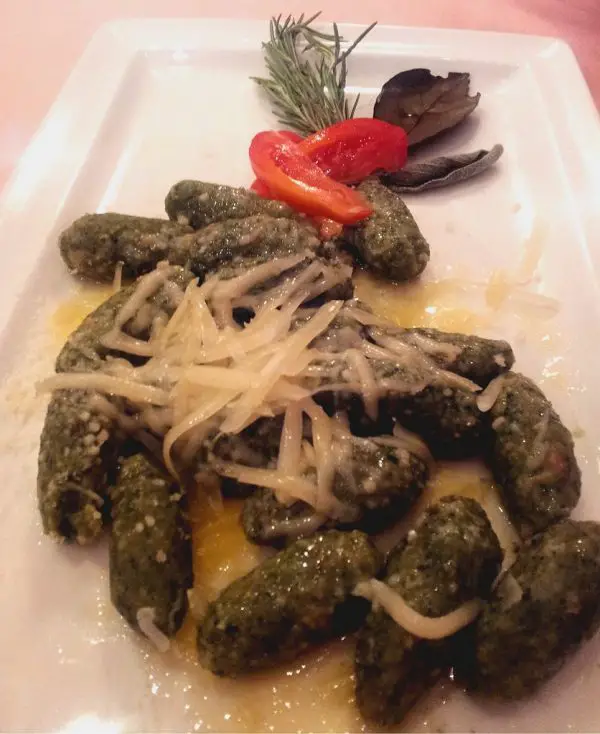 Carne salada is one of the most famous traditional dishes of Trentino cuisine: very thin slices of fine beef – raw or just seared – are seasoned with a drizzle of Lake Garda extra-virgin olive oil and then served. A real delicacy!
It is a very tasty and spicy dish, thanks to the particular meat processing technique which involves a period of conservation in a mixture of salt and spices.
It's ideal combined with a side dish of fasoi (beans). I had "carne salada" at Panesalame, an osteria in Riva del Garda, where it was served with beans (fasoi) and Tropea red onions, all accompanied by a glass of Quattro Vicariati DOC 2016, a red wine produced in Trentino.
—> If yo're interested in Trentino and Lake Garda, you may also like:
7. Ciuiga, Trentino Cured Meat
Ciuiga – weird name, isn't it? – is a typical Trentino cold cut that has been produced in this area for a long time. Precisely, its production started in the second half of the 19th century, when hunger and poverty were widespread problems for the inhabitants.
However, it's usually in hard times that people become resourceful! In fact, they used the scraps of pork mixed with white turnip, thus creating the "ciuiga".
Nowadays, only the best meats are destined for the preparation of this salami and the quantity of white turnip in the recipe has decreased by 40%.
8. Mortandela from Val di Non
Not to get confused with the Bolognese "mortadella", mortandela is a typical cured meat from Val di Non, Trentino.
It is easily recognized from two elements: the rounded shape, reminiscent of a slightly flattened meatball, and the smoky flavor.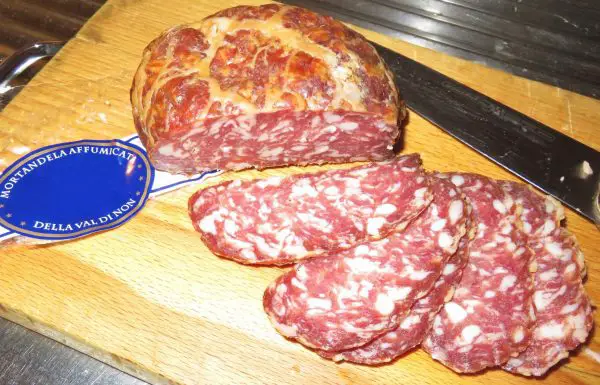 Back in the day, it was produced only in fall, when the herds had already come down from the pastures and daily milkings were scarce. It was the house cheese par excellence, to be consumed at home among family members in the cold winter months. Casolét has a sweet and delicate flavor and is the ideal cheese for the preparation of savory pies and country omelettes.
PDO product since March 2013, Puzzone di Moena is a typical cheese of the town of Moena and, more generally, of Val di Fassa (Fassa Valley), Val di Fiemme (Fiemme Valley) and Valle di Primiero (Primiero Valley), in Trentino-Alto Adige. The reason why it is called "puzzone" is because of its particular smell ("puzzone" means "stinky") that makes it recognizable from afar.
Usually great cold cuts and cheese are served with the typical northern Italy accompaniment: polenta. Always been food for the unprivileged, nowadays polenta is even used by famous chefs.
In Trentino polenta is made with corn grown in Storo, Valle del Chiese, bordering Brescia province. The corn flour that is produced in this area is well-known all over Italy and you can find it anywhere in the peninsula.
Another popular accompaniment is crauti (sauerkraut). This fermented thinly sliced cabbage typical of the German cuisine, but widespread in some regions in the north of Italy, like Trentino-Alto Adige and Friuli-Venezia Giulia.
11.1 Grostoli, Carnival Sweets
Grostoli are typical Carnival sweets of Trentino and are very similar to the "chiacchiere" (literally "chat") of Campania and Lombardy. The difference lies in he choice of ingredients: milk is used instead of wine, while oil and lard  substie butter.
The origins of these delicious sweet pancakes go back to old times: we find them mentioned in the cookbooks of the 18th century and in those of the Habsburgs!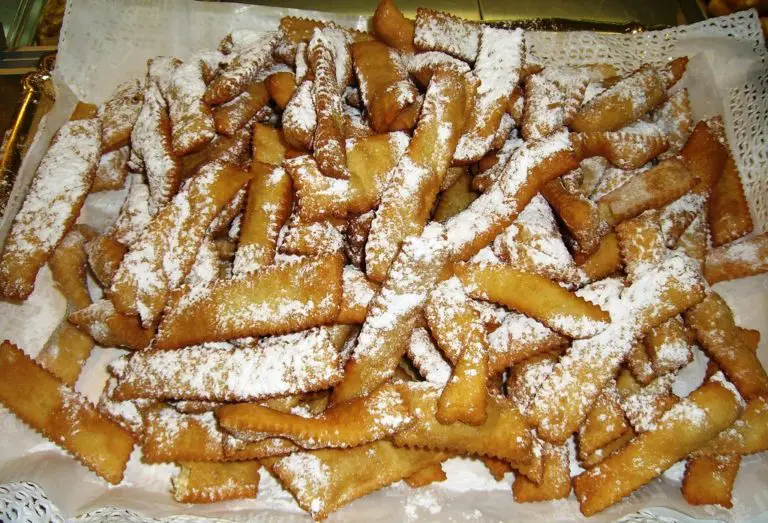 Unmissable on the tables of Trentino, Strudel is a most delicious rolled pie prepared with sugar, pine nuts, cinnamon, raisins and, last but not least, the most typical product of this region: apples.
Apple orchards in Trentino are everywhere and of different kinds: Fuji, Gala, Golden Delicious, Granny Smith, Idared and many others, all included in the labels of "Mela Alto Adige PGI", "Mela Val di Non PDO", and "Trentino apple PGI".
If yore wondering which type of apple you need to make the perfect original strudel, the answer is: Golden Delicious.
11.3 Zelten Christmas Cake
In Italy there is a wide range of traditional Christmas cakes, more or less renowned.
One of them is Zelten, a specialty from Trentino. At sight it is similar to Frustingo from Marche. In fact, they share some ingredients such as dried fruits, in particular pine nuts, walnuts, almonds, dried figs, sultanas and candied fruit. Quite a caloric content, isn't it?
Well, Trentino is well-known for being the perfect place to spend winter vacations as here you can get to practice all sorts of winter sports. For this reason, people need energy-giving food and this cake is just perfect to fill up your energy bar!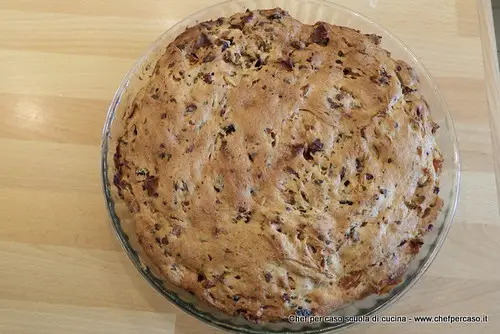 It is said that zelten (or "celteno" as they call it in some parts of Trentino) has German origins and it would stem from the German word "selten", meaning "rarely", indicating that this cake was prepared only once a year, specifically for Christmas.
The shape and texture change a lot, from Trentino to South Tyrol: in the first it is softer, while in the second it is more similar to a large biscuit.
Tradition has it that this dessert is prepared all together at home on December 13, then allowed to rest for about ten days to finally eat it at Christmas.
Would you like to try this delicious food of Trentino yourself? Come to Italy 😉
Did you Like the Post? Follow Me on Social Media and Stay Tuned for More Content!
Images credits (descending order): Piatti tipici del Trentino by Comano Cattoni Holiday // CC BY-NC-SA 2.0; Mortandela della Val di Non by Lungoleno// CC BY-SA 4.0; Chiacchiere by Caleb Lost // CC BY-NC-ND 2.0; Menù di Natale – lo Zelten by chefpercaso// CC BY-NC 2.0.