Gorgeous Cinque Terre 3 Day Itinerary
Manarola, Vernazza, Monterosso al Mare, Riomaggiore and Corniglia: these are the fabulous five villages composing that part of Liguria called Cinque Terre.
Definitely worth visiting for its naturalistic trails, colorful fishermen houses and lovely beaches, it also offers delicious typical food such as delicious focaccia and great wines as well.
This article is all about my personally experienced 3 day itinerary in Cinque Terre. Hope you'll find it useful for your next trip!
What Does This Cinque Terre 3 Day Itinerary Include?
a logical, organized, time-saving, stress-free and smooth travel plan starting from Corniglia to Manarola, Riomaggiore, Vernazza and Monterosso al Mare.
useful information on when to go to Cinque Terre, local attractions, hiking trails and transportation to and among the five villages.
my suggestions and considerations on what to wear in Cinque Terre and things to bring based on my personal experience.
1. how to get to cinque terre
Cinque terre are reachable from any parts of Italy, either driving or by train as the villages are well connected with both highways and trailways.
In case you're driving, either your own car or a rental car (see how to rent a car in Italy here), be aware that parking lots in Cinque Terre are very few. Therefore, I advise you to stay in a place that has parking included.
Driving to Cinque Terre: My Insider Tips
Try not to drive at night as roads are tiny and winding and they're not just "one way": when it gets dark it's harder to see well as there are only a few street lights scattered here and there along the street.
1.1 how to get to cinque terre from milan by train: best solution 
Even though some say Cinque Terre could be a perfect day trip from Milan, I don't agree with that as this area deserves at least 2 or 3 days to be really enjoyed. From Milano Centrale take the Intercity to Monterosso: it takes about 3 hours and it's a direct train.
1.2 how to get to cinque terre from Florence by train: best solution 
Take the Frecciargento from Firenze Campo di Marte and reach Riomaggiore. The journey takes only 2h30, but you have to change trains in La Spezia Centrale.
1.3 how to get to cinque terre from Rome by train: best solution 
Take the Frecciargento from Roma Termini and reach Riomaggiore. The journey takes 4h, and you have to change trains in La Spezia Centrale. 
>> More info on train timetables on Trenitalia Official Website.
2. Is the Cinque Terre Train Card worth it?
If you decide to follow this Cinque Terre 3 day itinerary, the Cinque Terre Train Card is not really worth it.
In case you're traveling in high season (summer months) with kids, a group or people over 70, then I recommend you to purchase it. In all other cases it's not that convenient.
>> Check out all the prices of Cinque Terre Train Card here.
3. When to Go to Cinque Terre: Best Season
In my personal opinion, I think the best time to go to cinque terre is summer as you can fully enjoy the refreshing waters of the five villages. However, temperatures tend to get high between June and August so you need to get up early, especially if you want to take a hike on the trails. 
Spring is a nice option too: April and May are sunny months, but maybe you won't be able to swim in the sea – I think it's still a bit too cold for that. 
I don't really recommend winter and fall and days are way shorter and you're more likely to find cloudy or rainy days: you wouldn't be able to fully enjoy the beautiful colors of the sea.
4. What to Wear in Cinque Terre
To travel around the five villages you need the necessary equipment. Below you'll find what to wear in Cinque Terre and unmissable things to bring along with you.
sneakers

for the hiking trails: you don't really need trekking shoes – the walking paths are on hills not mountains – but you definitely want to have a pair of decent sneakers with you. All in all, you'll be walking on large rocks, steep steps and earthy paths so you don't want to be wearing sandals.

water shoes

(especially in Corniglia rocky beach): rocks in the water are slippery and, unless you want to jump right into the sea from the rocks, you might want to consider having a pair of water shoes. They'll come in handy!

an insulated water bottle

: in summer you definitely need one.

a swimming costume, beach towels and

flip-flops

: as you are in Cinque Terre you cannot miss sunbathing on the sandy Fegina beach in Monterosso al Mare, right?

sunscreen and hat

: highly recommended for both sunbathing and hiking, especially in the hot season. Temperatures are quite high!
5. Where to Stay in Cinque Terre: Best Village
This 3 day itinerary in Cinque Terre is based on my personal experience: I stayed in Corniglia as I though it was the best option for me: I could easily reach the other villages as I was right in the middle, and I also had a free parking included in my accommodation.
However, you can adjust this itinerary to your needs: for example, if you're going to Cinque Terre from Milan by train you'd better start in Monterosso al Mare. It's also ideal if you're planning to stay there for a few relaxing days on the sandy beach.
On the other hand, if you come from the south (Florence, Rome, Naples) you'd find Riomaggiore a more suitable option.
6. Cinque Terre 3 day Itinerary
Start your itinerary in Corniglia in the morning.
Follow the "to the sea" signs and enjoy the crystal clear water of this small bay.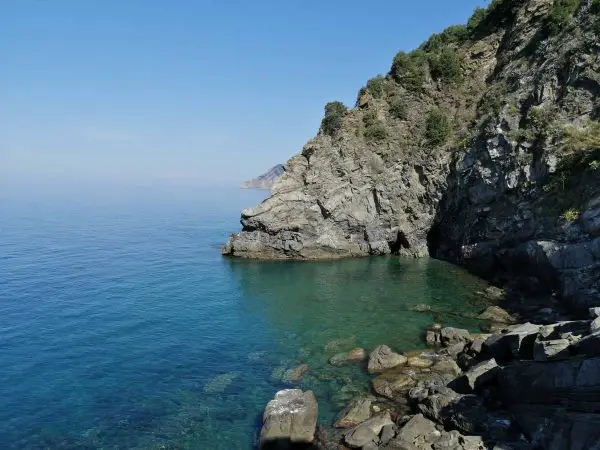 Enjoy your day sunbathing and relaxing. When you're satisfied, go up the stairs (yes, unfortunately this is the only way to go back!), take a shower and explore the beautiful borgo with its tiny streets, colors and stop for a drink.
Aperitivo: Where to Eat in Corniglia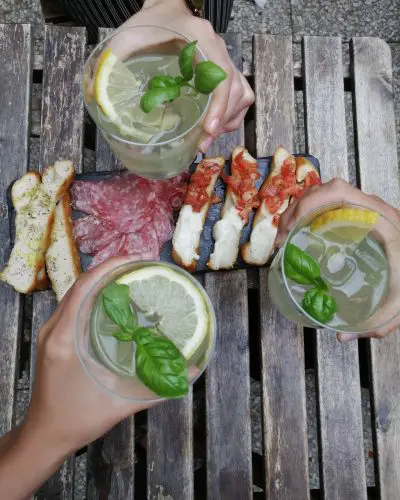 I had a refreshing basil cocktail at KM0 for as little as € 5.00 and it comes with some focaccia ligure topped with small diced tomatoes and taggiasche olives. Are you ready for a typical Ligurian aperitivo?
Among the typical products in Corniglia you'll find honey and basil ice cream flavors. I had the basil one at Gelateria Alberto, and it was amazing! With just € 2.00 you'll get two scoops.
Day 2: Manarola and Riomaggiore
After a good night sleep in the peaceful town of Corniglia, get ready for today's adventure! You're going to visit Manarola passing by the small village of Volastra and then reach Riomaggiore.
How to Reach Manarola from Corniglia
Cinque Terre are famous not only for the beauty of the villages and the sea but also for the hiking trails stretching out on the hills and vineyards producing Schiacchetrà DOC and other fine Ligurian wines.
Why don't you take a close look at those beautiful grapes and take a nice walk in nature?
Now, you have two options: choose according to your physical shape and willingness to wake up early – at least in summer.
Option A: Corniglia-Manarola-Riomaggiore Hiking Trail
Start off from Corniglia on path 587 (ex n. 7A), then proceed on 586 (former 6 / D). Once you get to Volastra take path 506 (ex 6) to get to Manarola.
My insider tips:
Always follow the red and white signals on rocks, walls or anything else around you.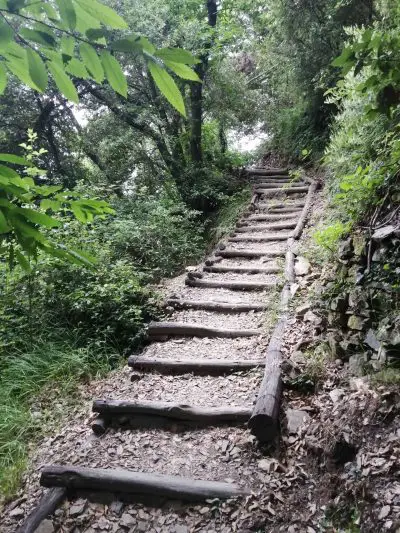 Hiking Trail Requirements
To do this trail you need to wake up early (at 6.30 am max) and be in a decent shape (not a couch potato all year round) and here's why. The first 30 mins from Corniglia are quite steep and there is basically no wind up there so chances are you're going to sweat a lot.
After this first part, the rest is very easy and you won't have any problems.
Why waking up that early?
When I did this trail it was cloudy, luckily. However, even in that condition, I kept sweating because it was really hot. Consider that it was the end of June, so you can understand how temperatures rise in July and August. 
Also, this trail is 2h30 – 3h hiking in the hills from Corniglia to Manarola. Therefore, if you start your hiking at 7 am, you'll get to Manarola at around 9.30 am which is not too bad but I do not recommend you to start this trail after 7 in the morning.
Why should I take the path instead of the train?
Once you pass the first 30 mins, you'll thank yourself for your choice.
First of all, you'll be walking surrounded by nature.
Also, you'll get to see the dry stone walls and vineyards (my favorite part), where they grow grapes for local wines such as Cinque Terre DOC and Sciacchetrà DOC.
Here, you may see people already working on the fields, and the view is absolutely astonishing. Stop for a moment to enjoy this beauty!
Equipment: sneakers, bottle of water.
Toll: no toll ticket needed for this trail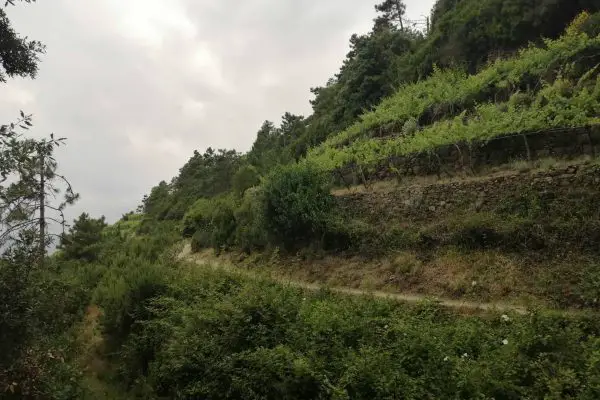 Option B: Cinque Terre Express Train
If you feel the trail is not meant for you, go down the 377 steps of Lardarina stairway heading to the station. With just as little as € 2.10* you'll get the ticket to Manarola and will be there in 3 mins. 
Trains run every 30 mins: check the timetable beforehand so that you'll avoid waiting for a long time.
*low season price in 2022. In July and August train tickets are € 4.00.
Regardless of the option you choose, you'll eventually end up in Manarola. Take a stroll in the small village (it's small indeed!) and enjoy the magical atmosphere.
Once you've visited Manarola, head to the station after the tunnel and take the train to Riomaggiore.
Spend your afternoon in Riomaggiore: I had a lot of fun in the main road as it's packed with cozy places to eat typical food of Cinque Terre.
To go back to Corniglia take the train (check the timetable beforehand) and enjoy the beautiful view of the sea from the train window.
Stop in one of the cafés along the main street and have breakfast with a "cappuccio e brioche"..or focaccia, if you like it better!
Once you're ready, head to the station after the gallery and take the train to Riomaggiore.
Again, it runs every 30 mins and costs around € 2.20 in low season, € 4.00 in high season.
What to Eat in Riomaggiore
There's plenty for all tastes! I took farinata with pesto and focaccia di Recco at Pizza & Faina.
The typical Ligurian rice cake (torta di riso) and unconventional focaccia with lemon can be found at Bakery Rosi Roberta Di Baudinelli.
You can also try mixed fried fish and veggies (fritto misto) at Tutti Fritti.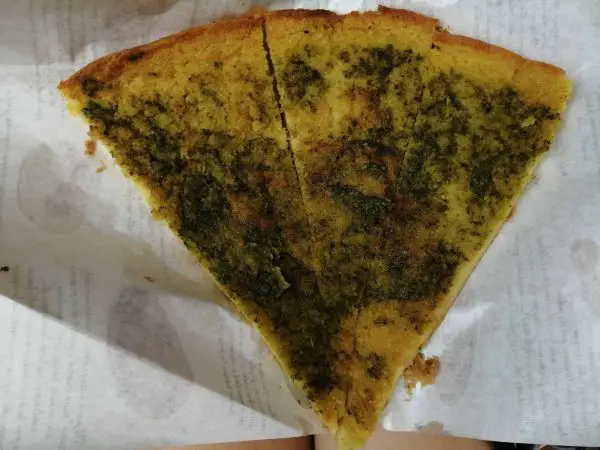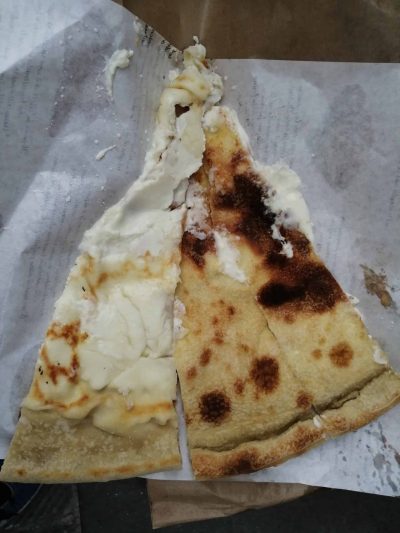 Day 3: Vernazza and Monterosso al Mare
Kickstart your day with the most famous hiking trail of Cinque Terre: you'll be walking for around 1h 30 (around 4 km) on the Sentiero Azzurro 592-3 (SVA2), the Blue Path.
Less challenging than the previous one, this trail connecting Corniglia-Vernazza-Monterosso Al Mare is subject to a toll ticket (€ 7.50 for the daily pass).
On the trail, after about 20 mins walking, you'll see a cozy café with a nice vista on Corniglia: stop by for a fresh lemonade made with their huge, juicy local lemons.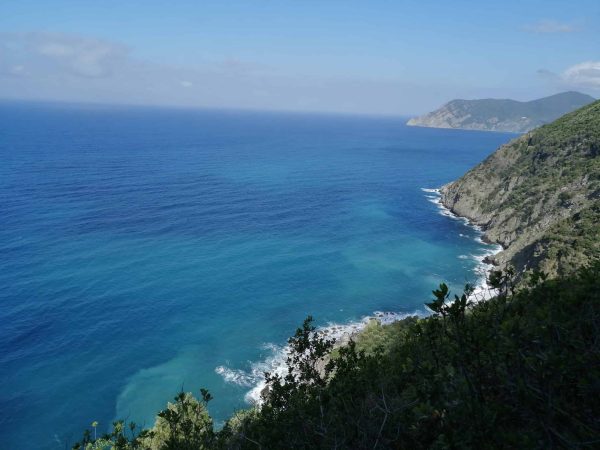 My insider tips:
Like the other trail, try to wake up as early as you can: I recommend starting your trekking at 7 am so that you reach Vernazza at 8.30/9 am, take a stroll there (have breakfast in one of the colorful cafés) and at 10 am get back on trail for Monterosso.
I happened to do the Vernazza – Monterosso at 11.30 am and it was the worst thing ever. It was sunny and the heat didn't help me much hiking up the hills!
In Vernazza village you'll see signs for Sentiero Azzurro path number 2, also designated as 592-4 (SVA2). About 3.5 km and 1h 30 walking, I particularly loved this part of the trail.
The sea colors are stunning and it's just like having a walk in a surreal world. Way better than the train, promise!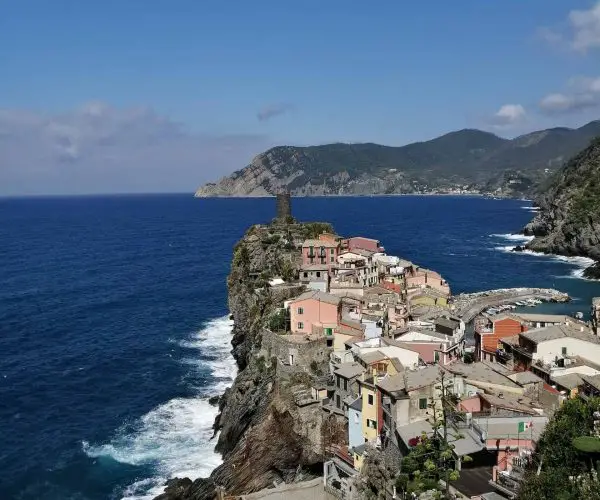 At the end of the Blue Path n° 2, you'll see the biggest village of Cinque Terre: Monterosso al Mare.
You'll arrive there at around noon, so take your time to enjoy a nice focaccia. Spend the rest of the day exploring the borgo and relaxing on the sandy beach of Monterosso al Mare, either at the equipped beach (you need to pay for the day) or in one of the very few free spots left.
If you choose the latter, make sure you bring the right equipment with you (sun umbrella, sunscreen and beach towels).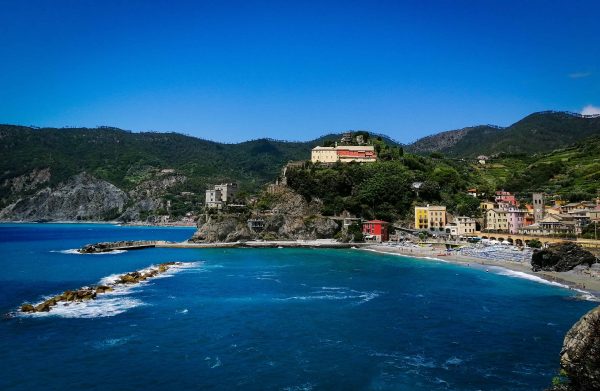 Where to Eat in Monterosso
Now that you've visited the marvelous Cinque Terre you must go to Portovenere, the 6th village which has never been officially part of the Cinque Terre National Park but it's as beautiful as the other five villages.
Did you Like the Post? Follow Me on Social Media and Stay Tuned for More Content!