Moscato di Scanzo DOCG: Characteristics, Origins and Food Pairing
A marvelous Italian red sweet wine is Moscato di Scanzo, the smallest DOCG wine in Italy.
Moscato di Scanzo DOCG represents a tidbit in Scanzorosciate, Bergamo, about 1 hour away from Milan. This lovely town is surrounded by magical hills that give us the chance to grow beautiful grapes and allow us to taste one of the best Italian wines you can ever savor in our land.
1. Moscato di Scanzo DOCG Origins
Moscato di Scanzo is one of the best sweet wines to try in Italy. You cannot miss it!
This passito red wine is produced in just 31 acres of land in Scanzorosciate (combination of two fractions, Scanzo and Rosciate), along Bergamo Valcalepio Wine Route, in the province of Bergamo.
The name "Moscato" derives from the Latin word "muscum", meaning "moss" (muschio in Italian), as this aroma is found when tasting Moscato di Scanzo DOCG.
The origins of this sweet wine date back to ancient times: probably first grown by the Greeks, these grapes might have been brought to Italy by Romans during Gallic Wars. Today it is recognized as one of the little jewels of Italian enology that we must safeguard and promote as an extraordinary excellence. Thank you Romans (once again) for bringing such an amazing fruit to our fabulous land!
Although we still haven't found written evidence of this, we can surely rely on the first written proof of Moscato di Scanzo production, dating back to June 1347. The author was Alberico da Rosciate, a scholar who has become the symbol of this wine, who worked together with Simone da Scanzo (to be noted their last names compose the nowadays municipality of Scanzorosciate).
After some centuries, this sweet red wine was supposedly handed in to the Empress of Russia Catherine the Great, as a gift from Giacomo Quarenghi, famous architect and painter from Bergamo. From Russia to London, it became a quite well-known passito wine also among Londoners.
2. Scanzorosciate Hills and Vinification Process
Moscato di Scanzo DOCG is made using a highly aromatic, dark-skinned grape variety grown on the steep hills surrounding Scanzorosciate. Marly lime soil rich of minerals, southern exposure of the grapes and characteristic microclimate: all these factors contribute to enrich the grapes flavor. 
Particularly, it's a marly limestone rock with a gray-blue color that gives the soil high minerality. People call it "Sass de la Luna". It is compact if sheltered from weather conditions, whereas it crumbles becoming coarse powder when exposed to sun, heat and wind. This makes the soil arid on the surface, while it retains water in depth. This type of soil is perfect for growing Moscato grapes that absorb all the peculiarities of the soil creating this magnificent unique wine.
The harvest takes place between late September and early October. It's manual and the grapes are collected in boxes. The carefully selected grapes are then dried for a period of 20 to 50 days on racks. During this period, controls on the grapes are held everyday in order to prevent mould from growing and maintain a good balance between sugar and acidity. As Moscato di Scanzo has been a DOCG wine since 2009, controls are very strict.
Finally vinified in steel, it is aged for at least 2 years. After that, the wine goes under other very strict controls to check that all features have been kept. If everything looks good, the wine is finally labeled as DOCG.
The result of this long process is just amazing: a nectar with seductive scents and fascinating aromas.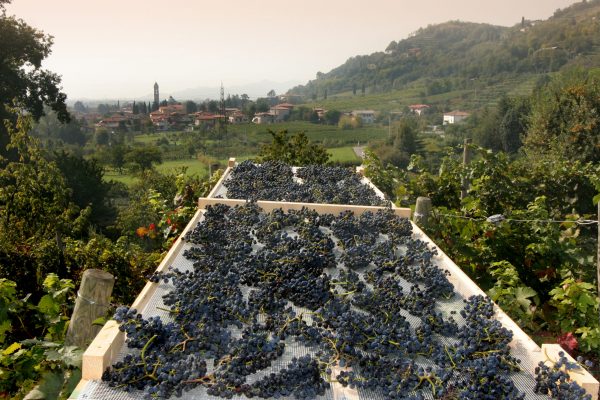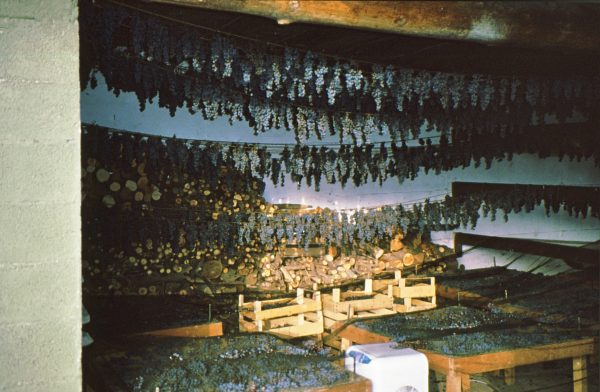 3. Moscato di Scanzo Food Pairings
This red sweet wine is often perfectly combined with dark chocolate (max 70%) or chocolate-based desserts garnished with berries, but also along with confectionary products such as dry pastries, which highlight its great aftertaste. 
Another excellent food pairing with Moscato di Scanzo DOCG is cheese: blue cheese such as Gorgonzola, Branzi, Strachitunt, Taleggio, Formai de Mut della Val Brembana, Formaggella di Scalve, Caprini bergamaschi.
All of them are typical products of Bergamo.
4. How to Serve Moscato di Scanzo DOCG
Moscato di Scanzo DOCG minimum alcoholic strength is 14% and should be served between 14° and 16° C (57-61°F). Moreover, it is considered a meditation wine: its taste is awesome when you enjoy it alone after a meal. 
5. Moscato di Scanzo: Best Wine Tasting in Bergamo
If you ever come to Bergamo in September, you really need to go to Moscato di Scanzo Festival in Scanzorosciate. Here you can find all the information you need (every year the dates change so take a look at the most updated version).
If you want to taste Moscato di Scanzo DOCG together with local products, visit Agriturismo Ippolita Lucchetti: the restaurant is located in Cene and their farmhouse is in Scanzorosciate, where they produce both Moscato and Valcalepio DOC (red and white). 
Did you Like the Post? Follow Me on Social Media and Stay Tuned for More Content!
Images credits: Panorama sul moscato by mauroghilardini//CC BY-NC-ND 2.0; Moscato di Scanzo grapes in the drying process by Nonnoant//CC BY-SA 4.0; Appassimento del Moscato di Scanzo by Nonnoant//CC BY-SA 4.0.