Italian Food That You Won't Find In Italy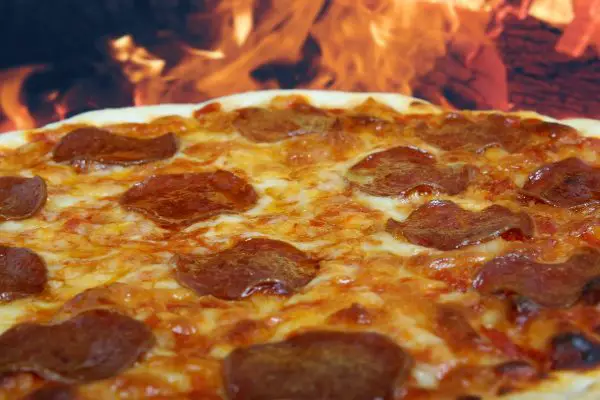 Pepperoni pizza, spaghetti and meatballs, mac n cheese, chicken parm… are they Italian dishes? Where do they come from exactly? Can you find them in Italy? In this article you will find all the answers to your questions!
Italian Food That You Won't Find in Italy: an Introduction
In the late 19th and beginning of the 20th centuries, the US experienced a great immigration wave from Italy, especially from the South.
These people were full of hope, however, they could not forget their roots so easily. They felt the need to hand down their Italian culinary traditions to their children and grandchildren, even though local ingredients were different from the ones they could find in their homeland.
The Italian American dishes you're going to read about come from a fusion between American ingredients and Italian authentic recipes, in the Italians' attempt to recreate their own family recipes adapting with the New World food culture.
Therefore, they created brand new recipes, keeping an Italian sound in their names but different from the original thing.
Below you will find a list of Italian food that you won't find in Italy. Check it out!
1. Pepperoni Pizza: Veggies or Salami?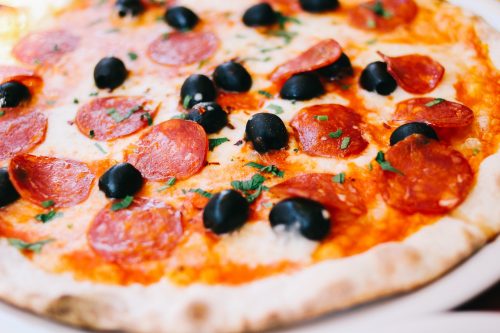 A lot of tourists who come to visit the Bel Paese often look surprised when they order a pepperoni pizza and don't get what they expect.
In fact, in Italian the word "peperoni" (spelled with only one "p") means "bell pepper", so we're definitely talking about two different types of pizza.
Pepperoni pizza, which you cannot find in Italy, is topped with a spicy Italian-American version of salami made of pork and beef, probably inspired by spicy dry salami from the South of Italy or even soppressata from Calabria.
In italy, if you want pizza with cold cuts, just ask for a pizza with salami, prosciutto crudo or prosciutto cotto.
You can actually choose among a wide range of cold cuts, including but not limited to prosciutto! Just think of guanciale, pancetta (bacon), coppa, bresaola, mortadella…
Macaroni and cheese (or Mac n cheese for North Americans) is largely known to be an American comfort food made of very soft macaroni pasta gently spread in a casserole dish and topped with an indulgent mornay sauce that gets slightly brown and crusty when baked.
Even though you're more likely to find it in southern Italy than other parts of the peninsula, mac n cheese origins are still debated nowadays.
3. Spaghetti and Meatballs
Spaghetti and meatballs is a classic Italian American dish.
It's not easy to find it in Italy, especially in the northern regions, where people usually have meatballs (we call them "polpette") as a second course, served with some tomato sauce or plain.
However, spaghetti and meatballs do have their roots in some southern Italy regions culinary traditions such as Abruzzo, Apulia and Sicily, where people still eat and appreciate it.
For example, in Apulia you can find "maccaroni azzese", in which maccheroni are used instead of spaghetti, or esle the Neapolitan "pasta al forno" (baked pasta) where short-shaped pasta is used instead of spaghetti.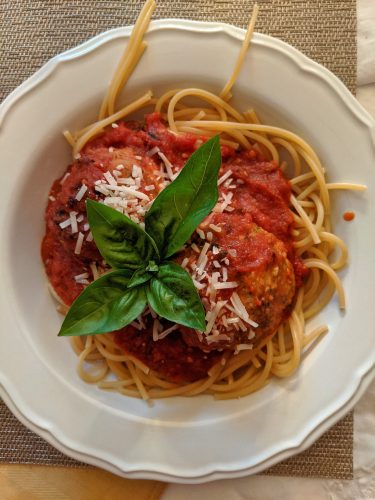 Meatballs and sailor "marinara" sauce
In the late 1800s and early 1900s Americans were eating a lot of red meat as meatballs were an easy and affordable recipe to make.
Since the cheapest cuts were usually used – therefore not so good quality cuts – Italian immigrants used the so-called "sailor sauce" to improve its taste. This sauce is now known as "marinara sauce".
Originally from Naples, marinara sauce is made of canned tomatoes, garlic and oregano. All these ingredients were cheap and easy to find.
From the moment when marinara and meatballs were put together, a brand new recipe was born.
4. Spaghetti alla Bolognese VS. Ragù alla Bolognese
Everyone knows Spaghetti bolognese or spaghetti alla bolognese: according to this recipe, spaghetti are served with a tomato sauce with minced beef, garlic, wine and herbs. It's very popular, especially in America. 
However, you won't find it in Italy, or rather, not as you expect it to be.
"Spaghetti alla Bolognese" in Italy
Outside of Italy, spaghetti bolognese is made of spaghetti with a meat and tomato sauce.
However, in Italy, "spaghetti alla bolognese" are made with tuna and peeled tomatoes, therefore, meat has no role in this dish.
Nobody really knows the exact origins of the Italian American spaghetti bolognese, even though it is thought to be born among southern Italian immigrants in America at the beginning of the 20th century.
What you'll be more likely to find in Italy is "ragù alla bolognese", which is a typical (and one of the greatest pillars in our cuisine) Italian dish from Bologna.
Ragù is a sauce prepared using tomatoes, thinly chopped veggies for the soffritto (onions, celery and carrots), pork and beef meat. After simmering for 2-3 hours, Italians usually serve it with tagliatelle or in lasagna – but you can use also other types of pasta such as spaghetti or penne. 
The ragù recipe has different versions – the most famous are "ragù alla bolognese" and "ragù napoletano".
The American version of Spaghetti bolognese is actually more similar to Neapolitan ragù – coming from the south of Italy – rather than the northern Bolognese version.
Also, in Italy we don't grate cheddar instead of Parmesan!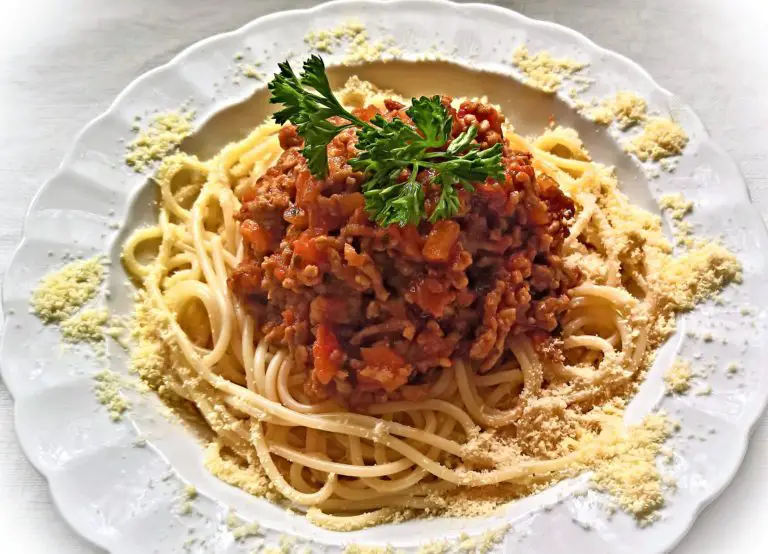 The first documented recipe for ragù comes from Imola, a town near Bologna. It was the Italian writer Pellegrino Artusi who first published the recipe known as "maccheroni alla bolognese" in his cookbook in 1891.
5. "Latte" is just "milk"!
Latte is an internationally well-known short term for "caffé latte" (pron. kafˈfɛ ˈlatte), particularly popular in North America.
It's a coffee drink made with espresso topped with soft steam milk. It's similar to cappuccino but has less foam.
It is important to highlight that even though latte is an Italian name, if you order "latte" in an Italian café you'll just have milk.
If you wish to order the coffee drink you should ask for a "latte macchiato": a half shot of espresso is gently poured through the foamy top layer, then creating a "macchia" (spot) on the top.
Latte macchiato is basically the opposite process of "caffé macchiato", where a drop of milk is added to a cup of coffee, with just a very little foam on top.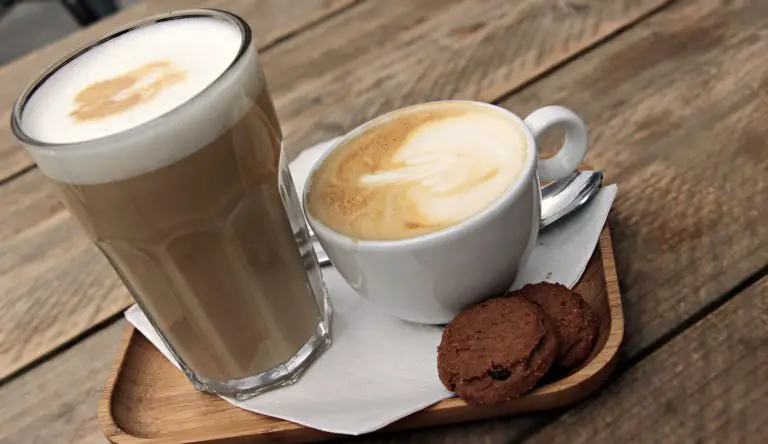 The taste of latte macchiato is very milky, so if you're striving for something more bitter, you should order "latte macchiato scuro" (literally "dark stained latte"). 
Also, in North America you can find any flavors for latte, such as vanilla and hazelnut. However, in Italy you won't find any of that. The only thing that gets closer to this idea is café gianduja, to which a spoonful of Nutella has been added. 
Nonetheless, even if you can probably find fancy coffee variations in Italian coffee shops, it is very unlikely that Italians order such drinks. Usually people would take a more classic Espresso, caffé macchiato or a cappuccino.
6. Garlic Bread or Bruschetta?
Another Italian food that you won't find in Italy is garlic bread.
The closest thing to garlic bread that we have in Italy is "bruschetta" (pron. broo-sket-ta). 
Bruschetta is made of baked bread on which some drops of good extra virgin olive oil are poured (no butter please, per carità!). The bruschetta is rubbed with garlic (if you like it) and sprinkled with small cubes of fresh tomato, oregano and fresh leaves of basil.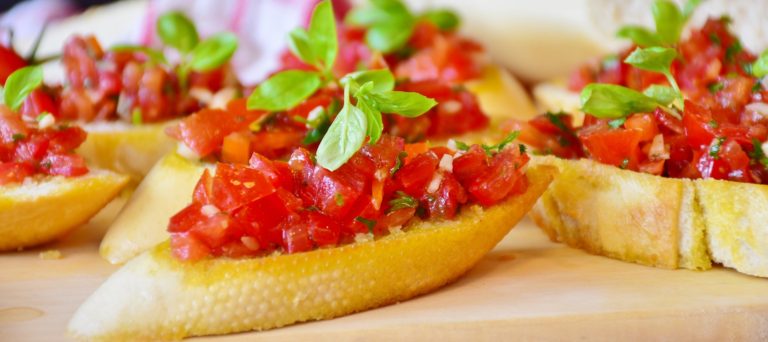 7. Italian Dressing Is Not So Italian
Whenever I go to a supermarket in North America, I'm always surprised to find Italian dressing as it's not Italian at all! Our dressing for salads is just salt, extra virgin olive oil and vinegar..that's it!
We may use basil or oregano, but we don't use any already-made herbs on salads. So don't look for Italian dressing in Italy!
Rainbow cookies (also called Tricolor Cookies or Seven Layer Cakes) are definitely not Italian, even though they were invented by Italians migrated to New York back in the day and wanted to think of their motherland even when eating.
That's why they invented Rainbow cookies, which can be found in Little Italy in NYC for the Feast of San Gennaro, a saint celebrated in Naples.
Chicken parm (or chicken parmesan or parmy) is another classic Italian American dish.
It is made of crispy fried-breaded chicken smothered in a rich tomato sauce and melted mozzarella cheese. Some even deep fry it: at the end of the day, it's up to you – but it also depends on your cholesterol level.
This is a non-vegetarian version of Italian eggplant parmesan. In fact, in Italy you can find melanzane alla parmigiana (eggplant parm) made with fried (or, for a lighter version, baked) eggplant slices instead of chicken, but tomato and mozzarella are used also in the Italian recipe. Before baking, parmesan is grated on top, that's why it's called "parmigiana".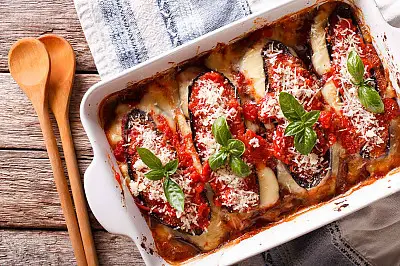 The use of chicken or veal was an invention of Italians who migrated to North America in the past century. It is thought that they substituted veggies with meat as they could now afford to buy more expensive food in America than in Italy, where their main meal was polenta and black bread.
With a new status and wealth they could now show off with their Italian relatives back home, saying they could have meat dishes so often that they even made them up!
The only thing with meat that you can find in Italy similar to chicken parm is "carne alla pizzaiola" and comes from the Neapolitan tradition.
This Italian dish is composed of meat (you can choose between beef, pork or chicken) topped with cheese and cooked in tomatoes. 
If you're traveling to Italy for a while and crave for chicken parm, look for carne alla pizzaiola or eggplant parm, instead!
Did you like the post? Follow me on Social Media and Stay Tuned for More Content!